Who says No to Nigerian Puff puff ever? No one! These little bad treats are so good and I dare you to stop at one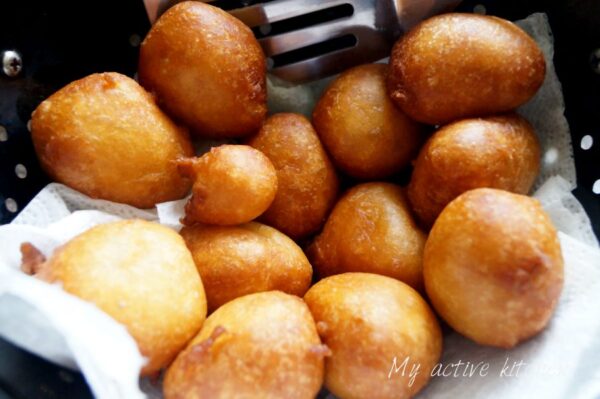 Puff puff will always remain a bae anywhere you find it. It is one of the favourite snacks of Nigerians, a popular street food and I make it a lot and I mean a lot to a point that I recently told myself I won't make it for at least another month.  Puff puff has always been my weakness and I need puff puff detox.
Nigerian Puff puff is very easy to make and you can always put your signature on it. I always add chilli pepper to mine and it's always nice and fluffy.
You can't go wrong with this Nigerian puff puff recipe. I have simplify making this recipe by including step by step guide to help you especially on how to fry the puff puff
Ingredients
600g all purpose flour
7-10g fast action yeast (I always use a sachet 7g)
150g sugar (use as desired)
½ tsp salt
550-650g Lukewarm Water
1-3tbsp chilli flakes (substitute with cayenne pepper)
Vegetable oil for frying
Puff puff needs proofing, so you will need a shallow big bowl that will allow for proofing
If you are using a fast action yeast, you don't need to proof the yeast, just add to the flour 
How to make Nigerian Puff puff
In a shallow bowl, add flour and salt together (combine salt with flour first)
Add other dry ingredients and combine well
Add lukewarm water to the dry mixture in bits to form a batter. You can add 500g at first then check if it needs more water. (the batter should not be runny and it shouldn't be thick as well, find a balance in between the two)
Cover the bowl with a cling film or a damp towel and place in a warm place to proof. (Till batter doubles in size usually between an hour or two. You can leave it longer if you want)
Once the mixture has risen and doubled in size, you then move on to frying.
People always find scooping batter in oil very tricky but I tell you it is very easy.
on a medium high heat, add enough oil to a  frying pan and heat till hot. Drop a tiny bit of batter in hot oil to test and if the batter floats to the top of the heat then it is ready to use.
Method on how to scoop batter to oil with your palm
1.       Get a clean water in a bowl
2.       Dip your hand in the water to wet it a bit, shake off excess
3.       Dip you hand in batter, draw the batter towards the bowl and yourself
4.       Keep batter in between your fingers and palm
5.       Squeeze batter in-between your palm and allow it to drop freely into the oil
6.       Don't overcrowd the oil
7.       Batter should float to the top of the oil, this is where the magic start, I just love the bits when the puff puff starts turning in the hot oil (reduce the heat a bit at this point so that puff puff can fry through and be well done)
8.       Fry puff puff on both sides till golden brown
9.       Repeat process till you have exhausted the batter
If the hand method is not for you, simply use a scoop  to put batter in oil.
Serve with any side of choice. Enjoy
If you think this Nigerian puff puff recipe is good then you have to try Nigerian buns and Choc chips vanilla puff puff