This homemade shawarma bread is unbelievably easy and it is ready in no time
Someone grab the butter, shawarma bread is ready…Today's recipe is long overdue and I should have posted it after I made shawarma recipe for the blog last year. Thanks to procrastination and a very good excuse about bad weather. Anyway, it's never too late to redeem myself.  Here is a simple and basic recipe on how to make your own shawarma bread or flour tortilla in the comfort of your home without worrying about the chemical jargon in the shop bought own.
With this shawarma bread recipe, you are guaranteed not to visit the shop again for one
Ingredients 
300 g flour
1 tsp salt
1 tsp sugar (optional)
1 tsp baking powder
120 ml warm water
20 g lard (substitute with 3 tbsp vegetable oil or butter)
How to make shawarma bread
Add flour, salt, sugar, baking powder and lard in a bowl
Mix together with your fingers until crumb like texture is formed.  Add the water, half of the content at a time and mix together until you form smooth dough
Transfer the dough unto a work top and knead for about 8 to 10 minutes.
Place the dough in an oiled bowl and cover with a cling film or kitchen towel for about 20 to 30 minutes
Transfer the dough to the work top and divide into 6 or 8 balls and leave them to rest for another 10 minutes before you proceed to cooking them
Place a non stick frying pan on a medium heat
Lightly dust the work top with flour and roll the dough till its flattened. Do this one at a time (do not roll all the dough at once or it will get soggy and difficult to work with)
Place the rolled dough on the frying pan and cook for about a minute, you will notice some bubbles on the surface, cook until slightly brown but not burnt.
Flip to the other side and cook for another 30 seconds. Take it off the heat and place in an air tight container/oven/microwave. This stops the tortilla from drying out and will keep warm till you are ready to use it.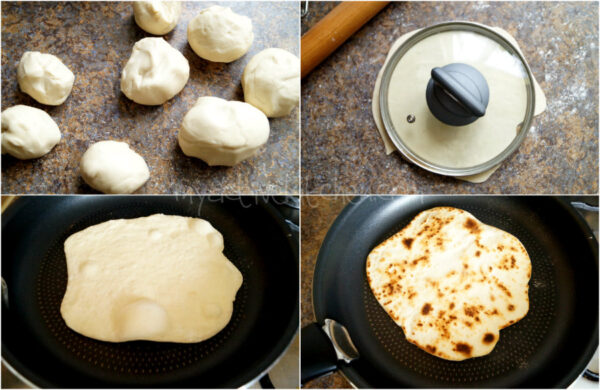 Serve warm with shawarma or any other filling of choice.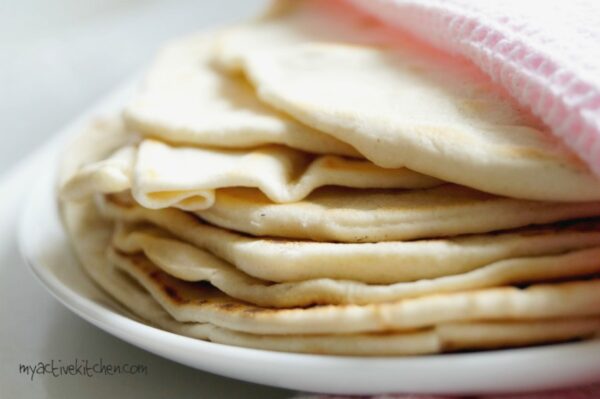 See how easy our homemade shawarma recipe is… I would like to see what you have been cooking with my recipes. Don't forget to tag @myactivekitchen on Instagram, facebook or simply send me an email with your creations. See you on my next post