It's takeaway night and the first thing that pops into my head is salt and pepper chicken wings. Honestly, my choice for Chinese takeaway is not much. I would only eat anything with prawn, rice, chips and salt and pepper chicken wings. These salt and pepper chicken wings are full of flavours and would your takeaway a run for their money
I'll let you into a secret, salt and pepper chicken wings is not hard to make and you can make it better than your takeout, yeah I said so. With very few ingredients and little kitchen preparation, these chicken wings can be yours and more coins in your purse too. The best news is you are in control of what goes into the chicken.
I can bet you this recipe, you will never order salt and pepper chicken especially if you have time to prep for it. It is easy to make and so yummy too.
Ingredients
1kg chicken wings
Salt
Black pepper
Crushed chillies
Seasoning (Bullion cubes or powder e.g maggi/knorr or any brand of choice)
1tbsp corn flour
4tbsp all purpose flour
Vegetable oil for frying
Bunch of spring onion, chopped
Mixed chillies, chopped
1tsp crushed garlic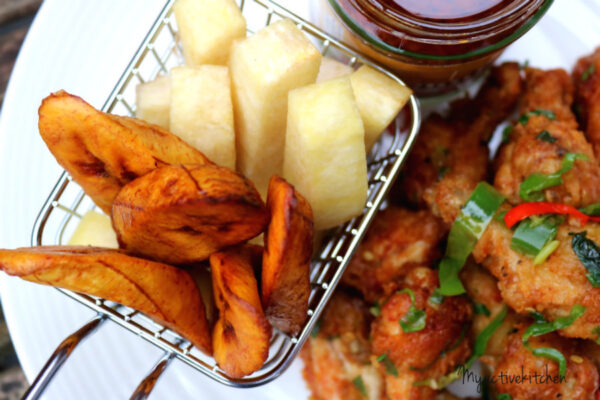 How to make salt and pepper chicken wings
Wash and pat chicken dry (This is optional but recommended)
Add salt, black pepper, seasoning to the chicken and mix thoroughly to combine
Leave to marinade for an hour or overnight
To make batter
Start by adding cornflour, all purpose flour, salt to taste (this is optional) to water and make a light batter then set aside
Add enough vegetable oil to fry the chicken in a pan/wok and place on high heat. Allow to heat up till you start seeing bubbles in the oil
Add the chicken to the batter then put in the hot oil carefully in batches, fry the chicken for about 8 to 10 minutes or till golden brown, crispy and well done. Place chicken on kitchen towel to drain, repeat for the remaining portion.
In another wok, add 2 tbsp vegetable oil and leave to heat up for about a minute or two. Stir in the crushed garlic into the oil and cook on medium heat,  do not let the garlic burn or it will taste bitter. Once fragrance is released into the oil, add the chopped chillies, crushed peppers, spring onions and stir fry for about a minute or two. Add seasoning (if using) salt, fried chicken to wok and toss into the stir-fry till all the chicken is well coated.
Serve hot immediately
Why not pair this chicken with these recipes?
If you try my salt and pepper chicken wings recipe or any other recipe on here, kindly leave a feedback or #myactivekitchen so I can see what you have been cooking. Thank you and see you on my next post