Finally, I have a sponge cake recipe on the blog! Thanks to the amazing plates used in the photo-shoot for making it happen. The cake was so moist and almost melted in the mouth, the fun bit is… this easy sponge cake keeps well in the fridge too and you can still enjoy it after some few days.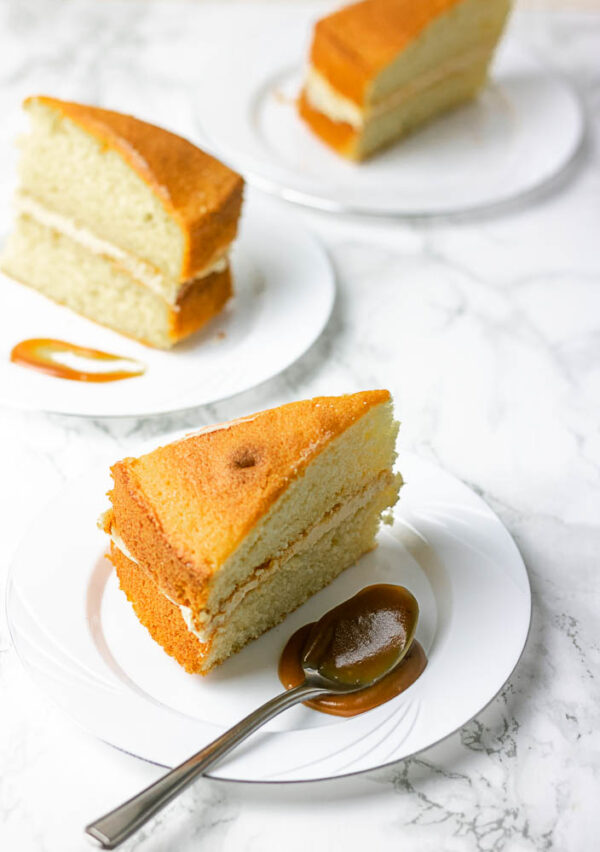 I made this cake at the weekend and I had no clue how to photograph it cos I didn't have the required set of crockery… until I attended this party and viola the appetizer plates kept calling my name. To be honest I had popped into my local TK Maxx earlier on to check for the rare finds that same day, unfortunately there was nothing and I went home empty handed with a not too happy face. At the party, I shamelessly asked for 3 of these disposable plates. They fitted perfectly well for the picture I had in mind for the cake.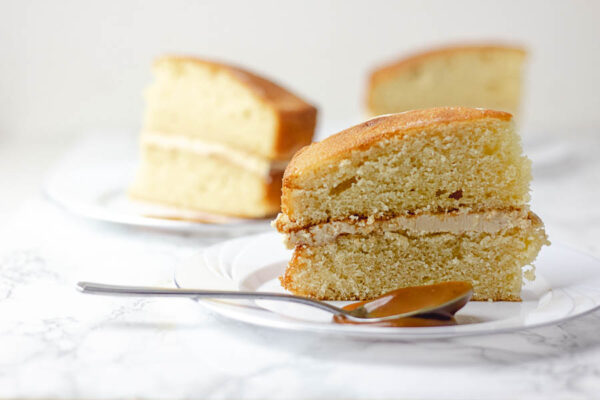 This is a very basic sponge cake, but I really can't say it is basic as the cake filling took it from 10 to 100 and the cake itself was everything and more. It was so moist and not overly sweet. I will share the recipe for the salted caramel buttercream filling in another post. I always use less sugar in my cake recipes every time especially when I fill it like this one. Feel free to adjust the sugar to your need.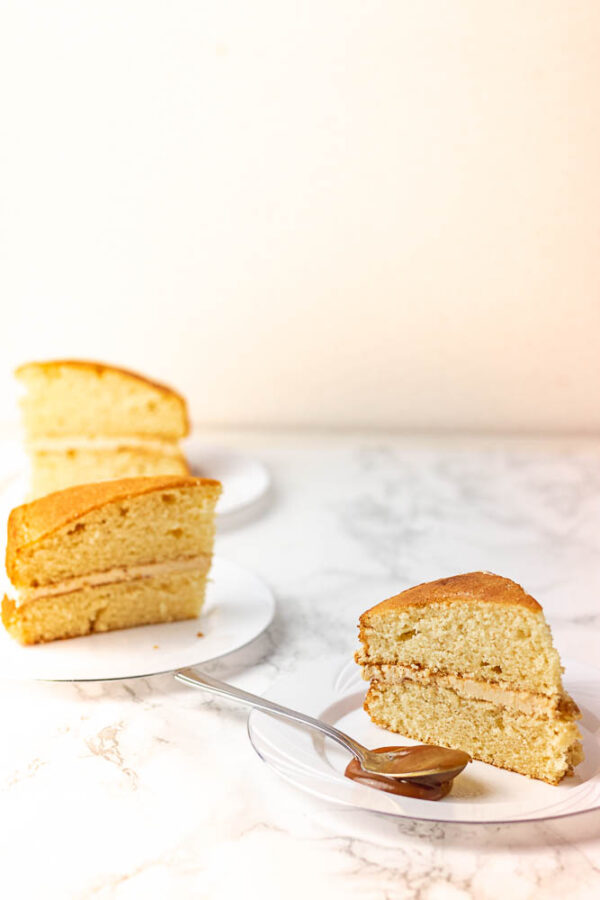 What you will need
All purpose flour
Sugar
Butter
Vanilla extract
Full fat milk or cream
Salted caramel extract, optional
Baking powder, optional
Eggs and two 8-inch cake pan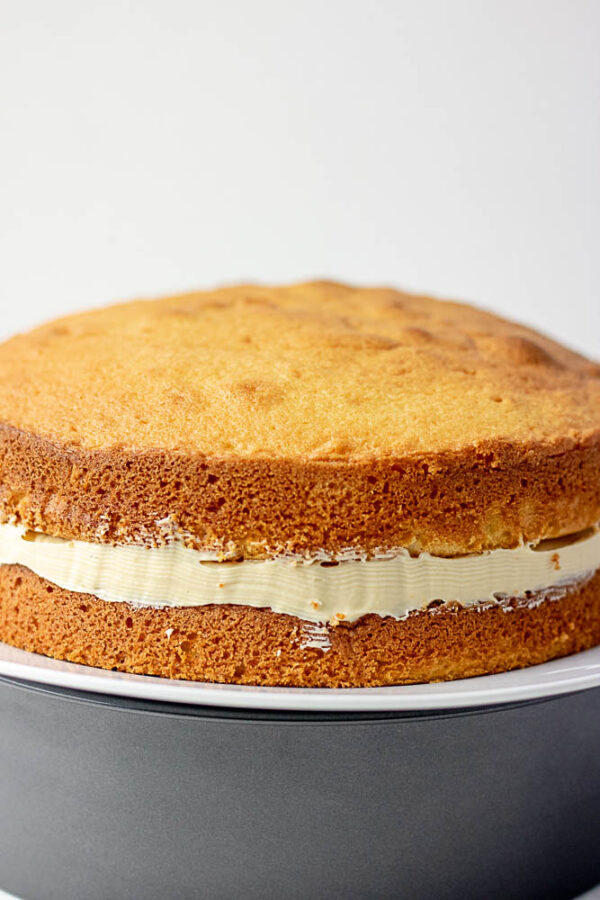 Ingredients
250g all purpose flour
180g to 200g caster sugar
250g butter plus more for greasing pan
1/2tsp vanilla extract
2tbsp full fat milk or cream
1/2 tsp salted caramel extract, optional
1/2tsp baking powder, optional
4 medium eggs
Directions
Preheat the oven at 180⁰C, you want to use the centre of the oven, so that the heat is distributed almost evenly
Butter the pans, dust with flour to cover the whole buttered pan or place a baking sheet at the bottom of the pan
Sift the flour and baking powder in one bowl and set aside
In another bowl, add the butter and sugar and whisk using hand held mixer until light and fluffy. This should be for about 5 minutes
Break the eggs into a small bowl and add the vanilla and caramel extract, drop the yolk one at a time with some egg white into the creamed butter and mix to combine. Add the milk and mix to combine
Once combined, add the sifted flour and baking powder (if using) and gently fold into the wet ingredients until well combined and smooth.
Divide the cake batter into the cake pan evenly and bake in the oven for 20 minutes or when the toothpick inserted comes out clean.
Leave to cool and turn unto a cooling rack. serve cake with ice cream, whipped cream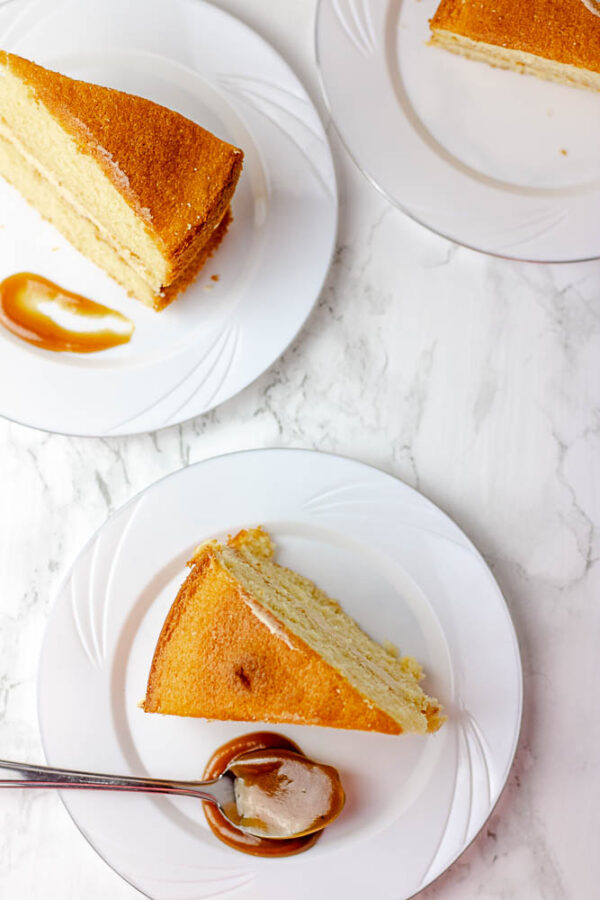 Don't forget to #myactivekitchen on social media  or leave a comment for me when you make this easy vanilla sponge cake. I will see you on my next post, thank you all for an amazing 2018 and I promise a better and consistent yummy posts in 2019. Happy Holidays!