Groundnut soup or Omisagwe as popularly called is everything and more and can I just say super easy to make too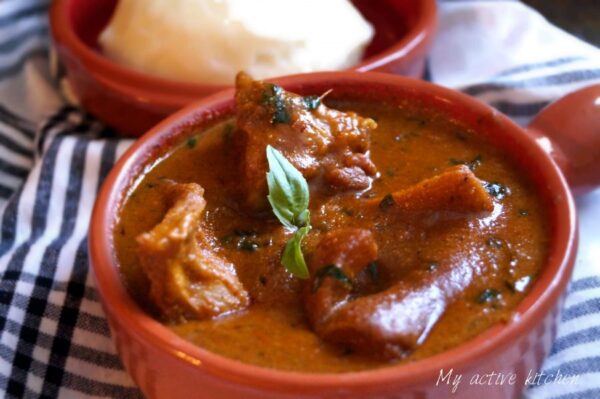 Groundnut Soup
The Yoruba's have a saying that "obe ti baale ile kii nje, iyawo ile o gbodo se" meaning "a wife does not prepare a delicacy her husband does not want or eat".  Well I beg to disagree, hahaha with the hope that my ancestors wouldn't mind.
What brought this on? Olu doesn't like peanuts, and well he is kind of allergic to it. Each time I bring up the idea of cooking groundnut soup, all I get is "remember I am allergic to it". I have not had groundnut soup in about 4 years and today, I broke the jinx.
I cooked groundnut soup (also called omisagwe)  and He ate out of it yes. He couldn't resist it, after the first pounded yam morsel, he told me in my language "o de dun o" meaning "it's actually delicious". After the whole meal, He said to me "babe that was nice". To cut the long story short, if the soup is well cooked and delicious, "hubby would eat it"
This is to my Edo people out there; I hope I have done you proud.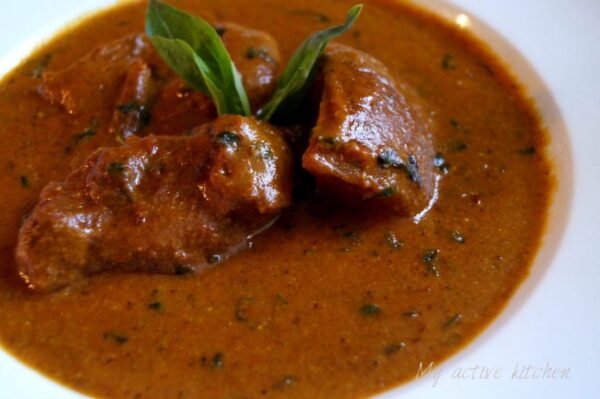 Ingredient
200g raw groundnut
A handful of spinach or bitter leaves (finely chopped)
½ a bunch of basil or Scent leaves
Salt
Seasoning
Stockfish, washed
½ tsp ground Uda (This can be sourced from the local market)
¼ cup (50ml)  Palm oil
1 tbsp Ground crayfish
700g-1kg meat/assorted meat (I used beef, ponmo and tripe)
Onions
2-4 scotch bonnet, blended (use according to preference)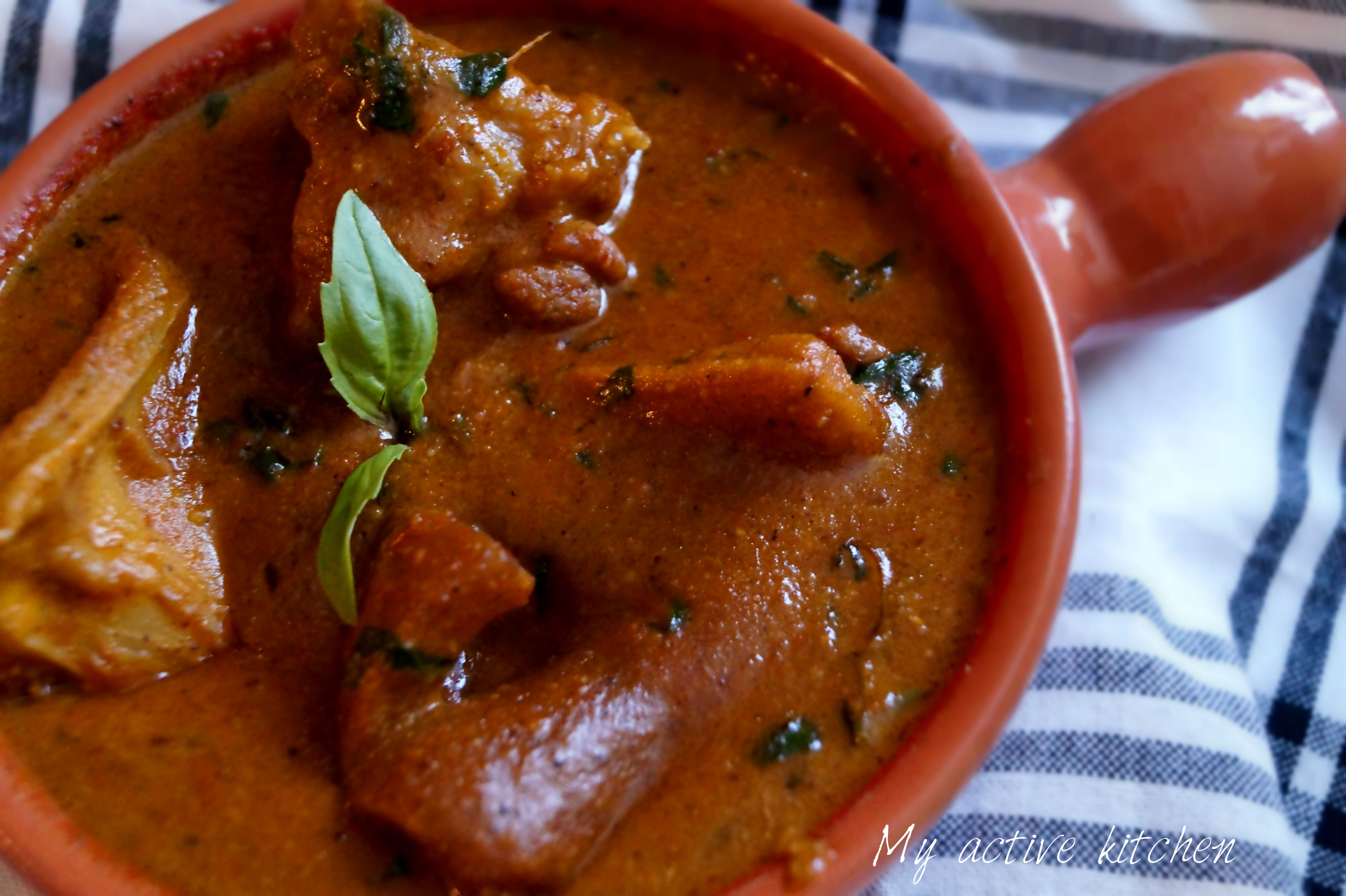 How to make groundnut soup (Omisagwe)
Place a pan on medium heat, add washed meat, chopped onions, seasoning and salt to taste then bring meat to boil till tender. Add stock fish at the tail end of the boiling process so the flavour can infuse in the stock. (I used shredded stock fish, if you are using a large one, it would be advisable to add with the meat from the beginning of the cooking process. This allows it to be soft enough to your likeness)

Place a frying pan on a medium heat, add groundnut and roast for about 5 minutes, tossing in between.
Blend roasted groundnut in a dry mill (you can blend with crayfish if you want. I added couple of dried shrimp's head to mine)

To the boiling (tender) meat, add pepper and continue to boil for about 5 minutes
Add palm oil and continue to cook till palm oil is well incorporated into the sauce. (Between 7-10 minutes)
Add powdered Uda if using, it makes a lot of difference to the soup
Slowly stir in blended groundnut to the sauce, make sure it is not lumpy and add water if it is too thick. (Groundnut soup can be eaten in any thick consistency but I recommend not being too loose) Add crayfish at this point if you didn't blend it with the groundnut

Continue to cook for another 10 minutes, stir in between, add salt and seasoning and also check if the soup will be needing more water.
Add chopped spinach or bitter leaves
If you are using bitter leaves, don't forget to squeeze till you get rid of the bitterness
Add chopped basil or scent leaves
dont cook the vegetable for more than 5 minutes to be able to retain its freshness and not lose its nutrients.
Soup is ready to be served with pounded yam or swallow of choice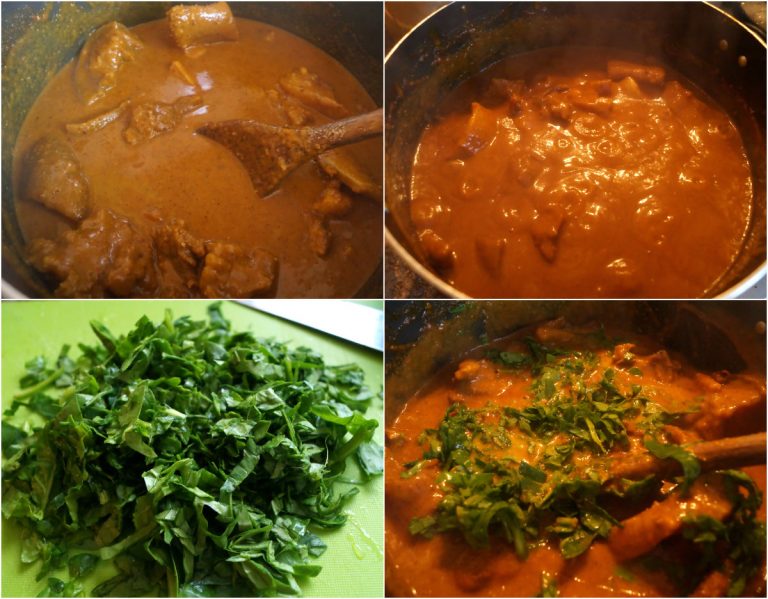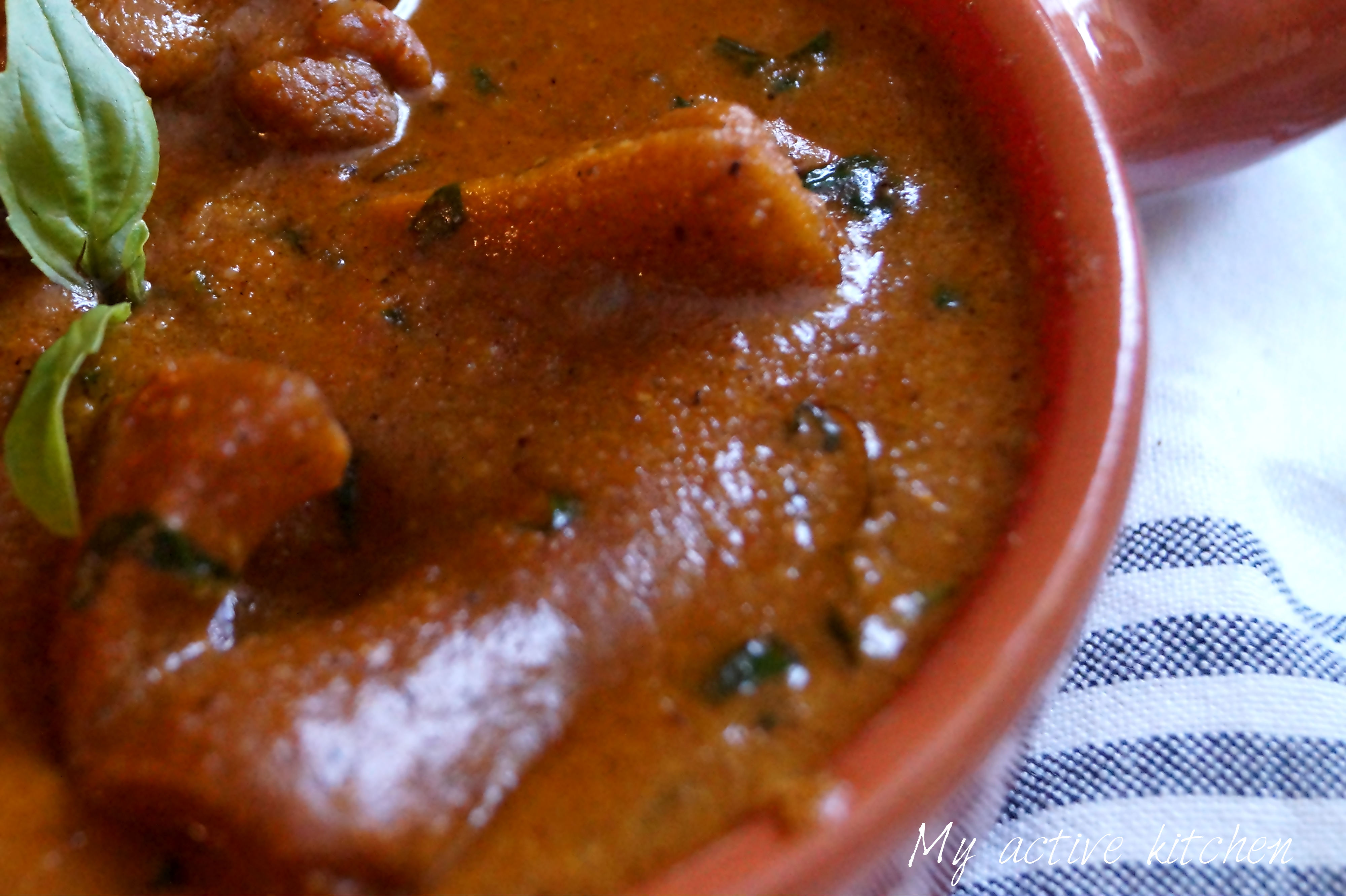 Cook Groundnut soup (omisagwe) for yourself or any other person and I'm sure you will get the same reaction I got or even better.
Other Nigerian Soup Recipes you might love
Groundnut Soup (Omisagwe)
Groundnut soup (also called omisagwe or peanut soup) is another delicious soup popularly eaten in Nigeria. Groundnut soup can be eaten with pounded yam, garri or rice.
Ingredients
200

g

Raw groundnut

Handful of spinach or bitter leaves

finely chopped

½

bunch

basil or Scent leaves

Salt

Bouillon

200

g

Shredded Stock fish

washed

½

tsp

Ground Uda

This can be sourced from the local market

¼

cup

Palm oil

1

tbsp

Ground crayfish

1

kg

Meat/assorted meat

I used beef, ponmo and tripe

Onions

2

scotch bonnet

blended (use according to preference)
Instructions
Place a pan on medium heat, add washed meat, chopped onions, bouillon and salt to taste then bring meat to boil till tender. Add stock fish at the tail end of the boiling process so the flavour can infuse in the stock.

(I used shredded stock fish, if you are using a large one, it would be advisable to add with the meat from the beginning of the cooking process. This allows it to be soft enough to your likeness)

Place a frying pan on medium heat, add groundnuts and roast for about 5 minutes, tossing in between.

Blend roasted groundnut in a dry mill (you can blend with crayfish if you want. I added couple of dried shrimp's head to mine)

To the boiling (tender) meat, add pepper and continue to boil for about 5 minutes

Add palm oil and continue to cook till palm oil is well incorporated into the sauce. (Between 7-10 minutes)Add powdered Uda if using, it makes a lot of difference to the soup


Slowly stir in blended groundnut to the sauce, make sure it is not lumpy and add water if it is too thick. (Groundnut soup can be eaten in any thick consistency but I recommend not being too loose)

Continue to cook for another 10 minutes, stir in between, add salt and seasoning and also check if the soup will be needing more water.

Add chopped spinach or bitter leavesIf you are using bitter leaves, don't forget to squeeze till you get rid of the bitterness
Add chopped basil or scent leaves


don't cook the vegetable for more than 5 minutes to be able to retain its freshness and not lose its nutrients.Groundnut Soup is ready to be served with pounded yam or swallow of choice

If you made this recipe, don't forget to leave me feedback. Tag me on Instagram and save away to your Pinterest