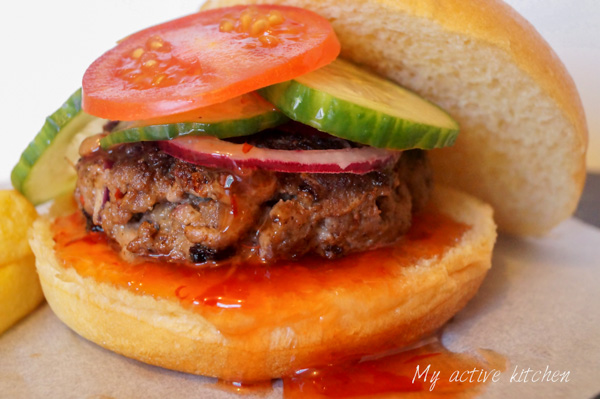 I made this suya burger last valentine's but didn't blog about it as the pictures I took were not good enough due to poor lighting although, I shared it on Instagram. The weather was pretty kind to me last weekend and I made this burger as brunch for my family. Every bite of this suya burger was juicy and yummy. I can't wait to make it again.
Homemade Burgers are really cheap to make, I added suya spice to drive it to the root and I didn't regret my decision. You can choose to grill or fry the burger. I have tried both methods with this burger, it worked and very delicious too. If you have ever tried sandwiching your agege bread with suya, then you would definitely love this.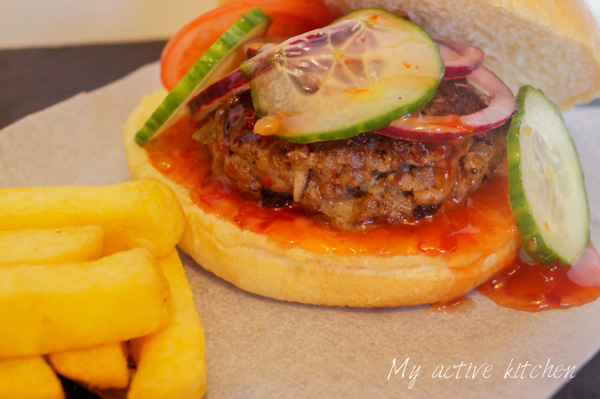 Ingredients
500g of lean mince or ground raw beef (preferably one with about 18-20% fat. This allows the burger to be juicy and it cooks well in its own fat. The fat will melt during the cooking process)
2-3tbsp suya spice
Salt to taste
1 tiny chopped red onions (optional)
1 egg
1-2tbsp chilli flakes (according to tolerance)
6 Burger buns (homemade or shop bought)
2-3tbsp rapeseed oil to fry (optional if you are grilling)
dressing/salad
Apple vinegar
Tomatoes, sliced
Red onions, sliced
Lettuce leaves
Sweet chilli sauce (use mayonnaise or ketchup)
Cucumber, sliced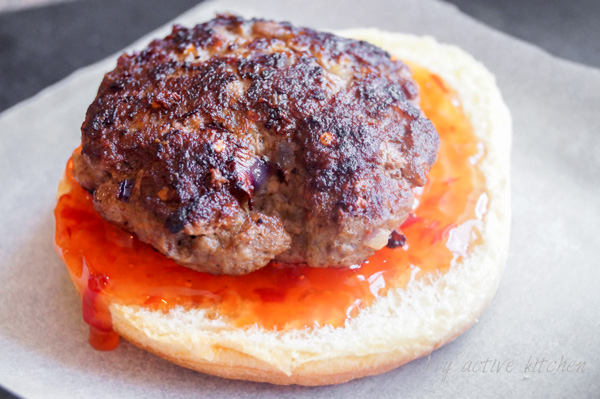 How to make suya burger
Add all ingredients listed above together in a bowl, except the burger buns and mix together till well combined (add water to your hand to mix). Do not over work the mince mixture
Divide mince into 6 parts or as desired
Roll each divided mince between your palm and place on a flat plate, continue this process till you have exhausted all the mince mixture.

At this stage, you can flatten burger between your palm (this I did) or you cover the mince balls with a parchment paper and press down with a flat plate for about 20 seconds. Can I just say here that you can preserve your leftover uncooked burger patties by separating them with a parchment paper. This can be kept in the freezer for months.
  

Burger patties can be cooked straight from frozen.

 

Use oil to rub your palm before forming patties, it makes it less messy.

 

Burgers are best cooked from fridge temperature.
soak sliced tomatoes, cucumber and onions in vinegar for a few minutes, thank me later.
Chill burger in the fridge for 30 minutes or you can cook straight away; I prefer to chill mine so that the flavours are infused into the mince.
To fry burger patties
Note: don't overcrowd the pan to allow easy flipping
Place a frying pan on high heat, add little oil, reduce the heat and place the burger in the pan (it should sizzle at this point if it doesn't then the pan is not hot enough)
Use a spatula to press down the burger, (only do this once as you want the burger to still retain its juiciness) cook each side for about 3-4 minutes or to your liking.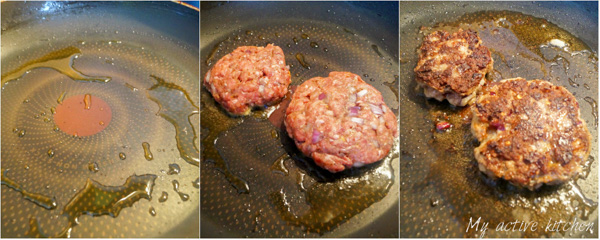 How to grill burger
Preheat grill at 200⁰ and grill each side till well cooked. If you have a barbeque stand then forget about frying or grilling. Barbequed burgers are the best.
Leave burger to rest for about 5 minutes and serve with sides of choice. Have you tried my sweet chilli sauce yet? It is just what the Doc recommends for this recipe.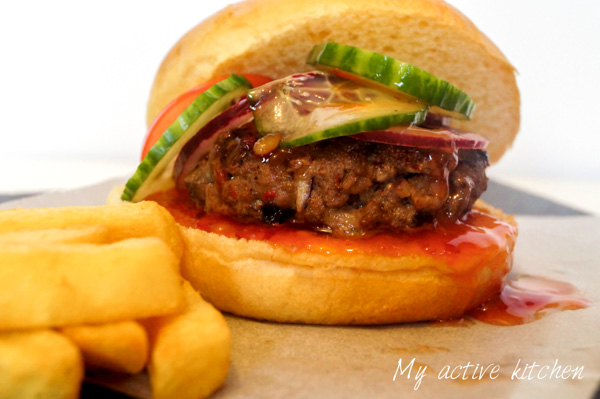 If you made this beef burger, don't forget to leave me feedback. Tag me on Instagram and save away to your Pinterest