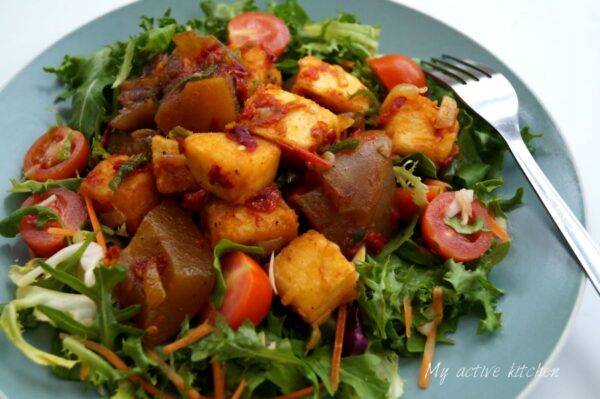 I know what you are thinking, really? Ponmo salad? Why not! If you eat potato, fish, beef and chicken salad then ponmo salad shouldn't sound weird to you at all. Ponmo (cow skin) is well loved by all; it is affordable and has been nourishing lives since 1800. Lol. This simple recipe is another twist to Nigerian salad. Imagine having this as a starter in restaurants and also readily available anywhere you go in the world.
To put Nigerian food on the map, we need to be able to think outside the box and be able to redefine our foods. In other words, with the right ingredients and packaging, we can all take our food to the next level.
This recipe is me just playing with hubby one afternoon, I told him I would make him eat salad in a way he wouldn't be able to resist and off I went into the kitchen.  When I finished cooking and presented the beautiful plate to him, he couldn't believe his eyes. I found a better way to eat salad, add 2-3tbsp of vinegar into the salad, toss in some oil and add salt and pepper. Boy I tell you, you would eat salad every day.
This recipe is one of the samples from the menu I am planning for a very special event, gist for another day. If you live in Manchester or around and you would like to sample some of the food I cook, send us an email as my active kitchen is now open for business. Thank you all and please leave a comment bellow if you have any suggestions about 'funkifying' Nigerian foods.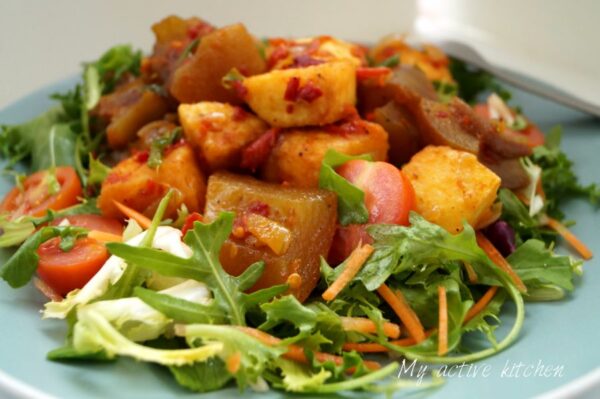 What you will need
Fresh or smoked cow skin (ponmo), cooked and cubed
Dried red bell pepper (tatashe), substitute with fresh red bell pepper
Homemade or shop bought salad
Small tuber of yam
4tbsp vegetable oil
Salt
Seasoning of choice
Mixed chillies, chopped
3tbsp rice/white wine vinegar (optional)
1 small onion, chopped
1tsp harissa paste (optional)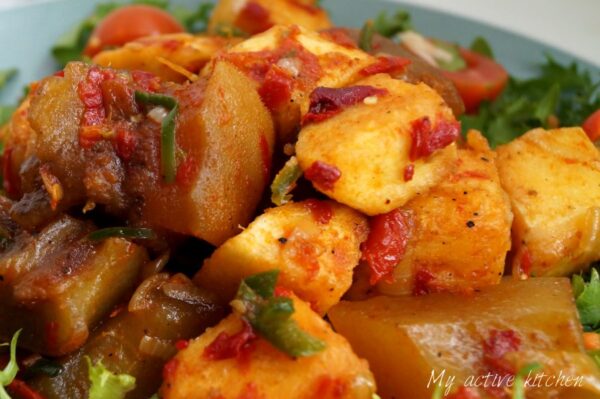 Method
1.       Soak dried red bell pepper in warm water till soft
2.       Peel yam, cut in cubes, rinse and bring yam to boil in salt water till 70% done, drain in a sieve and shake off excess moisture,  toss in 2tbs vegetable oil and bake for 20 minutes on 200⁰. If you don't have an oven, simply shallow fry the cubed yam. Set aside once done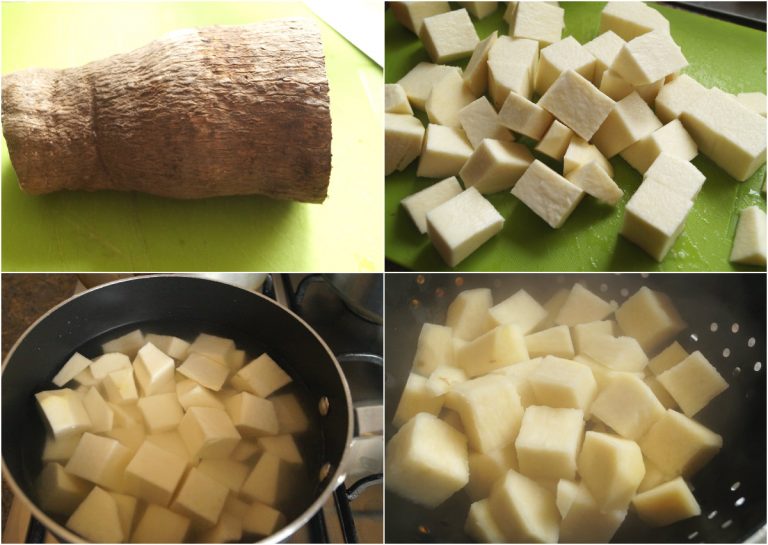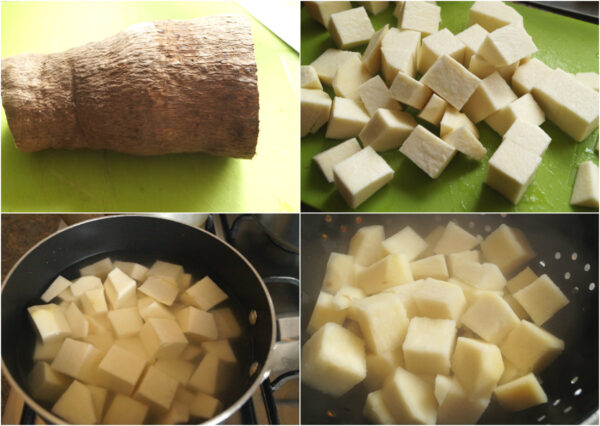 3.       Once dried pepper is soft, de-seed, chop thinly with the rest of the peppers and set aside
4.       Place a wok or shallow pan on a medium heat, add 2-3tbsp of vegetable oil and heat 2 minutes. Add the chopped peppers and onions and stir fry until they soften, add chopped ponmo, combine well with the stir fry then season with bouillon cube of choice,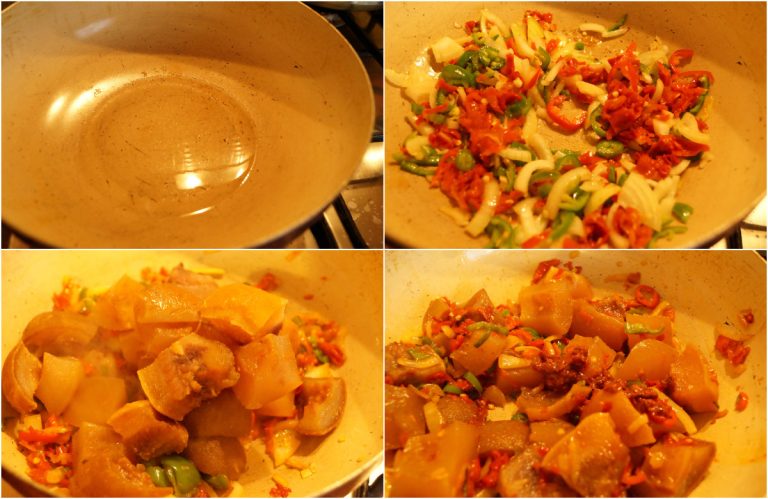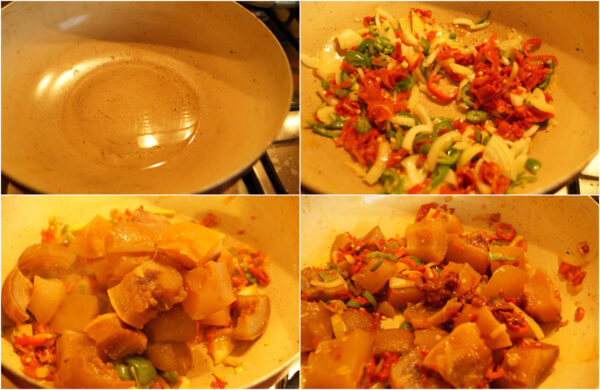 add salt and cook on for another minute. Add the roasted yam, combine well with the ponmo mixture, add harissa paste if using and stir till well combined.


Continue to stir to avoid burning.  Take off the heat, allow to cool and serve with salad mix of choice.