Palm oil rice (Iwuk Edesi), delicious rice recipe that is perfect for the whole family and great for entertaining. Palm oil rice is also called native jollof rice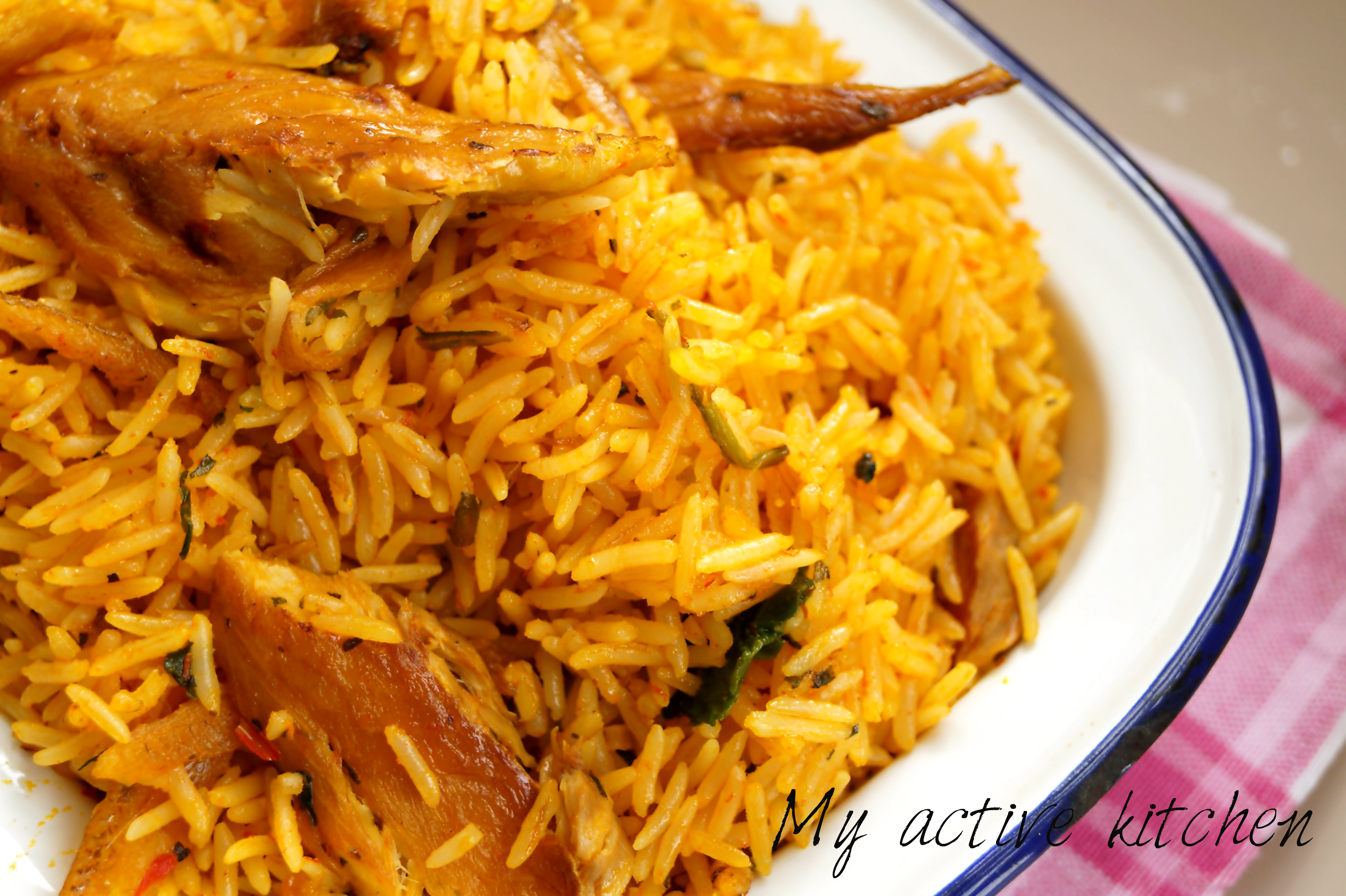 Palm Oil Rice
I have just had an eventful 48 hours; 3 hours of it was me dancing away my sorrows like I have no worries in the world and the last 24 hours of that time was me thinking about how dubious and rude some people can be. The bottom line of the last 24 hours for me is to beware of people one opens his/her doors to and if you are going to leave your keys with them, make sure you have a spare/ backup somewhere. For people that have been taken for granted for being too nice and open-minded, I urge you to continue with your good deeds and never let the experience you've had deterred you from being your good self.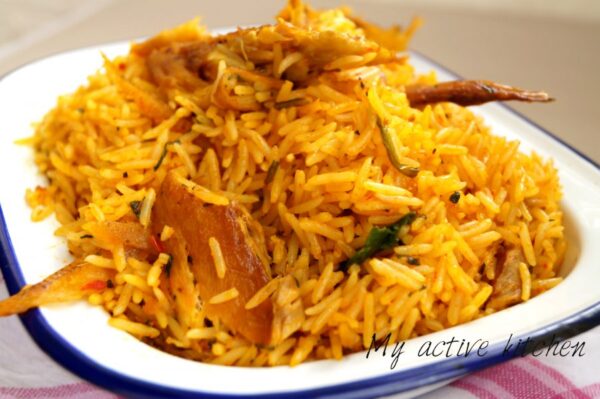 Back to my palm oil rice (also called native jollof rice), Iwuk edesi is your go-to rice when you are tired of eating Jollof and fried rice and even our plain white rice. I remember eating palm oil rice while growing up, I love the simplicity of the food and it is one food that brings everyone together as it doesn't show class and so you don't have to be ashamed if your mum serves you rice with palm oil. In fact, I remember asking my mother for concoction rice after getting bored with the other types. My Cousin's wife made palm oil rice for me a lot too and she's the one that made me like that type of fish we Yoruba's call 'sobonde'(herring). My herring fish story is for another day where I'll be sharing how to make the best herring imoyo stew. Let's get cooking guys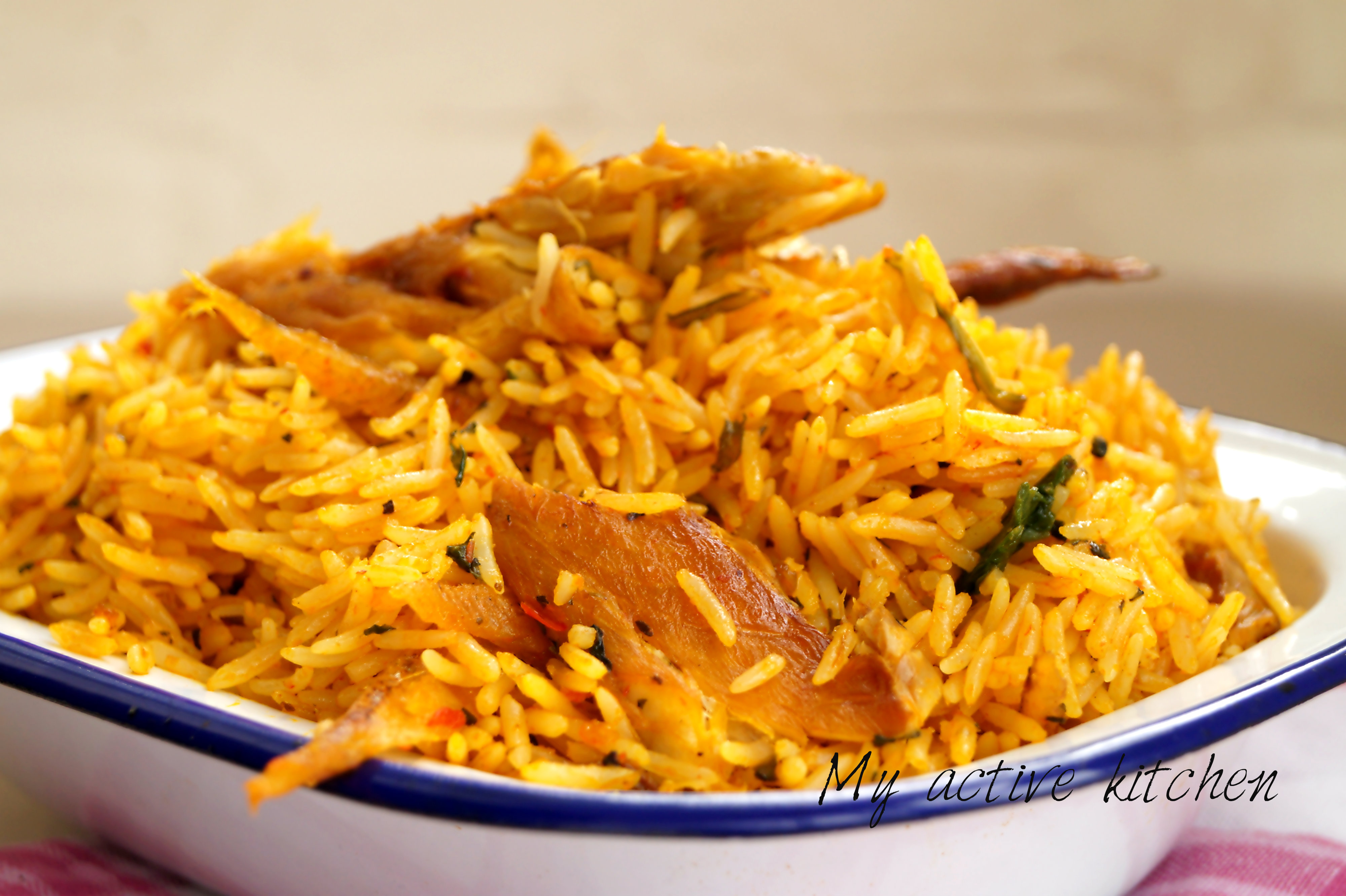 Ingredients in my native Jollof
2 cups of rice
Pepper mix (tatashe(Red bell pepper), ata rodo (scotch bonnet chilli), tomato and onions blended)
Smoked fish of any type
1-2 cooking spoons of palm oil
1 small onion, chopped
3tbsp ground crayfish
Few pieces of dried sardine (palamu) optional
Salt
Seasoning
Scent leaves substitute with basil
1-2 handfuls of any greens of choice, I used spinach
Feel free to add locust beans to the ingredient used but I didn't use it
How to make palm oil rice
Wash rice and set aside, if you want to parboil the rice, you can do so.
Wash and soak your dried fish then set aside and you don't need to soak the smoked fish
Place a pan medium heat, add palm oil and heat for about 5 minutes but don't bleach
Add chopped onions and fry till translucent, add the pepper mix and crayfish, seasoning and salt and cook till oil floats on top of the sauce.
Add rice to the sauce and stir to combine, add water to cover the rice by 1 inch and reduce the heat. Do keep an eye on the rice, add water if required. After about 7 minutes, add the dried fish to the rice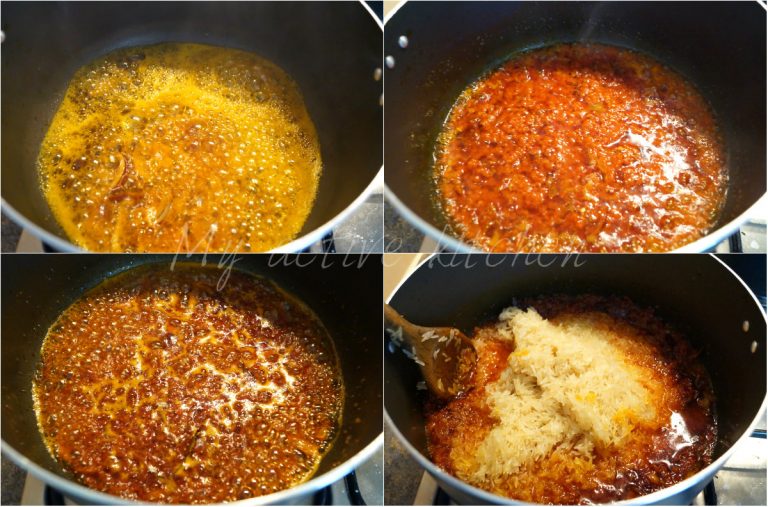 Cook rice on low heat till 95% done, (Add water to rice a little at a time as at when needed) check for salt and seasoning, add the smoked fish and stir carefully to combine. Cook for another 5 minutes then add basil (Scent leaves) and your greens of choice to rice. Continue cooking till rice is soft but not soggy. Take it off the heat and set aside to cool.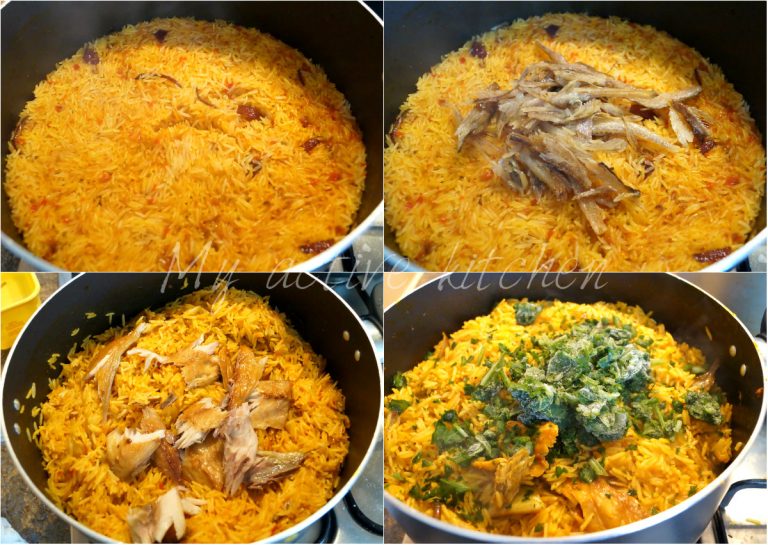 Serve palm oil rice with any sides of choice. Enjoy and have a good week ahead. xxx
Other Yummy Rice Recipes on the Blog
Palm Oil Rice (Iwuk Edesi)
Palm oil rice (Iwuk Edesi) a popular type of rice eaten in Nigeria. It is also called native jollof rice. Iwuk Edesi is cooked with palm oil and smoked fish. It is a perfect family meal and also great for entertaining
Ingredients
2

cups

of rice

1

cup

Pepper mix

tatashe(Red bell pepper, ata rodo (scotch bonnet chilli), tomato and onions blended)Smoked fish of any type1-2 cooking spoons of palm oil

1

small onion

chopped

3

tbsp

ground crayfish

Few pieces of dried herring

palamu optional

1

tsp

Salt

use according to preference

1

tbsp

beef bouillon

optional

Scent leaves substitute with basil1-2 handfuls of any greens of choice

I used spinach

2

tbsp

locust beans

optional

½

cup

palm oil
Instructions
Wash rice clean and set aside, if you want to parboil the rice, you can do so.

Wash and soak your dried fish then set aside and you don't need to soak the smoked fish

Place a pan on medium heat, add palm oil and heat for about 5 minutes but don't bleach

Add chopped onions and fry till translucent, add the pepper mix and crayfish, seasoning and salt and cook till oil floats on top of the sauce.

Add rice to the sauce and stir to combine, add water to cover the rice by 1 inch and reduce the heat.

Do keep an eye on the rice, add water if required. After about 7 minutes, add the dried fish to the rice. Continue to cook rice on low heat till 95% done, (Add water to rice a little at a time as at when needed)

Check for salt and seasoning and adjust accordingly, add the smoked fish and stir carefully to combine.

Cook for another 5 minutes then add basil (Scent leaves) and your greens of choice to rice. Continue cooking till rice is soft but not soggy.

Take it off the heat and set aside to cool. Serve immediately
If you made this recipe, don't forget to leave me feedback. Tag me @myactivekitchen on Instagram and save away to your Pinterest