Nigerian style meatballs with attitude!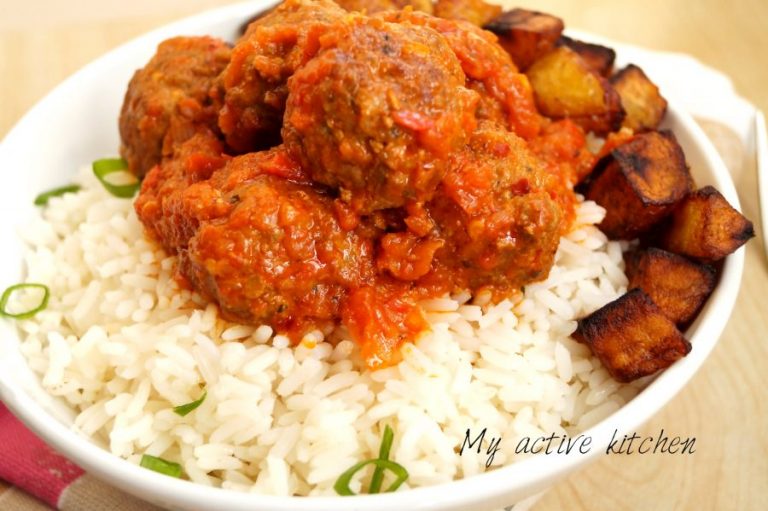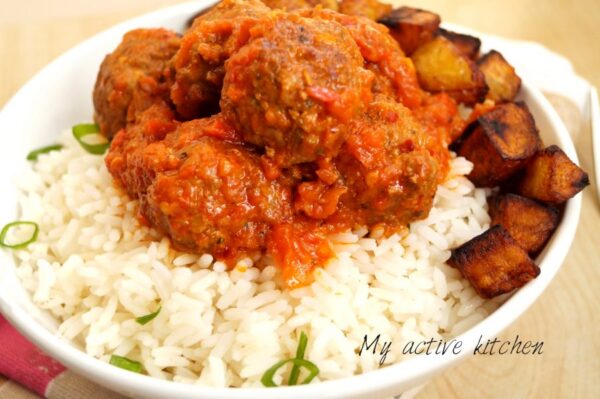 Nigerian Meatball Recipe
Hello, my lovelies, it's been some few days I posted on here and it feels like ages, anyway how are you and hope you all missed me? Lol.  Today's recipe was dinner some few nights ago and I tell you it blew minds away (Well, If I do say so myself). I cooked an Italian dish in a very Nigerian way just the way my mama taught me. Every Italian cook I know, always has something to say about their mamas and the way they cook their food, don't we all? My mama sent me some pepper soup spice not long ago, mehn, that woman knows her stuff when it comes to condiments and spices, and she doesn't settle for shop-bought but would rather take her eyes there like they do say where I'm from. She picks the finest ingredients she sees and put them to good use not forgetting the serious bargaining that must have ensued during the process.
As a proud Nigerian girl, I present to you my Nigerian style meatballs. These meatballs are packed with flavours and right from when you start mixing and rolling the meatballs, you will be proper salivating. It is easy to make and it can be made well ahead of time and it freezes well too.  cook from frozen as at when needed.  If you can't find mince where you live, just buy a tender part from the butcher like the shoulder, cut into small chunks and blend till smooth and still follow the same cooking process below.
If you have been cooking your meatballs the Italian way, I implore you to try this Nigerian style and yes you would thank me later. lol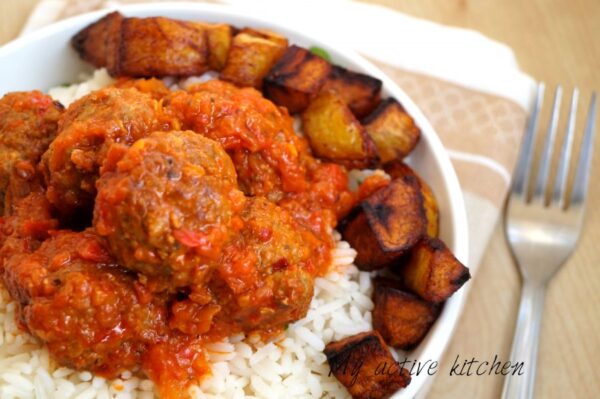 What you will need
500g good quality beef mince
1-1.5tbsp good quality pepper soup spice
1 egg
Salt
½ tsp ground ginger
1 tsp ground garlic
1 tbsp Seasoning powder
1tsp Dried basil leaves(scent leaf/efirin)
4 large tomatoes or 500g passata (I used passata)
2 bell peppers (tatashe)
1 scotch bonnet chilli
⅓ cup Vegetable oil
How to make Nigerian Style Meatballs
Preps:
To a bowl, add mince,egg, seasoning, pepper soup spice, pinch of salt, garlic, ginger, dried basil/efirin and mix everything together till well combined (get your hands in there and work it but don't over mix)
Wash your hands clean, put your hand in water, shake off the excess and take mince in your palm in bits then roll to form a ball. (you are best working with a small/medium size meatballs as it retains its shape when handling during cooking) continue rolling the meatballs till you've exhausted the mince and set aside or put in the fridge till you are ready to cook.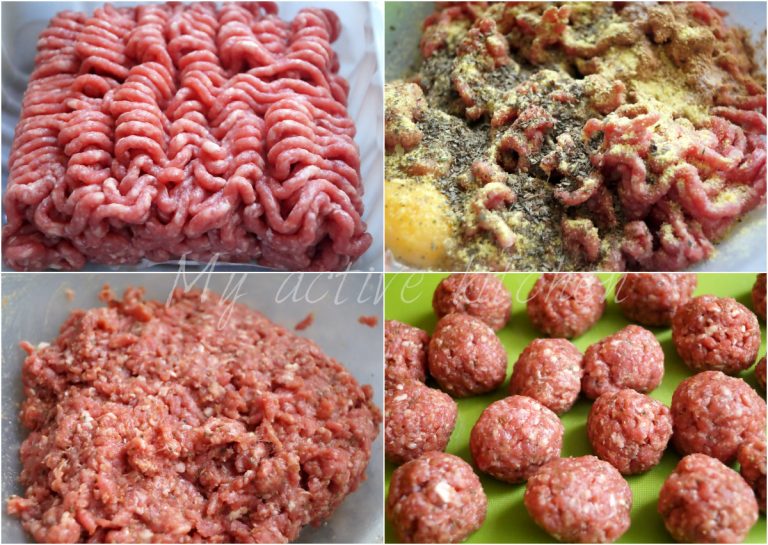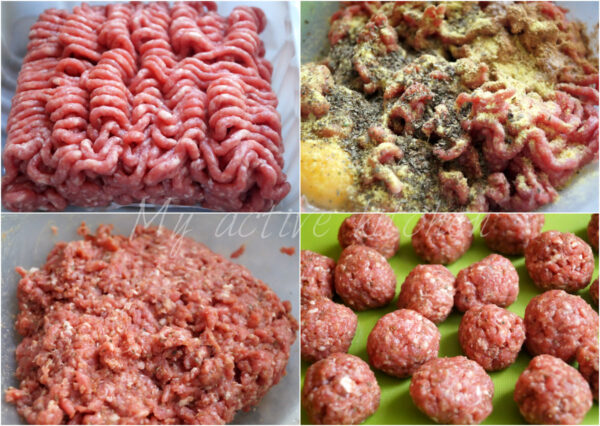 Add bell peppers, tomatoes, scotch bonnet chilli and onion into a blender and blend until 90% smooth and set aside
Add ⅓ cup vegetable oil to a frying pan and allow to heat for 2-3 minutes, add meatballs to the hot oil making sure the pan is not crowded. Slightly fry the meatballs on all sides till brown. (This should take about 2-3 minutes)  Take off the heat, drain and set aside.


How to cook meatballs in tomato sauce
Add vegetable oil to the pan. (you can use the one you used in browning the meatballs and then add more if need be)
Allow to heat for about 2 minutes then add the blended pepper and stir to avoid burning or splattering.
Reduce the heat and cook the sauce for about 10 minutes making sure you keep an eye on it. Add salt and seasoning and stir to combine (add water to the sauce if need be) allow the sauce to cook till oil start to float on top of the sauce.
Add meatballs to the sauce and stir carefully to combine.  Cook for another 2-3 minutes and check for salt and seasoning. Add fresh or dried basil leaves to the sauce and continue to cook till oil floats on top of the sauce and meatballs well cooked through.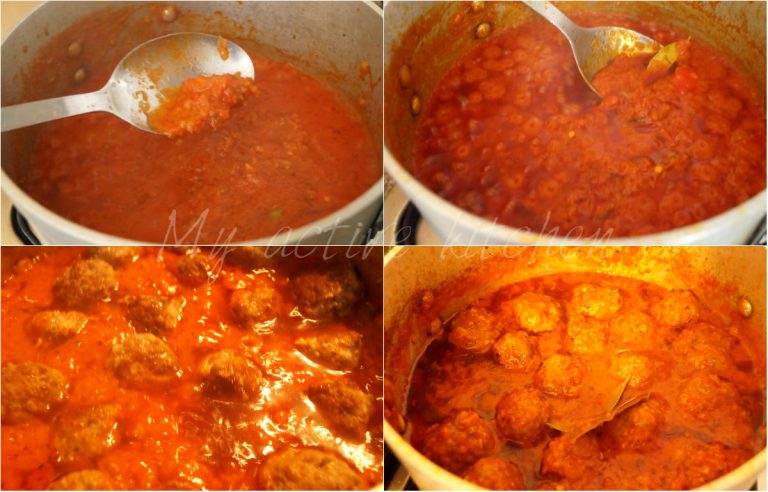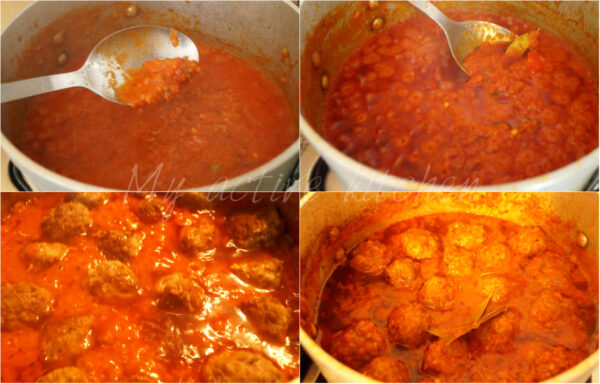 Take it off the heat and serve the meatballs hot with boiled rice or pasta
Tip:
Add chopped onions and a splash of oil to your rice when boiling, it gives the rice great aroma and taste. Enjoy xx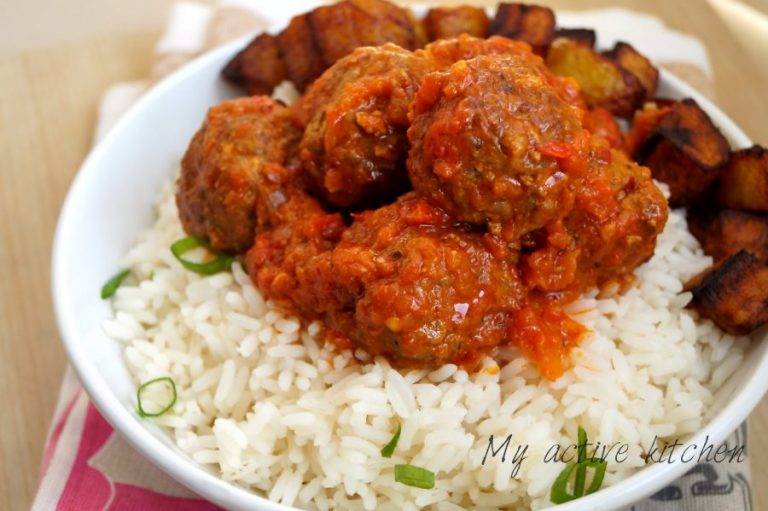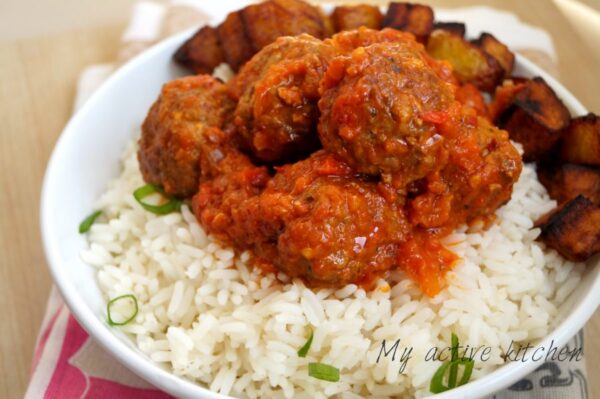 If you made this Nigerian style meatballs recipe, don't forget to leave me feedback. Tag me @myactivekitchen on Instagram and save away to your Pinterest.
ATB
Ajoke x