Learn how to cook perfect basmati rice all the time. I hear people say it's hard to cook rice and I am screaming NOOO in my head as rice is one of the easiest things you can whip up in the kitchen. You can cook perfect basmati anytime.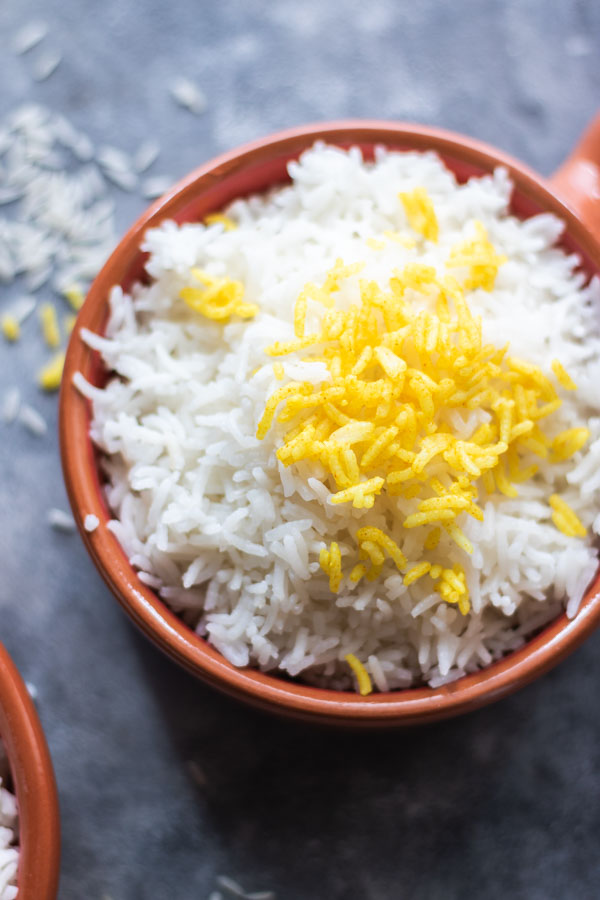 How to Cook Perfect Basmati Rice
There are different types of rice and they cook differently too. When I need to cook basmati rice, I go for golden Sella basmati rice not because it's easy or that I am avoiding the other types of basmati. The taste and texture of golden Sella basmati rice is what I love and I'm used to. Moreso, the flavour is not as intense as that of pure basmati and I love the fact that it cooks just like long grain rice. The difference between the two types of rice is that pure basmati is in its original form while Sella basmati is parboiled while still in its husk.
Rice is bagged into different portions when I buy basmati rice, I usually buy the 10kg size as this would last me for up to 2 months or longer. I know that sounds crazy, but I am Nigerian, and we eat rice a lot. In fact, it makes the larger part of the most consumed food in Nigeria.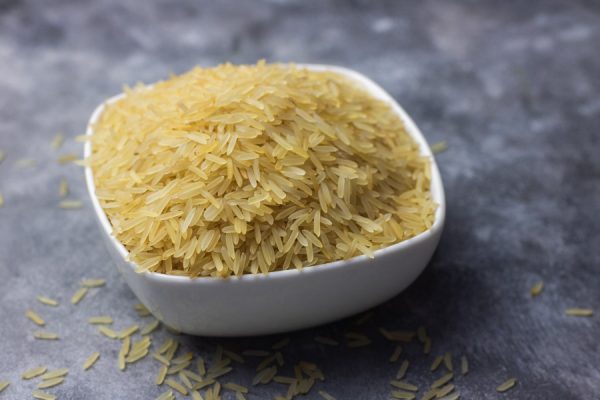 One of the key things to note if you want to achieve fluffy and light basmati rice is to rinse the rice before cooking. Alternatively, parboil it, rinse and continue cooking until well done.
I do not believe in the water ratio calculation of 2 cups of water to 1 cup of rice. That is not true as rice cooks differently. In order to understand the rice-water ratio, you need to be familiar with the type of rice you want to cook. I tried this 2 cups of water to 1 cup of raw rice ratio and the end result was sticky and clumpy rice (see image below)
It wasn't bad to eat but I would rather have my cooked rice grains separated.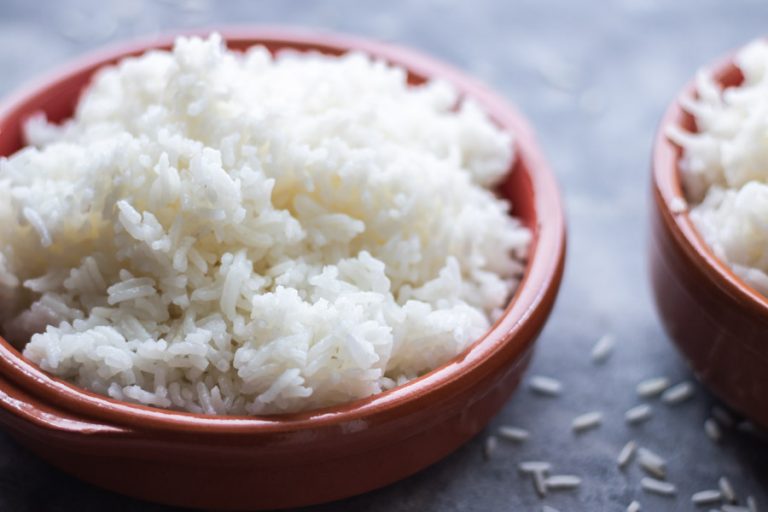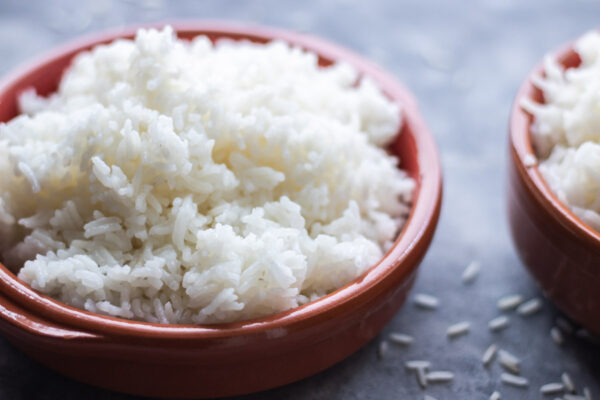 In my opinion, the best way to cook perfect fluffy and light basmati rice is to parboil it. Simples!!! This method works for other types of rice too. If you are new to cooking rice, then this is the approach I would use. Parboiled rice is very easy to manage unlike the ratio 2:1 method, you will find out that you are constantly checking on the rice the whole time it's cooking
How long to soak Basmati rice
Most pure basmati rice would require that you soak them for 30 minutes before cooking. I personally don't see the need for this. Cooking with both types of rice regularly, I can guarantee you that a simple step of rinsing out the starch in the rice would work the same magic. It would save you 30 minutes as well.
I always add about a tablespoon of butter to 2 cups of basmati rice and salt. The butter gives the rice additional great flavour and helps separate the grains from sticking.
I use the parboiling method to cook Nigerian ofada rice. This rice cooks like brown rice. It can easily go mushy if not cooked right. Please note that brown basmati rice takes longer time to cook than the normal ones or easy cook.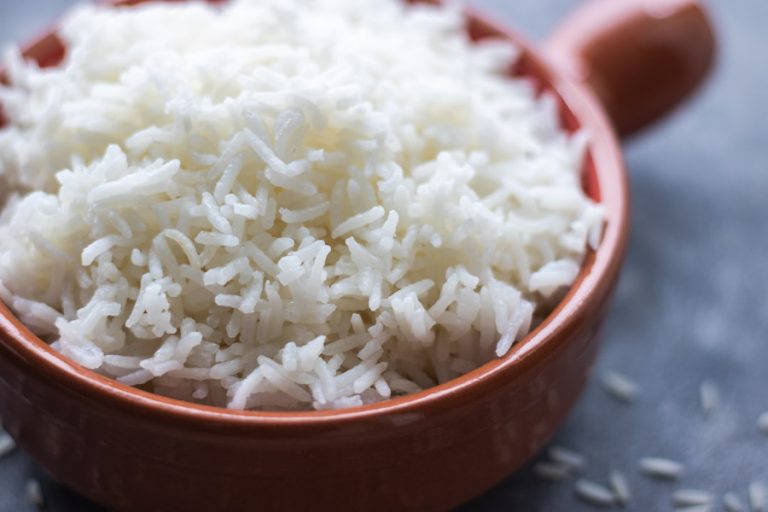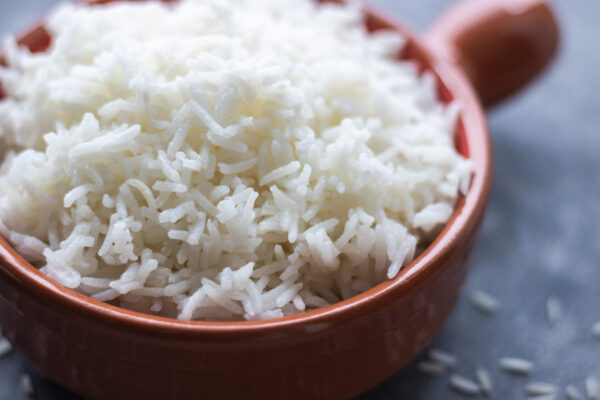 Basmati Rice Brands
For everyday and party use, I use Tropical or Leila Golden Sella. I seldom use supermarket brands too. In fact, I used a supermarket brand to test both methods and the parboiling method resulted in a light, fluffy and perfect basmati rice. Well let me say, this is my way of convincing you that my method of cooking basmati rice is the best and perfect option. You can't get it wrong with the parboiling method ever!
Parboiled Rice Calories
the calories in parboiled rice vary depending on the brand and type of rice used. As a general guide per 100g of uncooked rice calories can be between 300 and 370 calories. Tropical sun basmati rice calories per 100g uncooked rice is 345 calories.
Pressure Cooker or Rice Cooker
Basmati rice can be cooked in a rice cooker or electric pressure cooker. Although, I haven't used both to cook rice myself. One of my friends is a rice cooker addict and she swears by it all the time. I recently purchased a pressure cooker (Pressure King Pro). I had successfully made roast in it but I am not too sure if I keen to cook rice in it just yet.
UPDATE: Since I wrote this post, I can't tell you how many times I have since cooked rice in my pressure king pro and instant pot (IP). My rice comes out fluffy and light at all times. Check this pressure cooker rice and chicken and instant pot coconut rice here. I use 5.7ltr pressure cooker and the maximum I have cooked in both of them is 3 cups of raw rice. Also, you don't need to soak the rice before cooking
Instant Pot Pressure Cooker Basmati rice
When cooking rice in an instant pot or any other electric pressure cooker ensure you do the following
Rinse the rice a few times until the water runs clear to reduce the starch and to avoid sticky rice.
Use 1 cup of rice to 1.5 cup water ratio. eg if cooking 2 cups of basmati rice, use 3 cups of water.
Add the rice and water to the inner pot of your instant pot and mix to combine. Lock the lid securely and set the valve to sealing.
Choose the manual or pressure settings and adjust the timer to 6 minutes. Note this timing is for golden Sella basmati and it cooks just like long grain. If using pure basmati rice, reduce the cooking time to 4 minutes.
After the pressure cooker timed out, do 5 minutes natural pressure release and carefully do a quick release. (this step is optional as I do a quick pressure release most times)
Fluff the rice with a fork and serve as desired.
NOTE: water ratio for pure basmati rice is 1 to 11⁄4, i.e 1 cup of pure basmati rice to 11⁄4 of water
How to boil rice.
First Measure out the rice
No need to measure the water but if you must, I have the measurement used in the recipe card.
Place a pan on medium heat, add water and rice and bring to boil for 10 minutes. Note this is based on 1 cup of raw rice.
Drain and rinse the rice under cold water, return it to the hob, add salt, vegetable oil, stir to combine. Add 100ml of water, cover the pot with a lid and cook on low heat until desired, check for salt and adjust accordingly.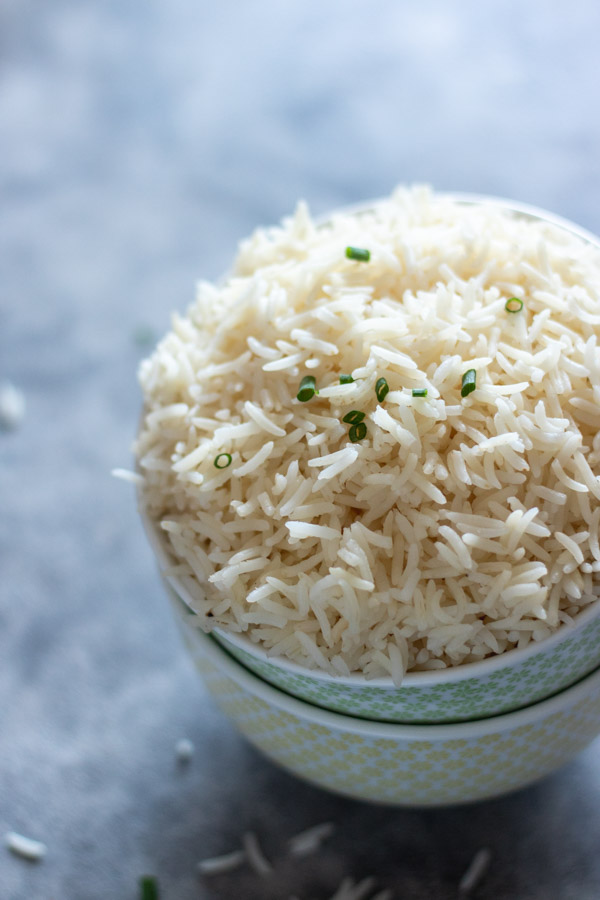 What other ways to cook rice
To cook the following rice recipes, you can either use the rice directly in the recipe or parboil it.
In Nigeria, we eat plain white rice with fried stew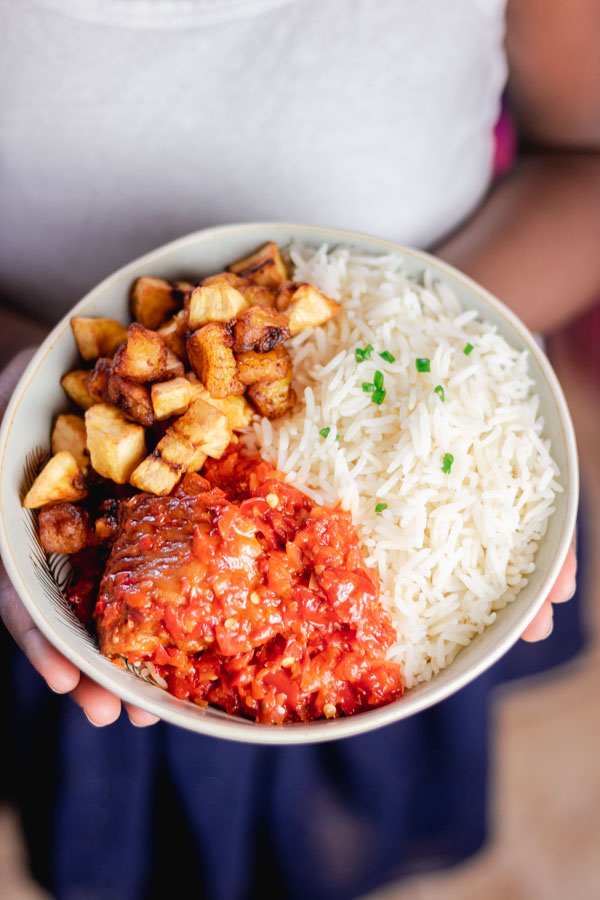 What to serve it with
What to season rice with?
White rice can be flavoured and spiced as desired. Think of white rice as a blank canvass and you the artist. Never eat boring rice again. There are endless ways to season rice but my easy go to are the following
Cook rice in broth or coconut milk instead of water
Garlic or roasted garlic
Lemon
Chopped Onion or onion powder
Different Herbs of Choice
Spices like turmeric etc
coconut oil
Vegetable oil, olive oil or any other flavourless oil
Recap
Rice is not one size fits all. Know your rice!
It is important to taste at intervals to avoid undercooked or overcooked rice
Don't boil rice on high heat, it will burn and sometimes the rice can go mushy. You will get a better result if you cook the rice on low-medium heat.
How To Cook Perfect Basmati Rice
Learn to cook perfect basmati rice at all times using the stovetop parboiling method. You are guaranteed fluffy and light basmati rice at all times with this method.
Ingredients
1

cup

pure or Sella Basmati rice

Water

½

tsp

Salt

1

tsp

Butter

vegetable oil or coconut oil

½

tsp

Onion powder

optional
Instructions
Add 650 ml water to a large pan, place it on medium heat add unwashed raw rice and bring to boil for 10 minutes. (cook with the pot uncovered) Drain rice through a sieve/strainer and rinse under cold water.

Return the rice to the pan, add 100 ml of water (distribute it evenly over the rice) cover the pan with a lid and continue to cook on low heat, check the rice after 5 minutes, add salt and butter, onion powder if using and carefully combine together. (taste the rice, if the rice is still hard, add little water but don't overdo it) The initial 100ml works every time.

Cover the pan and continue to cook the until rice is tender. (Roughly another 5 minutes) Fluff with a fork and use as desired
Nutrition
If you tried this basmati rice recipe, kindly leave feedback or #myactivekitchen on Instagram so I can see what you have been cooking. Thank you and see you on my next post