Last Updated on
Nigerian fried rice in all its glory! I don't mean to brag but I make the best fried rice and I can tell you, this would be your last search for learning how to make Nigerian fried rice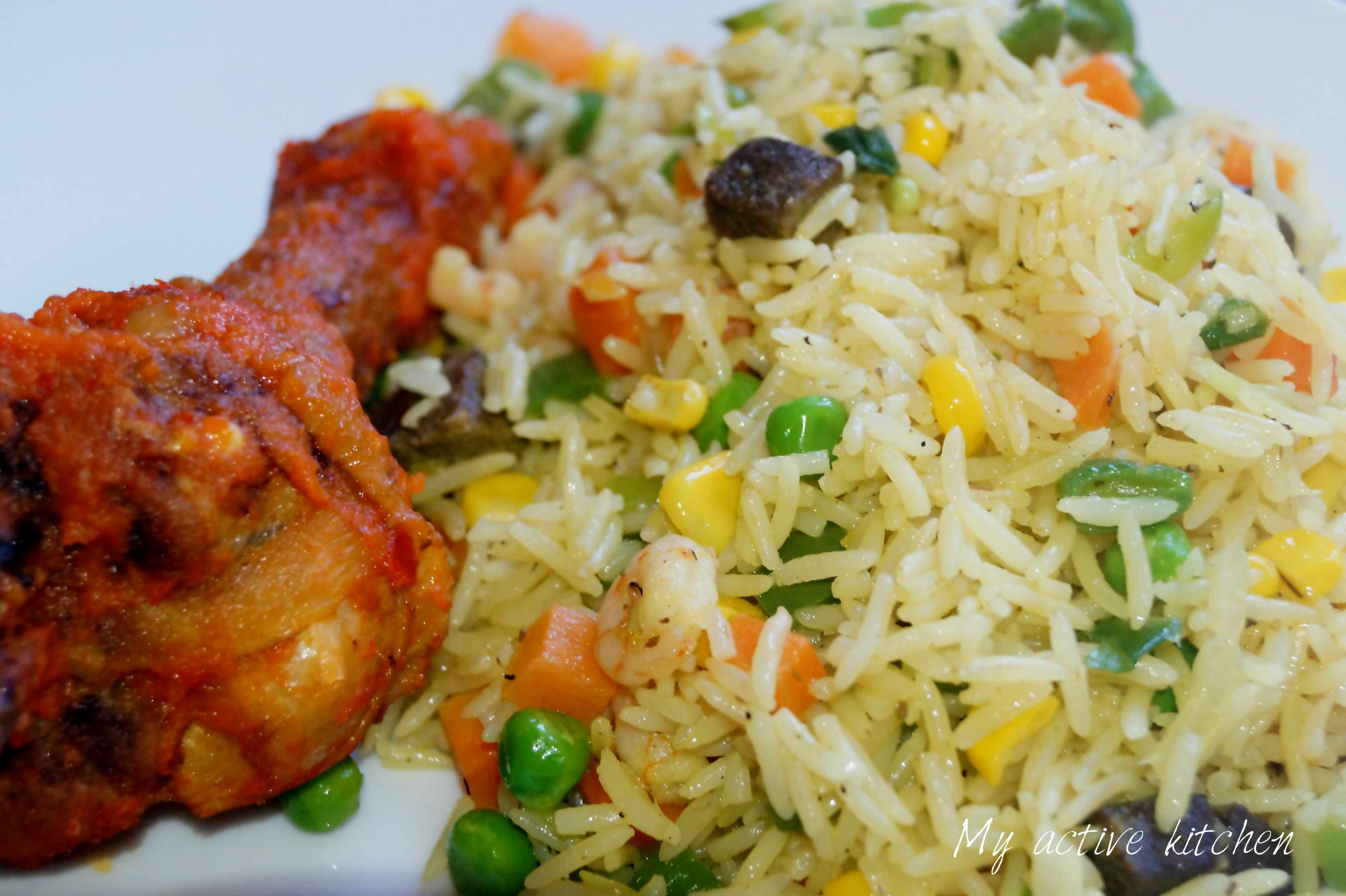 I catered for my Cameroonian friend once and she said she would rather have chopped meat in her Nigerian fried rice instead of liver, mainly because of her guests. This added a different twist to the fried rice.
Basically, Nigerian fried rice is cooked with stir-fried vegetables and I believe you can make yours however you want it. It is simple and can be made healthy with some few swaps and portion control.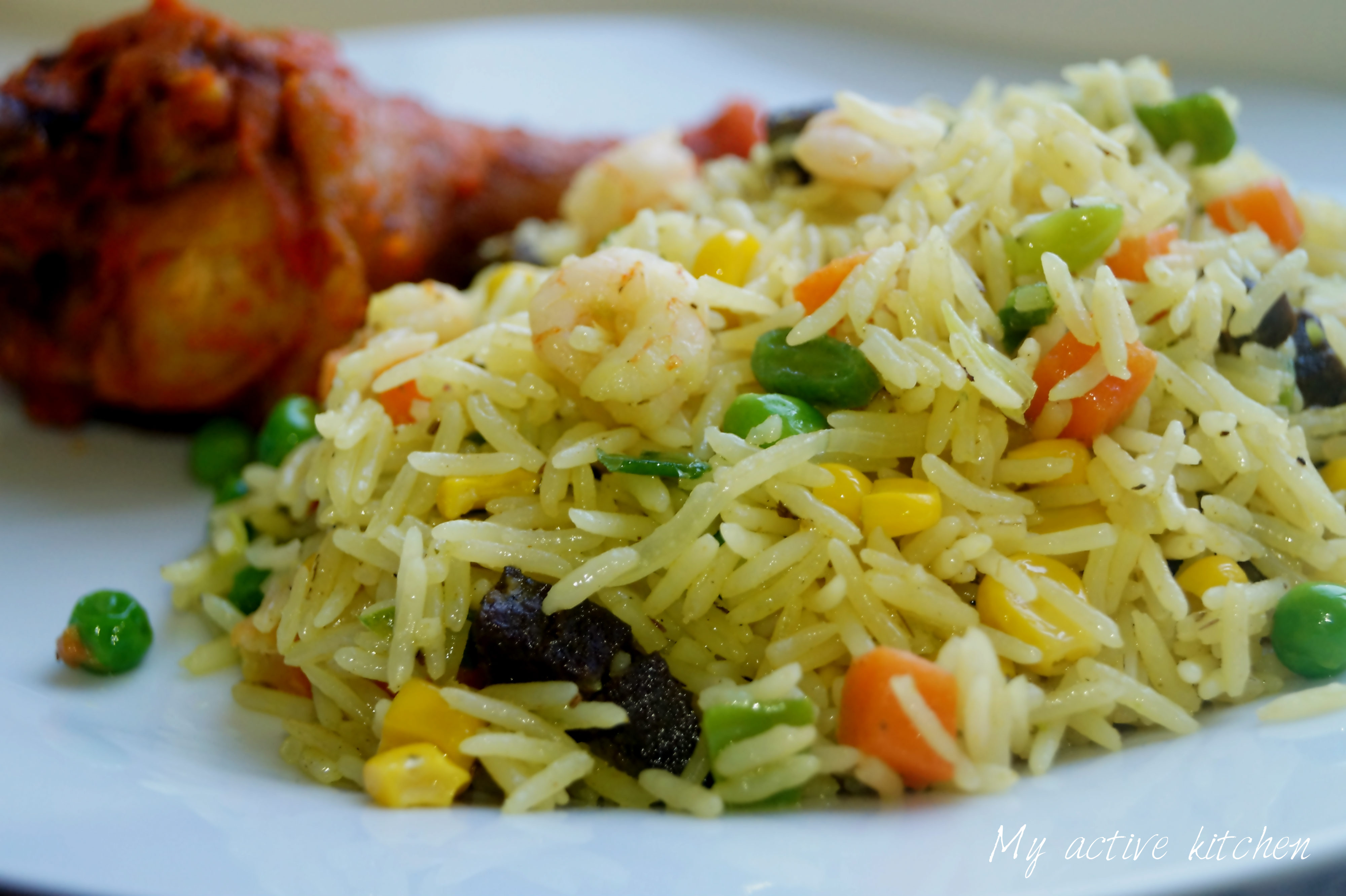 Ingredients
2 tsp Curry
1 tsp Thyme
1/2 tsp White pepper (optional)
Salt
1/2 tbsp Ground ginger and garlic (optional)
11/2 tbsp chicken bouillon powder
Chicken stock
1/2 cup Runner beans, sliced
1/2 cup Carrots, chopped
200g Sweet corn
Spring onions
1 cup frozen peas
1 medium size white onion
20 medium Prawn (optional)
1 cup Liver, boiled,  chopped and fried
1 big Green bell pepper, diced
4 cups of rice, washed or parboiled
1/2 cup Vegetable oil
  

Don't be discouraged by the exhaustive list of ingredients, like I mentioned earlier you can make this to your choice, skip the ingredients you are unable to source. Curry, seasoning, stock and thyme are very important in cooking Nigerian fried rice. I have had fried rice that was cooked with carrot, green peas and sweet corn before that tasted nice. Alternatively, use 3 cups of frozen mixed vegetable and follow the instructions in this recipe

 

If you are using chicken/turkey stock, use less oil in cooking rice as the stock usually contain oil. See ingredients picture.

 

You will be needing 2 cooking pan for your rice, one to cook the rice and a bigger one to stir fry rice with vegetable.

 

It is important to prep your vegetables before cooking.
How to make Nigerian Fried rice
For some reason, I can't explain I don't parboil my rice to cook fried rice or Jollof rice. But if this method is not for you, skip this bit and go straight to cooking parboiled rice in chicken stock.
Like I mentioned just make it your own. I assure you one thing; you can never go wrong using this method. I learnt this from my mum and it's never failed.
Place a pan big enough to cook rice on medium heat, add oil, heat for about 2 minutes, add washed rice and stir for about 2-3 minutes. (Don't let rice stick to the bottom of the pot)
Add chicken stock (if the stock is not enough to cover the rice, add water to it) curry, thyme, ginger, garlic and seasoning. Reduce heat and allow cooking until tender.
Check in between, add water if needed and don't forget to check for salt and seasoning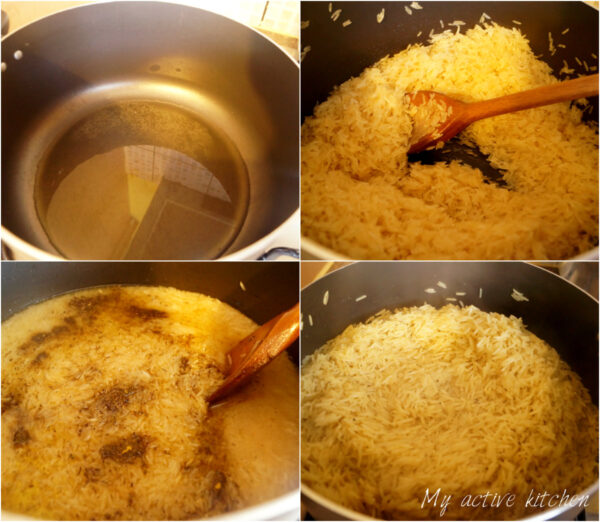 Whilst you are waiting on your rice to cook, you can stir fry the vegetables or just wait till rice is cooked.
How to stir fry vegetables
Add 2-3 cooking spoonfuls of vegetable oil in a wok/ frying pan, heat for about 3 minutes, add the hard vegetables first, then the other soft ones, add curry, thyme, salt and seasoning and fry for another 4-5 minutes till vegetables are a bit tender. (See pictures as a guide) If you are using processed green peas, don't add to your stir fry as it would go mushy.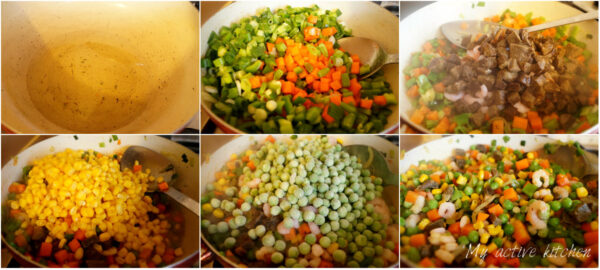 Now moving on to the next bit, time to use the slightly bigger pot
Place the bigger pan on medium heat, add 1-2 cooking spoon of vegetable oil, heat for 2 minutes, (divide cooked rice and fried vegetables into 2 or 3 batches). Add rice to the oil, then the divided stir-fried vegetables and fry for about 2 minutes.
Repeat the process for the remaining rice and vegetables. Leave to cook another 2-5 minute. Take pan away from the heat and serve with sides of choice.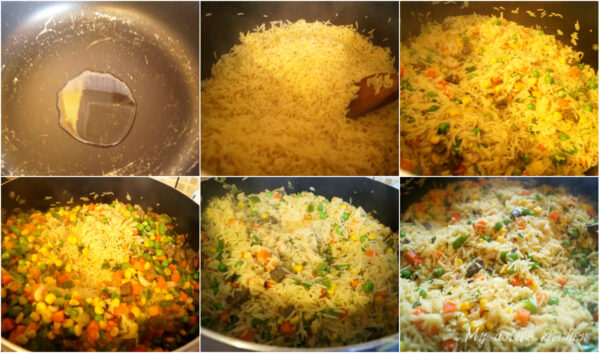 If you made this fried rice recipe, don't forget to leave me feedback. Tag me on Instagram and save away to your Pinterest
Enjoy your Nigerian fried rice…
Other rice recipes from the blog you will love