Basmati Jollof rice! I can eat this rice any time of the day,  7 days a week. I know right, you are probably thinking all that carbs, well it doesn't count if it is Nigerian Jollof rice. This valentine let your bae treat you like jollof rice. Never let any man or woman treat you just like any kind of white rice.
 Bae, you are jollof of life and you are no jollof gate. Here is a quick recipe for basmati jollof rice. This basmati rice cooks like long grain but definitely taste better (in my opinion). I used Tropical basmati rice (sella) and it cooks our Nigerian jollof rice beautifully.
Ingredients
6 cups of basmati rice
2 Large red bell peppers
2 medium size tomatoes
2-3 scotch bonnet
2 onions
Beef/chicken stock  800ml (optional)
4-6 cooking spoon vegetable oil
2 tsp curry
1 tsp thyme
1tbsp mixed herbs, optional
3-4 bay leaves
Seasoning (I used jumbo chicken)
Butter 2-3tsp (optional)
2 tomatoes and 1 small onion, sliced
How to make basmati jollof rice
Blend bell pepper, onions, tomatoes, and scotch bonnet chilli in a blender until smooth
On medium heat, boil pepper until reduced to half its original size
Wash rice and set aside (parboil your rice for about 4-5 minutes if you want)
Place a larger pan enough to cook the rice on medium heat, add chopped onions and fry till soften (like 2 minutes)
Add cooked pepper, curry, thyme, mixed herbs, seasoning and cook further till oil floats on top the sauce
Add stock if using and if not add water about 900ml, add bay leaves and continue cooking till oil floats (stir in between so that the sauce doesn't stick to the bottom of the pan. Also check for salt and seasoning especially if you are using stock)
Add washed rice into the sauce and stir till well combined. (Your water level should be at least 2cm above the rice)
Reduce the heat and cook for another 10 minutes (check for salt, water and seasoning) add 100ml of water at a time.
Cover rice with foil sheet and continue to cook
Note: It is ok if your rice burns a little… that's the jollof feel you get without firewood
Add chopped onions, tomatoes and butter if using
Leave the rice to simmer away till rice is tender.
Serve basmati jollof rice with side of choice. Enjoy x
Something tells me you will love these recipes too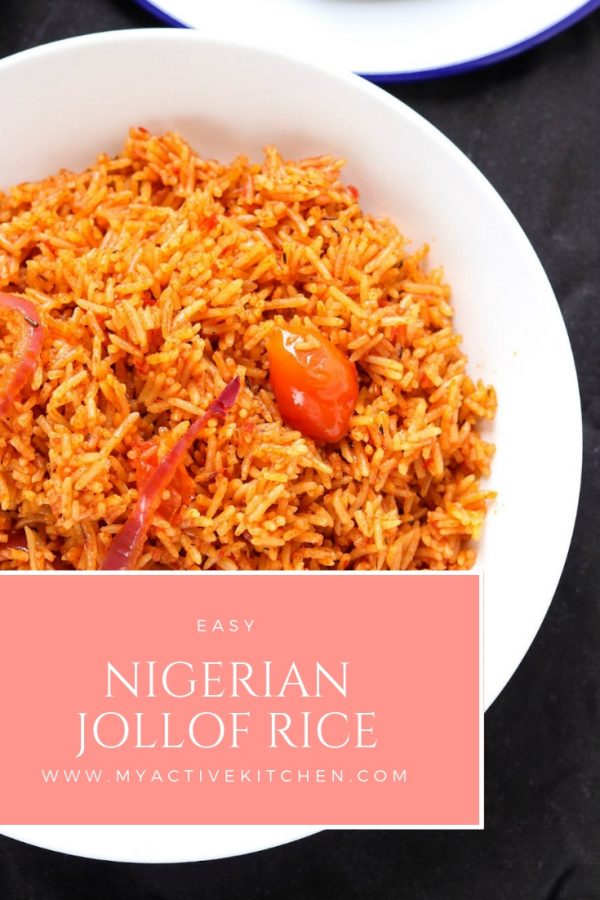 Don't forget to leave me feedback if you tried this basmati jollof rice recipe. Tag me on Instagram and save away to your Pinterest
Enjoy .x