Is there any Nigerian here who doesn't like beef?
Haha… I don't think so too. Well, with an exception for vegans and vegetarians. We don't joke with beef at all, we love it in stew, eat it fried, boiled or grilled.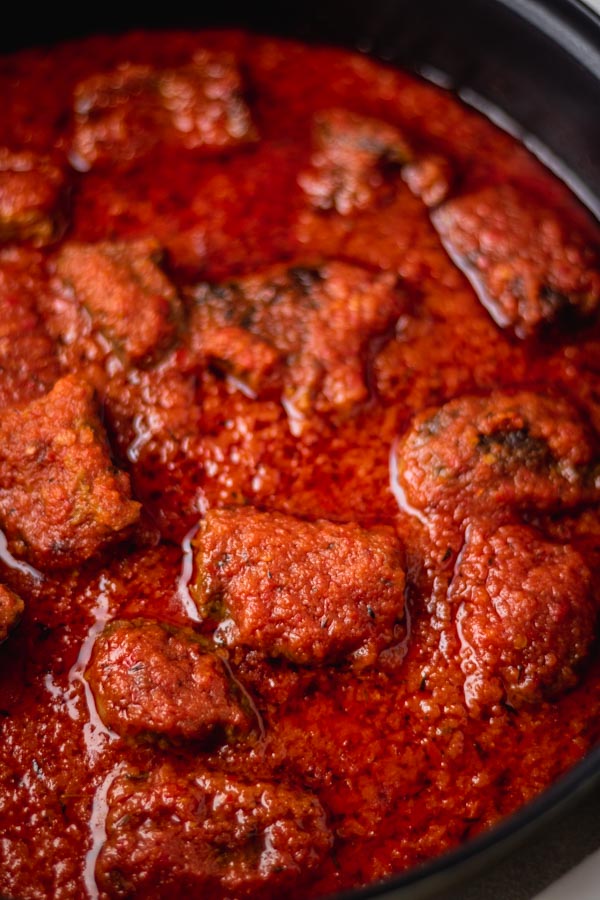 Nigerian Beef Stew (African Stew)
Today's recipe is one of Nigeria's classic dishes, one of the tomato stew recipes that must be in every Nigerian household. Beef stew is made with tomatoes, red bell pepper, scotch bonnet (ata-rodo), onions and of course beef. In Nigeria, we use soup and stew interchangeably so excuse me if I get carried away. Nigerian stew would usually call for pepper mix while soup is slightly thicker and contains vegetable like pumpkin leaves, efo tete etc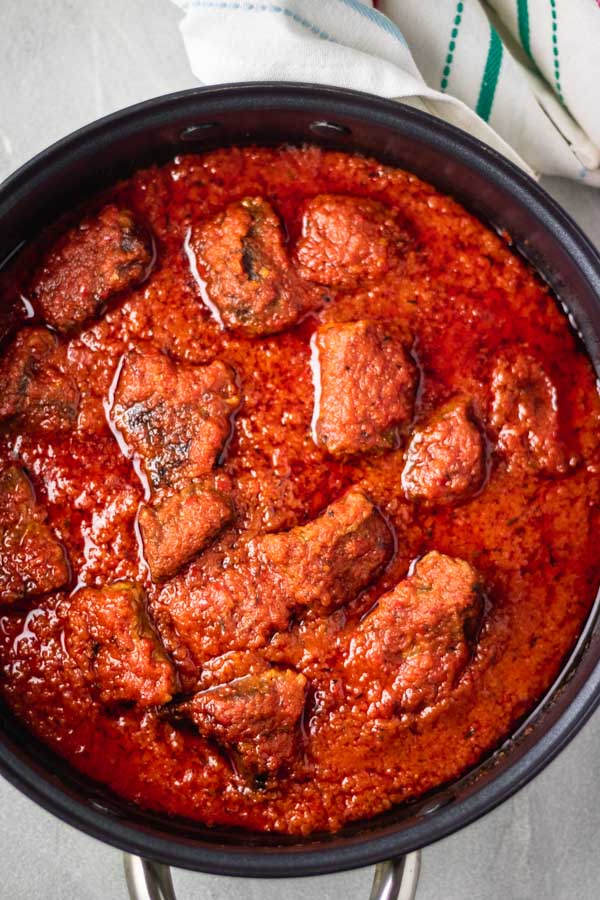 I must say this stew is not peculiar to Nigeria alone but the whole of Africa. It is also called African stew or red tomato stew. There might be few swaps of ingredients and spices used, but the same process is followed. One pot tomato stew with the addition of protein of choice.
Beef stew is made thicker as it is fried, it keeps well in the fridge and can be stored in the freezer for up to 3 months. Nigerian beef stew has been saving lives for years. It is perfect with plain boiled rice. In fact, some people with trust issues add beef stew to their jollof rice and fried rice. This stew is also great with bread, yam, plain okra and ewedu, not forgetting some Nigerian soups too.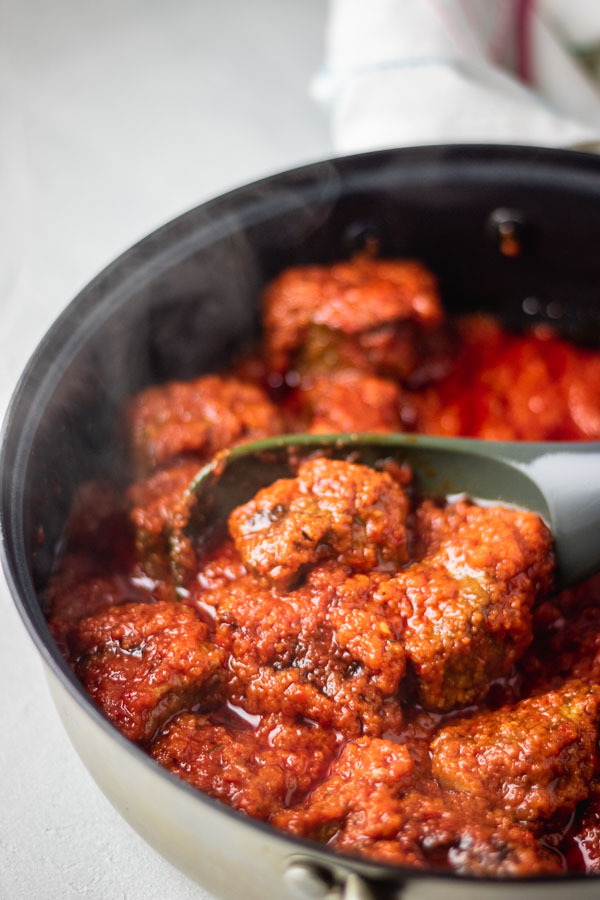 To make this delicious tomato stew, you can use any protein of choice like beef, chicken, pork, lamb, goat, fried fish, boiled eggs etc. The main ingredients in Nigerian beef stew are tomatoes (fresh or plum) I used chopped tomatoes for mine. Red bell pepper (tatashe) and onions are also important in making this classic stew as it is the base for the beef, the addition of garlic and ginger is optional but if it floats your boat, feel free to add it.  If you would like to know more about Nigerian Pepper mix, you need to read this post here.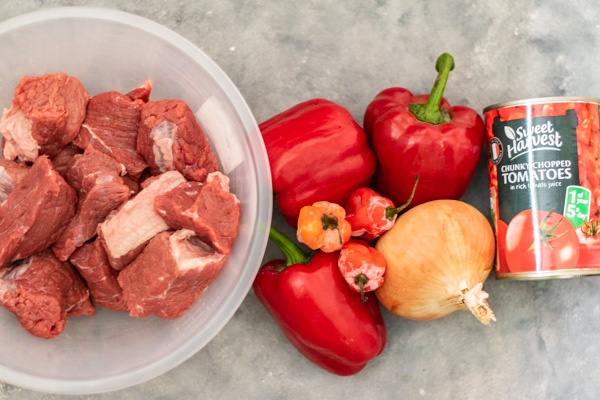 What's in my stew
Beef
Nigerian pepper mix: This mix consist of tomatoes, scotch bonnet, onions and red bell pepper/ pointed red pepper. Nigerian pepper mix is the base for Nigerian soup and rice dishes like jollof rice and native jollof rice.
Curry
Thyme
Bouillon cube (jumbo, Knorr, Maggi and the likes)
To make beef stew, you need to either grill or boil the beef, for this recipe, you want to use fried beef which can be grilled for a healthier option. In Nigeria, we boil our proteins 90% of times before adding it to our stew and soups. The only blood I need in my beef is the blood of Jesus. Lol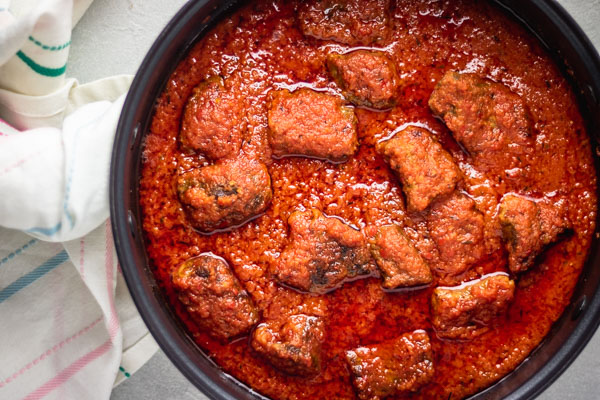 How to boil beef
Rinse the beef (protein of choice) yes, we have to rinse our proteins before we boil or do anything with it. Even if you don't want to, picturing what your African mum or aunty could say would make you change your mind.
Add it to a pan, add chopped onions, bouillon cube, salt (add curry and thyme if using or any other herbs of choice. I used dried oregano) add little water and bring to boil until the meat is tender
Fry beef until golden brown or grill in the oven for a healthier option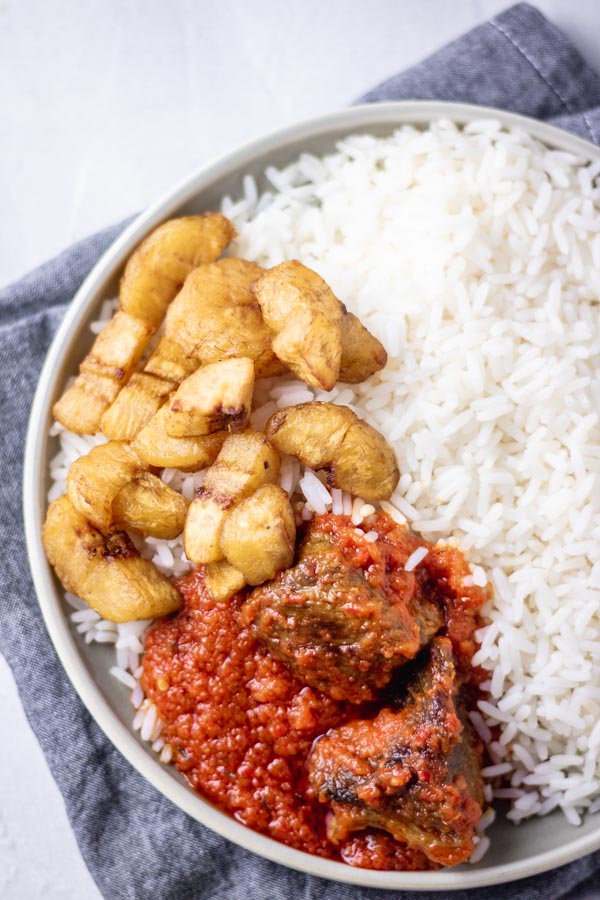 How to make Nigerian beef stew
Boil the meat, fry or grill and set aside
Blend the peppers, mine was about 4 cups after blending
Using the same oil used in frying the meat, add the pepper mix and cook for some few minutes
Add spices, salt and bouillon and fried beef.
Continue to cook on low heat till oil floats to the top of the stew (if stew is too thick, add stock or water to make it lighter)
Serve as desired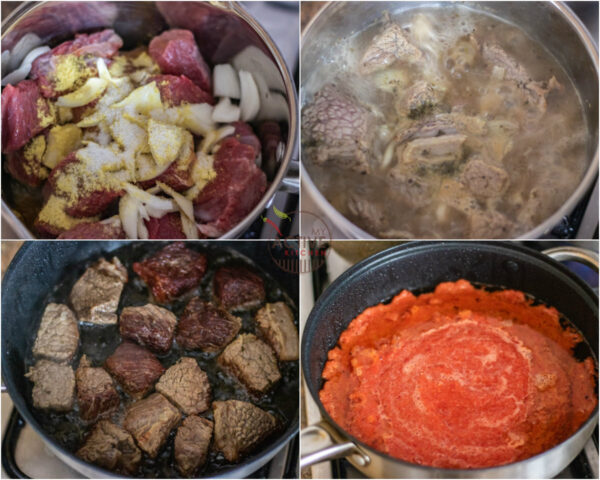 Nigerian Beef Stew (African Stew)
Beef stew is a versatile tomato stew popularly eaten in Nigeria. This stew is not peculiar to Nigerians alone, it is popular in other parts of Africa as well. This is one stew recipe you want to add to your recipe tin. A versatile tomato stew that can be eaten with anything and everything
Ingredients
3

red bell peppers

400

g

chopped tomatoes

1

medium onion

3

scotch Bonnet

3

tsp

bouillon powder

1

tsp

salt

1

tsp

oregano optional

1

kg

beef

1

cup

veg oil

½

tsp

curry optional

½

tsp

thyme optional
Instructions
Boil meat with 2tsp bouillon, 1/2 tsp salt and chopped onion, oregano and boil till tender. This should take between 20 minutes or longer depending on the cut of meat used. Tougher meat would take longer to cook. Take the beef out of the stock, sieve the stock to get rid of scum and reserve for later

Place a pan on medium heat, add vegetable oil and heat till hot, carefully drop the meat into the hot oil and fry until golden brown. You may choose to grill the meat for healthier option

Place the meat on a kitchen towel and move on to cooking the stew

To the hot oil, carefully add the pepper mix, stir to combine, cover the pan with a lid and cook for 10 minutes. Stir to combine, if the stew is becoming thick, add beef stock or water to avoid burning. (Remember this is fried stew so you only need to add little water/stock at a time if using at all)

Add curry and thyme or any other spices you choose to add and stir to combine.

Add bouillon or salt (you can use the combination of both but be careful, so you don't overdo it. Remember you have added salt and bouillon to boil the beef. Also, if you have added stock to the stew, you might not need to add salt or bouillon to the stew)Return the fried beef to the stew, stir until well combined and continue to simmer for another 10 to 15 minutes or until oil floats on top of the stew.
Notes
You can add concentrated tomato to the stew if you desire.
Decant excess oil if need be after the stew is ready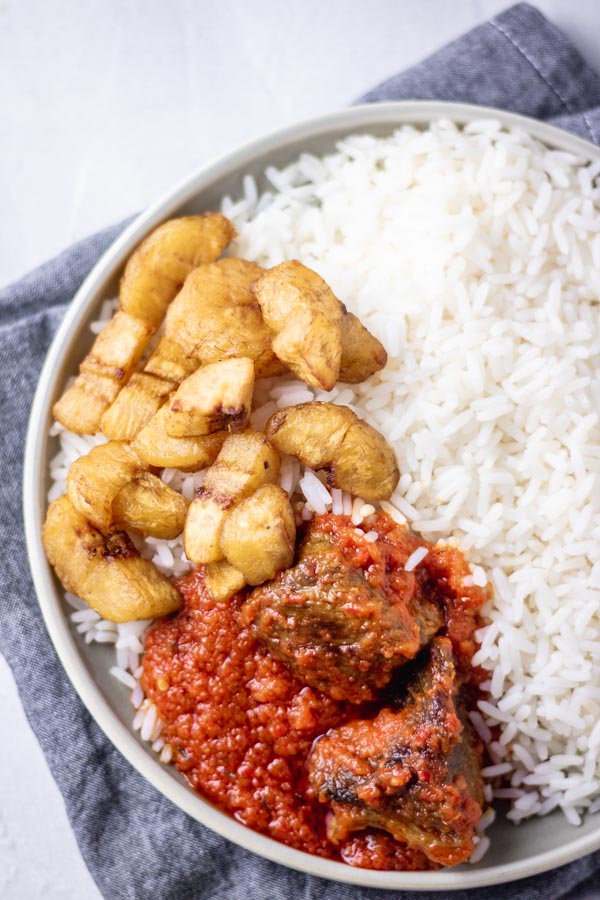 If you made this Nigerian beef stew (African stew) recipe, don't forget to leave me feedback. Tag me on Instagram and save away to your Pinterest
ATB
Ajoke x