Last Updated on
How to roast whole garlic in the oven. Today I will be sharing with you how to make roasted garlic and how you can incorporate it into your dishes.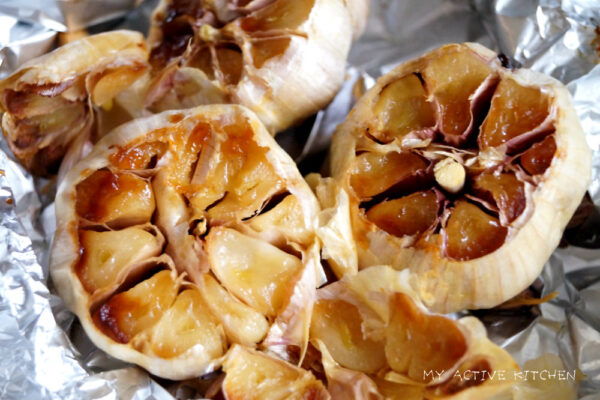 Hello my lovely foodies, how have you been and hope you are getting ready for Christmas? Well, I am, and since the beginning of the month, every day has had a little preparation towards Christmas. Today's post is going to be a quick one and I mean very quick. Roasted garlic is what I add to my cooking when I don't want the overwhelming smell of garlic. It is a subtle version of raw garlic and the list of what you can do with it is endless. Roasted garlic is very easy to make and not time-consuming too and it is a must in every kitchen if you love garlic.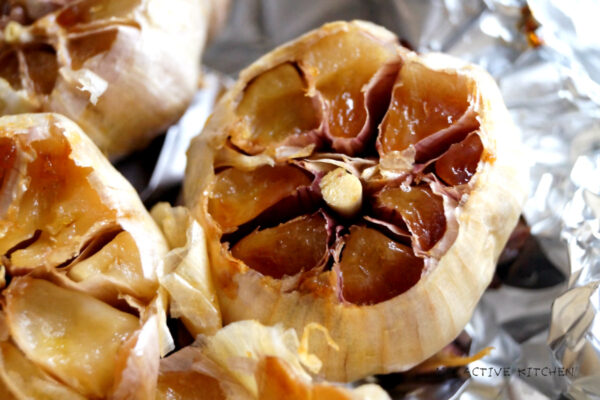 Add roasted garlic to your…
Rice dishes eg Jollof rice, fried rice etc
Add it to your soups and stew for a mellow garlicky taste
Mix with mayonnaise or ketchup and add to sandwich or salad, it goes well with shawarma as well
Add to mashed yam or potato or even yam pottage
Add to olive oil or any other flavourless oil to jazz it up (Roasted garlic infused oil)
Use as chicken or beef marinade (I have a recipe coming up tomorrow)
Add to your salsa
Mix it with butter and use as a savoury spread
Add it to roasted yam or potato
Add to your pasta dishes and tomato/pizza sauce
Your fried fish is incomplete without some yummy squidgy spreadable roasted garlic
How to Store Roasted Garlic
Roasted garlic can be stored in the fridge for up to 5 days. If you want it to last longer, put it in a storage jar and submerge with enough oil and store in the fridge for up to 2 weeks.
What you will need
1 or more whole heads of garlic (use as many as you have/want)
1-2 olive oil or any other flavourless oil (I used rapeseed oil)
Sea salt
How to roast garlic in the oven
Preheat oven to 180⁰C.
Peel the papery outer layer of the garlic and cut the head of the garlic about ½ inches. Place the garlic bulb on a foil paper, drizzle with olive oil and cover with the foil.
Roast in the oven for 20-30 minutes or until garlic is very soft and lightly browned. Remove from oven and allow roasted garlic to cool.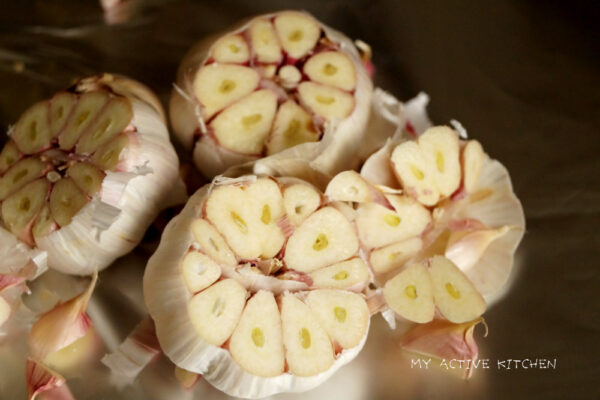 Squeeze garlic out of its skin with your hand or use a fork to remove it. when ready to use, mash roasted garlic with a fork, add a pinch of salt and use as desired. If you would be keeping the garlic for use later, add to a storage jar and cover with enough oil and use as desired. This roasted garlic would keep for about 2 to 3 weeks maximum.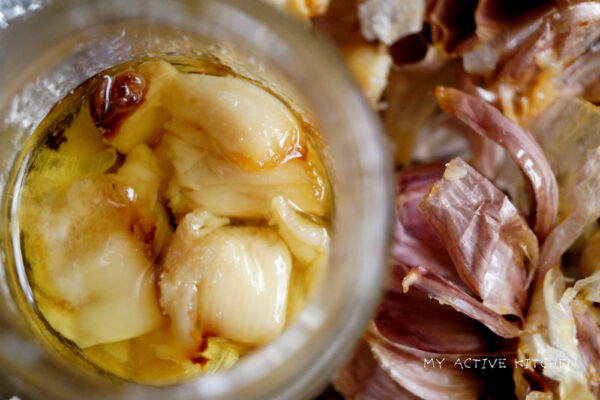 Don't forget to leave me feedback if you tried this simple roasted garlic recipe. Tag me on Instagram and save away to your Pinterest
Enjoy .x