Last Updated on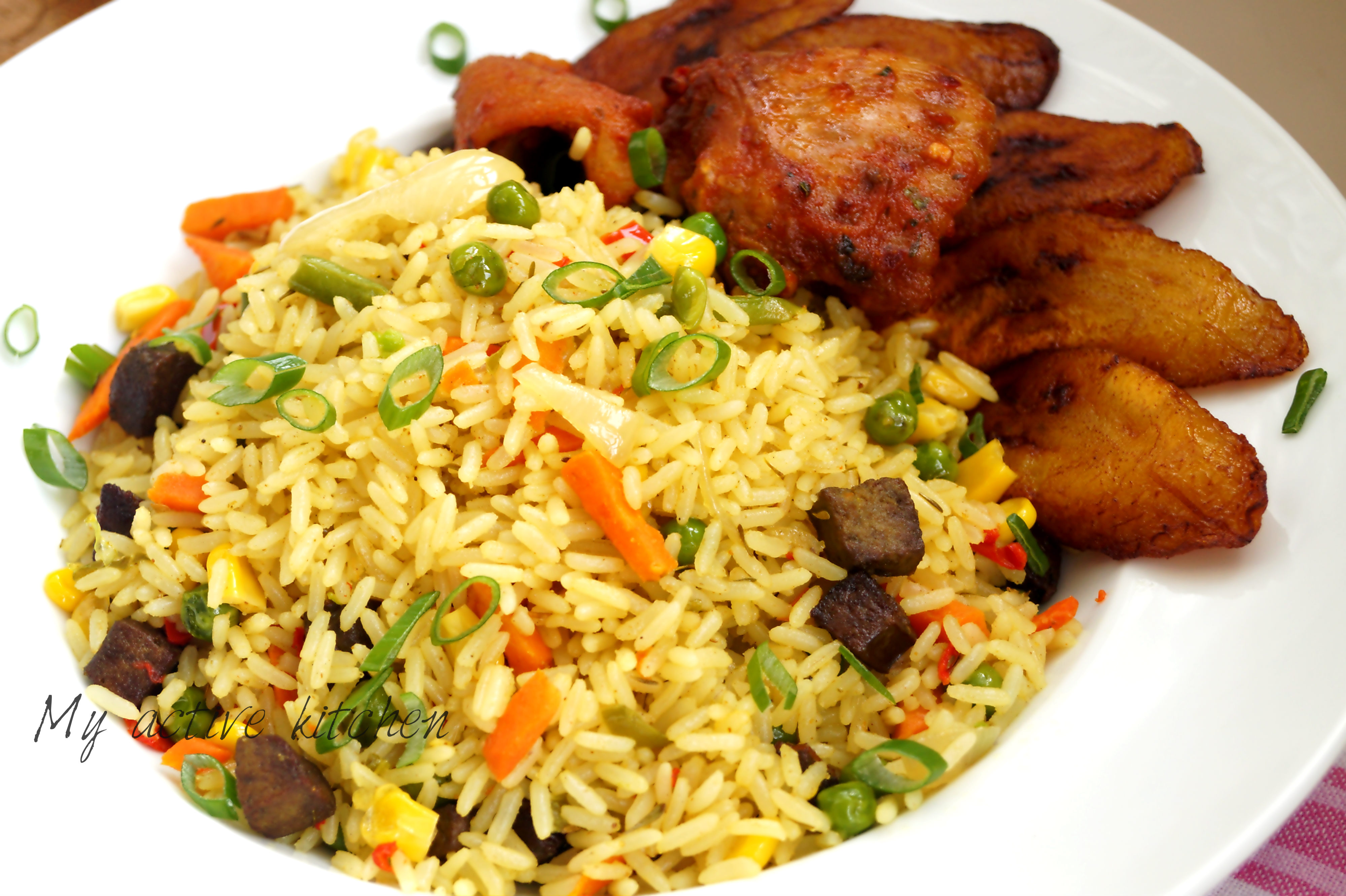 Coconut Fried Rice
So I finally cooked coconut fried rice for the blog. About time hey! Making coconut fried rice is very easy but if care is not taken, you can easily overpower the delicate flavour of the coconut. Like I mentioned in my previous coconut rice post. Anytime I cook coconut fried rice, I make sure I go easy on the amount of curry I use and I also make sure I cook my rice in the coconut milk first. If you would be trying this recipe with basmati rice, I'll advise you read the cooking instructions on the packet and adapt it to this recipe accordingly.
I'm saying this as rice cooks differently depending on type and brand used. If it is a brand you are used to, you should be aware of how well it cooks.  Also for this fried rice recipe, I didn't go full on with the addition of vegetables as I didn't want it stealing the show from the rice.
You can also choose to go with homemade coconut milk for this recipe or you can use shop bought. Homemade does taste better though. Lol
Right, who would be cooking some coconut fried rice this week? Come along then and let's cook.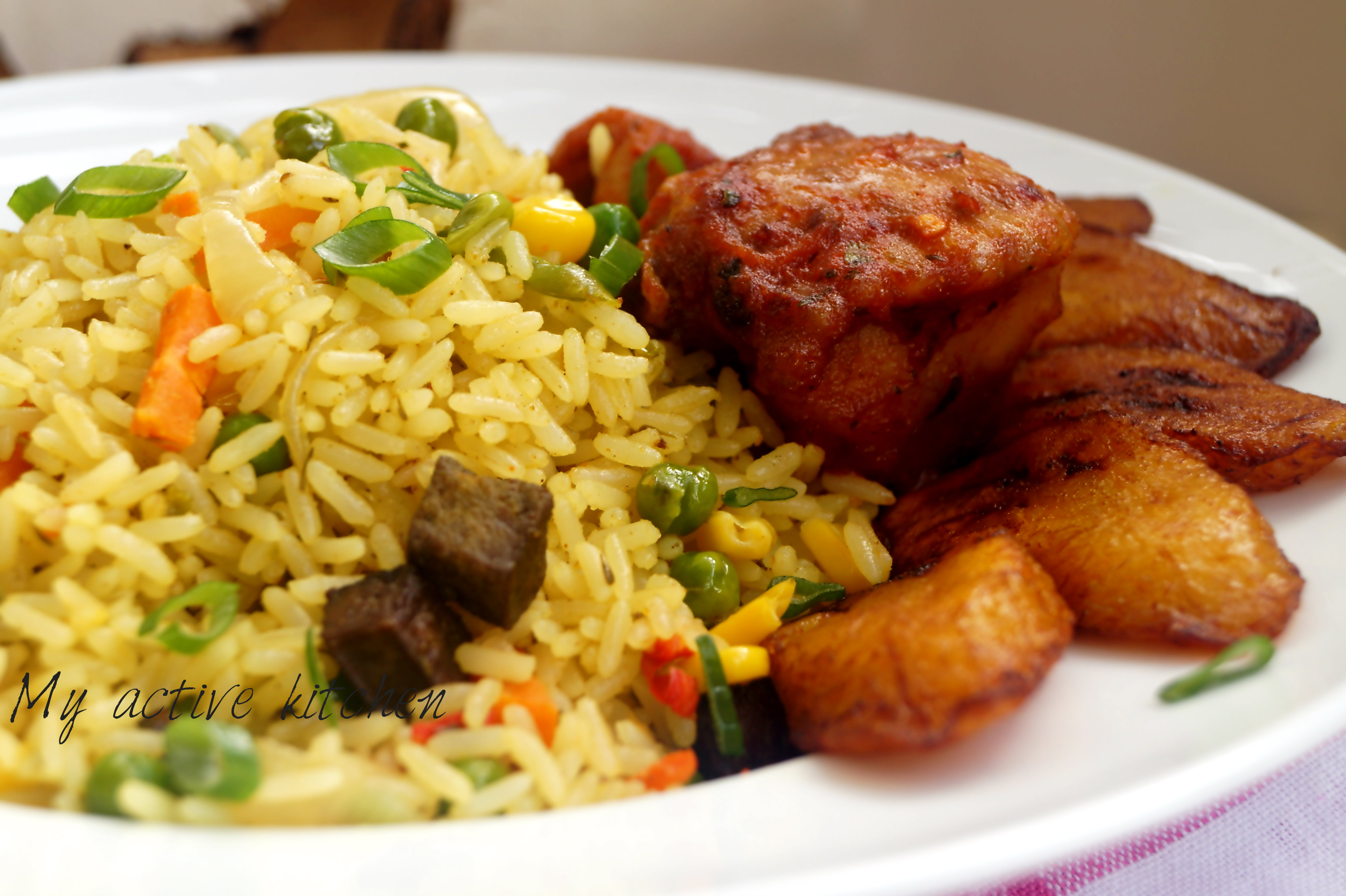 Ingredients
21/2 cups of rice (I used 400g tin to measure)
400g homemade or shop bought coconut milk
Chicken stock
Mixed vegetables
Green and red chillies, sliced (substitute with red and green bell peppers)
Liver, boiled, cubed and fried (sorry I forget to measure the amount I used but I only used a little)
150g sweet corn
1levelled tsp curry powder
1tsp thyme
1/2 cup of vegetable oil (use less oil if you are you using chicken stock that already contains oil)
Salt
Seasoning (chicken seasoning preferably)
Spring onions
1tsp parsley (optional)
1medium-sized onions, chopped
How to make coconut fried rice
Wash rice till water runs clean and set aside
Place a pan on a medium heat, add the coconut milk and rice (if the coconut water is not enough, add water to it and make sure the water is covering the rice just a little bit, about a inch higher than the rice) reduce the heat, and bring the rice to boil for about 8-10 minutes.
Add 1tsp of curry, thyme, parsley, seasoning, a little salt and some of the chicken stock. Mix everything together till well combined.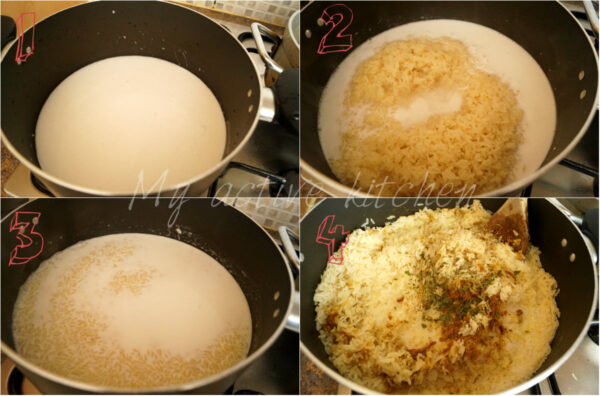 Reduce the heat and cook rice till about 90-95% tender. (At this point, you can choose to add 1Cspn of vegetable oil to the rice but if you feel the oil from the stock would be enough, don't add the vegetable oil)
Check in between, add water/stock if needed and don't forget to check for salt and seasoning
Once the rice is cooked, add the chopped peppers to the rice and stir in to combine. Take the rice off the heat and set aside

On a separate pan/wok
Add 2tbsp vegetable oil and heat for about 2 minutes, add mixed vegetables and chopped onions and stir fry till onions become translucent. This should be between 3-5 minutes. Add a pinch of curry, thyme and seasoning to the vegetables and stir together. follow by the fried livers and stir fry for another minute. Add sweet corn, stir together to combine and take it off the heat.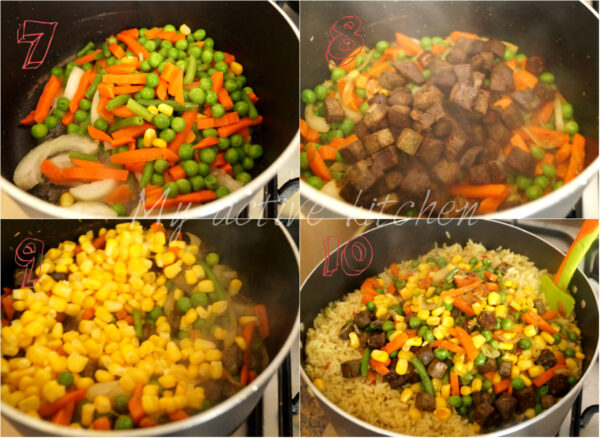 Place the almost cooked coconut rice back on medium heat, add the stir-fried vegetables and combine together. (You can use a wooden ladle for this job as it makes the job faster) at this stage of the cooking, you shouldn't need to add water/stock to the rice.  The remaining steam in the rice will do the job. Take the rice off the heat and serve with some lovely protein of choice. I love mine with spicy baked chicken and some fried plantain.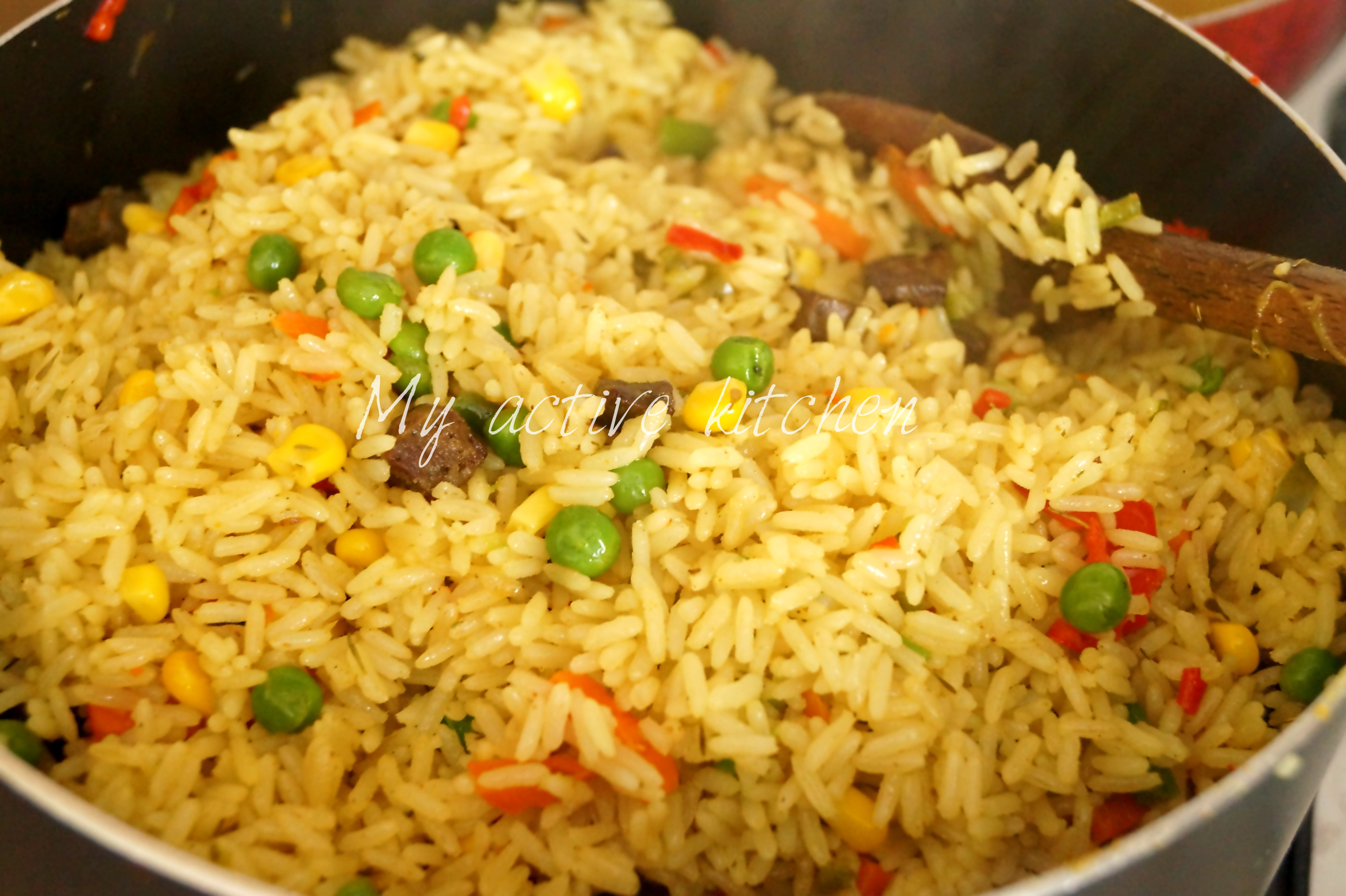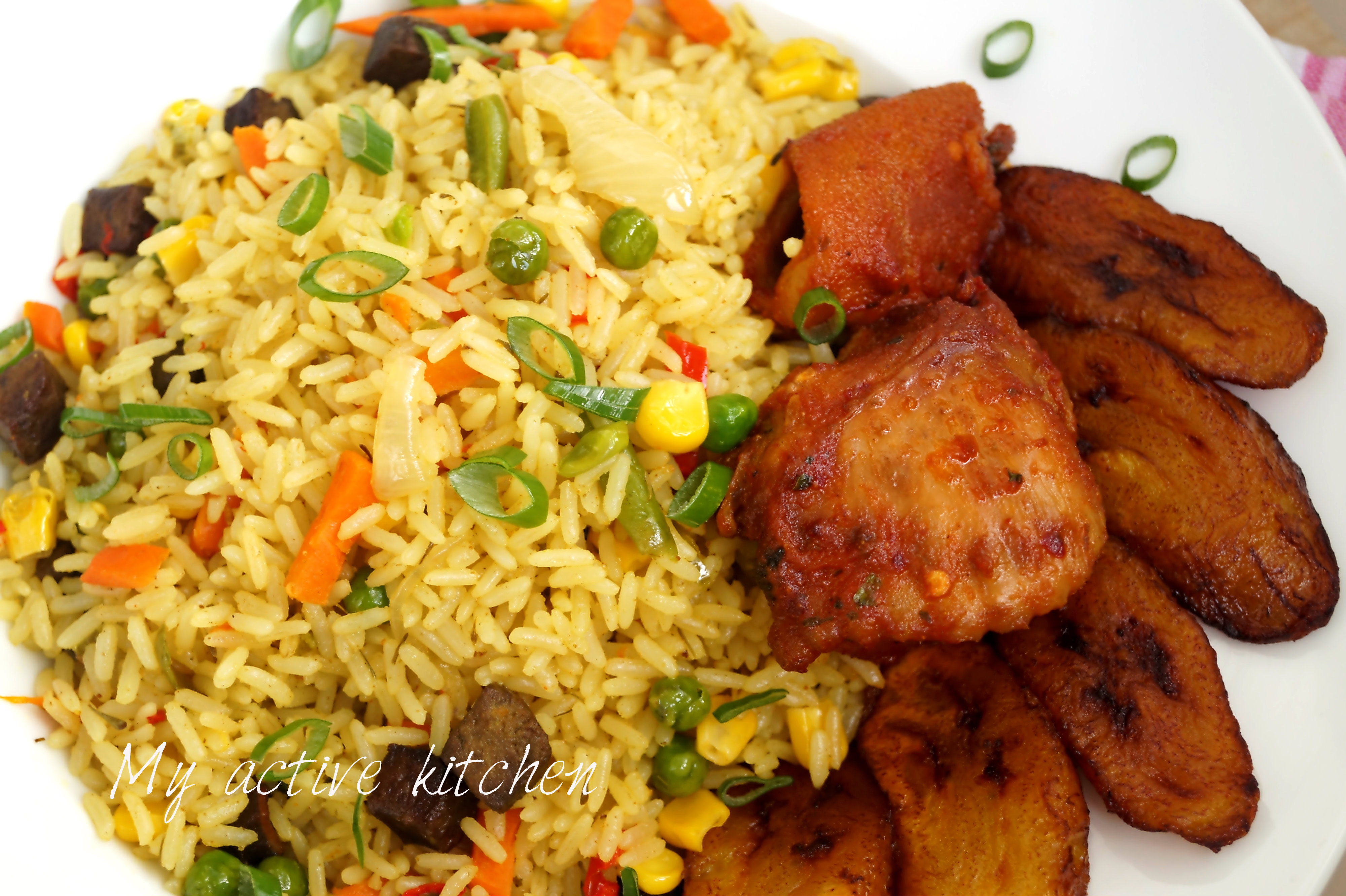 Don't forget to take a picture and tag @myactivekitchen on Instagram if you make this or any other recipe from the blog.  I also love reading from you all, leave a comment or send me an email. If you are yet to subscribe to the blog, kindly do so and you won't miss any new post from us again. Until next time, be true to yourself