This easy roasted garlic chicken stew is just right for you. Honestly on foodie's honour, it is one of the simplest things you would do in your kitchen but with a wow factor reaction.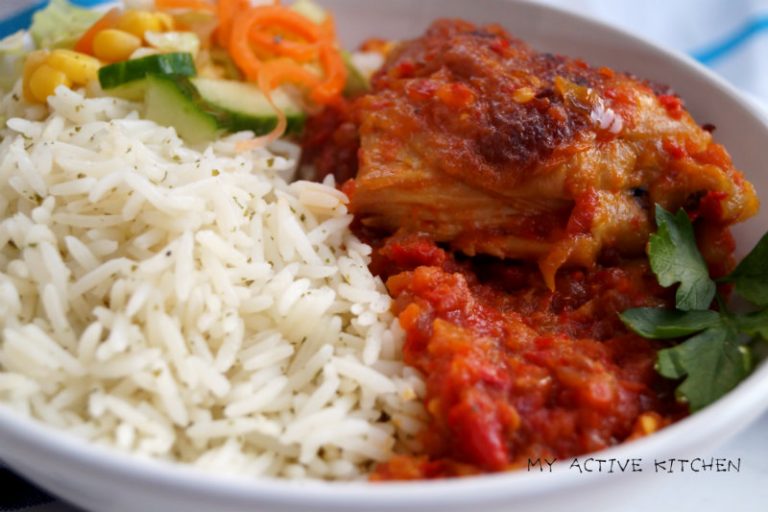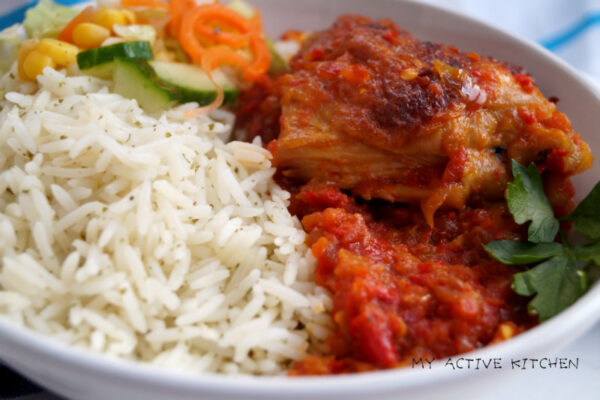 Chicken Stew
Can you believe the month is almost gone already, how time flies? Are you still looking for something different to cook this holiday season outside the usual Nigerian Jollof rice and Fried rice? This easy roasted garlic chicken stew is just right for you. Honestly, on foodie's honour, it is one of the easiest chicken stew you would cook but with a wow factor reaction. No spices other than roasted garlic was used for this recipe. It was really tasty, easy and the flavours were not compromised too.
Make this holiday season count by putting something really tasty on the table. This chicken stew is pretty easy and requires fewer ingredients too. I microwaved the pepper before blending it for use. This is optional but I would highly recommend it as it keeps the flavour in the pepper intact and you don't have to simmer the blended pepper afterwards as you would for Nigerian pepper mix. If you don't have a microwave, simply blend the pepper as you would and strain.
I also multi-tasked cooking the stew to cut down on the cooking time, I was grilling the chicken and also cooking the sauce at the same time. I love this chicken stew so much and it would definitely be on my table this Christmas. Jollof rice and fried rice are bae but its time we gave some other type of rice combo a go.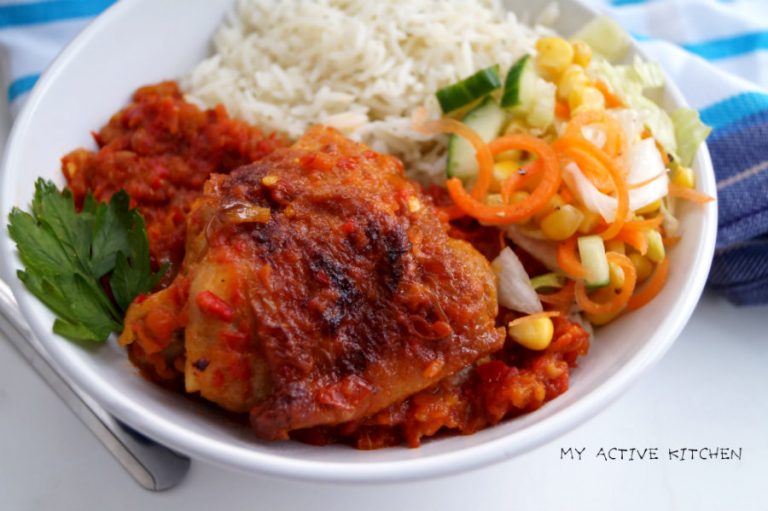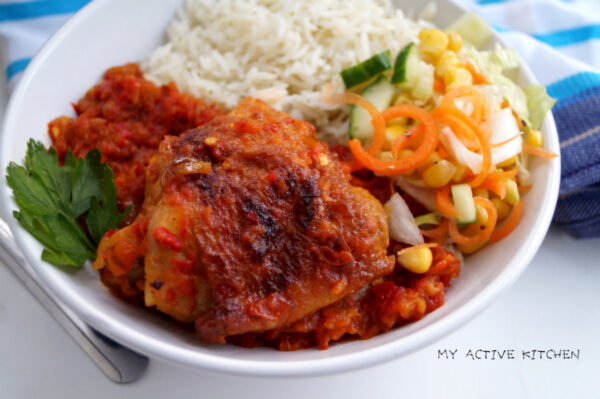 Ingredients
6 pieces of chicken thigh
Roasted garlic
Seasoning
Salt
1 large onion
Salt
Chilli flakes or scotch bonnet chillies
2 large tomatoes
1 red bell pepper
1 yellow bell pepper
How to make Chicken Stew
You may need to cook this dish simultaneously,  as it makes it faster
Mash few cloves of roasted garlic with salt and seasoning and rub on the chicken and leave to marinate for at least an hour or overnight in the fridge
On the day
Cut the tomatoes and bell peppers into manageable sizes, add little water to it and microwave for about 10 minutes. Alternatively, roast peppers in the oven.
Take it out of the microwave, drain and leave to cool
Add the tomatoes and bell peppers to the food processor or blender and pulse few times for a coarse consistency and set aside
Add a tablespoon of oil to a frying pan, heat for about a minute and swirl the oil around the pan. Carefully add the chicken to the oiled pan and sear on each side for about 3 minutes each to seal in the flavours. Place the chicken under the grill for 10 minutes.

I grilled and cook the sauce simultaneously, while the chicken was grilling, I was cooking the sauce.
To cook the sauce
Place a pan on medium heat and add oil, heat for about 3 minutes, add chopped onions and cook till onions are translucent but not burnt.
Add the blended pepper and cook for another 10 minutes, mash in some 1tsp roasted garlic into the stew and stir to combine
Add seasoning and salt and cook for another 5 minutes.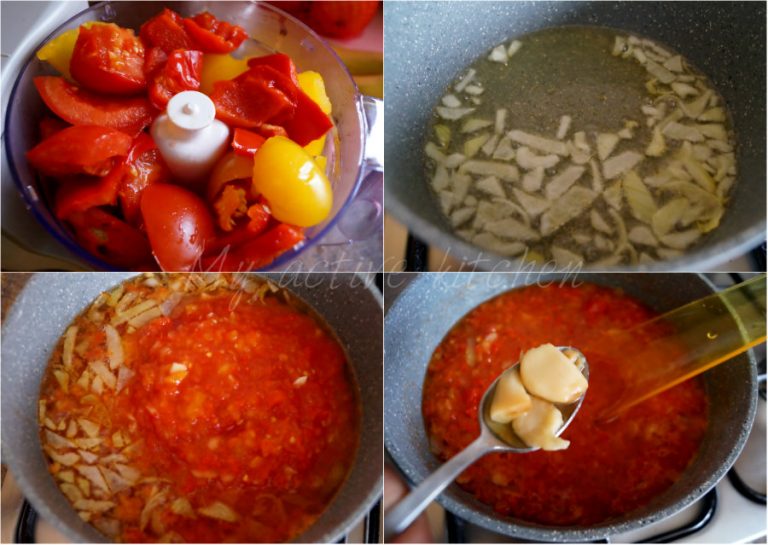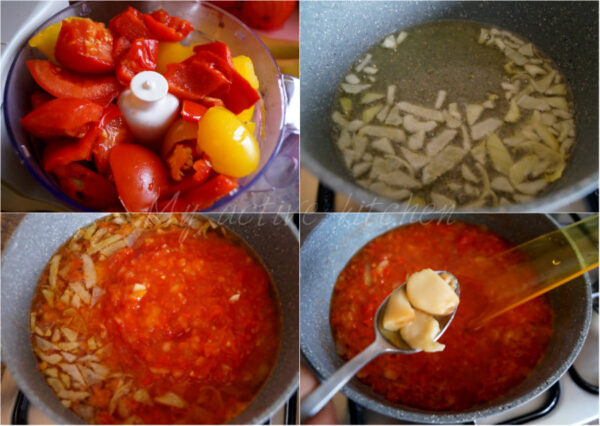 Add the grilled chicken to the sauce and continue to cook till oil floats on top of the stew. Alternatively, place the sauce in the oven and continue to cook till oil floats on top (cook in the oven at 170⁰) take it off the heat and leave to cool. I highly recommend finishing this chicken stew in the oven for intense flavour


Serve with boiled rice


Jazz up your regular white boiled rice, add garlic, ginger, a tablespoon of vegetable oil (depending on the volume you are cooking) and parsley. Trust me, you would thank me later. wink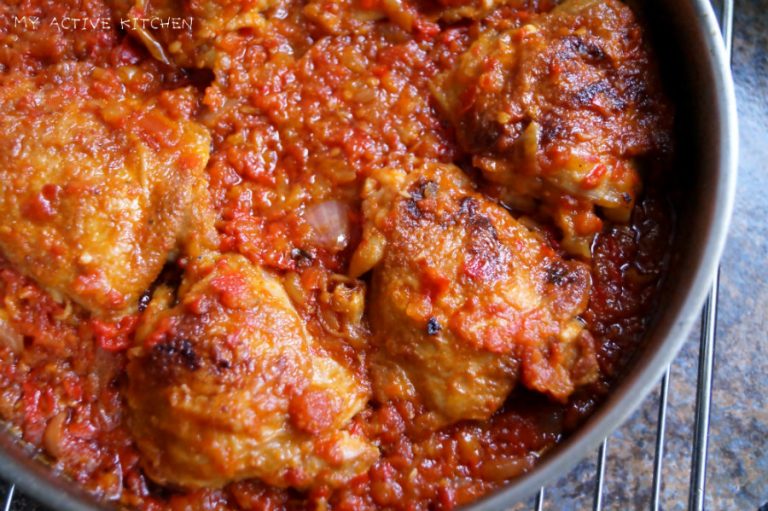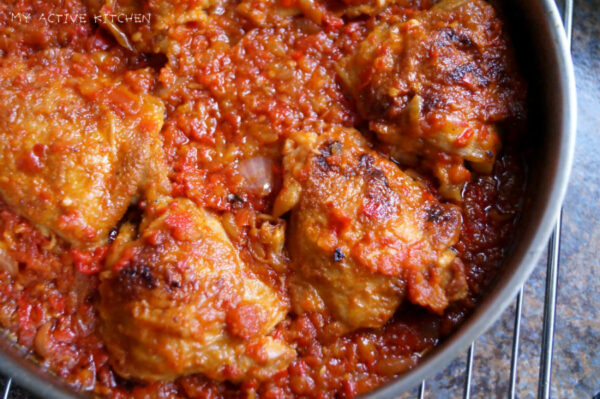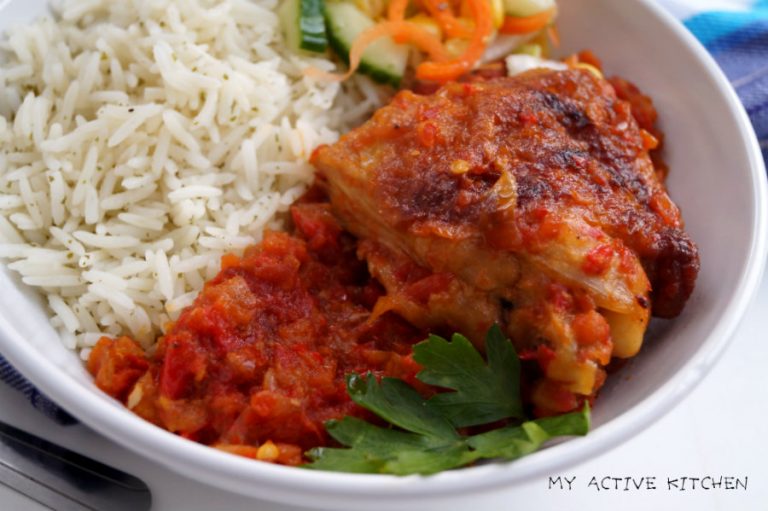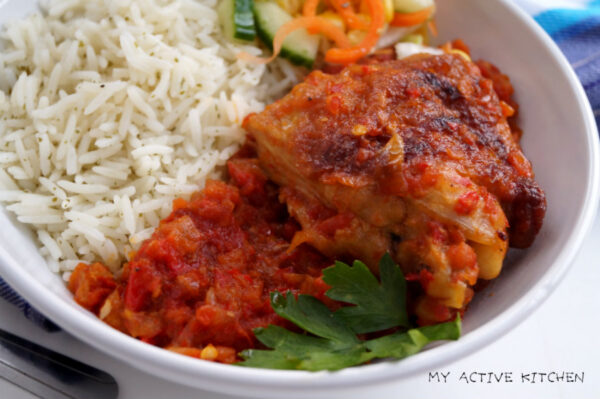 Click here for roasted garlic recipe
If you made this roasted garlic chicken stew, don't forget to leave me feedback. Tag me @myactivekitchen on Instagram and save away to your Pinterest