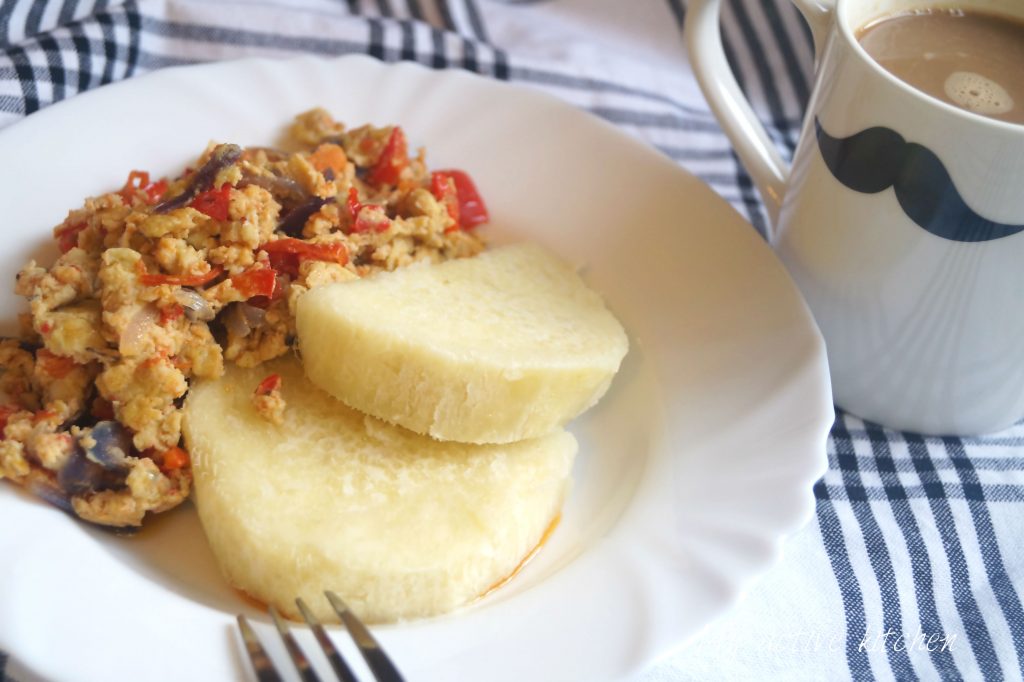 Yam and egg sauce is one of the breakfast staples in Nigeria or should I say weekend breakfast. Last Saturday, babe made breakfast and I thought I would share with you my bae's yam and egg sauce.  Truth be told, he makes the best and I don't even argue when we are in the egg sauce department.
Yam and egg sauce are very easy to make, typically in Nigeria, we use tomatoes, scotch bonnet chilli and onions in making egg sauce. Feel free to make this your own, Egg sauce can also be eaten with Agege bread.
ingredients for yam and egg sauce
Tuber of yam
4-6 eggs
2 medium sized tomatoes, chopped
1-2 scotch bonnet, chopped
1 small onion, chopped
1 red bell pepper, chopped
Vegetable oil
Salt
Seasoning cube
Pinch of curry
Pinch of thyme
How to cook yam
Slice yam into about 1 inch size and peel the skin off.
Rinse in clean water till water runs clear and no residue in water.
Put yam in a pan, add enough water to cover it, add salt and place on medium heat and cook till soft. Test with a fork, if it goes through, then the yam should be soft enough. Drain water from yam if you want.
How to make egg sauce
Break eggs into shallow bowl, whisk till egg white and egg yolk are well combined, add salt and whisk to combine then set it aside
Place frying pan on a medium/low heat, add about 2-3 cooking spoon of vegetable oil, heat for about 2-3 minutes
Add chopped peppers and onions (this should sizzle) and cook for about 4-5 minutes or till oil floats on the sauce, add salt, seasoning, curry and thyme. Stir to combine ingredient with sauce and also avoid sauce sticking to the pan.
Add whisked eggs to sauce and leave for about a minute, this will allow
the egg to set a bit then stir to form a scramble. Serve egg with yam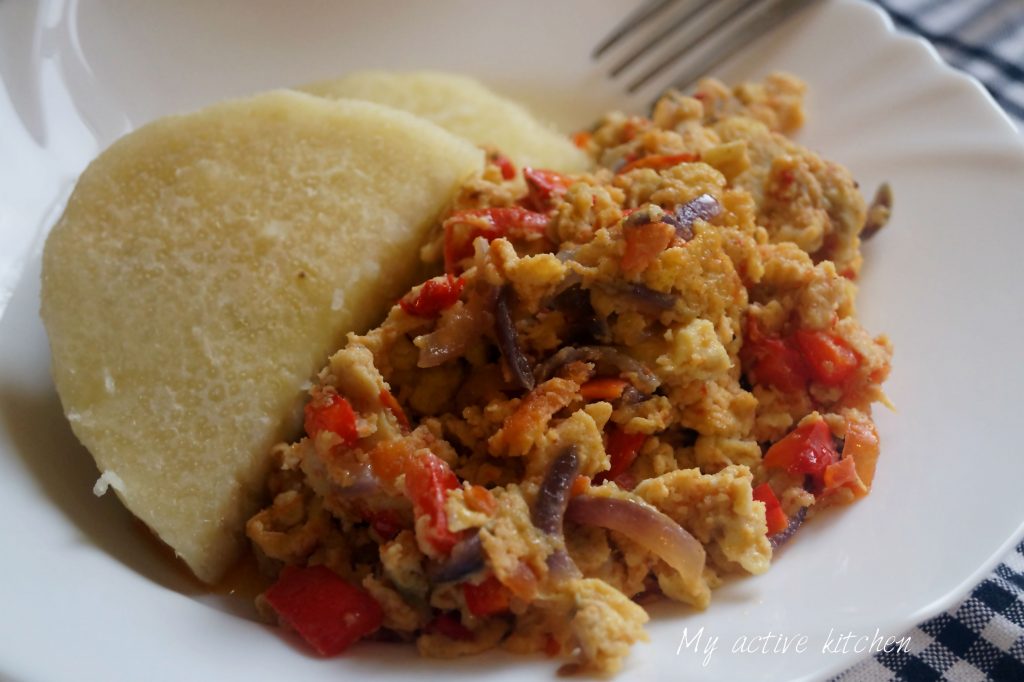 If you love this egg sauce, you might also like this Egg stew or Corned beef stew. These are great Nigerian breakfast recipes you would love.
Don't forget to leave me feedback. Tag me on Instagram and save away to your Pinterest
Enjoy .x