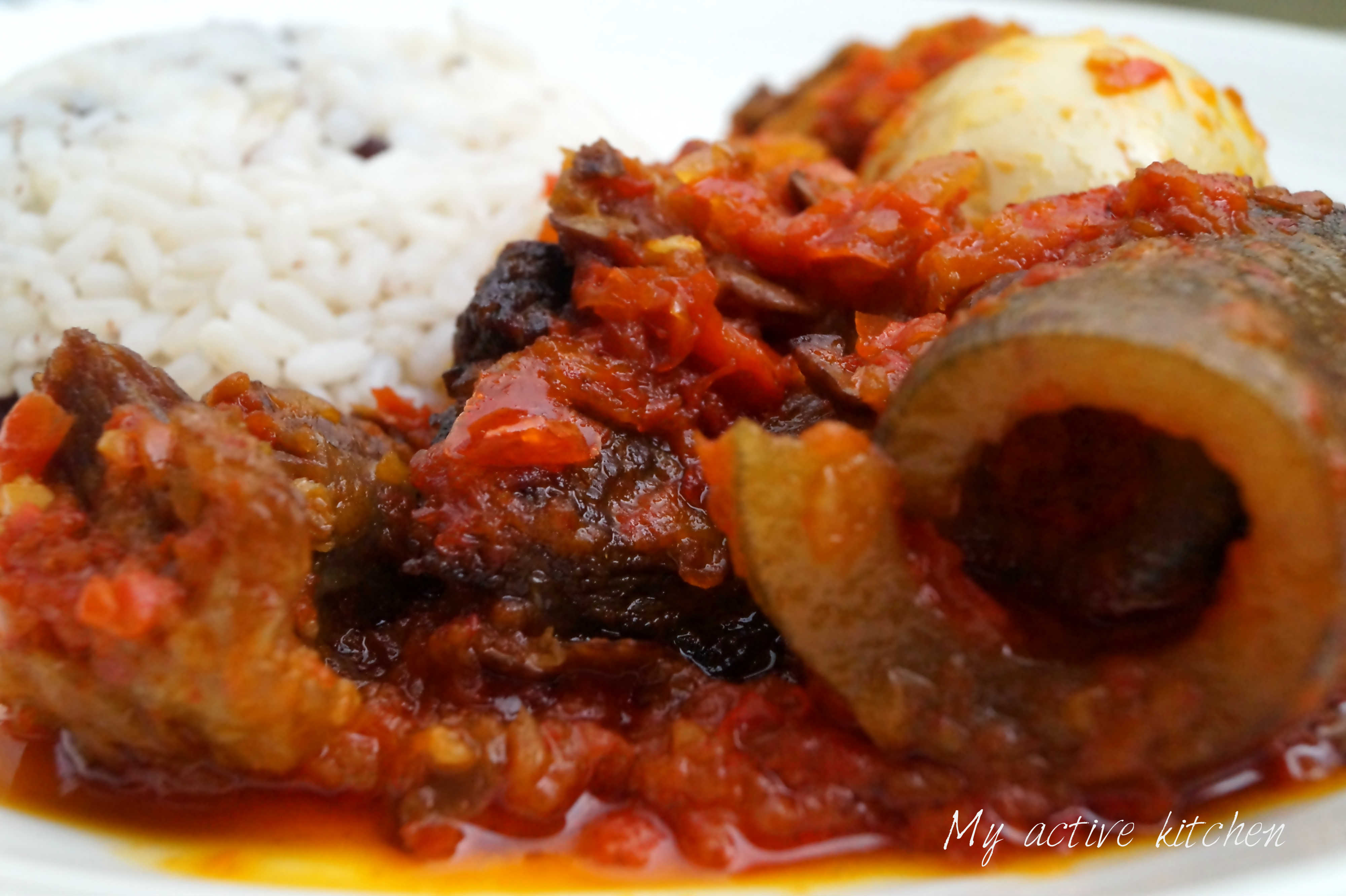 Ofada Stew with Ofada Rice
This Ofada stew is different from 'ayamase' simply because of the choice of pepper. Green bell pepper is used for ayamase but if you want the proper ofada stew local taste, then I think you should try it with the red bell pepper and some tomatoes. Ofada stew is best eaten with ofada rice but plain white rice would work just fine too. To be honest I didn't discover ayamase until I was in my 20's. In my early young and upcoming years, I found out all the women I knew that cook and sell food for a living, used red bell peppers and tomato and it was always the bomb. You can't fault it. In fact, I sometimes think they washed something else inside the food because you keep going back for more regardless of the distance you have to travel because you want to enjoy the authentic ofada stew.
Ofada rice is very tasty and rich in flavour but needs to be handled with care when cooking. You might need to pick out stones from the rice and also blow out some chaff too. I know someone who said they call ofada rice 'Oh God rice' because of the stones it contains. (You know what  I mean if you have been a victim before as every second mouthful contains a stone)
Can I also point out that one of the processes of making ofada stew entails bleaching the palm oil which can be very dangerous if not handled with care? I recommend you bleach the palm oil on low heat in a well-ventilated kitchen.
Ingredients
Serves 5 adult and a child
4 Large red bell peppers
3 medium size tomatoes
3 onions
2 – 3 scotch bonnet chilli
500g of cubed assorted meat ( I used fresh ponmo, shaki and beef)
6 boiled eggs peeled
2 tbsp Iru woro  (locust beans)
Seasoning (used knorr beef cubes)
Salt to taste
5 cooking spoon of palm oil
2-3 tbsp ground crayfish (optional)
How to make ofada stew (ayamase)
Boil assorted meat with 2 seasoning cubes, one onion and salt.
On a low heat, pour palm oil in a shallow pan and bleach till palm oil is transparent but not black (this should take about 30 minutes if done on low heat)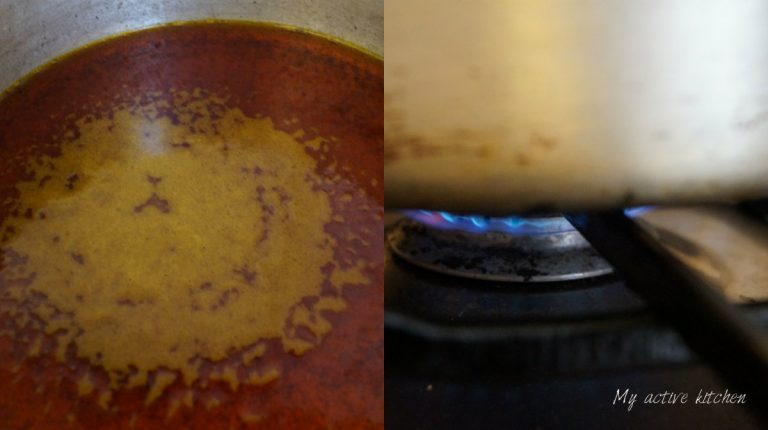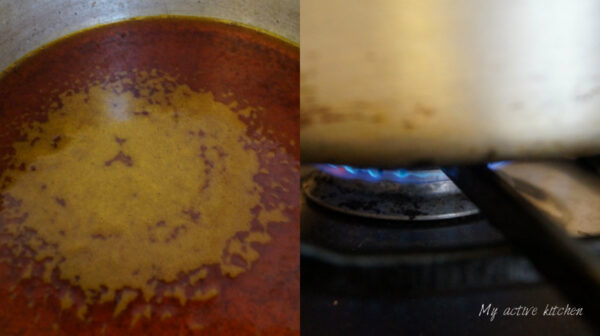 While waiting on the palm oil to bleach, blend bell peppers, tomatoes, onions and scotch bonnet chilli on a pulse and bring to boil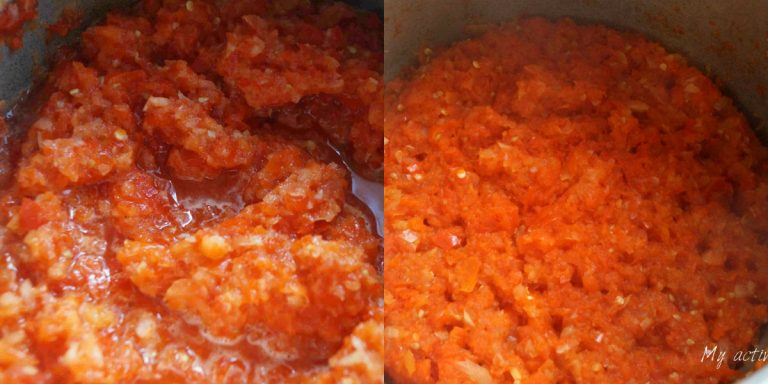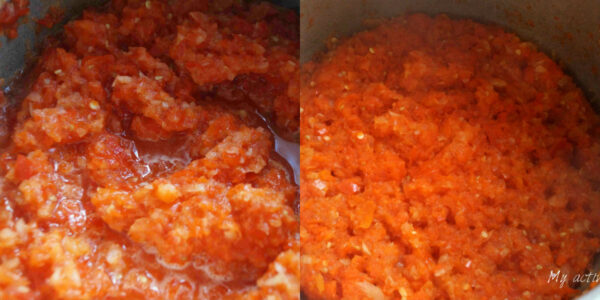 To cook the sauce
If you find residue in the oil, allow the palm oil to cool down a bit and swap pan to a clean one then carefully pour the oil leaving the dirt out.
Place the swapped clean pan on medium heat, and then add the chopped onions, then the locust beans. After about 30 seconds of frying add cubed assorted meat and fry for another 3 to 5 minutes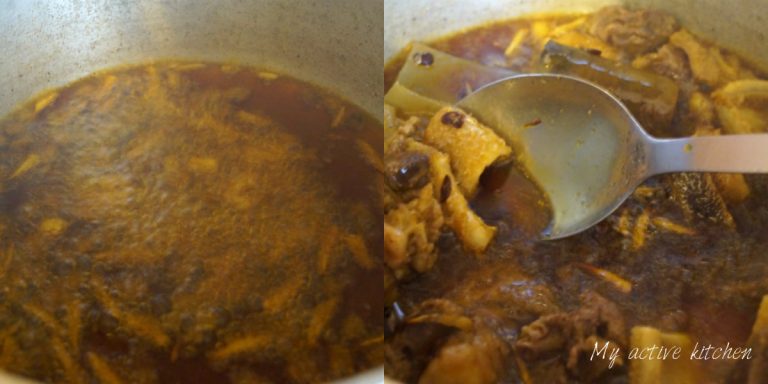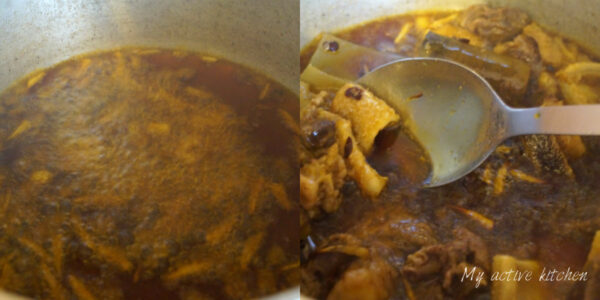 Add the boiled pepper and cook for about 5 minutes
Put the boiled eggs in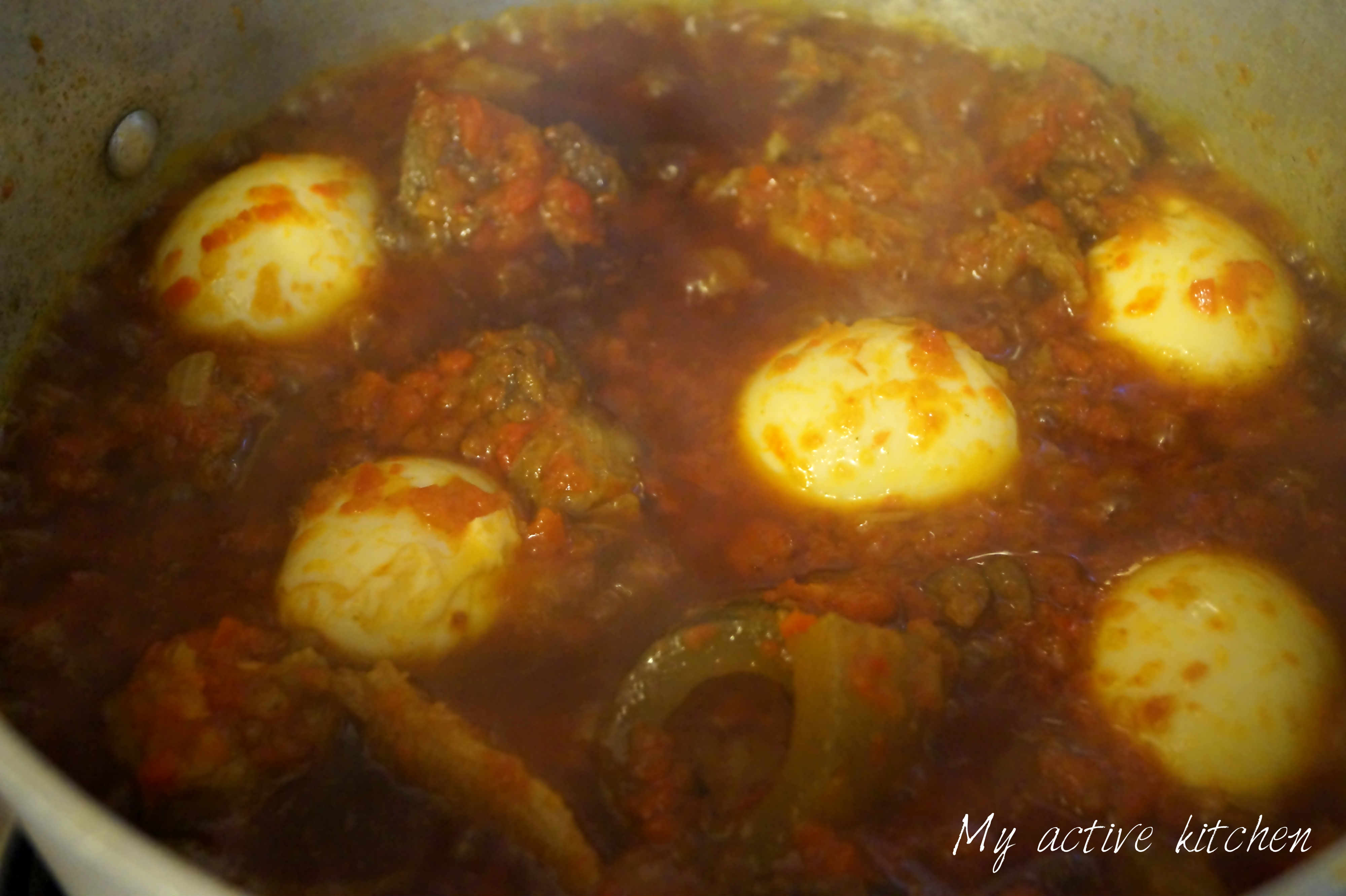 Add 2 seasoning cubes and salt to your taste, add crayfish if using but I didn't use it
Continue to cook until stew sizzles and palm oil floats on the top.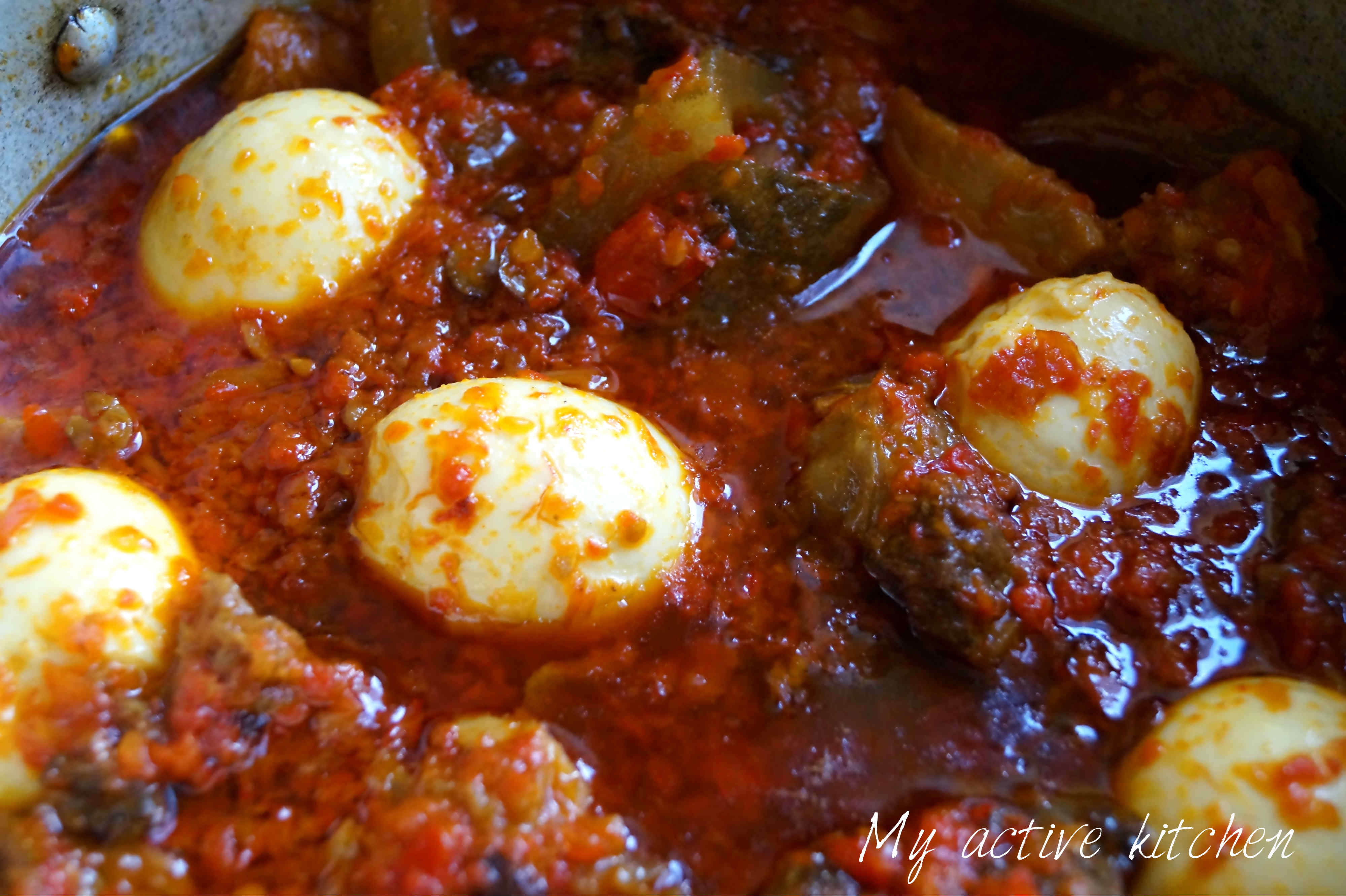 Plate up the ofada stew whilst warm and serve with plantain or beans.
How to cook Ofada rice
Please note: you would need lots of water to cook ofada rice so I won't recommend the quantity of water used
Pick out the stones and chaff out of the rice. This is very important so don't skip this step. Only risk this when you purchase stone free ofada rice and you are sure it is stone free
Add the rice to a bowl and rinse under warm water until the water runs clear. (This might take a while depending on the type of ofada rice you buy)
place the rice into a pan, add enough water to cover. (I would suggest 6 cups of water to 1 cup of ofada rice)
Cook the rice for 15 minutes, check the water level and if it's tender. At this point, you can either choose to parboil the rice or continue to cook until well done.
To parboil rice:
Pour the rice into a colander and rinse under cold water. return the rice to the heat, add salt and little water. Continue to cook until tender and fluffy
To continue cooking:
Decant the water and leave just about the volume that would cook the rice until tender.
Tips:
Add small chopped onions (or onion powder) and a tablespoon of vegetable to ofada rice to give it good aroma and yummy taste
Avoid cooking the rice for too long to stop it being mushy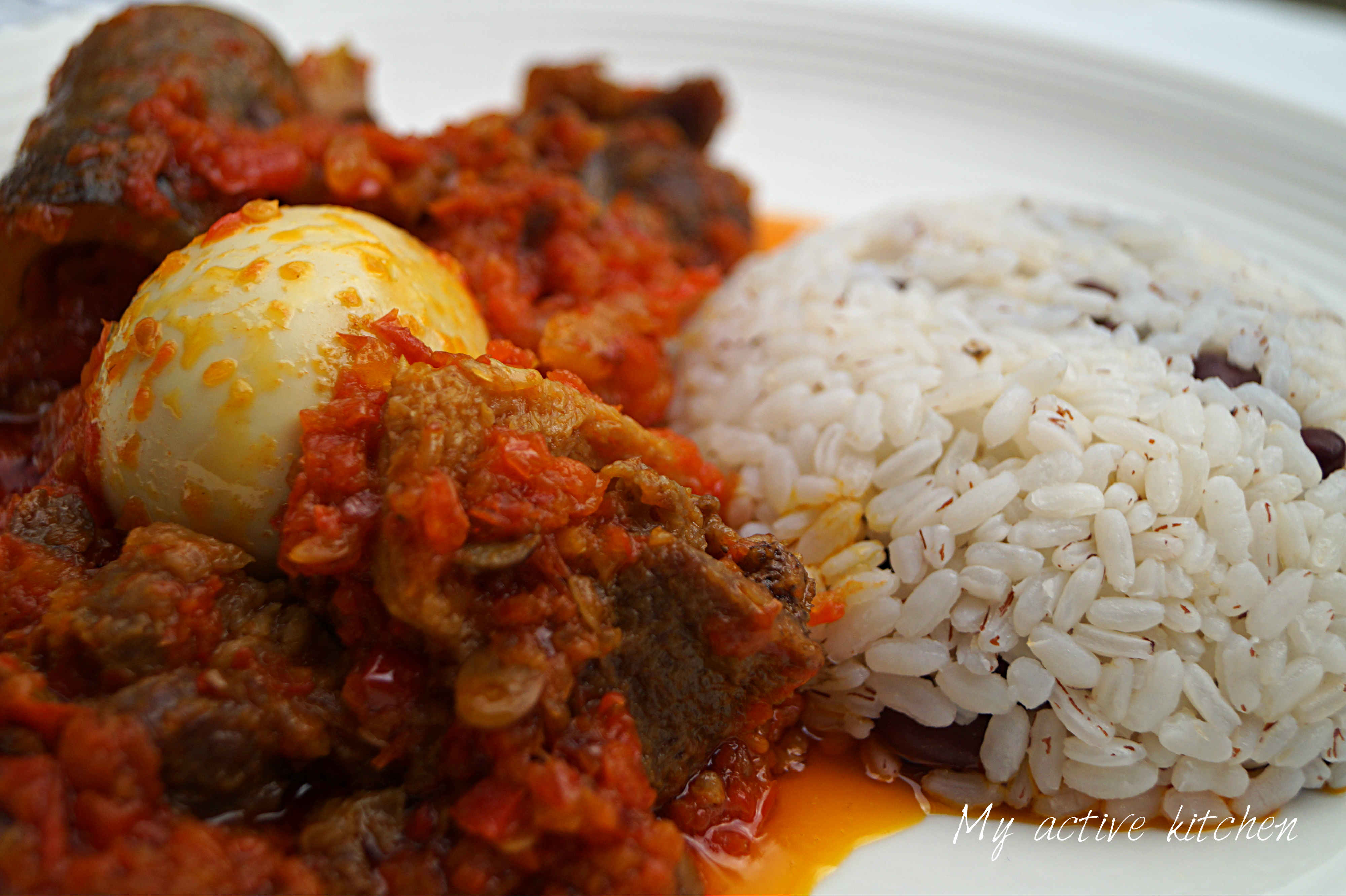 Other delicious Nigerian soup recipes you can pair with rice
Sharing is caring, don't forget to like the post, leave a comment,  subscribe to the blog and like my facebook page here