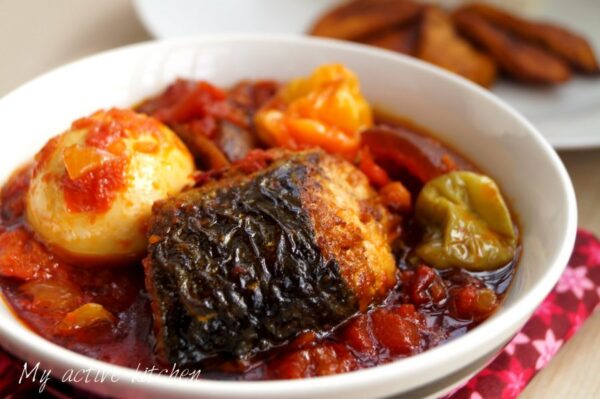 Ata Dindin
Today's recipe is about one of my favourite stews, obe ata dindin. In fact, I would choose ata dindin over ayamase any time. Don't get me wrong here, I grew up eating 'ata dindin' and I didn't get to know ayamase until my early twenties. Ata dindin is very versatile and easy to cook. It requires patience and love but hey, which home cooked meal doesn't require a bit of TLC? I have ofada stew recipe already on the blog but with this recipe, I didn't boil the pepper, and I used lots of tomatoes. Tomatoes in obe ata dindin give it a sweet/tangy taste that is required in achieving the best Abeokuta stew. You can cook the stew well ahead and freeze if you want to.
Obe ata dindin can also be enjoyed with plain boiled beans as you would for Ewa aganyin. If you would be using this stew as cooked mashed beans sauce, you can omit the locust beans used in this recipe. I find it boring to eat plain boiled rice with my regular stew, so what I do is make a bowl of this stew and keep in the fridge or freezer and use as at when due. This stew here is the best thing that can ever happen to your boiled white rice.
PS : For a meaningful degree of hotness, eat the whole scotch bonnet chillies with your rice. Make sure you have a glass of water nearby. lol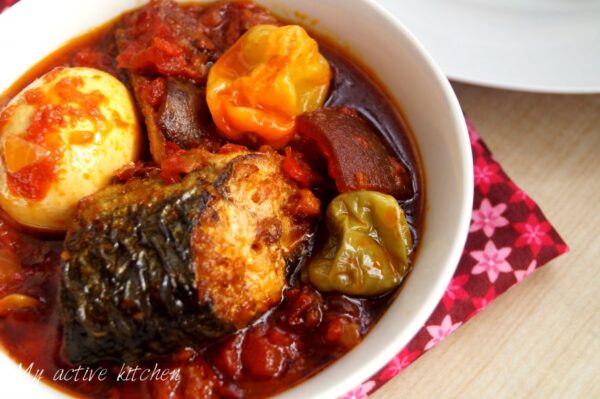 Ingredients
6 fresh tomatoes (optional)
3 red bell peppers (tatashe)
2 scotch bonnet chillies (ata rodo)
2tbsp crushed chilli flakes
Seasoning
Salt
2tbsp locust beans (Iru woro)
2-3 cups Palm oil
2.5 onions
2 whole mackerel (any other fish type would do just fine too)
Smoked ponmo
Few pieces of shawa
3-4 scotch bonnet chillies for garnish


How to make ata dindin
Preps
Add red bell pepper, tomatoes, scotch bonnet chillies and 2 onions to a blender and blend till a coarse texture is achieved
Pass the pepper through a sieve and set aside
Place a pan on medium heat, add palm oil and bleach oil on low heat, DO NOT BURN THE OIL. Once the oil is bleached, leave to cool and set aside. Sieve oil if it has residue
Boil the eggs, peel and set aside
Pour hot water over the shawa and soak for about 5-10 minutes
Chop the remaining onions and set aside, rinse the locust beans and set aside too.
Cut fish into pieces, wash clean, season and fry lightly or grill.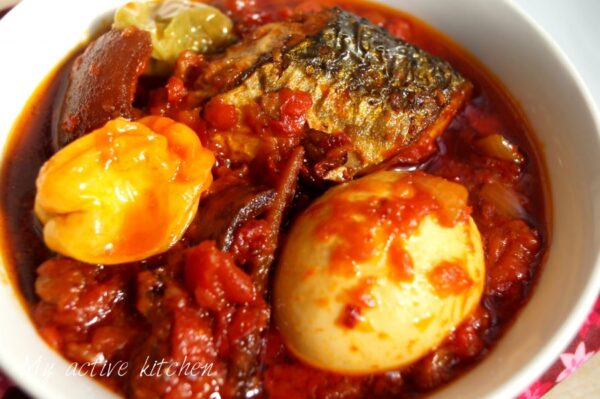 To cook the sauce
place the pan containing the oil on medium heat and allow to heat for about 3 minutes, add chopped onions and locust beans and fry for about 2 minutes. You only need the locust beans and onions to flavour the oil. Don't burn the onions
carefully, stir in the sieved pepper into the oil, add the cubed ponmo  and boiled eggs to the stew and continue to cook for another 10 to 15 minutes making sure you stir in between to avoid burning or the sauce sticking to the bottom of the pan


Add seasoning and salt to the stew/sauce, add the dried shawa and cook for another 5 minutes.
Add the raw whole scotch bonnet chillies to the sauce and stir to combine, check for salt and seasoning and adjust accordingly.
At this point, the sauce should be cooked and oil starting to float on top of the stew.  Add the fried fish, Reduce the heat and leave the sauce to simmer.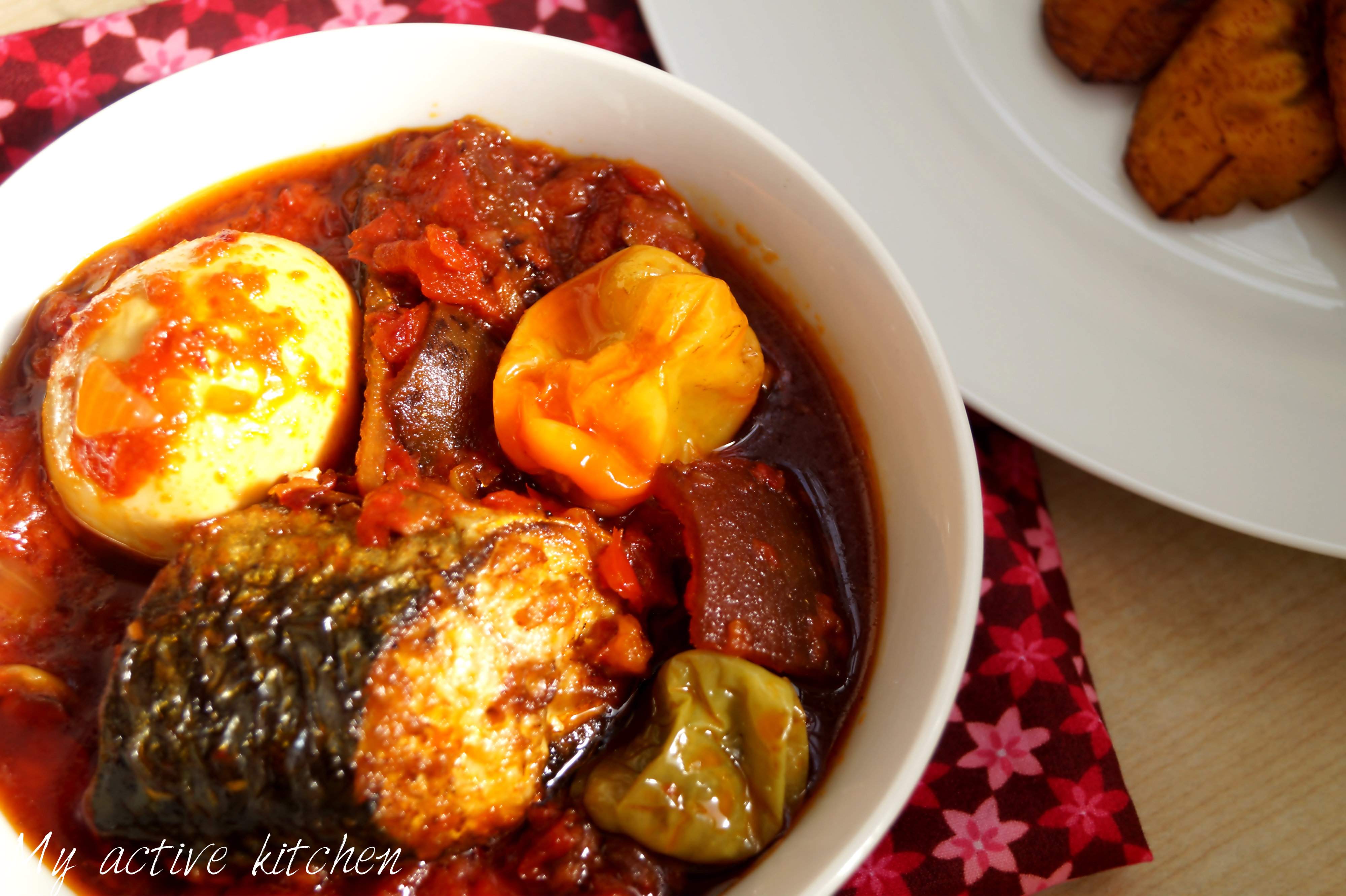 Serve the stew with boiled rice, plain boiled beans or bread.
If you made this recipe, don't forget to leave me feedback. Tag me on Instagram and save away to your Pinterest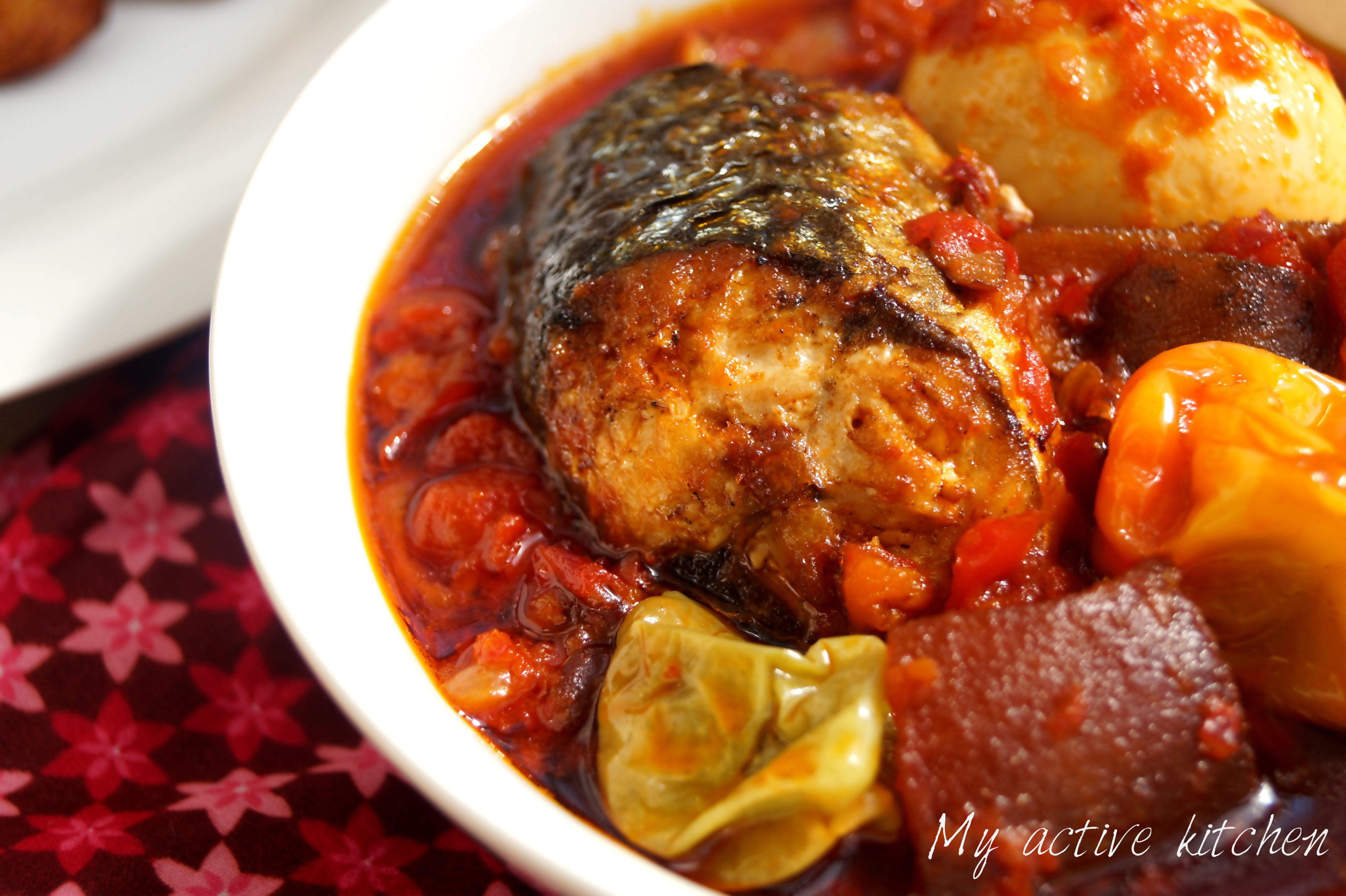 Phew! I can't believe we are in the 8th month already, how time flies! In whatever you do this month, remember your best days are ahead of you and if you don't lose focus, you will get to your promised destination. Don't forget to use your time wisely though and make use of every good opportunity as they come your way.
Here is wishing you a good month and remember to always stay true to yourself and cook more. lol