Easy Garlic butter shrimp. These shrimps are lovingly cooked in garlic, butter, chilli and lemon juice. They were tender and juicy to the last bite.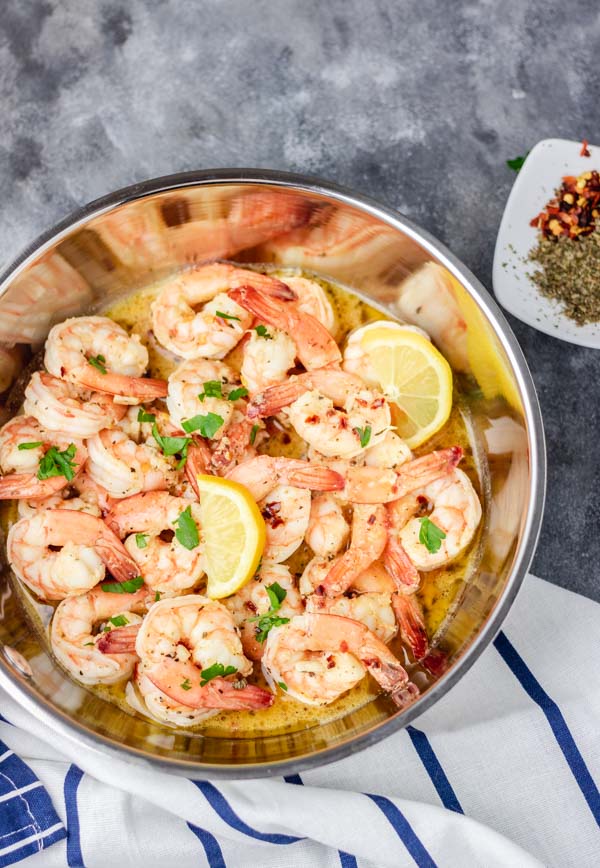 Garlic Butter Shrimp
I don't want to say this garlic butter shrimp is the best as I have other shrimp recipes coming your way soon.  This I can say; will be the only garlic butter shrimps (prawns) you would need!  A massive hit with the family and friends.
This easy garlic butter shrimp is so quick to whip up as you only need 15 minutes. There are no much preps involved in making these delicious shrimps. Also, it is very pertinent to remember that garlic butter shrimp cook very quickly so, there is no need to marinade the shrimp before cooking. Shrimps are naturally flavourful, that is why it is important to keep the spices or marinade simple. Be cautious and be alert so that the shrimp don't get overcooked.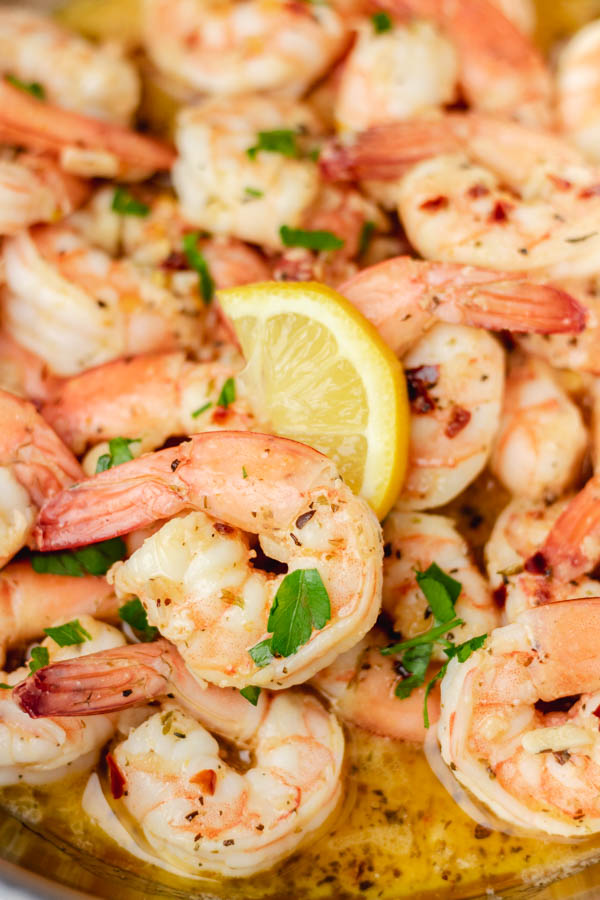 Do you know you can serve this shrimp with just about anything? It is that delicious and I guarantee you that you would mop up the sauce. How yummy does that sound?
I recommend you try this garlic butter shrimp with my easy spinach rice or coconut fried rice. You can never go wrong with these combination, coconut, shrimp and spinach. Now I'm asking, what is not to love?
This easy garlic butter shrimp would soon become a staple at yours. Just watch cos these are so good on many levels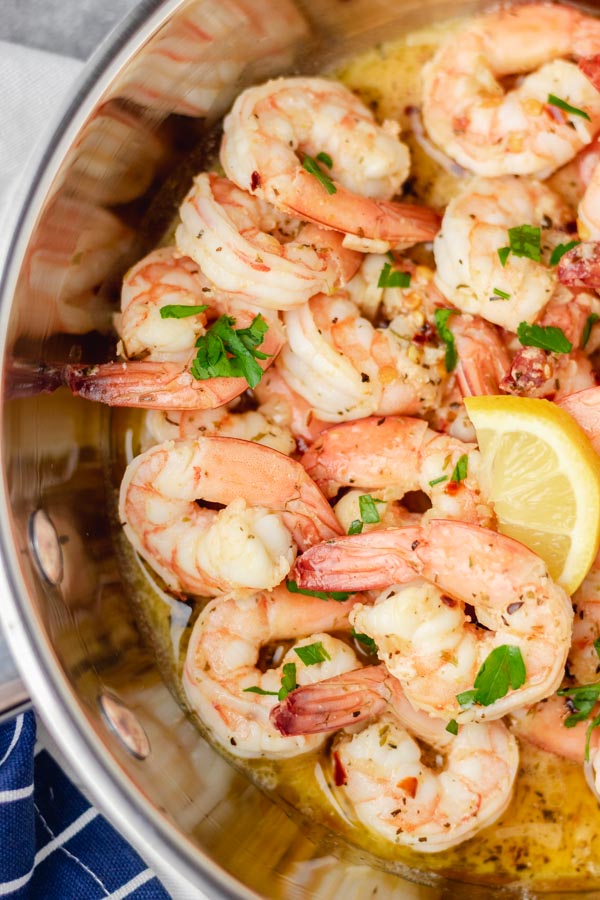 My best tips on making the easiest garlic butter shrimp
Keep it simple, don't overpower the shrimp with too many spices.
Do not marinade the shrimps (prawns) for more than half an hour
Add the littlest salt to the shrimps when cooking. As I mentioned above, shrimp is flavourful just on its own
Use quality butter. If using salted butter, do not add more salt to this recipe. If you feel the quantity of butter used is too much for you, go half and half with any other oil of choice.
Prep! Shrimps cooks fast especially when cooked in an uncrowded pan. You don't want to start mincing garlic when the butter is already melting etc. It will only take you between 5 and 10 minutes to prepare all the ingredients to use to cook the shrimps
You can use frozen shrimps for this recipe, just make sure they are completely thawed before cooking. You can thaw them overnight in the fridge or rinse them under cold water for a couple of times on the day of use. Please note, don't rinse under hot water as it would cook the shrimp.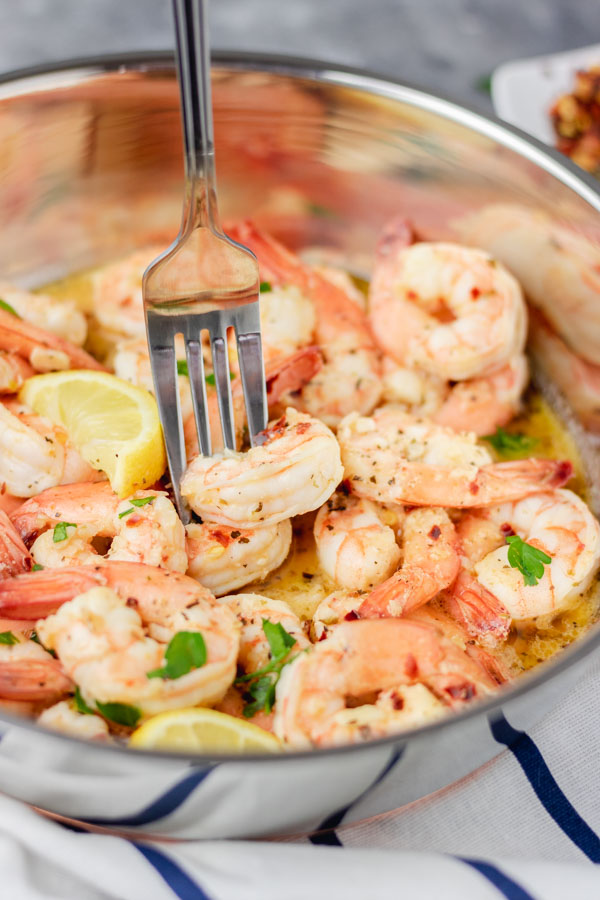 Is shrimp Keto
Yes, absolutely! Shrimp and other fish types are keto-friendly foods. Although you might want to avoid any shrimp recipes that are accompanied with other carb recipes.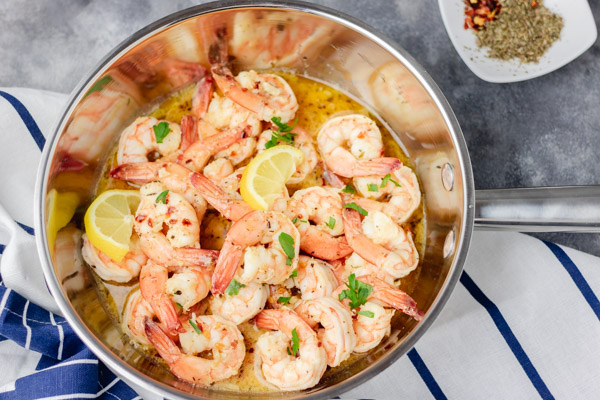 What goes with garlic butter shrimp?
Don't judge me, I eat rice a lot
Ingredients
15 to 20 large shrimps. Cleaned and deveined
4tbsp salted butter
4 cloves garlic chopped
1tsp chilli flakes
½ tsp mixed herbs
Juice of 1 large lemon
½ tsp cayenne pepper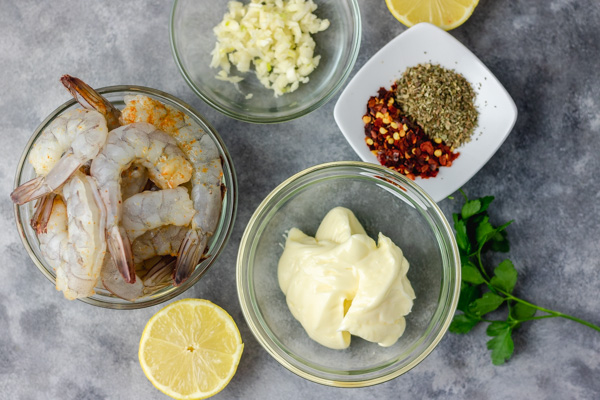 How to make garlic butter shrimp
You can make this in your sleep, the steps in making this recipe are so easy to follow.
First, you melt the butter on medium heat, followed by the minced garlic. Add the garlic and cook until fragrant. (Do not burn the garlic. This might ruin the whole dish)
Add the shrimps and leave to cook on each side for 90 seconds each. Lastly, add chilli flakes and mixed herbs, stir to combine then finish it off with the juice of a whole lemon. Take it off the heat, garnish with chopped parsley and serve immediately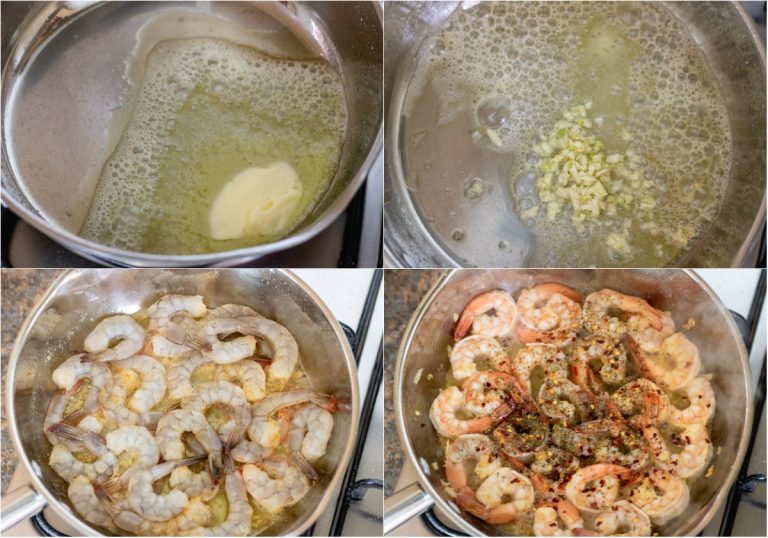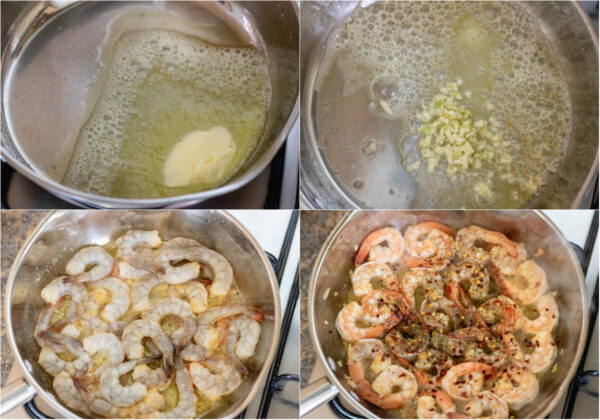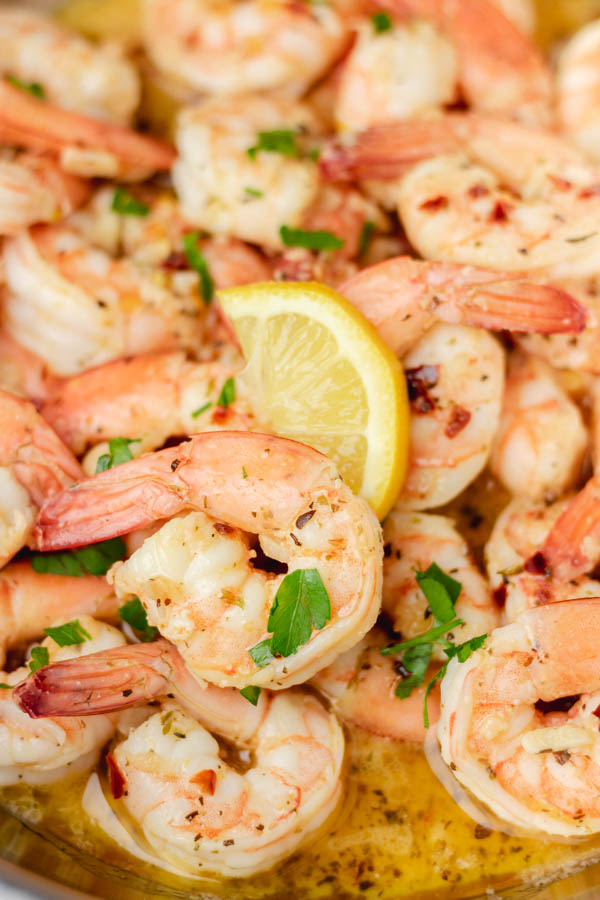 Garlic butter shrimp
This Garlic butter shrimp is so easy to cook. The shrimps are lovingly cooked in garlic, butter, chilli and lemon juice. They can be served with any dish.
Ingredients
15 to 20

large shrimps.

Cleaned and deveined

4

tbsp

salted butter

use unsalted and add ⅓ tsp salt to the shrimp when cooking

4

cloves

garlic chopped

1

tsp

chilli flakes

½

tsp

mixed herbs

Juice of 1 large lemon

½

tsp

cayenne pepper
Instructions
Season the shrimp with cayenne pepper is using, otherwise, skip this step

Place a pan on medium heat, add butter and leave to melt.

Add chopped garlic and stir frequently until fragrant

Followed by the shrimp, cook for 2 to 4 minutes or until pink and opaque. Add chilli flakes and mixed herbs, stir to combine then finish it off with the juice of a whole lemon. Take it off the heat, garnish with chopped parsley and serve immediately
If you made this easy garlic shrimp recipe, don't forget to leave me feedback. Tag me @myactivekitchen on Instagram and save away to your Pinterest