Baked Spicy Chicken Thigh! this easy chicken recipe is quick to make, it is insanely delicious, moist and you can pair it with anything. Think about a quick and easy mid-week dinner.
You are on to a winner with this baked spicy chicken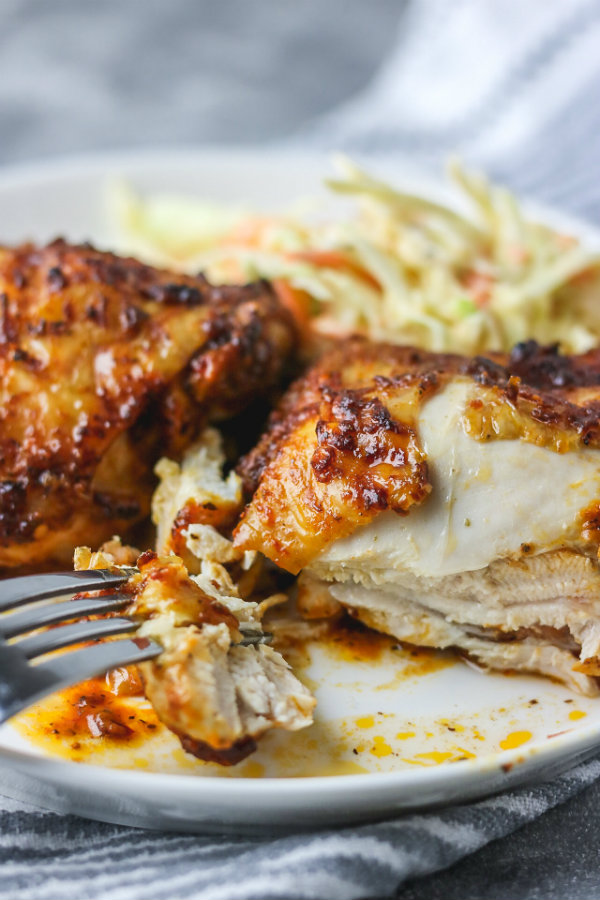 Spicy baked chicken thigh
I  loooove chicken, feed me with chicken for days and I would be home and dry but please make sure the chicken is moist and spicy. Nobody has got time for bland or dry chicken. My best part of a chicken is the leg and I must be able to crack the bones too. There is a supermarket around here and each time I go to buy my groceries, I always go to the hot food section and buy their spicy chicken thighs. If I'm very hungry, I would start eating right from the store and keep the bones for later.
Anyways, I stopped the habit of eating it from the shop when hubby told me I shouldn't be surprised if I find myself on YouTube or Instagram. We all know that wouldn't be funny at all. A whole me, Ajoke, of my active kitchen eating and cracking bones whilst walking down the supermarket aisle, no way! LOL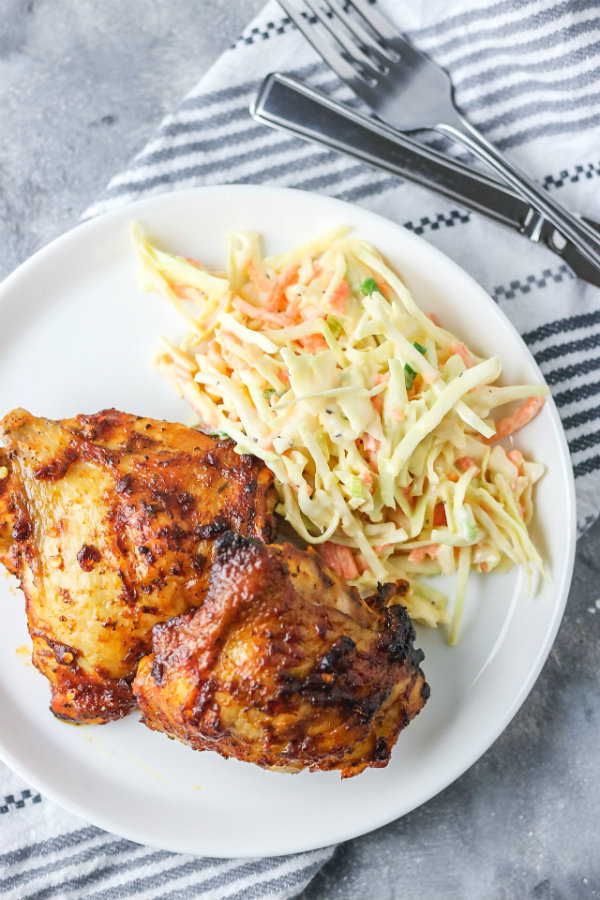 Back to my lovely moist succulent baked spicy chicken, I used most of the ingredient one would find in the pantry like paprika, ginger…and my secret ingredient tomato ketchup. Marinating chicken is one of the easiest and laziest jobs in the kitchen. You marinate and leave for hours and when you come back to it, all you have to do is stick it in the oven, set a timer, leave it and you then come back to it and your baked chicken is ready to be served.
I have made this chicken very moist but if you like your chicken crispier, simply leave it uncovered in the oven and check on it intermittently to avoid burning and baste at intervals. If you are wondering why my spicy baked chicken is almost stewed like, all thanks to my secret ingredient the never failing ketchup, and a little goes a long way too.
you can pair this baked spicy chicken with pasta salad, coleslaw, any rice dishes…. scratch that, you can have this chicken with anything!
Right, let's get cooking!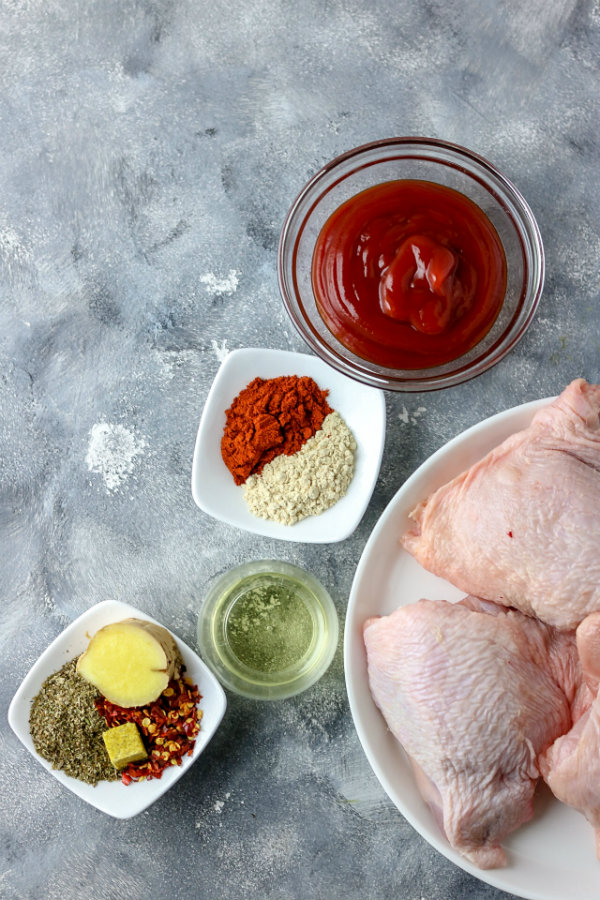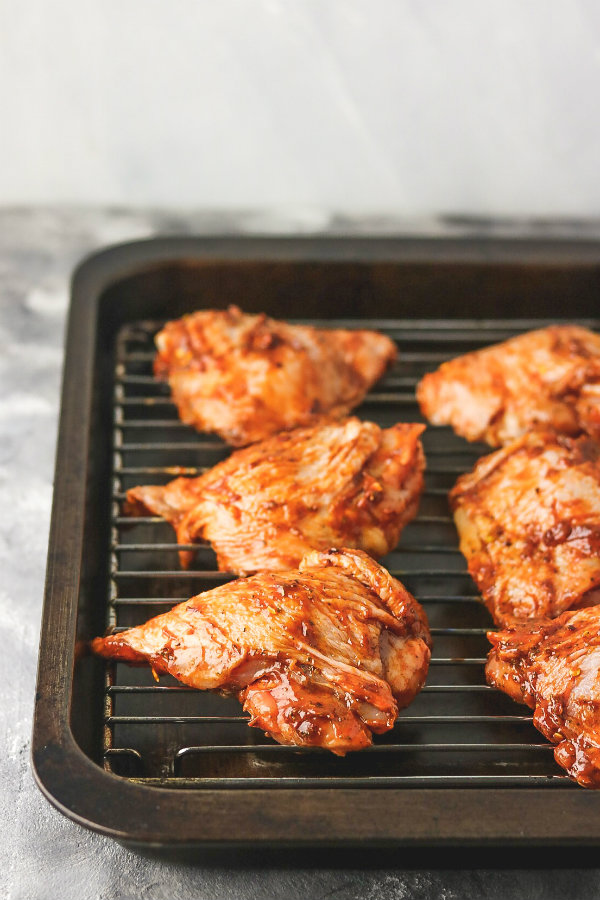 Baked Spicy Chicken Thigh
Ingredients
8

chicken thigh

5-6

tbsp

ketchup

Crushed chilli flake substitute with cayenne pepper (ata gigun/ata gbigbe)

1

Chicken seasoning (bullion cube)

I used 1 chicken cube

1

tsp

garlic granules (powdered garlic)

1

tsp

ginger granules

salt to taste

2

tbsp

vegetable oil

1

tsp

mixed herbs

substitute with thyme

1

tbsp

paprika

substitute with smoked paprika
Instructions
Add all the ingredients except the chicken into a bowl, mix together till well combined and set aside (taste the sauce and adjust accordingly if needed)

Wash your chicken (this is completely optional) and pat dry

Add the chicken to the marinade and mix together till well combined. Leave the chicken to marinate overnight or for at least 4 hours

Preheat the oven at 180⁰ or according to the chicken packet instructions. I use a fan oven and I tend to reduce the temperature from what is instructed on the pack. (You know your oven, use what works best for you)

Place a baking paper or foil on a baking tray, add the chicken and reserve the sauce for basting. Put the chicken in the oven and bake for 25 to 35 minutes or till well cooked and water from the chicken runs out clean. Remove from the oven and let the chicken rest for few minutes before diving into it. plate up and enjoy your spicy baked chicken with any side of choice
Notes
After 20 minutes of baking, baste the chicken with some of the remaining sauce and repeat again after another 10 minutes.
For a moist chicken, cover the baking tray with a foil and bake for about 35-40 minutes. Remove the foil and place the chicken back in the oven for another 5 minutes
For a healthier chicken, remove the skin on the chicken and follow all the steps for this recipe. 
If you made this recipe, don't forget to leave me feedback. Tag me on Instagram, Facebook and save away to your Pinterest If you are yet to subscribe to the blog, kindly do so and you won't miss any new post from me again. Until next time, be true to yourself.
Ajoke x