Lemon scones is an amazing treat for any time of the day, scones for breakfast, brunch, late-night snack bring it on. I could eat this all day! It is quick and easy to make, you can serve this lemon curd, cream or jam. I bet you won't be able to stop at one, this is bursting with fresh lemon flavour.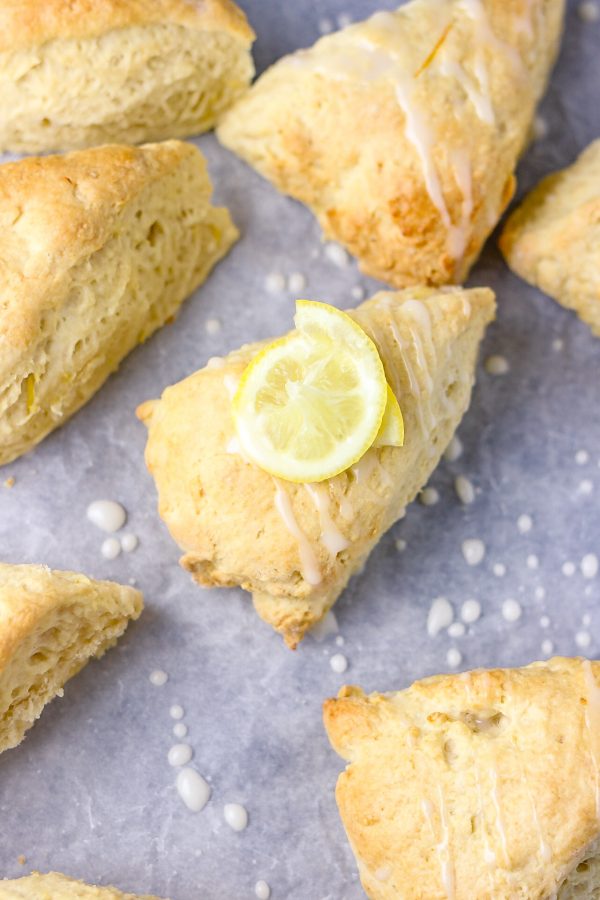 I never want to go into the argument that comes with how to eat scones, especially among Brits, should the cream come before the jam or the jam before cream. There is a saying where I come from that no matter how you tie a wrapper around yourself, all is well so far you are not naked.
It is amazingly unbelievable how easy scones recipe is. In fact super amazing when you add something as little as lemon zest and juice to the recipe, that just takes it up to a 100. You know me and how I like quick recipes, lemon scones is one of the tasty brunches you can whip up in 30 minutes. It is that quick and not forgetting how tasty they are too.
These lemon scones are big and fluffy, they are very easy to make as I mentioned earlier. Honestly, this recipe is great and safe, and you can bake along with your children too. I had help from my daughter at making these scones and she was very happy 'baking with mummy'. It was cool in her words and actually, there is nothing stopping us for starting them young. She is 6 by the way going on 7.
Ingredients
Self-raising flour
milk
butter
salt
lemon zest
lemon juice
How to make lemon scones
Preheat the oven at 200C/390F or 180C/350F (fan oven).
This is a 3 steps recipe, first you mix the ingredients to form a dough
lightly knead the dough and cut into desired shapes
lastly, bake in the oven for 12 to 15 minutes or until scones are risen and golden brown.
Now make yourself a delicious cup of tea or coffee and indulge with some scones and vanilla coffee creamer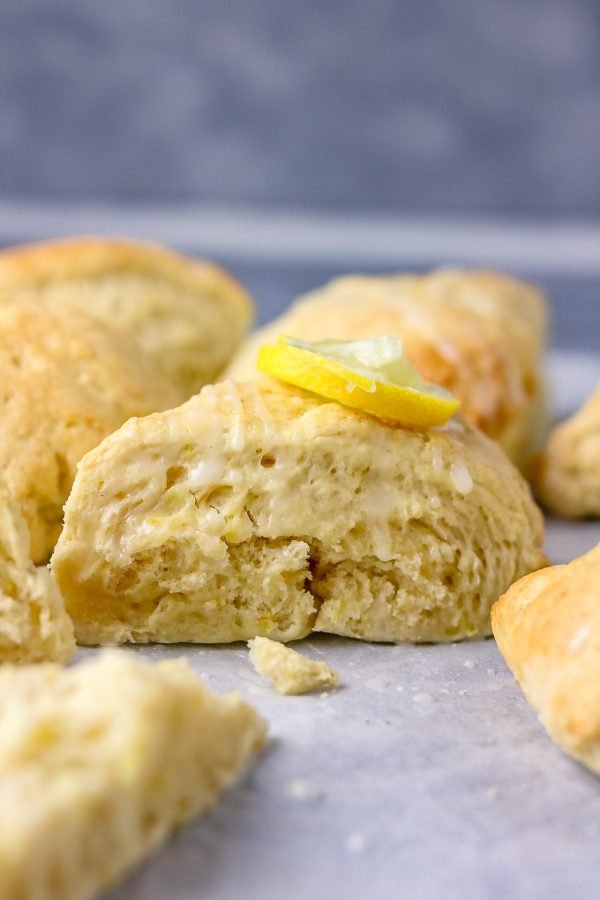 Can I make it plain, I don't like lemon?
Absolutely, just omit the addition of lemon juice and zest and you would still get some great fluffy scones
Tips to making the best lemon scones
Don't overwork the mix or you end up with tough scones
You can make scones into any shape you like but a classic scone is round. Now don't ask me how I have made mine this way (covering face) I thought to make it this shape so I can achieve good photos for you.
Depending on the quantity you are working with, you only need about 5 minutes max from mixing to cutting up.
Use cold butter for an optimum result (flaky biscuit).
You can add sugar to this recipe but it is not necessary since you would likely be eating it with jam
Above all scones are easy to make and I can't scream it enough.
How to Store
wrap in a cling film and place in an airtight container. Homemade scones will last for up to 3 days at room temperature.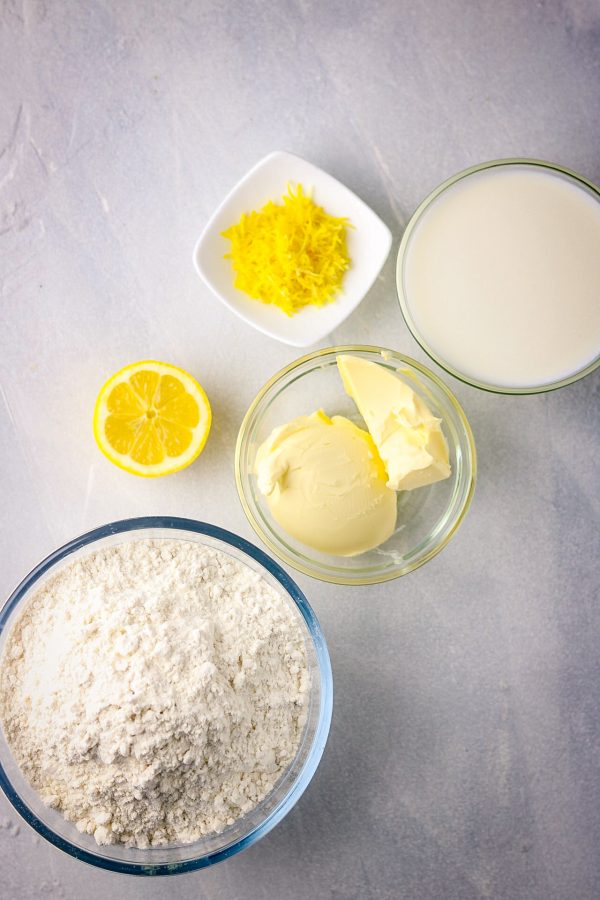 Lemon Scones
Lemon scones is an amazing treat for any time of the day, lemon scones for breakfast, brunch, late night snack bring it on. I could eat this all day!
Ingredients
450

g

self-raisin flour

about 31/2 cups

70

g

full fat cold butter

220

ml

full fat milk

about 2 tablespoons less than 1 cup

Zest of 2 lemons

Juice of 1 lemon

½

teaspoon

table salt
Instructions
Preheat the oven at 200C/390F conventional oven or 180C/350F (fan oven).

Add the flour, salt and butter to a bowl, rub the butter into the flour with your fingers till it resembles breadcrumbs.

Add lemon zest and gently mix to combine

Add milk and lemon juice to the flour-mix and gently combine without over working the mix

Turn the dough to a lightly floured work surface and smoothen it up (knead for about 30 seconds but don't be heavy handed doing this)

Form a disk with the dough and about 1 inch high, cut the dough into equal triangles.

Transfer the dough to a lined baking tray and bake in the oven for 12 to 15 minutes or until the scones are risen and golden.

Take the scones out of the oven and leave to cool

Scones can be eaten with whipped cream and of course jam. If you would rather have the a glaze, use ½ cup of icing sugar to 1 table spoon of lemon juice and a bit of vanilla extract, mix it up and use as desired.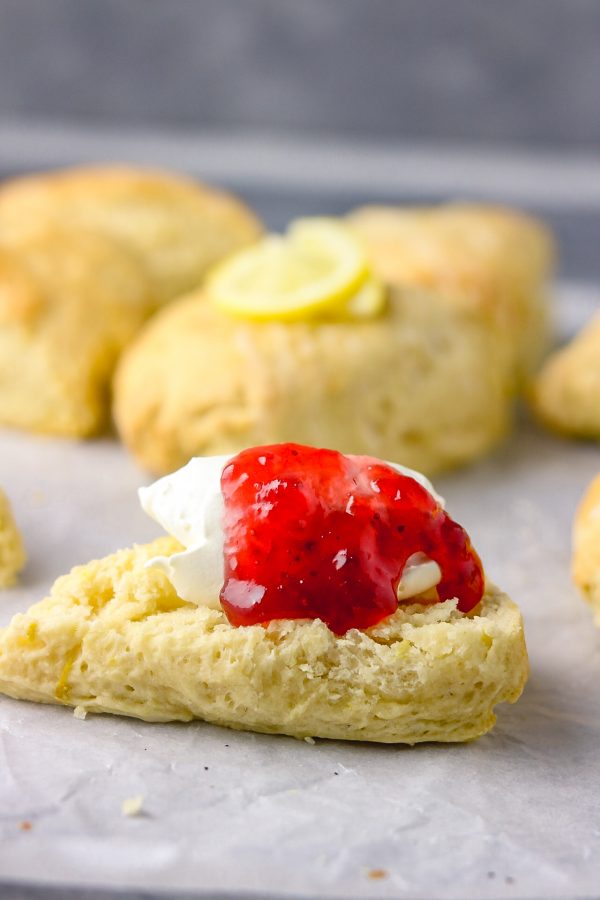 There you have it lovelies, delicious lemon scones!
If you made this recipe, don't forget to leave me feedback. Tag me on Instagram, Facebook and save away to your Pinterest
Fancy other baking treats? Why not try these Meat pie