Nigerian chicken stew is loved by every Nigerian no matter where they reside. Nigerian chicken stew is a classic recipe and it is very delicious too.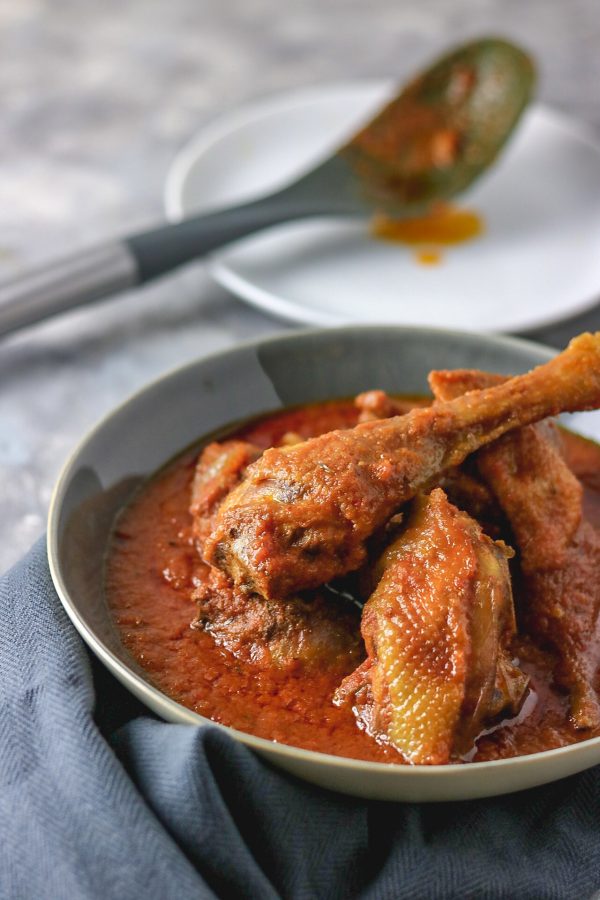 In my previous post, I talked about Nigerian pepper mix, as this gives you the base to making most Nigerian stew or soup recipes. Nigerian chicken stew can be eaten with almost everything from boiled rice to soups and as a dip. Typically, the Yorubas would add this chicken stew to almost everything. Call it trust issue but yeah, that is the way we do it.
There is no hard or soft rule to making Nigerian chicken stew, some people like it well fried while others like it light like Imooyo. As a Nigerian girl, I would say the majority would like theirs well fried or thick for intense flavour. This classic Nigerian stew recipe is simple and you can use any kind of meat to achieve this too. I used a mixture of turkey and Chicken and I tell you, I almost finished my stew the same day.
Ingredients
8 cups boiled Nigerian pepper mix
18 pieces hard Chicken (use any desired parts)
2 medium onion chopped, to be used in boiling the chicken and later in the stew
Chicken bouillon cubes use according to preference
1 tsp ginger powder substitute with fresh ones, minced
1 tsp garlic powder substitute with fresh ones, minced
½ tsp thyme
1 tsp curry
2 cups of vegetable oil
salt
1 cup chicken broth This is the broth you get from boiling the chicken, this is optional if you opted for grilled chicken instead of fried.
Steps to preparing Nigerian Chicken Stew
you need per-boiled Nigerian pepper mix
Fried chicken, turkey or beef (these can be grilled too)
vegetable oil used in frying the chicken. (Use fresh oil to fry the chicken) except you are grilling.
cook and enjoy your chicken stew with anything
Nigerian stew is best cooked with vegetable oil. Curry and thyme may or may not be added to the stew although, it is essential you use it in cooking your protein of choice. This is to achieve the authentic Nigerian chicken stew taste, full of flavour and depth. If for any reason you choose to use palm oil for this recipe, I would recommend you don't use curry and thyme, as I believe this spice and herbs don't work well with palm oil. This is my personal opinion and I haven't been proven wrong about it.
It can be enjoyed with anything, it is usually served with soup staples like ewedu, okra, all kinds of Efo and white rice. Let us get on to cooking this classic stew.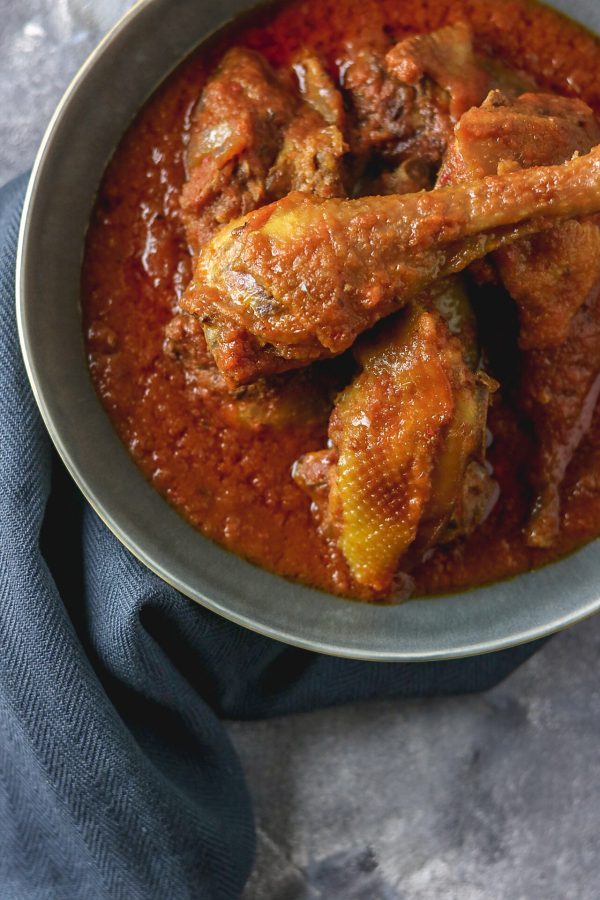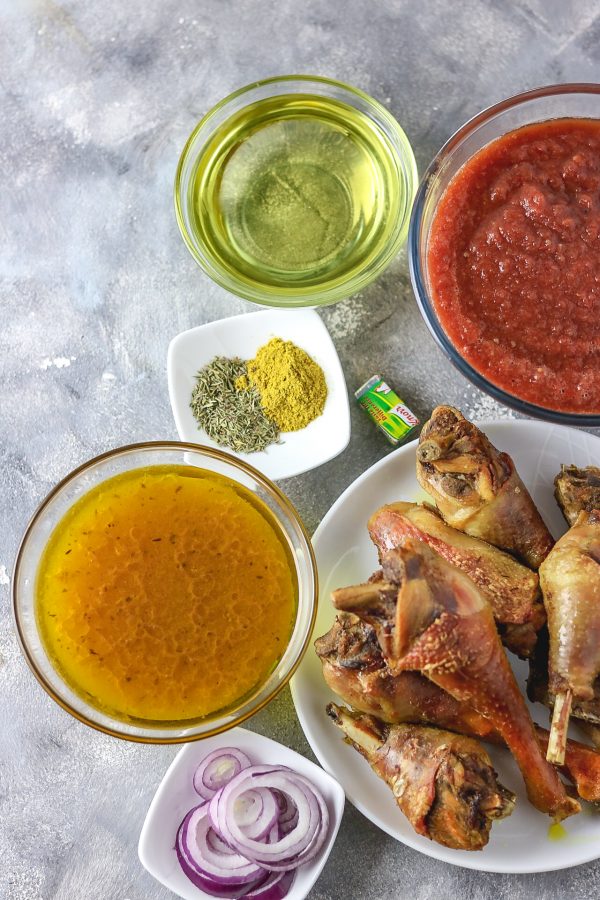 Nigerian Chicken Stew
This is the classic Nigerian chicken stew. It is very easy to make and very delicious and this stew can be eaten with almost anything.
Ingredients
8

cups

boiled Nigerian pepper mix

18

pieces

Chicken

2

medium

onion

chopped, to be used in boiling the chicken and later in the stew

Chicken bullion cubes

use according to preference

1

tsp

ginger powder

substitute with fresh ones

1

tsp

garlic powder

substitute with fresh ones

½

tsp

thyme

1

tsp

curry

2

cups

vegetable oil

salt

1

cup

chicken broth

This is the broth you get from boiling the chicken, this is optional if you opted for grilled chicken instead of fried.
Instructions
Rinse the chicken and place in a pot, Place the pot on medium heat, add ginger, garlic, curry, thyme, salt, 1 chopped onions, bullion cubes and water. stir together to combine and bring to boil till tender.

Fry or grill chicken/turkey and set aside.

Place a pan big enough to cook the stew on medium heat, a

dd vegetable oil (You can use the one used to fry the chicken) and heat for 2-3 minutes.

Add chopped onions and fry till onions are translucent, reduce the heat

carefully stir pepper mix into hot oil and leave to boil for about 3-5 minutes, a

dd chicken broth /water to make stew lighter (don't let it be too light)

Add seasoning and salt and leave to cook for another few minutes


Add fried or grilled chicken and continue cooking on medium heat till stew stops foaming and the oil starts flowing on top of the stew. Don't worry if you see too much oil floating on your stew, you have done well. Simply scoop excess oil of the stew and keep it for some other dish or discard.

Cooking this stew is pretty straight forward and the outcome is superb.
Notes
I used Nigerian Knorr brand of the bullion cubes to cook this chicken stew, I didn't specify the amount that should be used as this can be used according to preference. If you haven't used or cooked this stew before, I would recommend you use 2 to 4 bullion cubes to cook the chicken, if you would be using the chicken broth, don't add salt or bullion cubes till you have tasted it and you are sure it needs more.
Remember, there is spice and herbs in the chicken and all the flavours from the natural ingredient would add a great depth of flavour to stew too
if you want to achieve the proper fried authentic Nigerian stew, then you have to patient with the cooking time. The easiest way to achieve this is by boiling the pepper mix first
Step by step pictures of how to cook this simple chicken stew recipe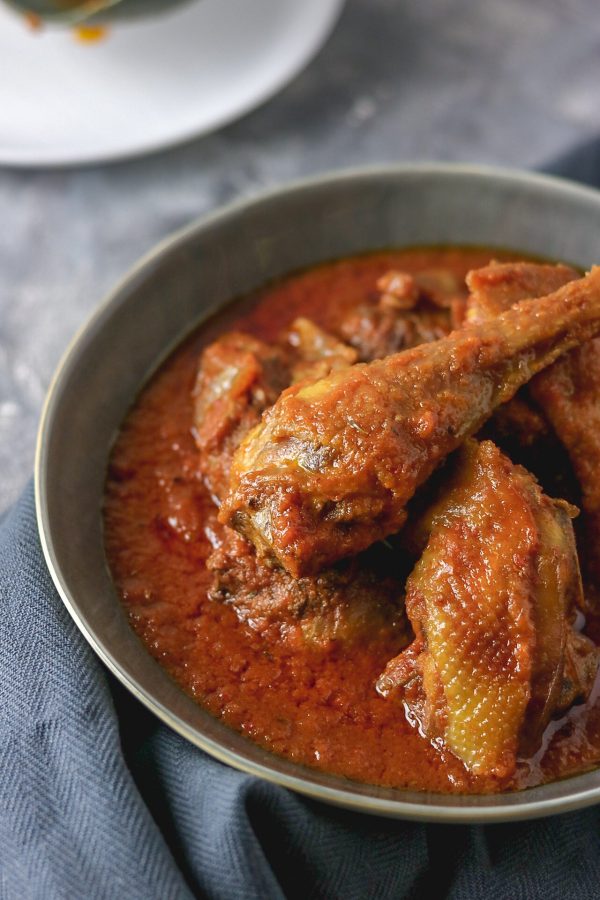 There you have it lovelies, Nigerian Chicken stew in all its glory!.
If you made this recipe, don't forget to leave me feedback. Tag me on Instagram, Facebook and save away to your Pinterest