Nigerian Pepper Soup!
Assorted meat pepper soup! just what the Doctor ordered. The weather around here is not the type one can ask for right now. It is so windy that if you are not careful and you lose your balance, you may find yourself in the next street. I was home today and I couldn't think of what to cook in this confused weather, I was thinking something quick and spicy.
I checked my freezer for what to cook and yes! assorted meat Pepper soup called to me. Pepper soup is a spicy broth popularly served at home, restaurants and parties in Nigeria. Nigerian pepper soup can be made with assorted meat, beef, chicken, or fresh fish. The basic spice (My active kitchen pepper soup spice) that makes up this broth can be sourced from the local market, on my website and if you wish to make your own then you can buy the spices in its natural form and use according to preference.
As the name implies, assorted meat pepper soup is VERY spicy and it is not for the weak. In fact, Nigerian pepper soup can be just what the doctor recommends when you are down with flu or recuperating.
Ingredients
1kg assorted meat, cubed
2-3tbsp ground pepper soup spice
1tbsp vegetable oil
Salt
Seasoning (eg Knorr or maggi)
Water
1.5 medium size Onions, chopped or sliced
2-3 cloves garlic, sliced
Cayenne pepper, use according to preference
Scent leaves (substitute with dried or fresh basil)
How to make Nigerian assorted meat pepper soup
Wash assorted meat thoroughly to get rid of unwanted bits.
 

If you are using lungs and liver, I'll advise you parboil for about 6 minutes before adding to the rest of the meat or simply cut the meat to cube size to allow easy access when washing to get rid of the clotted blood
Place pan containing washed assorted meat on medium heat add, chopped onions, garlic, salt, seasoning, half of the pepper soup spice, add enough water to cover the meat and bring to boil for about 15 minutes
Add the remaining pepper soup spice and vegetable oil and reduce the heat. Also, check for salt and seasoning. Add more water to the broth is needed.
After about 10 minutes, add a handful of scent leaves or basil. I used a combination of dried and fresh basil
Bring to boil till meat is tender and serve immediately Nigerian pepper soup can be eaten on it own or with agidi (eko) or bread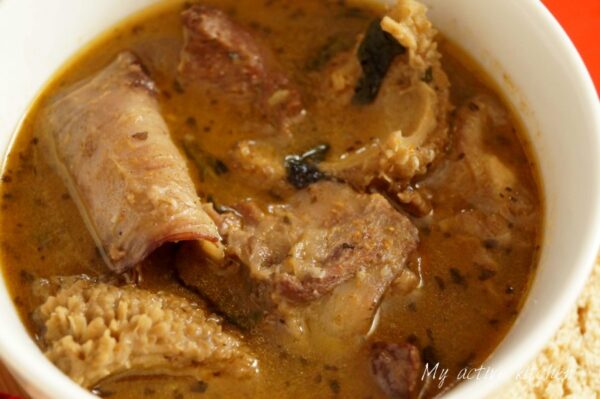 If you love this recipe then you might want to try my catfish pepper soup recipe. You won't regret it well except if you are not a fish lover
Assorted Meat Pepper Soup (Nigerian Pepper Soup)
Nigerian Pepper soup is a spicy broth popularly served at home, restaurants and parties in Nigeria. It can be made with assorted meat, beef, chicken, or fresh fish. Assorted meat pepper soup is a type of Nigerian pepper soup and it is absolutely delicious and yes spicy (hot)
Ingredients
1

kg

assorted meat

cubed

2

tbsp

Pepper soup spice mix

1

tbsp

vegetable oil

Salt

Seasoning

I used Knorr

Water

11/2

medium size Onions

chopped or sliced

2-3

cloves

garlic

sliced

Cayenne pepper

use according to preference

handful

Scent leaves

substitute with dried or fresh basil
Instructions
Wash assorted meat thoroughly to get rid of unwanted bits. If you are using the lungs and liver, I'll advise you parboil for about 6 minutes before adding to the rest of the meat or simply cut the meat to cube size to allow easy access when washing to get rid of the clotted blood

Place pan containing washed assorted meat on medium heat add, chopped onions, garlic, salt, seasoning, half of the pepper soup spice, add enough water to cover the meat and bring to boil for about 15 minutes Add the remaining pepper soup spice and vegetable oil and reduce the heat. Also, check for salt and seasoning.

Add more water to the broth is needed. After about 10 minutes, add a handful of scent leaves or basil. I used a combination of dried and fresh basil Bring to boil till meat is tender.Serve immediately. Assorted meat pepper soup can be eaten on it own or with agidi (eko) or bread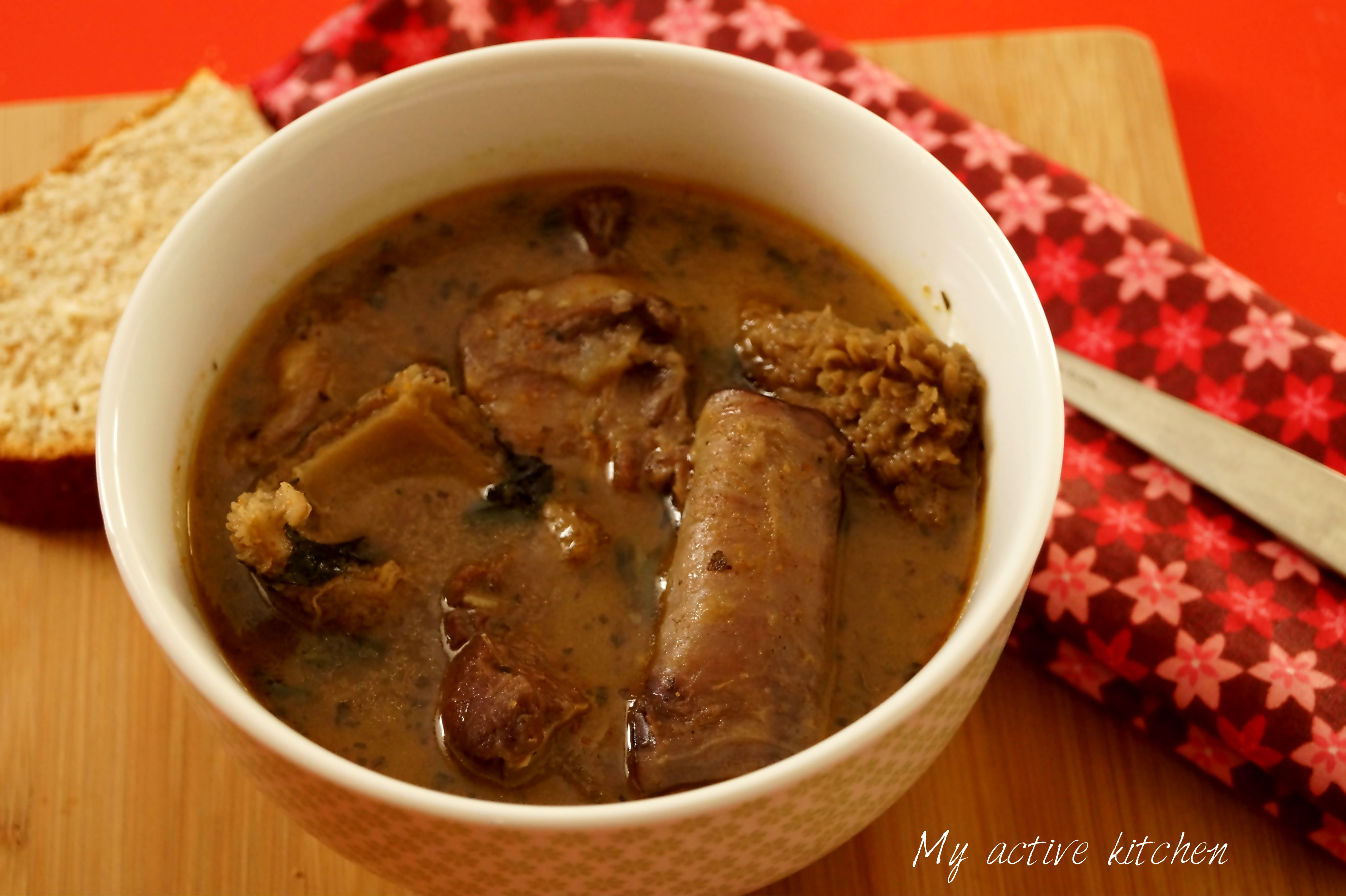 If you made this recipe, don't forget to leave me feedback. Tag me on Instagram and save away to your Pinterest