Banga Okra soup because my friends are cool like that and are very happy to share their family recipes with me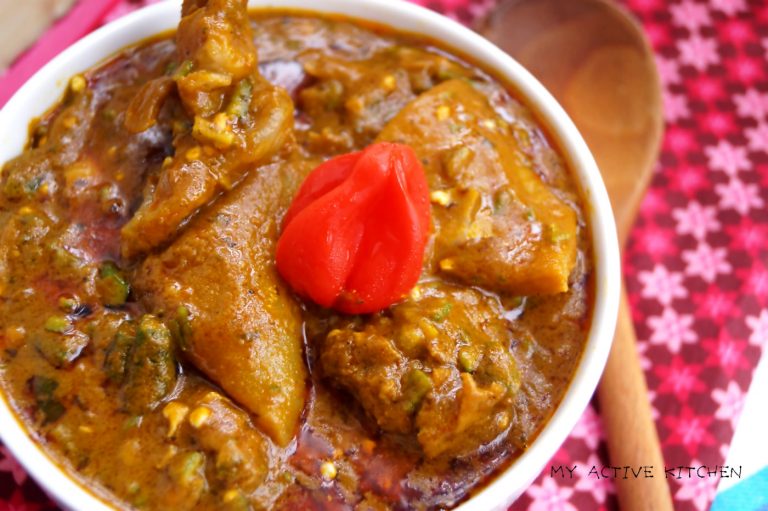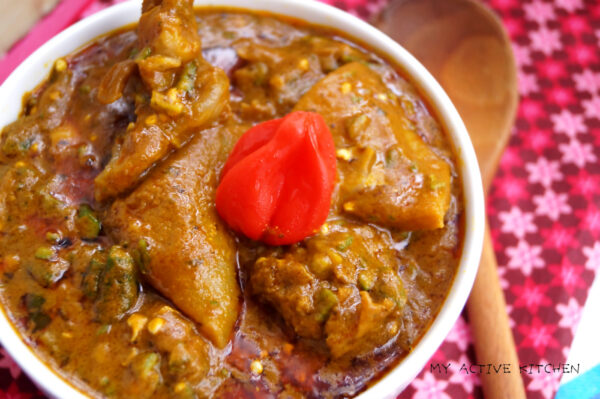 Hello my beautiful people, how una dey? Hope una no vex say man face scarce? Sorry I have been super busy. I am going to be quick about today's post, I'm going back to Delta state today, where I'll be sharing this banga Okra recipe my very good uhrobo sister/friend Karo gave me. If you see any Delta/Uhrobo recipe on this blog, they are all from her.
So far I have got about 3 original recipes , Niger Delta banga soup, Jollof rice for fussy kids and Egusi pepper soup from her and we have both sat down many times to think about what recipes to put on the blog. She is a friend like a sister. As a correct Uhrobo girl, Karo loves her banga soup but since having her son, she changed the way she cooks her food. Her son doesn't joke with his okra soup and so is my friend with her banga soup. She decided one day to try the two combinations to see if her son would love it, he really enjoyed it and that was the beginning of banga okra soup in their household.
She would normally just cook the banga on its own with okra without banga spices and then add smoked fish, stock fish, beef and any other protein of choice. In Karo's words 'I take small risk and added pepper soup spice to the banga okra and he make sense' lol. If you are looking for a new addition to your food menu and you like banga or okra soup, then the way forward is Karo's banga okra soup.
Honestly, the soup make sense die and please don't forget to add crayfish and you will thank Karo and I later. For this recipe, I'll be using  palm nut concentrate as I can't source palm oil kernel here in the UK.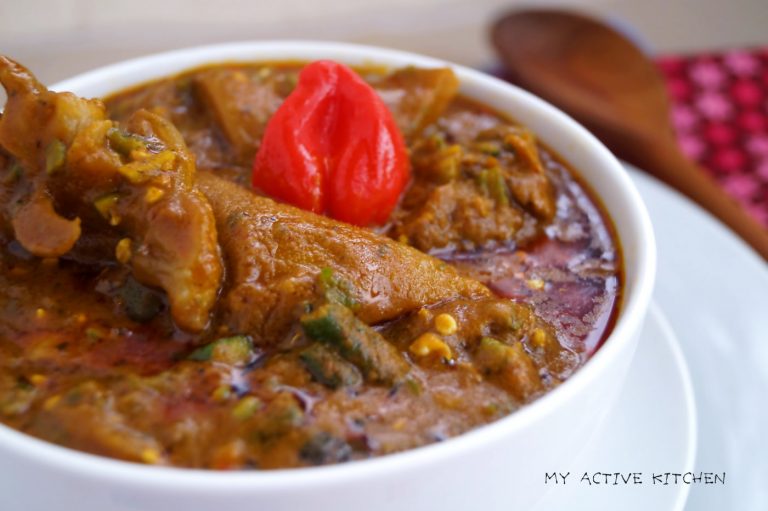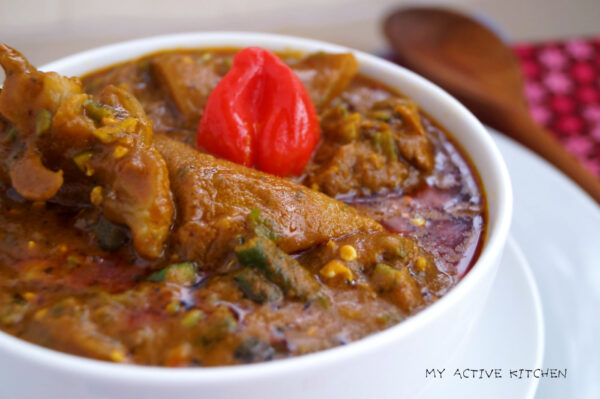 Ingredients
400g palm nut concentrate
1tsp pepper soup spice
350-500g okra, chopped
500g-1kg assorted meat (bokoto, shaki, beef)
Smoked fish
Ground crayfish
Dried catfish strips
Seasoning
Salt
2-3 scotch bonnet chillies (blended/pounded)
Small bunch of scent leaves (substitute with dried/fresh basil)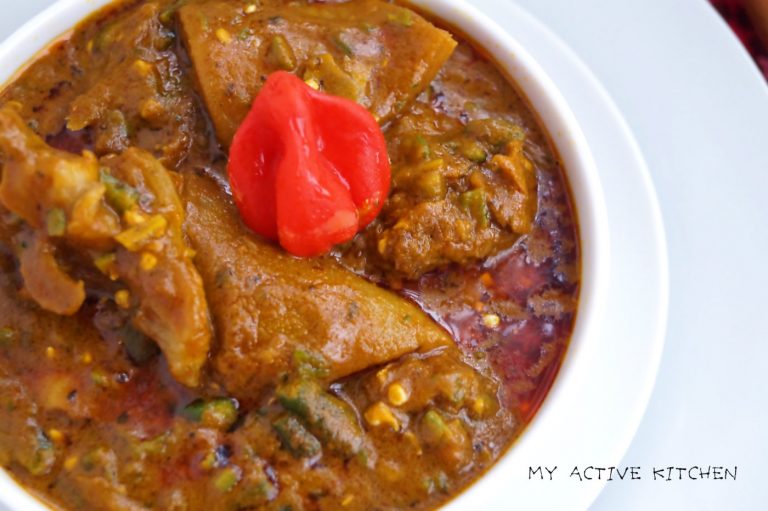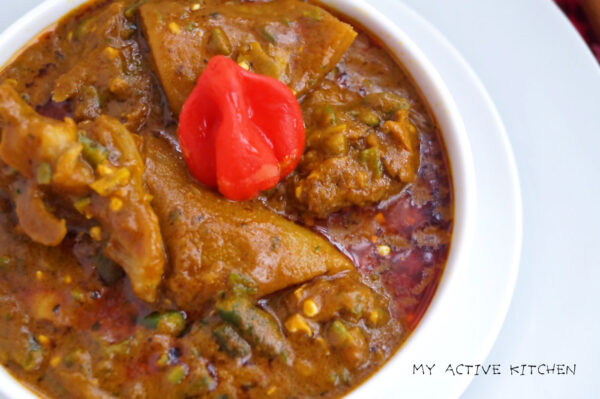 How to cook banga okra
The method to cooking this banga okra soup is not different from the way you would cook banga soup. If you have cooked banga soup before, you only need to make some few swaps.
Season assorted beef and dried fish with salt, onions (optional), seasoning cubes, add water and bring to boil till tender. (Separate meat from stock and reserve stock)
Place your pan on medium heat, add palm nut concentrate and dilute with warm water/stock, double of the amount of palm nut concentrate used. I used 400g so I added 800g of water/stock to the pan. You can add any tough beef at this point, this will help soften it more and the flavour infused as well (I added cow foot and shaki to mine at this stage)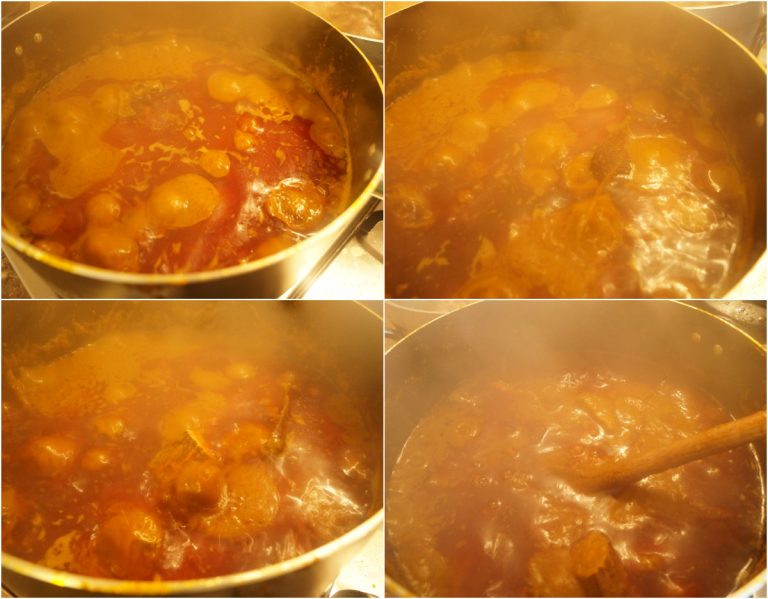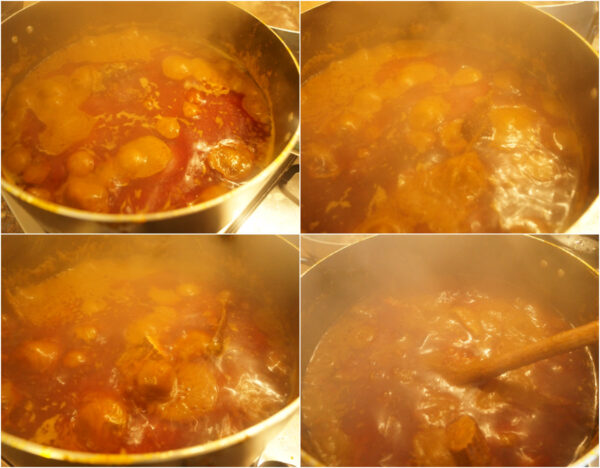 Stir till well combined and bring to boil for 10-15 minutes, add crayfish and blended pepper to the sauce and cook till the oil starts to show on the surface of the sauce. (The total time for this should be about 20 minute) You can scoop off the oil if you want to make it a little bit healthier.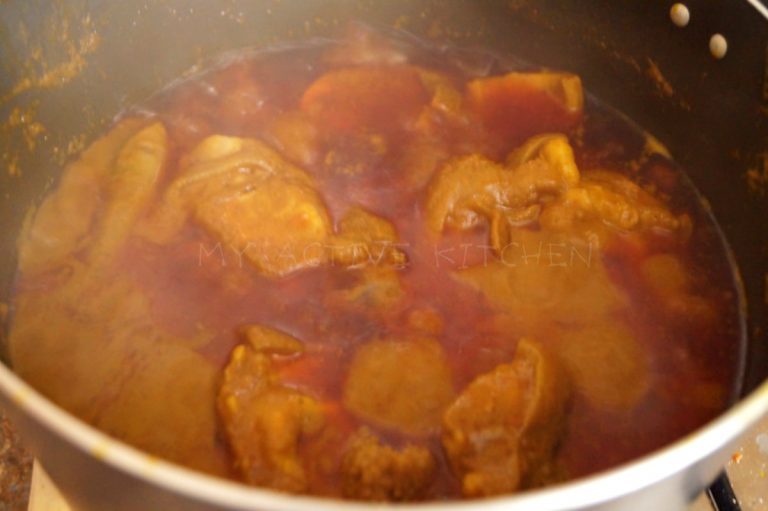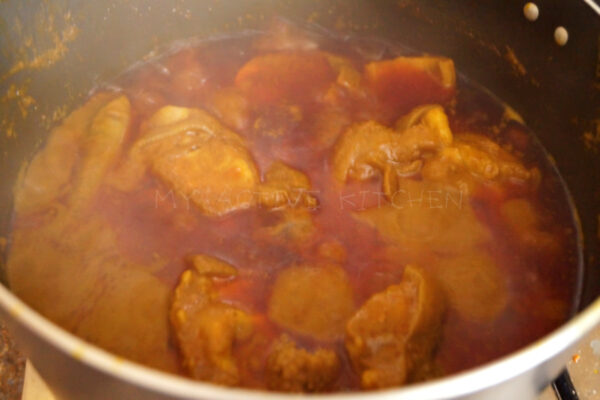 If you notice the soup slightly getting thicker, dilute with stock or water. If you will be adding stock, be mindful of the salt content so you should always check for salt before adding stock. Add pepper soup spice and stir to combine. Like my banga soup here, I didn't need to add salt/seasoning to the soup as the stock was well seasoned.
Add the remaining beef and half of the smoked fish to the sauce and stir to combine. Check for salt and seasoning then reduce the heat and cook for another 15-20 minutes. Check intermittently; add water/stock accordingly to the sauce if it becomes too thick. (Be mindful of the salt content if you would be adding stock. Stick with water if your salt and seasoning is right)
Add chopped okra and stir to combine. Cook for another 3-4 minutes, add scent leaves or basil and leave to simmer for another 2-3 minutes. Take it off the heat and serve with swallow of choice.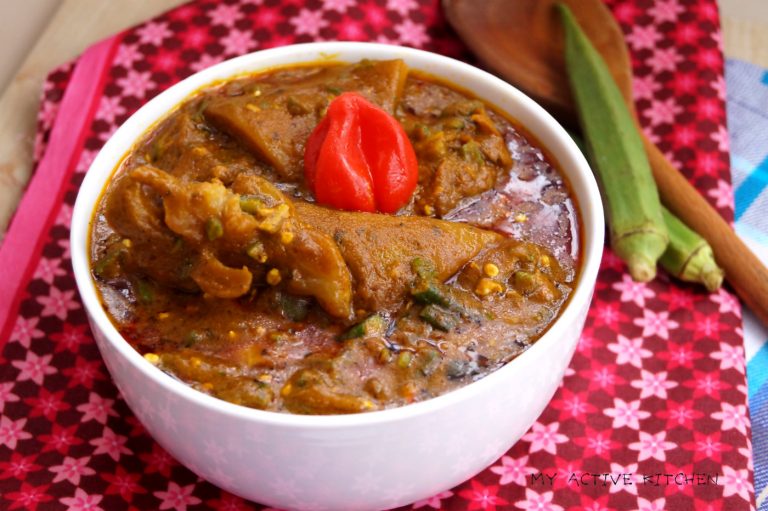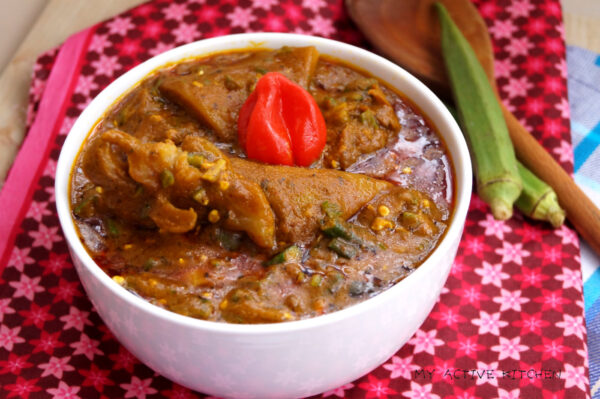 My little one, HRH took this last picture. Not bad for a 3 year old hey?  bless her
If you love this recipe, why don't you check out Ofe Akwu (Ibo Banga) before you leave... Enjoy.x