Nutty Oatmeal Cookies! My cookie journey started when I baked my first ever Millie's cookies using this recipe I found here, I have since then not looked back. Though I seldom bake oatmeal cookies or any other types of cookies just for one simple reason, I don't want to be addicted to them. They are very addictive! I bake them to remind myself that I still have my  A-game on in baking. Homemade cookies are very easy to make and way better than shop-bought. I for one don't think anything of shop-bought cookies. In fact, I think they are sometimes overrated.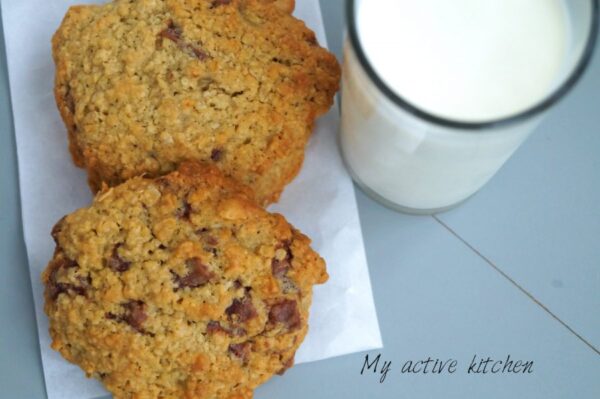 You can make better cookies at home with an assurance that you are responsible for everything that goes into it. Cookies are almost like a blank canvas, you can express yourself on it. I made these oatmeal cookies with my little one, she requested it and she couldn't wait to delve into it before I managed to take pictures for the blog. If you are new to baking cookies, I suggest you start here. I might share my own version of the basic cookies soon. Continue to practise until you are confident enough to add or subtract and make it more of your own.
If I could blow my own trumpet, these oatmeal cookies are to die for, my whole house still linger of the cookie aroma and I have tried to be good and not eat more than my hips can take. I dunked mine into fresh whole milk and the experience was heavenly. The cookies are still beckoning, eat me, eat me but they are now tightly locked away in my recycled cookie jar. They shall be my secret lovely sweet stash. I know I have got sweet tooth but I bet you, if you manage to make these oatmeal cookies, they would be gone in minutes. They are nutty, chewy, and chocolaty and some were even crunchy because I let them bake for about 3 minutes longer.
Who said oats is for porridge alone? It is amazing in cookies, loaves and lot more. I will be making a post very soon on experience with using oatmeal, the use is endless and it's versatile and it goes beyond food. I would really like to hear your experience with oatmeal and what you do with them.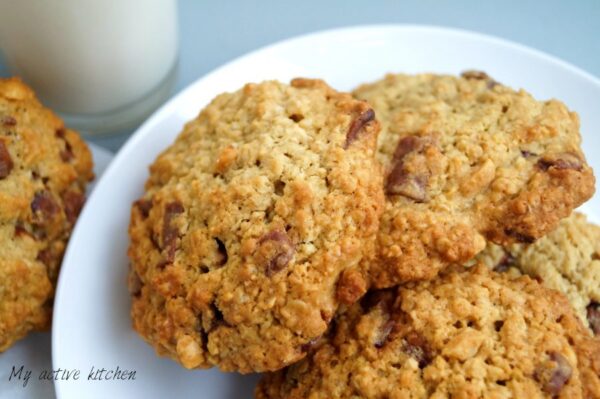 What you will need
350g oatmeal
130g plain flour
½ tbs baking soda
1tsp strawberry essence, any other flavours would do
1tsp mixed spice/cinnamon (optional)
1 large egg or 2 small ones
2tbsp of milk, optional
½ tsp salt
150g brown sugar
100g caster sugar
200g butter at room temperature
50g peanuts, any other nuts will do just fine too
80g choc chips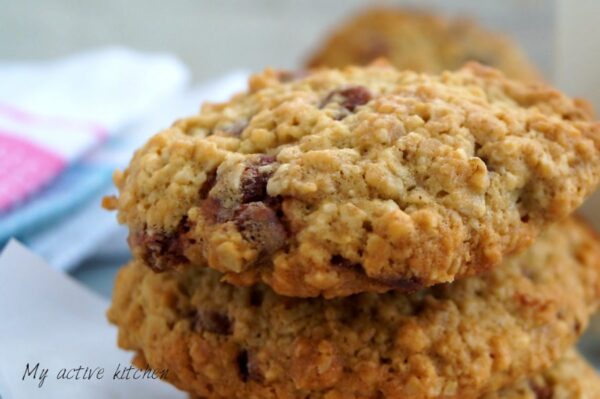 Tips:
if you will be using bigger nuts like walnut or cashew nuts, make sure you chop them into smaller bits before using
You can keep the dough in the fridge for about 30 minutes before baking; it helps the cookies staying firm and not too flat after baking
You can bake for longer than the time recommended as long as it is not burned. Bake to your taste
Use a food processor, hand mixer or cake mixer for mixing the dough it makes life much easier.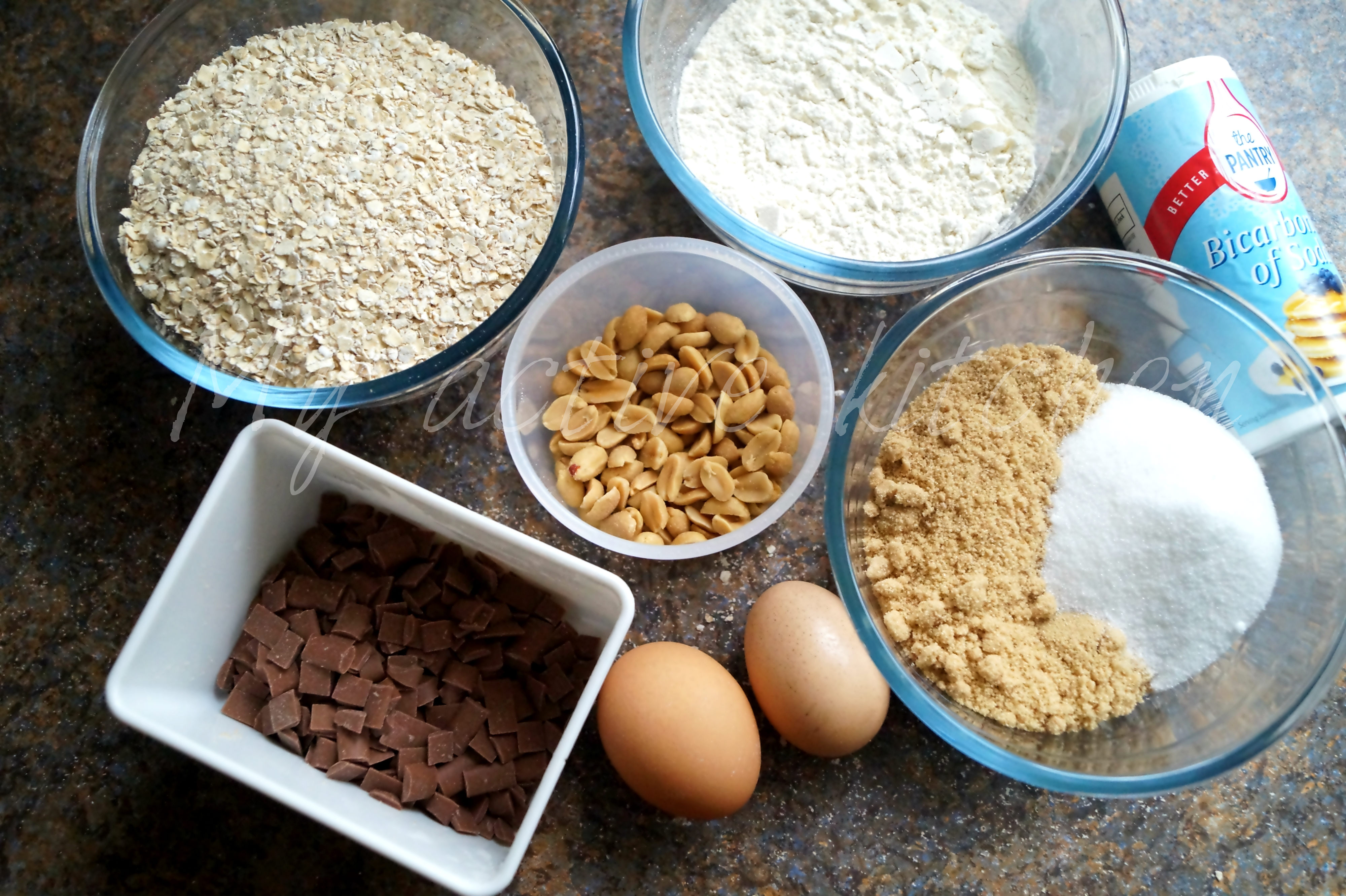 How to make oatmeal cookies
Preheat the oven on 180 degrees or 160-170 degrees if using a fan oven
Add the butter and sugar together and mix until light and fluffy
Add the egg to the butter mixture, add the strawberry essence and milk if using and mix together till well combined.
Add the oatmeal, flour salt and baking powder to the butter mixture and stir till well combined
Lastly, add the peanut and choc chips and combine well.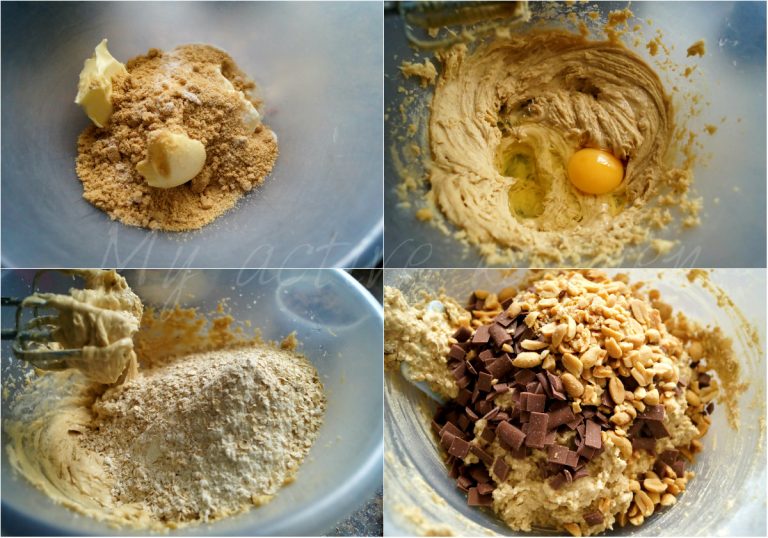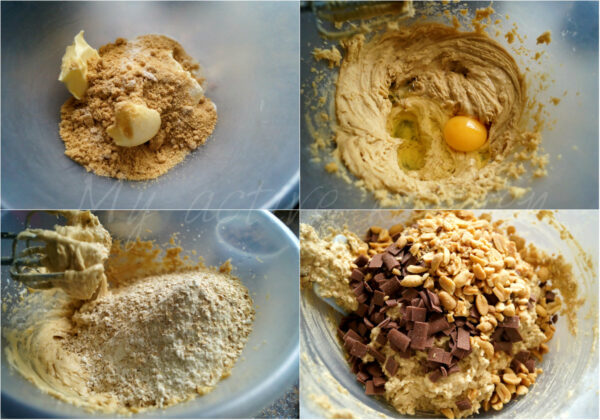 Line a baking tray with a greaseproof paper and scoop the dough on the tray making sure they are well spaced apart
Place the baking tray in the oven and bake between 12-15 minutes
Take the cookies out of the oven and leave to cool before tucking in.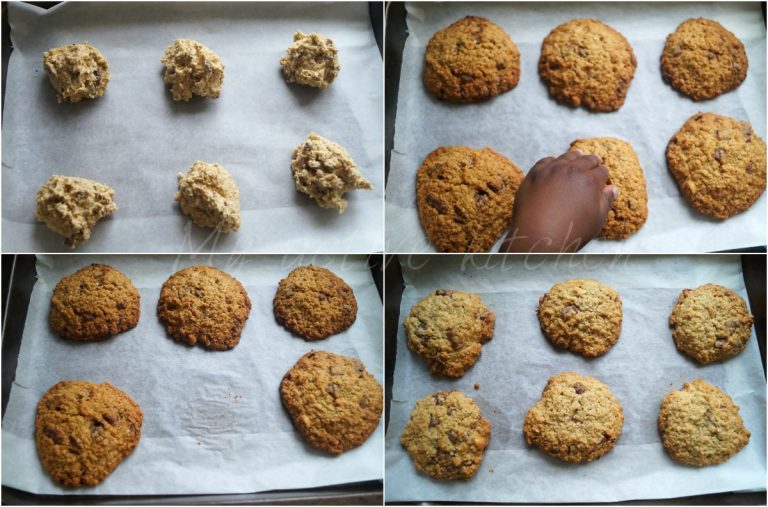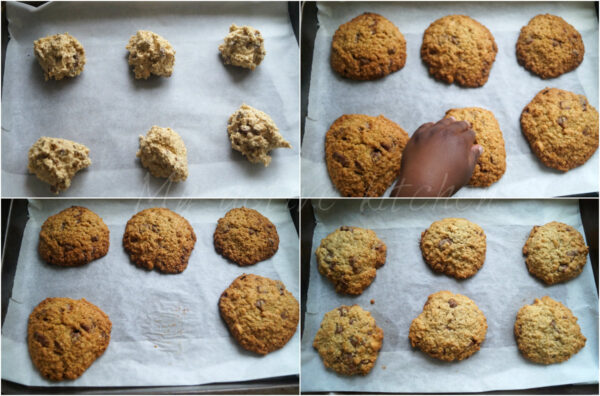 HRH got one before I could say Jack Robinson. The fourth picture was baked at different time
serve with a lovely cup of tea or cold milk. Why not try it with this Homemade iced coffee or use this Vanilla Coffee creamer to make your favourite beverage.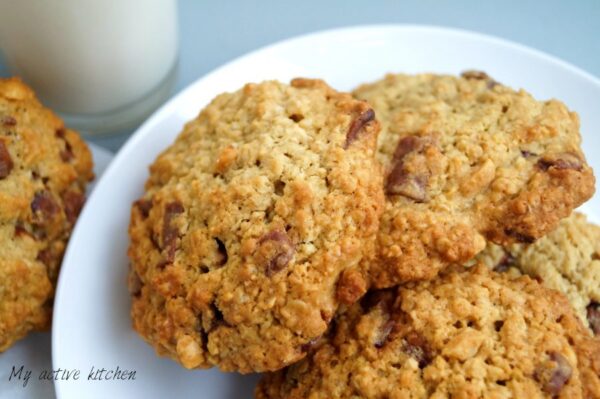 If you made this Nutty oatmeal cookies recipe, don't forget to leave me feedback. Tag me @myactivekitchen on Instagram and save away to your Pinterest