That perfectly roasted yam and fish guaranteed to give you the wow factor. Yass just follow the recipe below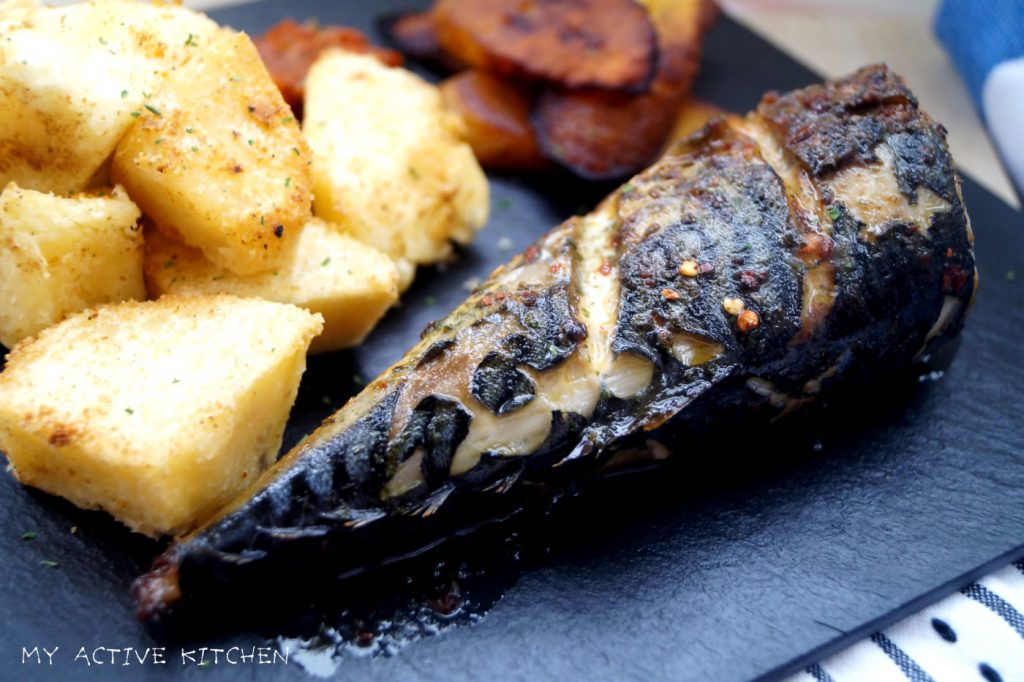 Roasted Yam and Fish
I'm really excited about today's post and most especially the recipe, perfectly roasted yam and fish. It is Christmas soon and in some way, my Christmas menu is taking shape as planned. In a typical Nigerian home on Christmas day, the food on the menu is usually chicken or turkey, Jollof rice, fried rice and swallow with traditional soup depending on one's geographical location.  This year I'm planning something different, not necessarily complicated menu but something unique and easy, something for everyone especially my lovely readers to cook at home for your loved ones.
I'm kicking off this year's Christmas menu with one of Nigeria's popular street food called dundun, plantain (dodo) and fried fish (eja dindin) but with my active kitchen's twist. I have redefined it and made it more 'posh' and healthy as we say. I am not going to blow my own trumpet about this recipe but really in my mind, that is what I am doing.lol..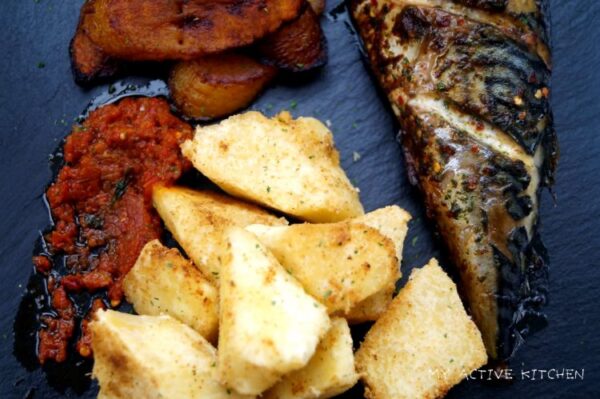 This recipe is a must on your table this holiday. It is easy to make, the flavoured packed roasted yam and the juicy roasted mackerel fish was the highlight of this dish for me. Also, not forgetting the Nigerian fried stew that gave it the street feel. This is a complete dish and yes you can use any type of fish you want. I chose mackerel as it is one of my best fishes of choice.
I asked on Instagram the other day which is favourite among yam, plantain and fish and the vote went to all 3. Nigerians don't joke with these foods. We love it but I love mackerel more. I must say this that, if all you use your suya spice for is meat and chicken then you are still on a very long thing. If you are yet to combine suya spice with pepper soup spice then ok o. That's all I can say, gist and recipe for another gracious day before that time comes, let us enjoy this lovely meal here. Get your apron on and lets cook to impress this Christmas.
Disclaimer: please don't hold me responsible if you get addicted to this recipe. Can I just say quickly that it is not for Christmas alone? It can be eaten and enjoyed any time of the year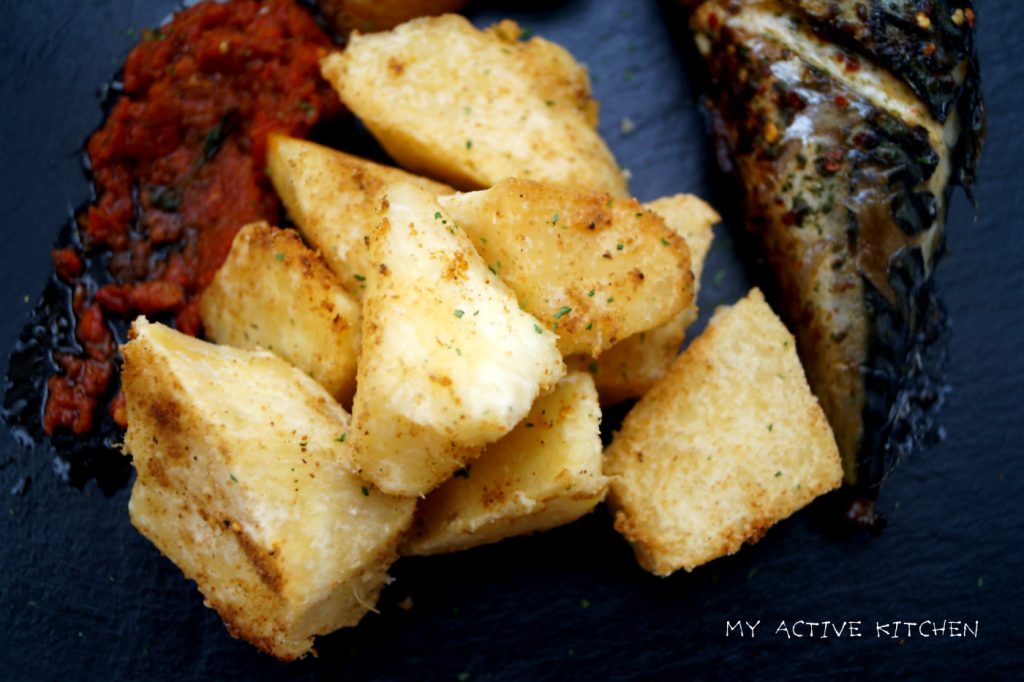 What you will need
A tuber of yam (depending on the number of people you are catering for)
Plantain (pieces depending on the number you are catering for)
Mackerel fish, cleaned and gutted
Suya spice
Seasoning
Salt
Liquid hot Maggi substitute with a seasoning of choice
Crushed chilli flakes
Dried parsley, substitute with other spice of choice
2-4tbsp of suya spice-infused oil, substitute with any oil peanut oil or other oil of choice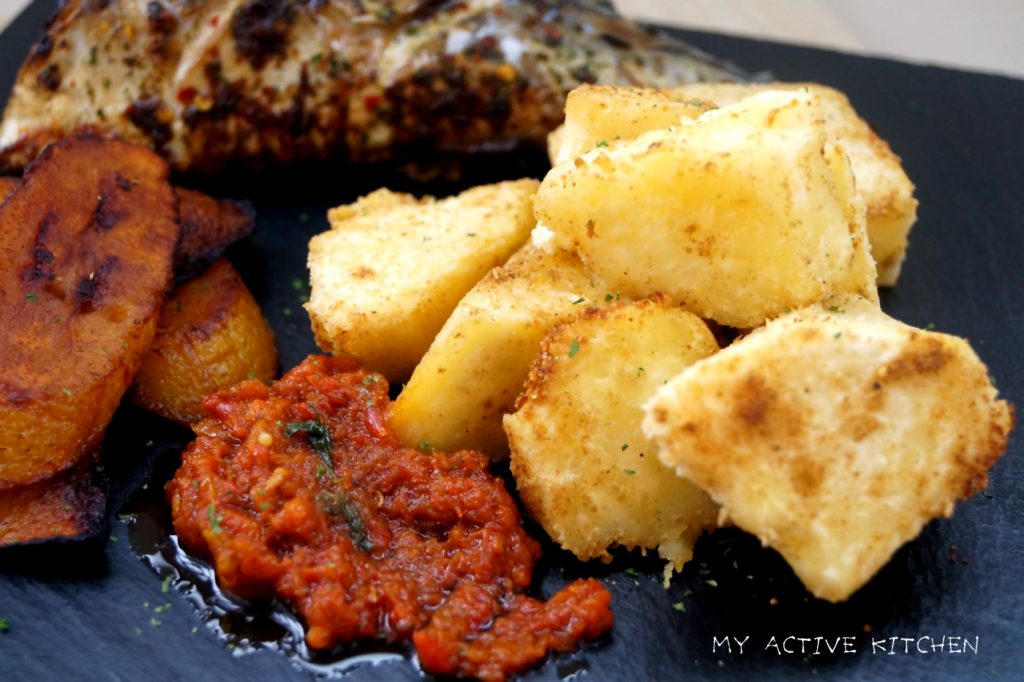 How to make roasted yam and fish
Preheat the oven to180°C/356°F fan oven, 190°C/374°F conventional oven
Peel and cut the yam into chunk bite sizes.  Rinse clean, add to a pan and cover with enough water to cook, add salt to taste and bring to boil on medium heat for 5 -7 minutes but not longer than that. Drain and set aside
You can choose to roast the fish as a whole, filleted or cut into 2 as I did
In a bowl, add salt (I used pink Himalayan salt) parsley, liquid Maggi and chilli flakes, mix together thoroughly and set aside.
Make an incision on the fish and rub the marinade all over it and in the incision too. Keep in the fridge to marinade for 15-30 minutes and move on to prep the yam
While you are waiting to roast the fish and yam, fry the plantain in vegetable oil till golden brown. You can choose to grill the plantain for a healthier option. Add the drained yam to a bowl, add 1-2tbsp suya spice (depending on the portion you are making), pepper and toss together till well coated. Then add the suya spice-infused oil and toss to combine again. Spread the yam on an oiled baking tray and place in the oven along with the fish and roast for 30 -35 minutes depending on the size of the fish,
Allow the fish to rest for about 5 minutes before serving with the roasted yam and plantain. I served mine with Nigerian fried stew and my taste buds are ever still so grateful.

Let me know what you will be cooking this Christmas and if you manage to make this recipe, do let me know by tagging me on Instagram, Facebook and you can equally send me an email too. x