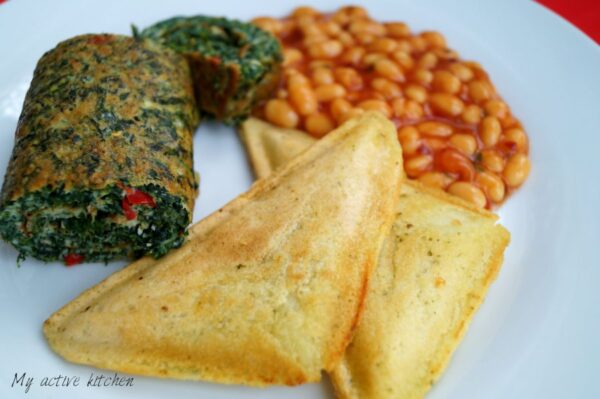 Yam toasties and ugwu omelette. You read right! I met this lovely lady recently, we started talking....she checked my blog and said right; you have to start posting recipes for 'healthy eating fanatics' like her. She said her husband's dietary needs made her change her eating habit/culture and she's now hooked to eating right. She told me about her ugwu omelette, how simple yet nutritious it is.
I made some, a few days ago with overloaded ugwu and also made some yam toasties too. I jazzed the omelette up with some fresh basil and lord, it was da bomb!. Lord knows that was one of the healthiest meals I have had in a while.
The yam toasties was one crazy or should I say a food blogger brain wave I've had recently. It turned out perfect and fluffy. You can add as many spices you want to it. You can even add fish or corned beef to yours to make it even more heavenly.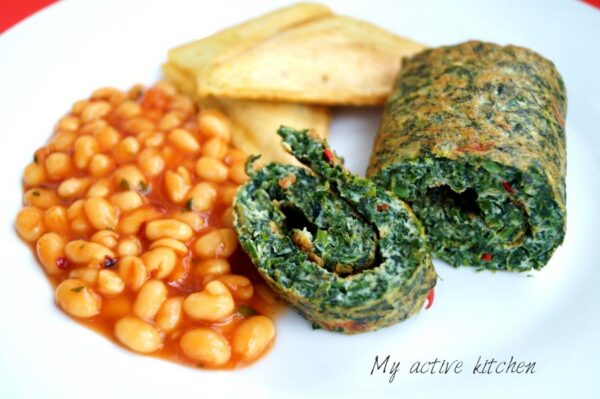 Ingredients
2-3 handfuls of ugwu leaves (Pumpkin leaves), chopped. Any other greens would do just fine too eg kale or watercress
4 eggs
Salt to taste
2tbsp vegetable oil substitute with olive oil
Small yam tubers
Ground ginger and garlic
Seasoning
1tsp butter
Chillies
1 handful of basil substitute with scent leaves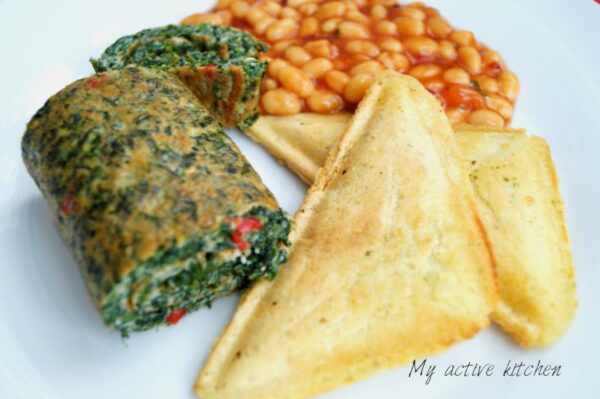 How to make yam toasties
If you are going to be making the yam toastie, I would strongly recommend that you make it first before frying the omelette.  The yam toasties take about 5 minutes or more to cook and depending on the numbers you would be making in the batch, while the omelette takes much quicker to cook.
To make the yam toasties...
Peel the yam tuber and cut into small chunks, wash and rinse clean. Add the yam chunks into a blender add salt to taste, little water to aid the blending and blend to smooth puree.
Empty the pureed yam into a bowl, season and spice it as you desire. Stir yam purée for couple of minutes to make it fluffy.


Add tiny butter to the sandwich maker plate. Scoop the yam batter to the toaster and cook till well done. I cooked mine for about 4-5 minutes.
Repeat the process till you exhaust the yam batter. To keep the yam toastie warm, simply cover with an aluminium foil and place in a warm place (eg oven)


Kitchen tip: If you don't want to use raw yam, you can  boil it, mash and add egg to bind before you toast. it will yield the same result
To make ugwu omelette...
Wash the chopped ugwu and set aside to drain
Break the eggs into a bowl, add seasoning and salt, chopped chillies and whisk till well combined.
Add the chopped ugwu and basil leaves and whisk till well combined

Adjust salt, seasoning and spice accordingly
Place a frying pan on a low- medium heat. Add 2tbsp vegetable oil and heat for about 2 minutes and swirl the oil around the frying pan. Add the egg mixture to the hot pan and leave to set, (Just as you would for a pancake) this should take about 2-3 minutes. Once the bottom side is cooked and you are able to move the edges, flip it to the other side and fry for the same minutes.  (Flipping the egg to the other side is optional)


Serve the omelette with the yam toasties and if you want, you can also serve with some baked beans. I tell you it is yummy.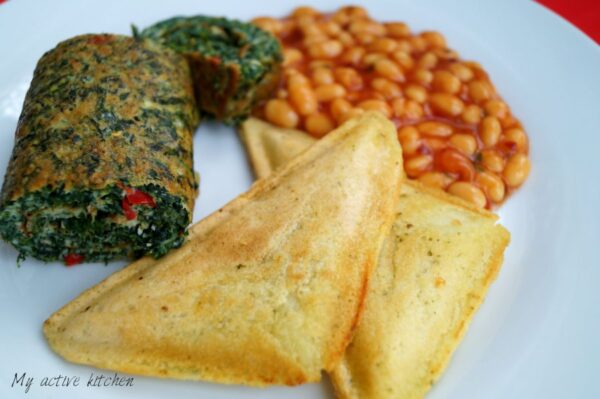 Tips on how to make baked beans extra yum
Add some chillies, dried parsley leaves, seasoning and ginger to the baked beans and cook on low heat according to the tin instructions.
Don't forget to take a picture and tag my active kitchen on Instagram if you make any recipe from the blog and I also love reading from you all, leave a comment or send me an email. If you are yet to subscribe to the blog, kindly do so and you won't miss any new post from us again. Until next time, be true to yourself