OMG, it's chicken Shawarma. I really don't know why it is called Nigerian shawarma but I guess we like to put our mark on everything we touch.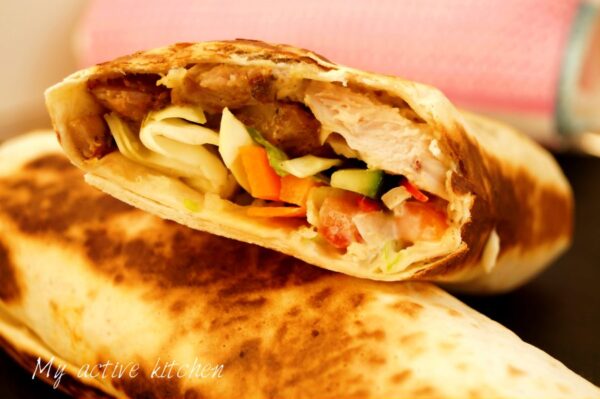 Chicken Shawarma
Who said you can never get an African man to the kitchen? Well, that means you don't starve them enough because if you do then, they would know their way into the kitchen.  Ooook don't eat me alive yet, I'm only joking and yes, never ever starve your man.  At home, I do 85% of the cooking and I'm always grateful to hubby when he lets me take the back seat sometimes while he does the cooking.
The only thing is that he takes weeks to plan what he would be cooking. An example is this chicken shawarma. He said he was going to make it like weeks ago but hey! I can't moan much. Some men don't know whether they are going or coming in the kitchen. Lol. I already have two of le hubby's recipe on the blog here (yam pottage) and here (stewed beans) and they are quite popular too. When he finally got round to making this lovely chicken shawarma, I opened my mouth when I saw all the spices he was going to use and I remember saying this to him... 'bros, naa how many chicken wan chop all this spices'? I was told to watch and look. He replied 'never argue with a man that knows' whatever that meant.
All I did afterwards was take pictures and let him be the chef for the day. Interestingly, this chicken shawarma was one of the best I have eaten in ages. This one beats mine hands down and the spices were just spot on and very full of flavour. The chicken was moist and juicy and every bite was an experience.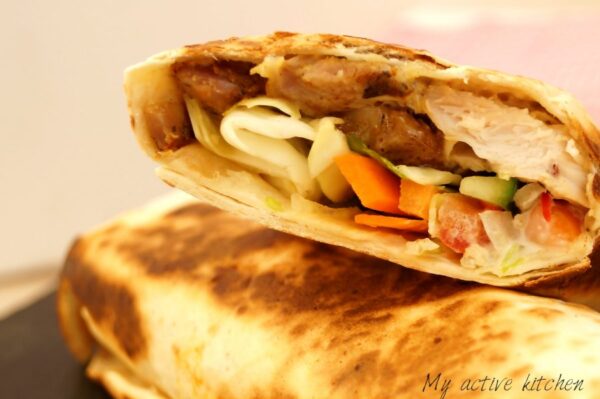 Ingredients
6 pieces of chicken thigh, de-boned
6 tortilla wraps (flatbread)
Salt
1tsp Mixed herbs
1tsp Cajun spice (optional)
1 tsp each ground garlic and ginger
Cayenne pepper, use according to preference
½ tsp Curry
1 tsp Liquid Maggi (substitute with any seasoning of choice)
Pinch of rosemary (optional)
2 tbsp lemon juice
2 tbsp of vegetable oil
Chicken Shawarma dressing and salad
1 cup Mayonnaise, substitute with yoghurt
½ cup Ketchup
3 tomatoes, sliced
½ of a whole cucumber, sliced
2 mixed chillies, chopped
1 small onion, chopped
2 cups lettuce, chopped
1 cup cabbage, sliced
1 cup carrots, sliced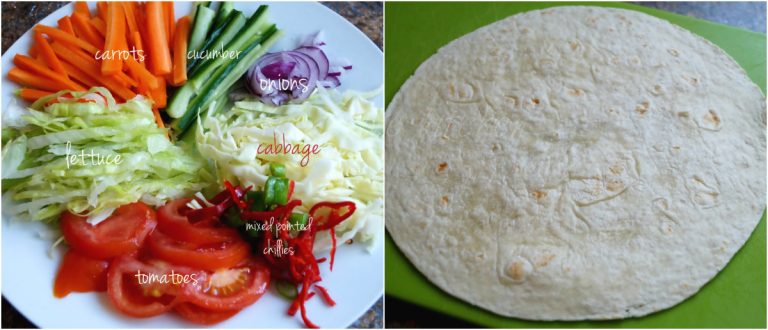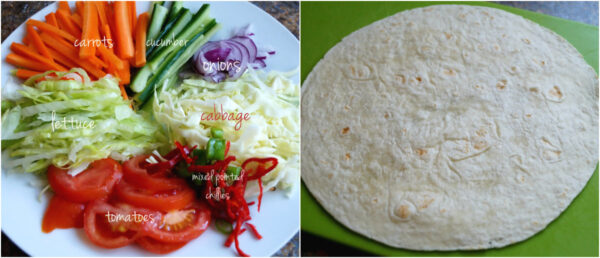 Chicken Shawarma Marinade
Wash and pat dry the chicken
Add all the spices in a bowl, add lemon juice and 1tbsp of vegetable oil and mix together till well combined. Add the chicken and combine with the marinade. Cover the chicken with cling film and leave in the fridge to marinate for 1 hour or overnight.


How to Make Chicken Sharwarma
Place a frying pan on medium heat, add 1 tbsp of vegetable oil and swirl around the pan. Leave to heat for about 2 minutes, add the marinated chicken to the pan and sear on both sides for 2 minutes each.
Transfer the chicken to the oven and grill on 200⁰C for 15 to 20 minutes making sure you turn at intervals till it is well done. Keep an eye on it as you don't want the chicken to dry out.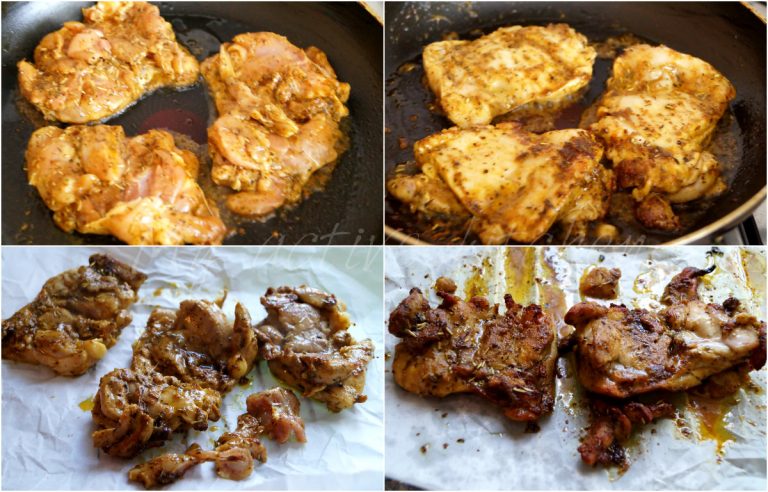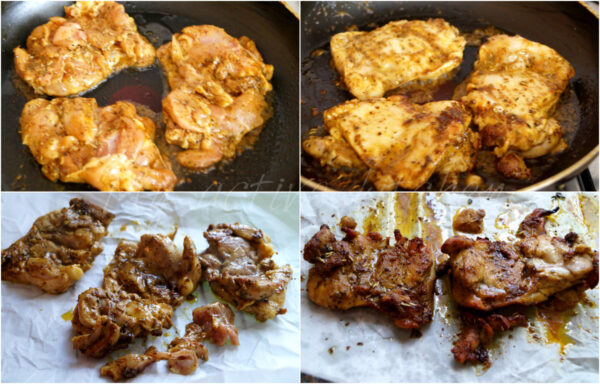 Remove the chicken from the grill, allow to cool and cut into thin strips
Assemble
Using one wrap at a time, add mayonnaise to the tortilla wrap and spread in the middle area.
Add the chicken strips and arrange the vegetables as you would like,
Add ketchup and fold  the filling into the wrap
Repeat the process till you have exhausted the wraps and fillings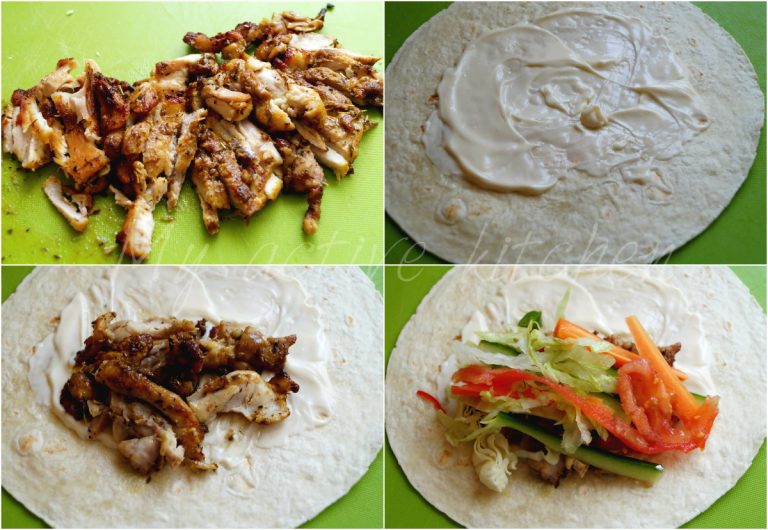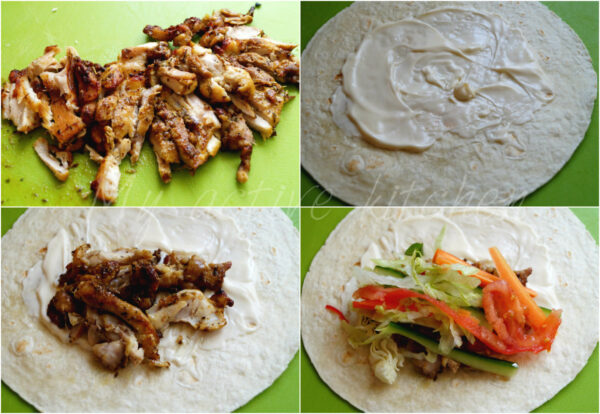 To finish off the shawarma
Place a frying pan on medium heat, add a tiny bit of oil (this is optional) place the shawarma on the pan and heat both sides for about 2 minutes each. Repeat this process until all the shawarmas are exhausted.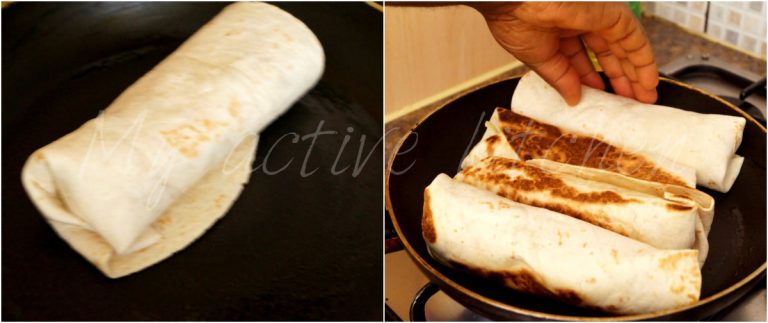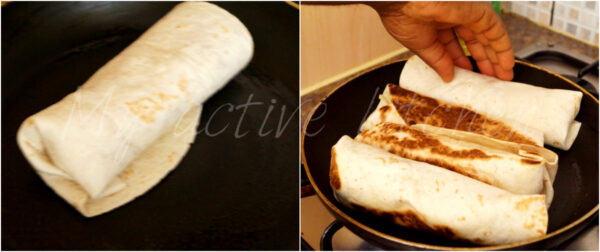 Serve the shawarma hot with any chilled drink of choice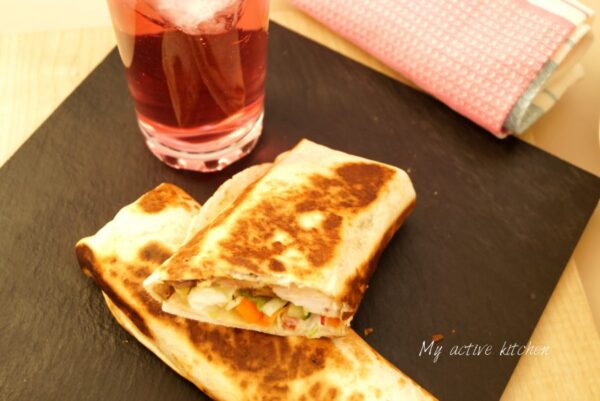 TIPS
if you don't have an oven, simply cut the chicken into strips after searing and fry in 1tbsp of oil till well done, this should take between 5 and 10 minutes.
You don't have to use all the spices listed, you can always improvise, remember it is your kitchen, be the king or queen of it.
This method/process also works with beef as well.
Make your own flatbread by using my easy recipe. It is very quick to make too, no yeast needed.
Don't forget to take a picture and tag my active kitchen on Instagram. I also love reading from you, leave a comment if you tried this recipe. If you are yet to subscribe to the blog, kindly do so and you won't miss any new post from me again. Until next time, be true to yourself