The Easiest coconut chicken curry you can ever cook, a perfect weeknight dinner for when time is of the essence.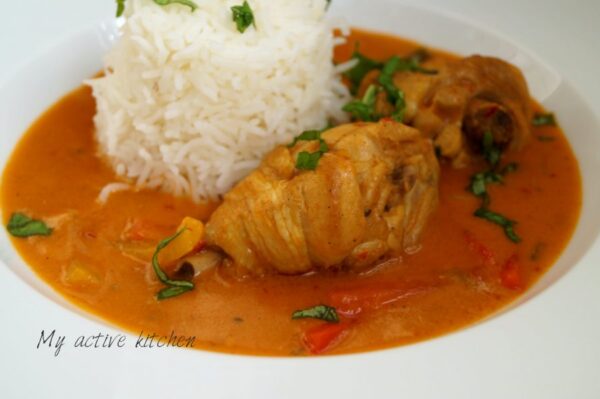 Easy Coconut Chicken Curry
I'm all very excited, as my little one would be starting school this week. It is amazing how quickly they grow. I have promised her I won't cry the day I drop her off at school, I'm all emotional typing this now. My little fighter ready to face the world all on her own. To all first-time parents sending their little ones to school this month, I wish you all the best and may we all live to enjoy the fruit(s) of our labour.
Today's coconut chicken curry recipe is inspired by the school resumption, many parents would now be thinking of how to manage the school runs with work, and also having to return home after the long day and still cook a nice family meal. This month I'm going to be sharing easy recipes or mostly my family meals and I hope it would help someone on here too. The first of the resumption series is a simple coconut chicken curry dish. Curry dishes are generally welcomed in all homes and some families would even order curries for take-out once a week.
This easy coconut chicken curry only took about forty minutes to prepare and it went down well with the family. It is also very healthy if eaten in moderation, you know the elements you are putting in the food and it can be cooked to your dietary needs. Who needs a curry take-out when you can make your own hey? For this easy coconut chicken curry dish, I decided not to use chicken breast but chicken quarters with bones in. I cut them in little pieces to make it easy for my little one.
You can use any chicken parts you like for this curry recipe but I'll advise that you go for a soft chicken to hasten the cooking time. Remember the aim is to not spend a lot of time in the kitchen but to produce a tasty and delicious meal which would, in turn, give you the chance to spend quality time with your family. I need to stop now and get cooking.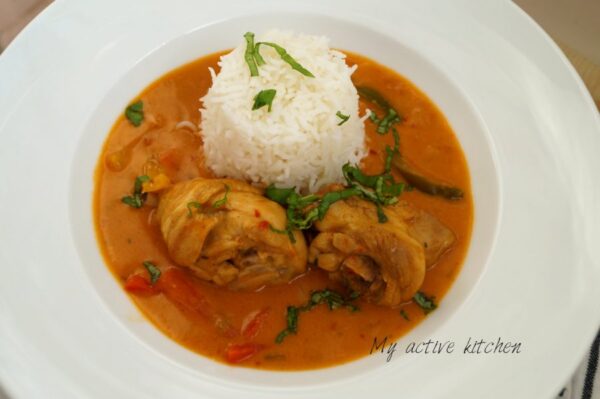 Ingredients
500g chicken quarter cut in small pieces and washed. (any other chicken part would do just fine too)
400g coconut milk
1.5tsp curry powder
Salt
1 tsp Chicken bouillon powder
200-300ml of water or chicken stock
3 Mixed bell peppers, chopped (tatashe), optional (substitute with mixed veg)
1 tsp chilli flakes/cayenne pepper (use according to preference)
1 small onion, chopped
4 cloves garlic, chopped
1 tbsp tomato puree
2 tbsp veg oil (substitute with olive oil)
2 tbsp of flour or 1 tbsp cornflour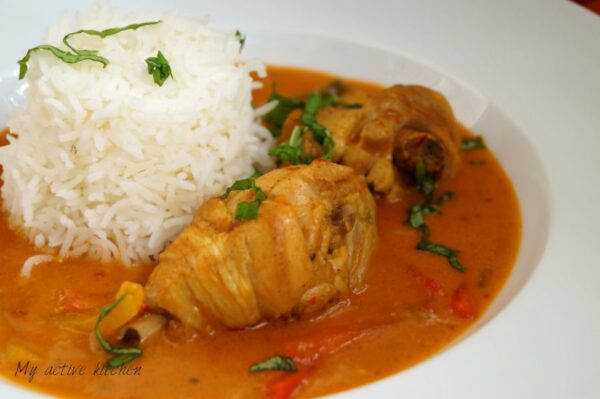 How to make this easy coconut chicken curry
I marinated my chicken with salt, curry, chillies and seasoning overnight so that the chicken is well flavoured when cooked and also to help it cook faster. You can skip this stage and just go on to cooking straight away.


Place a pan on medium heat, add vegetable oil and heat for about 2 minutes. Add chopped onions and garlic and stir fry for about 5 minutes. Make sure it is done on low heat, do not burn the onions, especially the garlic.
Then follow by adding the chicken pieces to the onions and garlic and stir for about 2 minutes
Add curry, tomato puree, bouillon powder, chillies and salt to the chicken, add 200ml of water/stock, stir together till well combined and leave to cook between 8-10 minutes.


Add chopped bell peppers to the pan and stir together. Leave to cook for another minute or two.


Add coconut milk to the chicken, stir to combine and cook for another 5 minutes on medium heat


At this stage, if the sauce is light in consistency, you might want to thicken it a bit or just continue cooking till the sauce is reduced. Add 2 tablespoon of water to one tablespoon of flour and mix together to form a lump free batter. Add it to the sauce and stir to combine, the soup will begin to thicken at this stage but remember; you want the sauce thickness to be in-between light and thick. I served my little one before I thickened the soup and it was very ok to eat. The addition of thickener is just a personal preference.
Take the sauce off the heat and serve hot with boiled basmati rice and some naan bread. Recipe for my naan bread will be posted sometimes in the month. Thanks for staying tuned to my active kitchen and a happy new month to you all.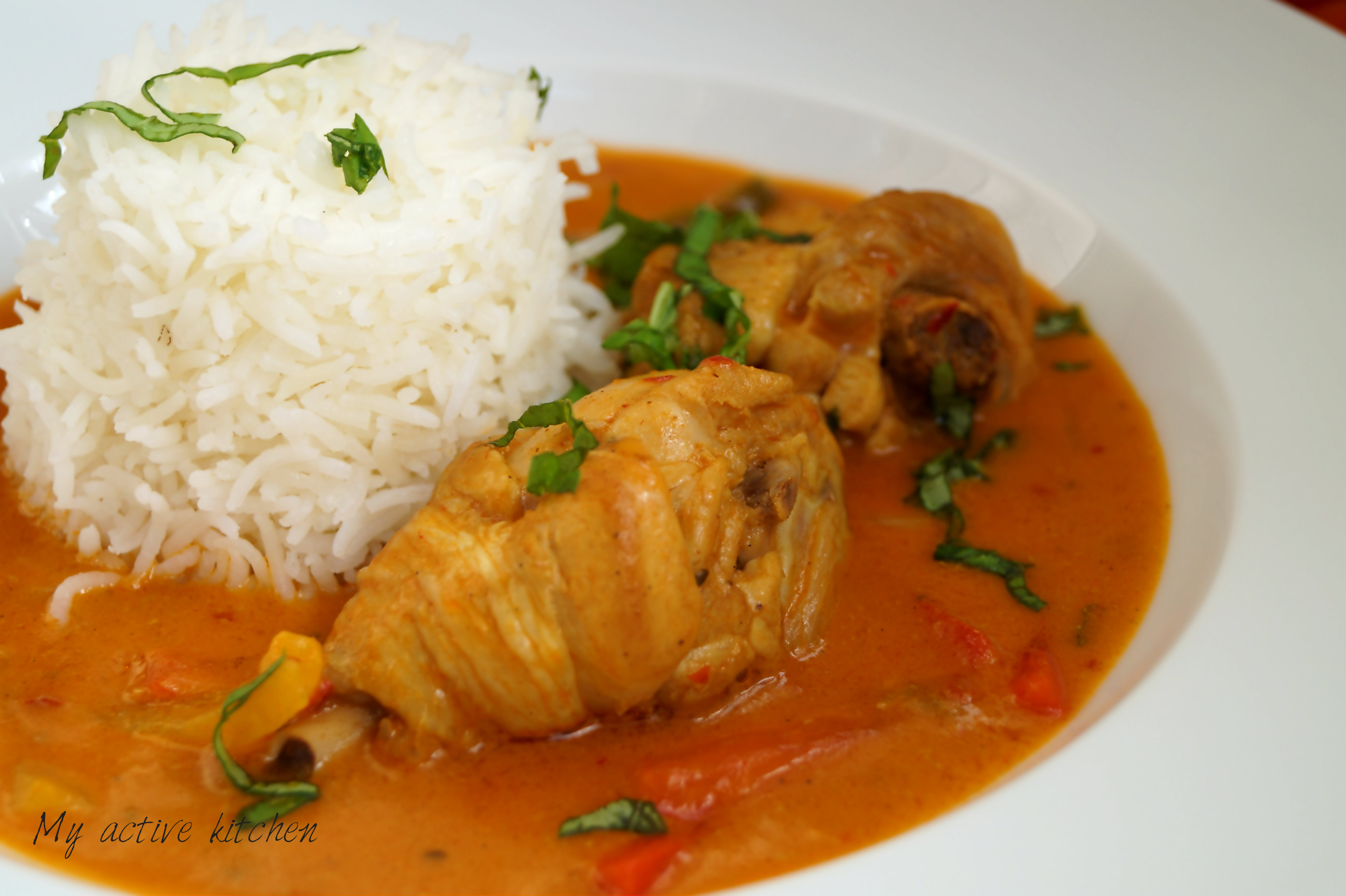 Other recipes you might love
See how easy it is making this chicken curry recipe? I would like to see what you have been cooking with our recipe, don't forget to tag @myactivekitchen on Instagram, Facebook or simply send me an email. See you on my next post