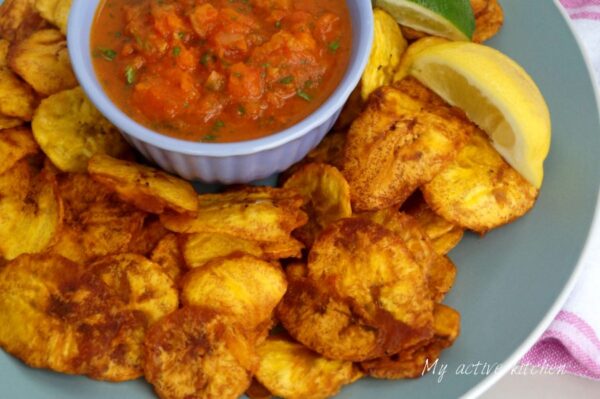 Homemade plantain chips
Plantain chips are also known as ipekere is one tasty snack to help relax on a hot/cold afternoon with some chilled drinks. These homemade plantain chips are not alone of course, it is accompanied by some homemade salsa dip. Plantain chips are really easy to make and there is always more to share with your loved ones. This is one of my 30 minutes meals and if you are a lover of plantain chips like me, you would understand that these homemade plantain chips are a real people pleaser. There is every chance that it wouldn't last a minute before it is all gone. You can choose to eat the chips alone or with the dip but I recommend this homemade salsa dip.
If you are wondering why I made salsa with my homemade plantain chips when I could have bought some. Well, I thought to make it more manageable and palatable for my little one. I have never been a fan of chunky salsa and nothing beats homemade salsa. Feel free to put your stamp on it but I tell you homemade cooked salsa is the bomb. If you prefer not to cook yours, simply skip the cooking steps and put all the ingredient in a food processor and you would be done in 1-3 minutes.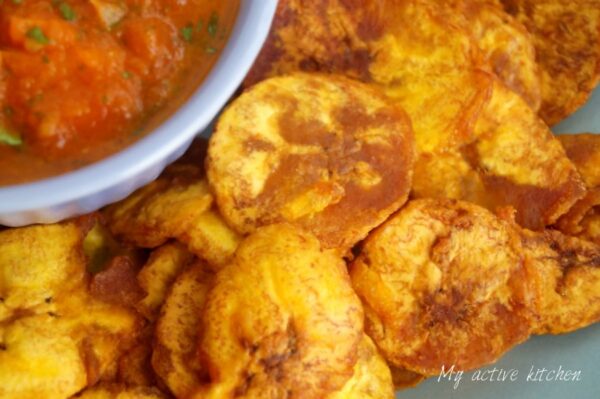 Ingredients
2-3 unripe plantains
Vegetable oil for frying
1 pointed yellow pepper
2 fresh tomatoes
1-2 bunches of fresh parsley (cilantro)
1 can of chopped tomatoes
1 -2 scotch bonnet chillies
2-4 cloves garlic
1 lemon or lime
4 tbsp white vinegar
One onions, chopped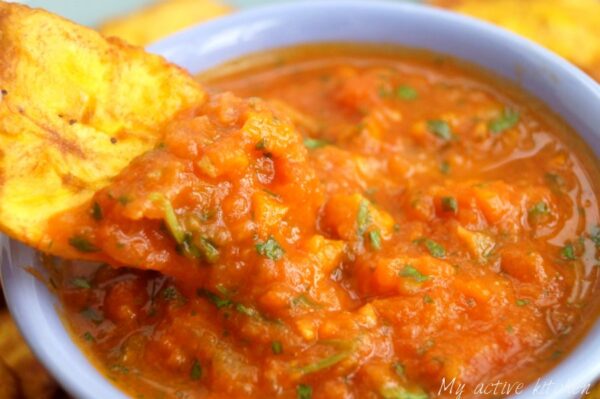 How to make plantain chips
Using a knife, cut off the ends of the plantain and also cut through the skin to peel.
Slice plantain into circular of vertically with a mandolin slicer. You can either salt the plantain if you want or just fry without.
On a medium heat, pour enough oil in a pan and heat till hot. Add plantain  to hot oil and fry till lightly or golden brown. Strain from the oil and place on a kitchen towel to drain excess oil and set aside.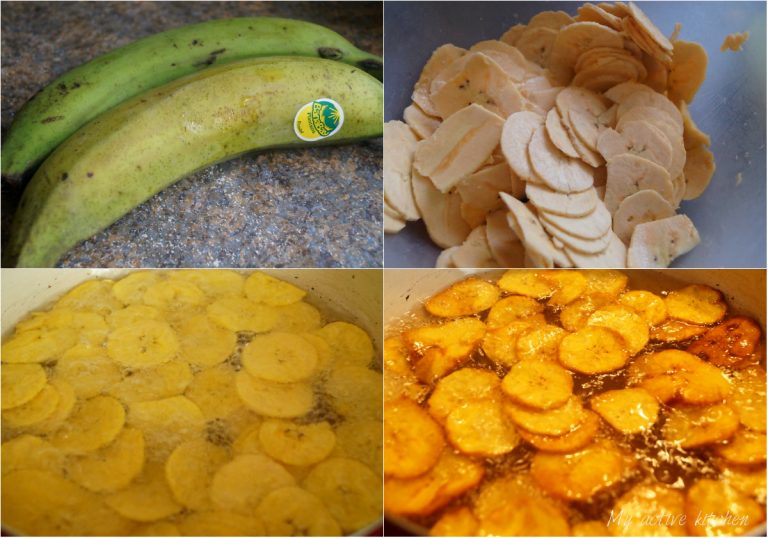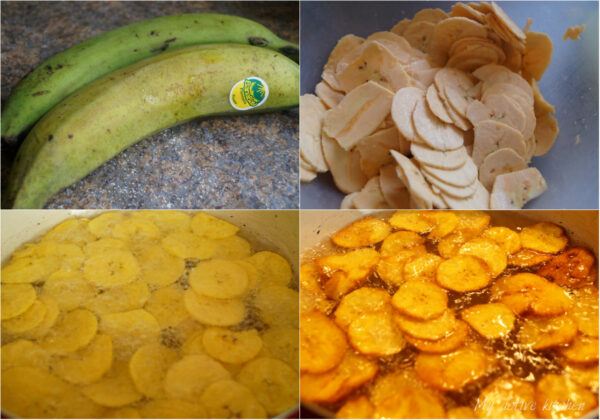 To make homemade salsa
You have to peel the skin off the tomatoes, it is very easy don't be sacred. I found the boiling water method easy to do. Heat water to boiling point, pour in a bowl. Make a cross or X sign on the top of the tomatoes and carefully drop in the hot water. Leave in the water for about 30 seconds, take them out and peel back the skin from the place that was marked. After you finish peeling them, place them in cold water to stop them from cooking more.
On a medium heat, add vegetable oil, chopped pointed bell pepper and heat for about 3 minutes making sure you don't brown the onions,
Add tinned tomatoes, scotch bonnet chillies, fresh tomatoes, salt, seasoning and cook for another 5 minutes or till the water in the sauce is reduced a bit
Pour all the cooked sauce into a food processor or blender, add garlic, parsley, lime juice, vinegar and pulse for some few seconds.


Empty the salsa into a dip bowl and allow to cool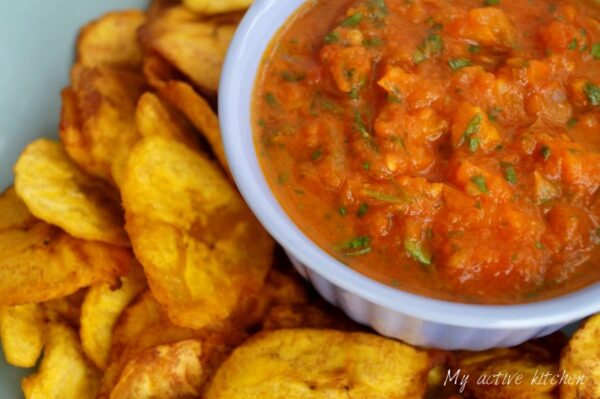 Serve with plantain chips and enjoy. x
Other Snack recipes
If you made this recipe, don't forget to leave me feedback. Tag me on Instagram and save away to your Pinterest