Kale efo riro is another variation to the polular efo riro eaten in Nigeria. Kale is very healthy and it now adopted because of its nutritional value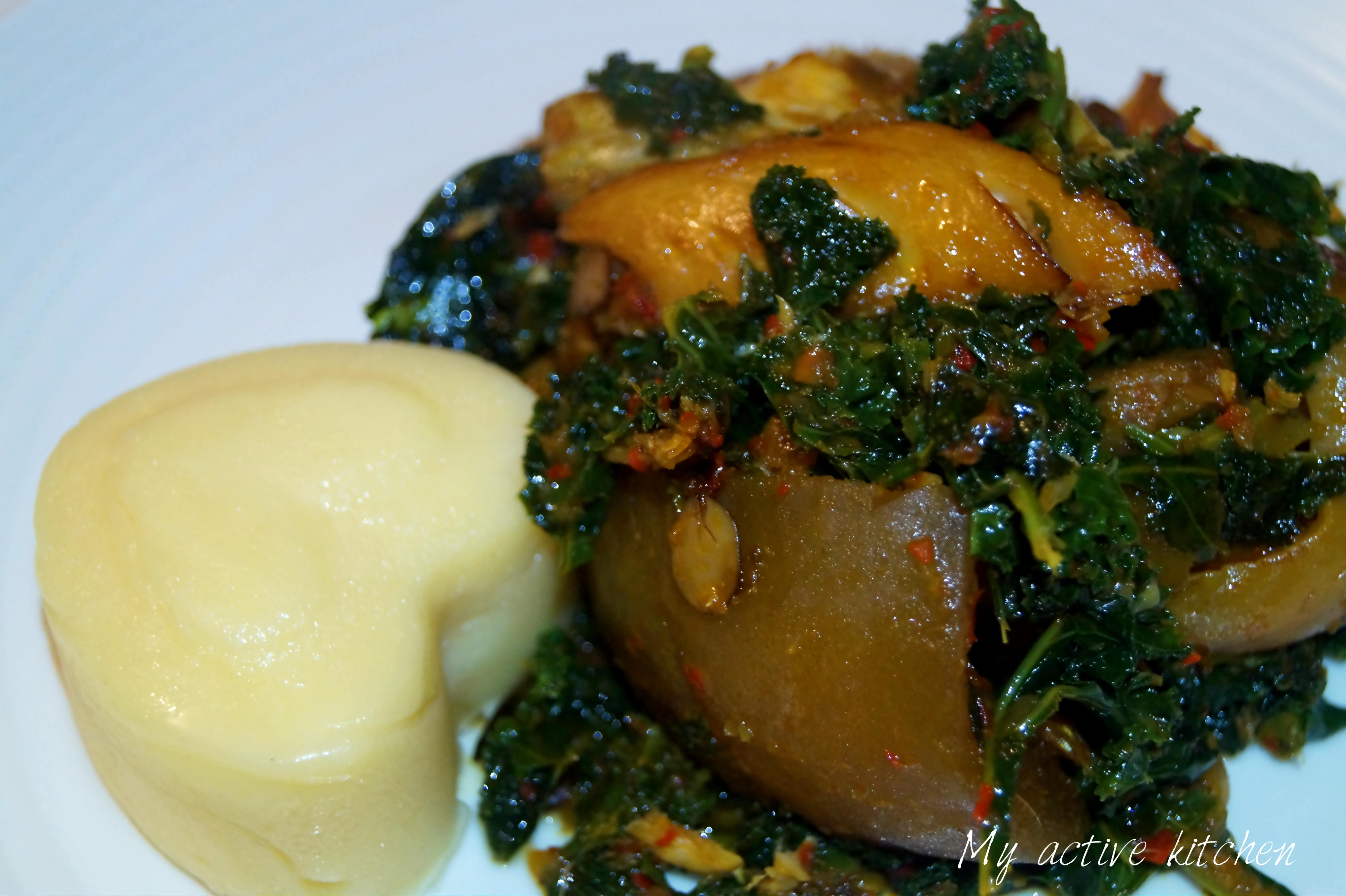 Kale Efo riro on valentine, why not? I'm still on about valentine and #bae. Valentine should not leave you out of pocket and should not be a thing of impressing others for the wrong reasons. We should learn to embrace change and do something new sometimes. If you go out on a date night at every val's day, why not give it a miss this year and stay at home to cook something really quick and special for your love.
I was talking to an elderly man about valentine and he said every year in his house, his wife and him pulls out the same val's card and they never get to buy a new one that will end up in the bin but they still buy gifts of choice... funny right? And i'm sure you might be thinking what a tight man. I kind of agree with his view and I added this that instead of buying new val's card every year, why not just buy that one and every year, you bring out the card and sign it with your spouse including the year, you can even write funny thoughts like #we are still waxing stronger #we are still here. That way it is special and not all forgotten in a moment. I wish you all a memorable valentine.
Back to my kale efo riro, cook this on valentine's day for your love. It is a light meal, very healthy and packed with good nutrients. I chose kale because it is very crunchy and it's close to efo tete that I'm used to back in Nigeria. Substitute your kale with spring greens leaves.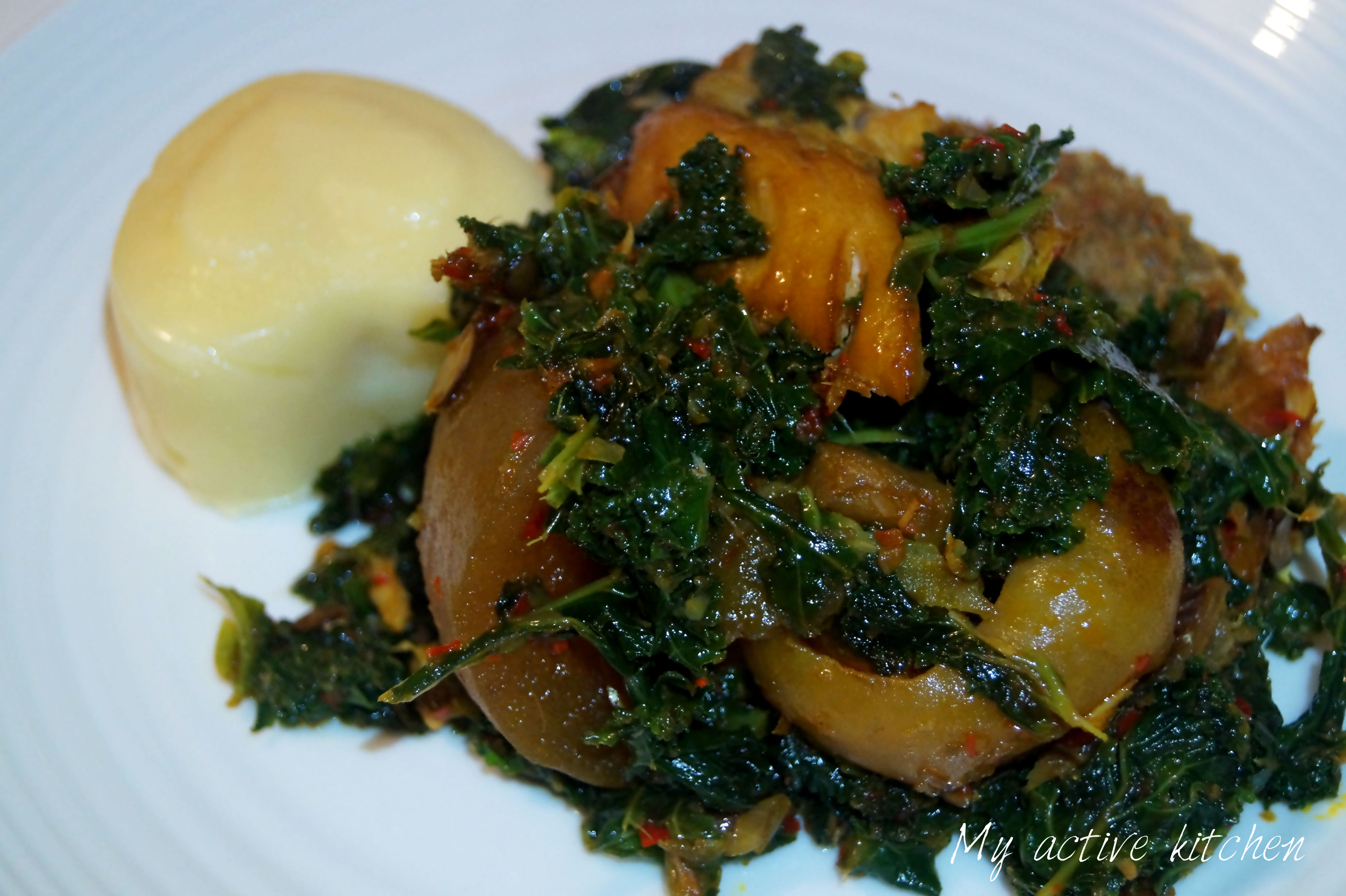 Ingredients
1 large red bell pepper
1 green bell pepper
2-3 scotch bonnet chilli
2 onions (half chopped)
2-3tbsp Iru woro (locust beans)
1 agbodo, washed (dried tilapia fish)
300g assorted beef
3tbsp ground crayfish
Seasoning (I used 2 Nigerian knorr cubes)
salt to taste
200g Smoked mackerel fillets
½ cup palm oil
400g kale leaves
How to Make Kale Efo riro
Wash and blend red bell pepper, green bell pepper, scotch bonnet chilli and onions in a blender on a pulse (reserve half an onion, chopped)
On medium-low heat, place a clean pan, add palm oil and heat for about 2 minutes
Add chopped onions and locust then fry for another 2 minutes
Stir in blended pepper to hot palm oil (be mindful of hot palm oil) and cook for further 3 minutes


Add chopped assorted meat, agbodo and stir till all is well combined (stir sauce in between to avoid burning or sauce sticking to the bottom of the pan)
Add crayfish, seasoning and salt if needed
Continue to cook till oil floats on top of the sauce (This should be for about 10 minutes)


Add washed chopped kale, stir into sauce till well combined
Follow on with smoked mackerel and stir a little bit
Reduce the heat; cover the pan with a lid and leave to cook further for another 3-5 minutes
Remove pan from heat and leave to simmer


Serve kale efo riro hot with swallow of choice and rice or as desired. You can even eat it on its own or serve with eko like I did(moulded cooked starch)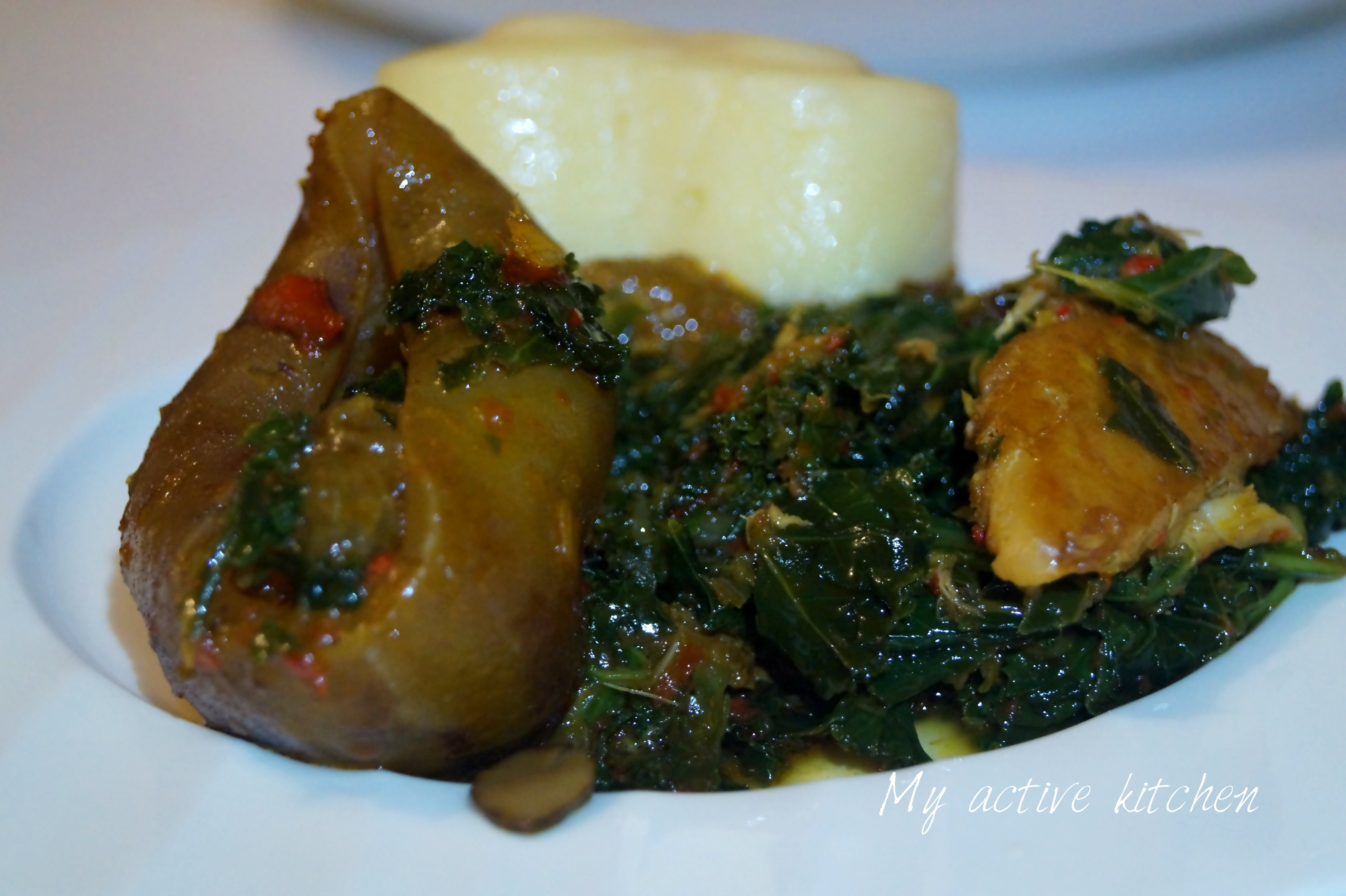 You might like these other Efo Riro recipes
Almighty Efo Riro, this is the real deal if you want to know how to make efo riro the yoruba way.