Nigerian okra soup is one of the easiest and tastiest okra recipes out there. If you are looking to learn how to cook okra soup, stay with me as my okro recipes are foolproof, quick and delicious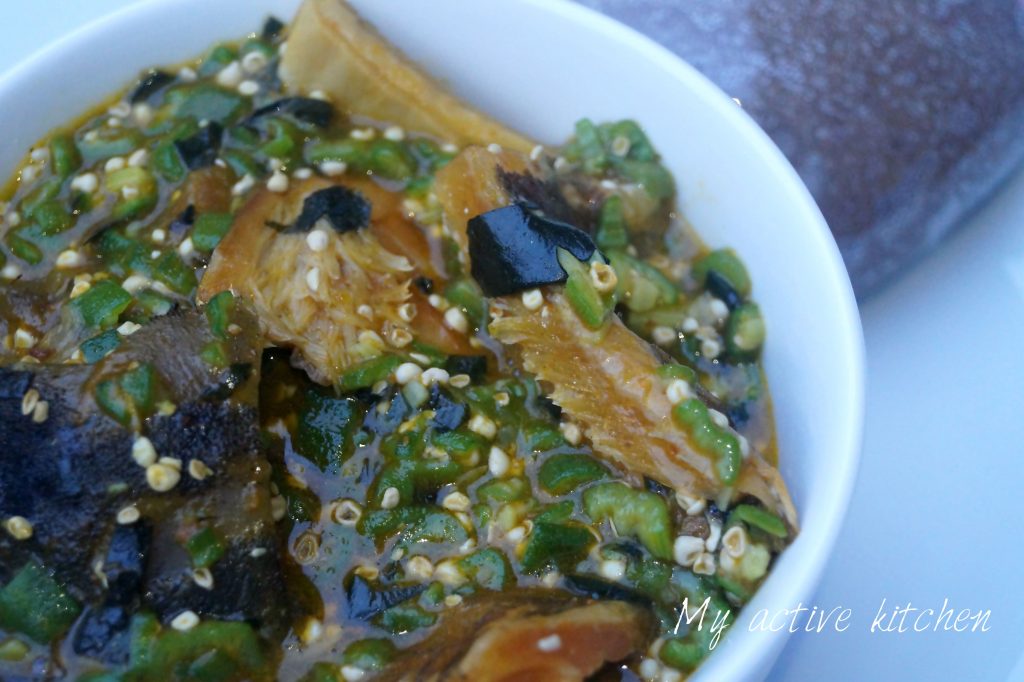 Okro Soup (Nigerian Okra Soup)
As easy as ila alasepo is, I always make a call to my mum still, to ask for the recipe all over again each time I need to cook it (don't ask me, I don't know why I do it). My mama makes the best okro soup ever, whether plain or the one-pot soup and she doesn't mess about in the kitchen, she knows her onions. I made this okro soup on Sunday after church and I couldn't help but share with my fellow foodies. The proof in the pudding of an okro soup is when it draws (elastic). Call me old school but I still chop my okro the way my mama taught me...
These days you necessarily don't need potash (kaun) to make okro soup draw. In fact, some people are anti-potash in food. I sometimes blend my okra on a pulse for a coarse texture to make plain okra and it always turns out well without the need for potash. Each time I make ila alasepo, I use potash maybe because my mum always says you must add potash to make it draw. Well, either way, the use of potash works well for me but it also has to be used in moderation or it will kill the elasticity of the okro. Long story short, don't use potash for this soup if you are not confident.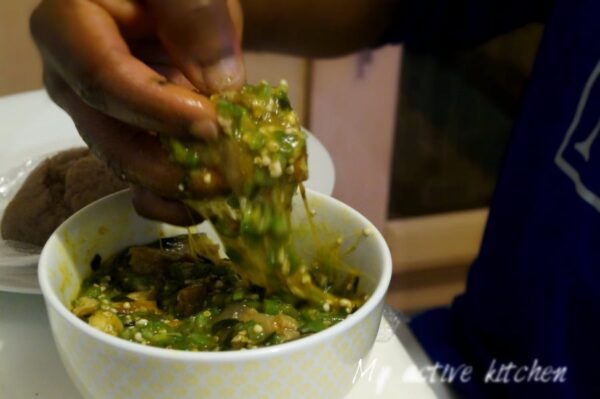 Ingredients
800g fresh Okro chopped
200g beef washed
800g Assorted beef & dried cod, washed and cut to small pieces (I used ponmo, shaki and panla)
Smoked fish
2 Seasoning (I used Knorr beef cubes)
2tbs Locust bean (iru)
Cayenne pepper (use according to your preference)
2-3tbsp palm oil (optional but I prefer it as it adds a bit of colour to the okra)
Salt
A tiny bit of Potash (Kaun)
1 small onion
Water/ stock (1.5 to 2 cups)
1 tbsp Ground crayfish
⅓ cup Ukazi leaves (optional)
Ginger and garlic (optional)
How to cook Nigerian okra soup
Chop okra and set aside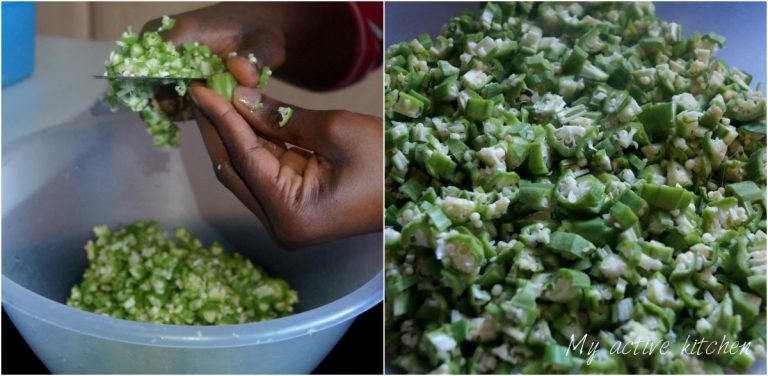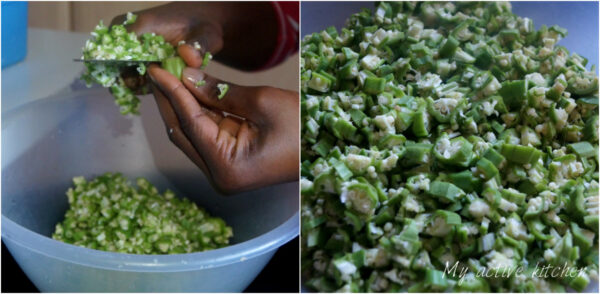 Place a pan on medium heat and add beef, assorted beef and dried cod, salt, seasoning, onion, ginger, garlic and little water (adjust salt and seasoning to your taste) bring all to boil until tender. You can use a pressure cooker for this as it is quicker.
Once beef and fish are tender as desired, separate the stock from it and sieve to achieve a clean stock. (Skip this step if you are ok with the bit and bob from stock)
Place a clean pan on medium heat then add the stock about (1.5 cups) the beef, assorted beef and dried fish and bring to boil for about 3-5 minutes, add potash then the chopped okro. Stir till all is well combined and cook for another minute


Add crayfish and cayenne pepper. Stir till well combined, add palm oil, stir and cook for about 2 minutes
Add seasoning and salt (adjust salt and seasoning to own taste especially if you are using stock) add ukazi leaves (if using) stir and add smoked mackerel then cook for another 2-3 minutes.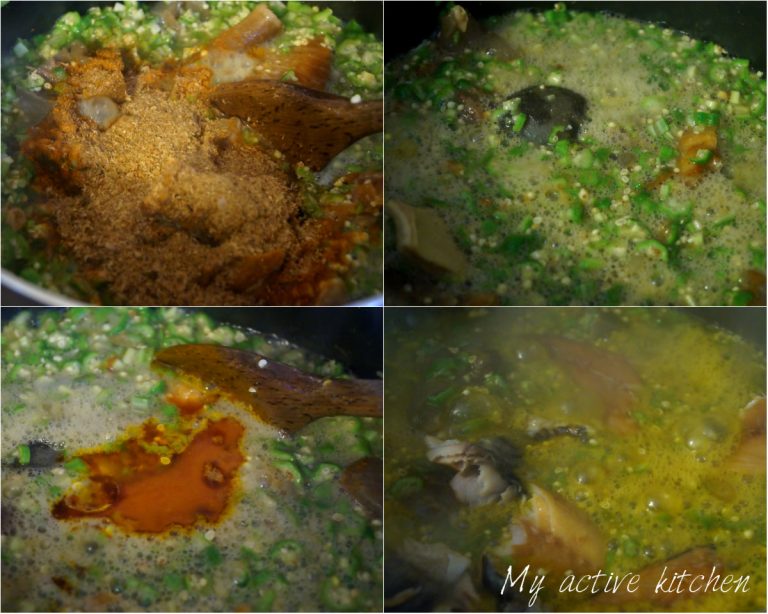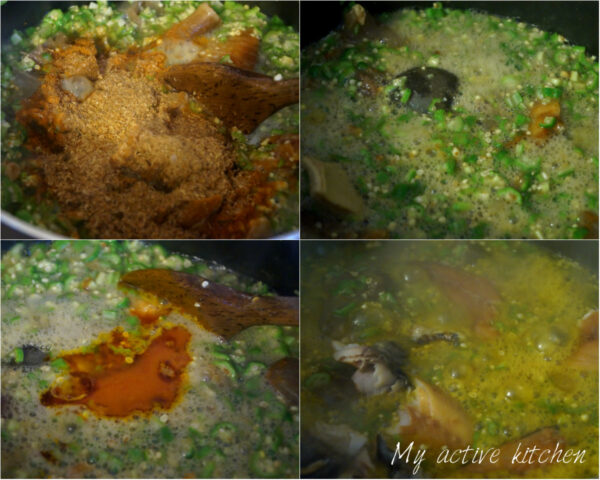 Plate up your Nigerian okro soup and accompany with your swallow of choice.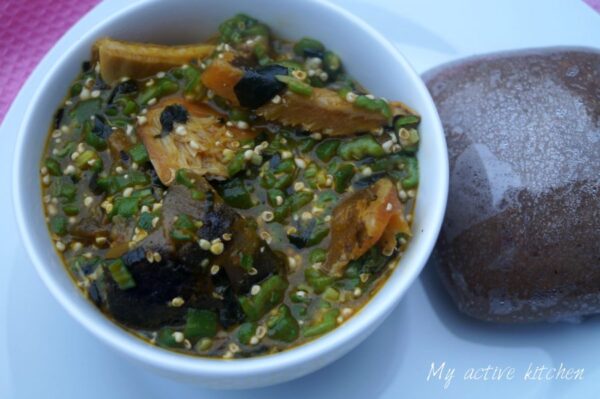 If you love my Nigerian okra soup recipe, I'm sure you will find Karo's Banga Okra and Mr Monday's Okra soup recipes fantastic too. Please leave a comment for me. Also, pin this ila alasepo on Pinterest or tag me your beautiful yummy image on Instagram