Moimoi elewe is the authentic way of cooking moinmoin in Nigeria. Moimoi is popularly eaten as breakfast and mostly served with yellow or white pap or bread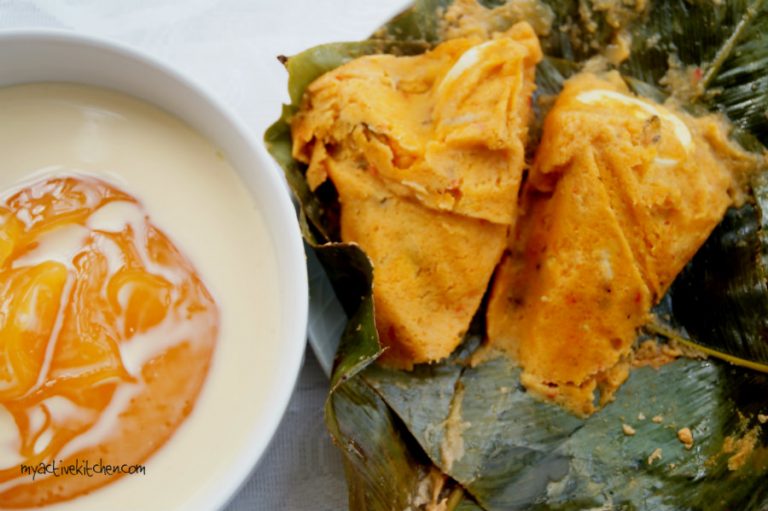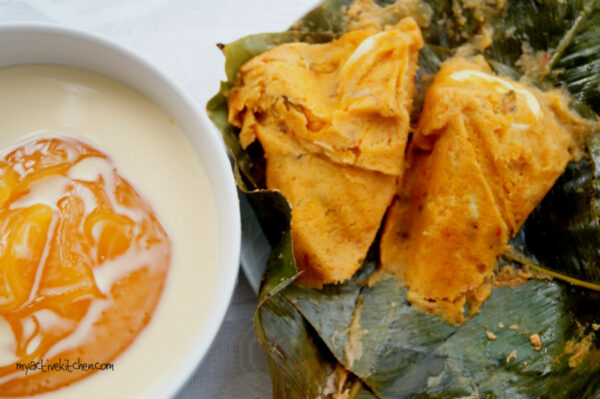 MoiMoi Elewe
My mam makes the best moimoi elewe. The last time she visited, I made sure she made some moi moi for us. I already have moimoi/ moinmoin recipe on the blog, but it wouldn't be nice if I don't share my mum's easy and delicious fluffy recipe with you all.   I mentioned in my previous moi moi post that anytime I come by the leaf, I will be back with another recipe on exactly how I know it; Just the way my mama taught me. Fast forward some months later, I found the leaves and my mother just happened to be around at the time too. Lucky me hey! She got to cook it the way she taught me. hahaha
My mum does not beat/whisk her moi moi to incorporate air as I do. She sure knows her onions and her moi moi always comes out fluffy. This recipe is one of the quickest and easiest ways to make moi moi.  We intended to name this moi moi elemi meje (7 lives) but we could only manage 5. Lol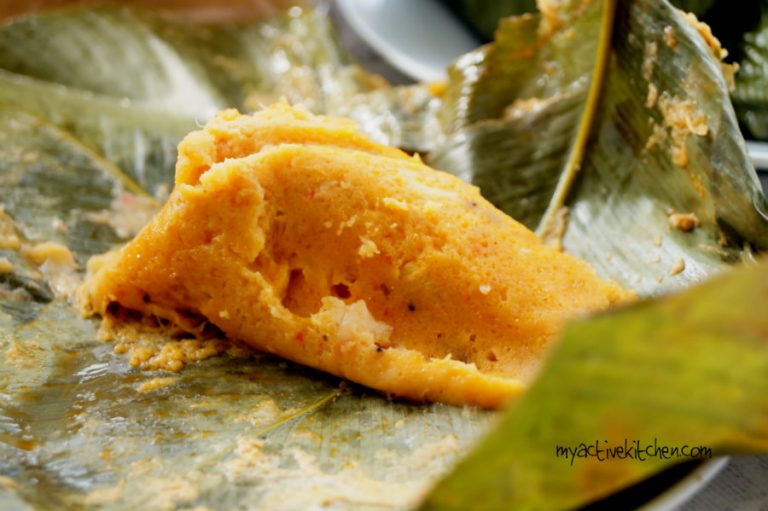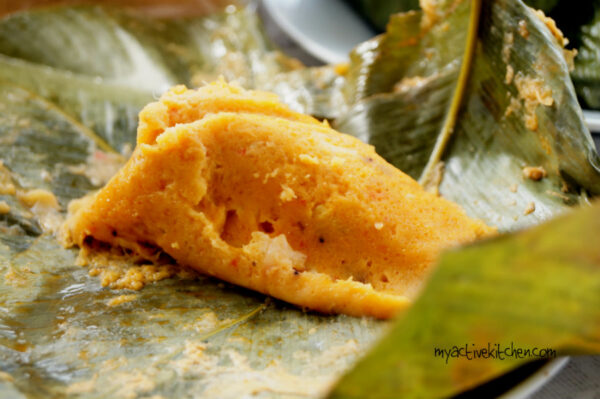 Ingredients 
Large Moi moi leaves washed and set aside
2-3 cups of peeled beans (Check here for how to use a blender to peel beans)
4 hard boiled eggs (use as a whole or sliced)
3tbsp ground crayfish
1 cup Cooked liver, chopped
12 fresh shrimps, deveined
1tbsp Salt
1 tbsp Seasoning powder (I used Jumbo chicken)
3 red bell pepper (tatashe)
1 whole mackerel fish, cleaned and gutted
1 large onion
2 scotch bonnet chillies (ata rodo)
1-2Csp palm oil (use according to preference)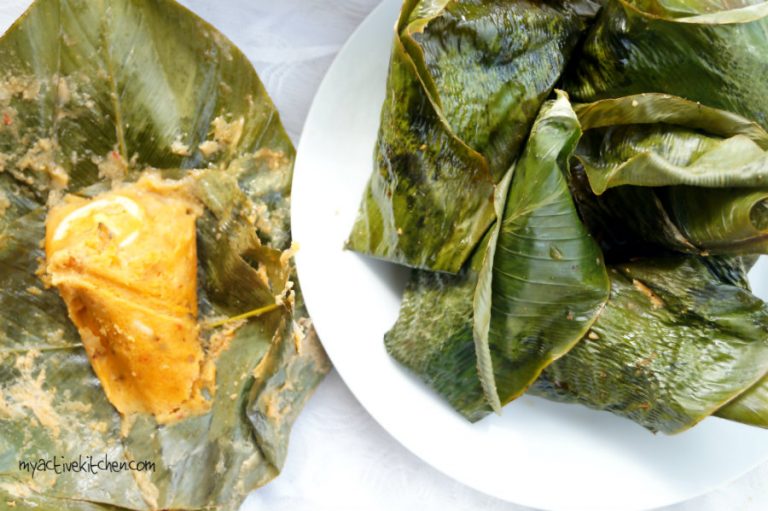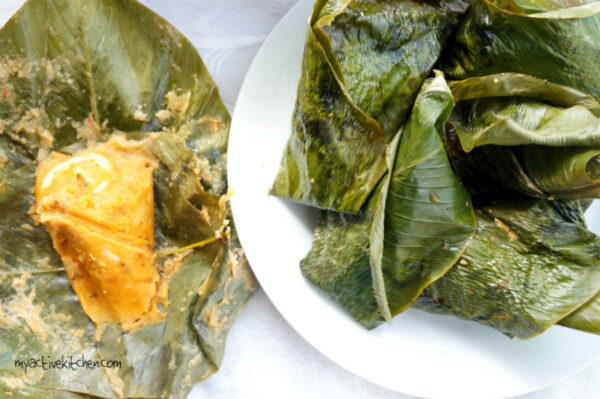 How to make moimoi elewe
Wash and rinse leave till clean to get rid of dirt and set aside to drain
Soak beans in clean water and leave for some few hours to soften or keep overnight in the frigde.
Boil fish with salt, seasoning and onions for about 5-7 minutes, set aside to cool. De-bone and flake fish. Reserve stock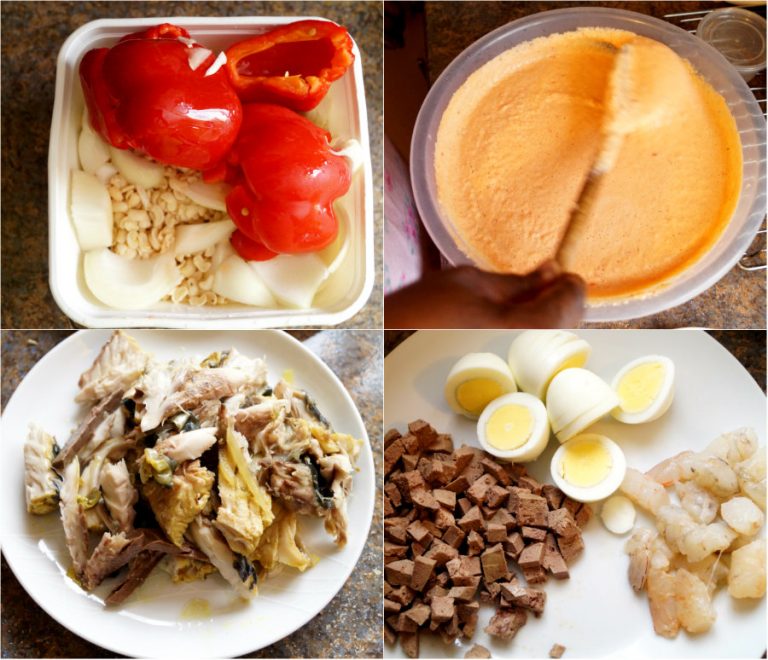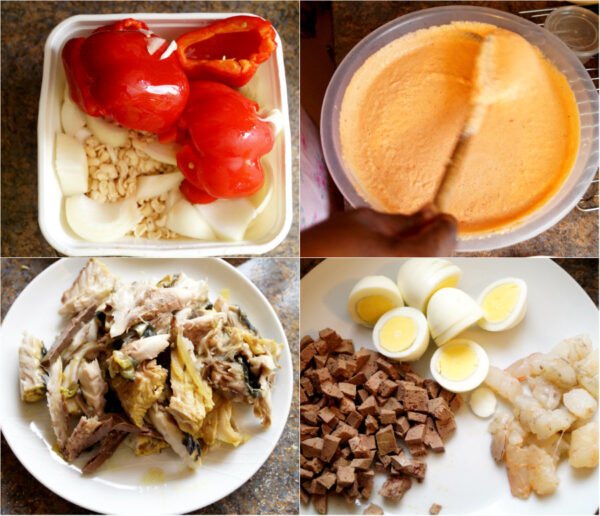 Add beans in bits to a blender, add red bell pepper, ata rodo and onions, enough water to cover and blend till very smooth. Mixture should not be too thick.
Pour pureed beans in a big bowl
Melt palm oil in the microwave or on the heat
Add salt, seasoning, ground crayfish, and stock to the pureed beans and mix till well combined. Add melted palm oil and the flaked fish to the beans batter Stir for another minute till well combined.


Place a pan on medium heat, add the leaf stalk as your base in the pot. Alternatively, add a steamer bowl. add water just enough to cover the stalk and leave to boil while you continue with the beans
Take a moimoi leave, one at a time if it is large or a large one lined with a smaller one. Fold into a cone shape. Follow the steps in the images below
Using a scoop, add beans batter in bits to the folded leaf, add all the rest of the toppings and fold to seal. Make sure there is no leakage from the folded leaf.  Continue this process till you have exhausted all the batter.
Arrange the folded moi moi into the pan, reduce the heat if it is high, add little more water to the pan if need be and cover tightly.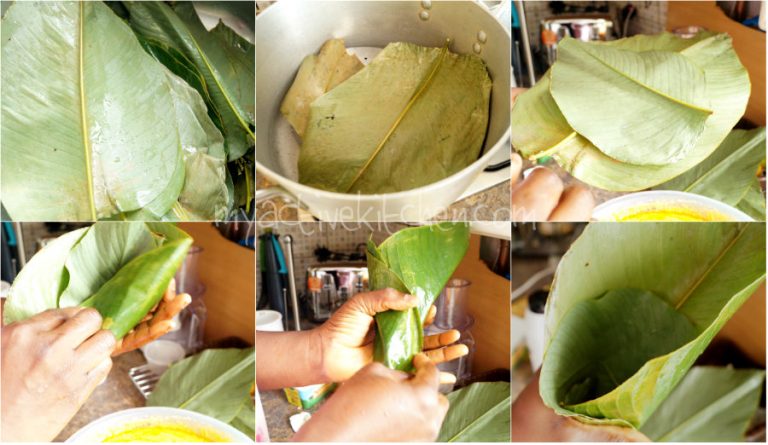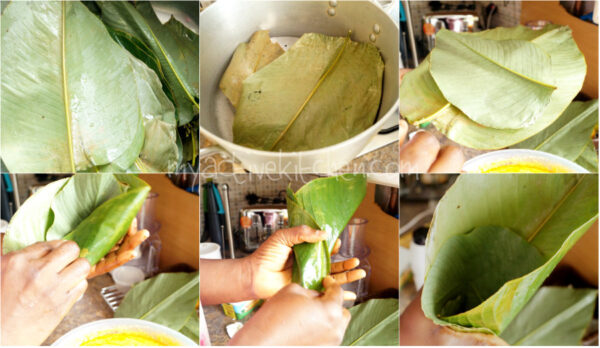 Steam for about 40-50 minutes or till beans is set. (Check the pan from time to time to make sure the water does not dry out. Take it off the heat and allow to cool.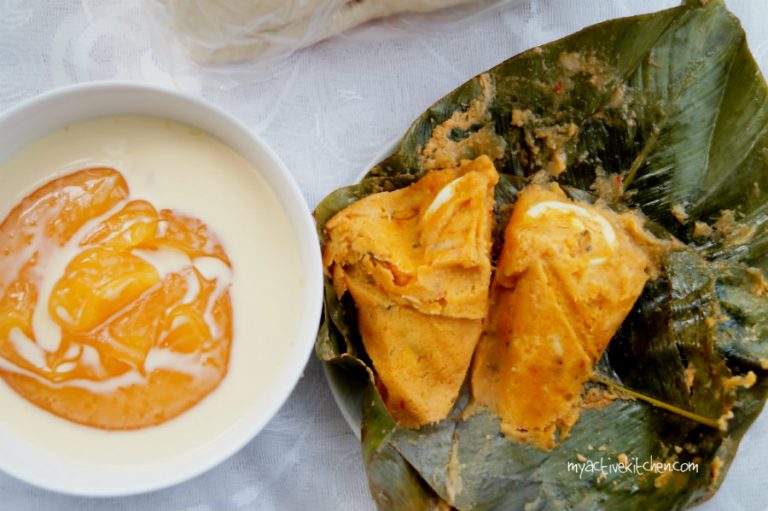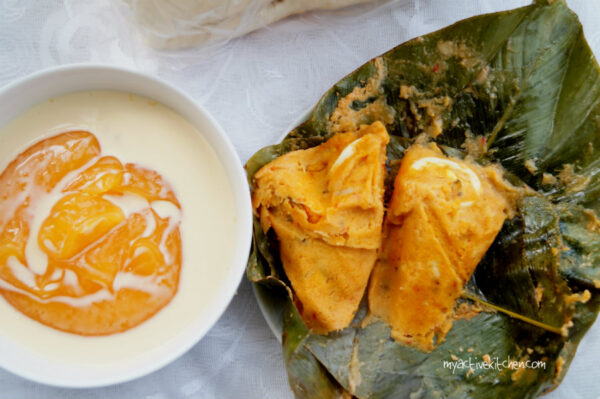 Serve with custard, homemade akamu, eko or fresh Agege bread.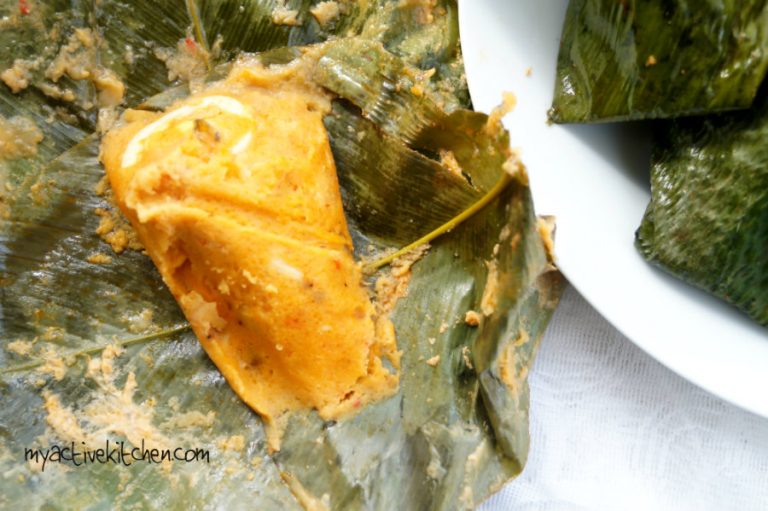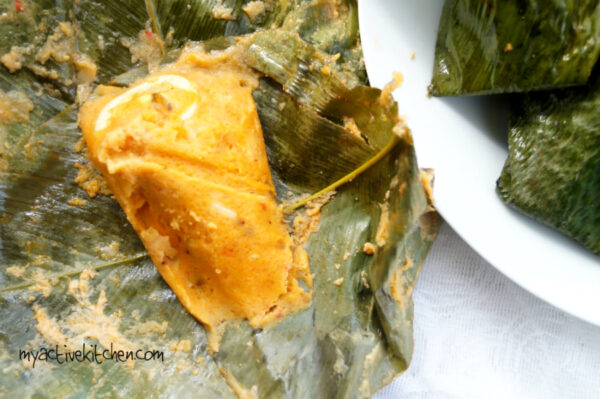 Will you be making some moinmoin soon? I would love to know how you get on, tag me your pictures on Instagram, Facebook or simply send me an email. Thank you and I will see you on my next post.x