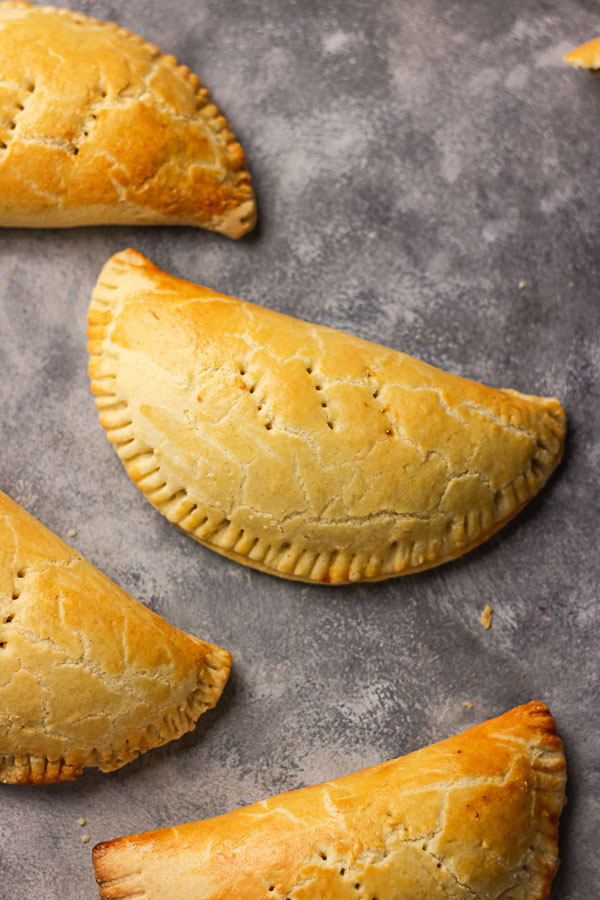 Nigerian Meat pie is one of Nigeria's popular snack and it's loved by all. The buttery shortcrust pastry is filled with mincemeat cooked in rich flavour. It is delicious and you won't be able to stop at one. Do you want to learn how to make a perfect meat pie? this recipe is for you
Growing up, I always look forward to when my mum would make Meat pie or when my dad would buy for us for being good. Especially from one of the popular confectioneries (Mr Biggs or Sweet Sensations). It is not just a Nigerian thing, it is also popular in other parts of Africa. Nigerian meat pie if well done should be juicy, the shortcrust pastry will be buttery, flaky and should also melt in the mouth. If you've ever had Mr Biggs meat pie then you would understand my gist.
The Meat pie filling (beef mince filling) has to be perfect as well as the shortcrust pastry otherwise it would be dry and chewy. Making shortcrust pastry can be tricky but with a lot of practice and patience, you would master it and know what works for you. I don't add eggs to my pastry as it is not necessary. It is easy to make buttery shortcrust pastry without eggs.
I shared in my fish pie post on how to make a foolproof buttery shortcrust pastry and the most important tip to remember when making it, is not to overwork the dough. This Homemade meat pie is easy to make and you can make it to the size you want. Alternatively, if you are feeling adventurous, make the pie in a deep dish or individually in a ramekin.
Here is an easy step by step guide to making the best Nigerian meat pie ever.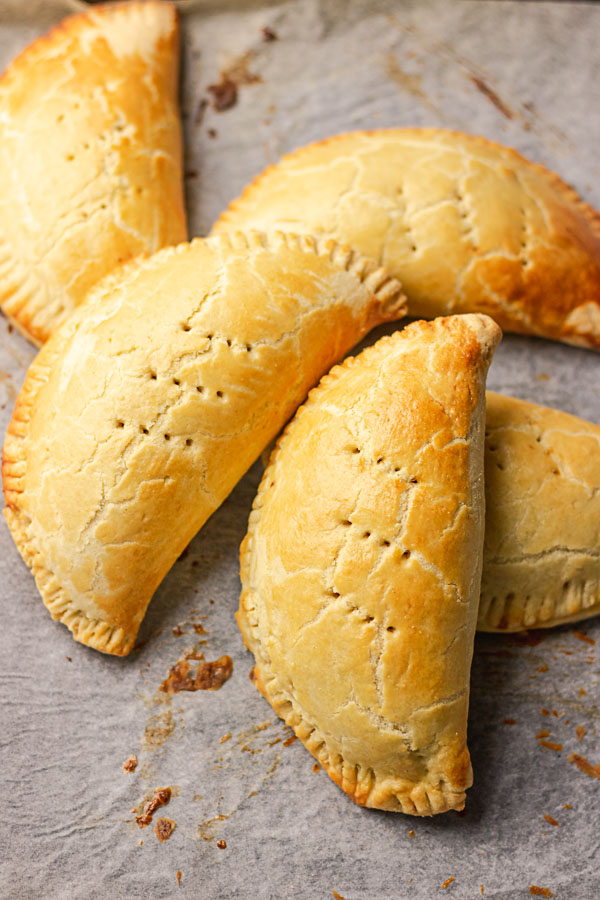 Ingredients for meat pie
500g mincemeat or ground beef (18-20%fat)
700g plain flour, extra for dusting and thickening
380g unsalted butter
1 large egg
Water
Salt to taste
Seasoning (I used Knorr)
1teaspoon curry powder
1teaspoon thyme
2 medium-size potatoes, peeled and cubed
1 small onion, chopped
1 big carrot, cleaned and cubed
2tbsp vegetable oil
Metric Conversion tips
A standard cup of flour is 128g while a cup of butter is about 225g
500g ground meat is about 1.1lb
When baking, I always recommend using a kitchen instead of cup measurements. Kitchen scale measurement is the same everywhere but cups are not the same. they differ from country to country.
Nigerian Meat Pie
I am yet to come across a Nigerian that doesn't love meat pie. Nigerian Meat pie is one of Nigeria's popular street snack and it's loved by all
Ingredients
500

g

Mince meat or ground beef

(18-20%fat)

700

g

Plain flour, extra for dusting and thickening

380

g

unsalted butter

1

large egg

for egg wash

water

4 to 8 tbsp (100 ml)

1

beef bullion cube

(I used knorr stock cube use any of choice)

1

teaspoon

curry powder

1

teaspoon

dried thyme

1

small

onion chopped

(about ⅓ cup)

2

medium

potatoes peeled and cubed

(about 1 cup)

1

big

carrot cleaned and cubed

(about ½ cup)

2

tbsp

vegetable oil

1

tsp

sugar

optional

salt

to taste (use ½ tsp for the pastry)
Instructions
To make the dough

In a shallow mixing bowl, add flour, salt, sugar (if using) and butter

Rub together till all turn to crumbs

Add 100 ml of water and mix till all is combined. If the dough still needs water add a tablespoon of water at a time till you get well combined dough like in pix5

Set dough aside in a cool place or a fridge for 30 minutes then you move on to preparing the meaty filling.

Yes! Making the dough is that easy but remember, DO NOT overwork it when handling.

To make the yummy pie filling

Place a pan on medium heat and add oil, heat for 2 minutes, add chopped onions and fry till onion is translucent. Add mince to the onion and stir mince till its brown then add curry powder, thyme, stock cube, a pinch of salt and stir till all combine. Reduce the heat if need be to avoid burning.

The fat from the mince should make the sauce juicy but if it looks dry, add a cooking spoon (100ml) of water to it. (decant oil if it is too much)

Add boiled potatoes and carrots, combine well and cook on a low heat for another 3-5 minutes.

The mince should be well cooked now. Now you move on to thickening the mince.

Add 2tbsp of flour to a bowl and mix with water to form a paste. Add the paste to the mince meat on the heat and combine well. Leave to cook for another minute. Take off the heat and allow to cool.

Rolling the dough and making the meat pie


Preheat oven at 180C/350F

Break the egg into a bowl, whisk and set aside

Sprinkle a bit of flour on a plain, clean surface/worktop

Divide dough into 2 or 3 places and roll out flat using a rolling pin

Place a circle cutter on the flat dough and cut out into many circles you can get. use a makeshift if you don't have a cutter. Repeat this process with the rest of the dough

Add the meat filling to the centre of the circled dough, brush one half of the circle with whisked egg and carefully fold over the meat filling making sure the 2 edges touch one another. The aim of the egg is to seal the dough.

Close edges by pressing down with the tip of a fork as seen in picture (See step by step picture guide below)

Repeat this process for the remaining dough and filling. Place a foil in a baking tray and rub with oil this stops the pie from sticking to the tray when done. Alternatively use a parchment paper.

After you have completely filled the pastry, set on a baking tray, egg wash the top and pinch with a fork

Place in the oven and bake for 20-30 minutes at 180C⁰/350F.
Notes
You can also use salted butter for this recipe. If you would be using it, please omit salt from making the shortcrust pastry.
You can add a bit of water to the mince filling if it looks too thick or dry. 
Allow the meat pie filling to cool down completely before adding to pie dough. 
Use kitchen scale to measure the pastry ingredients instead of cups. (1 cup of all purpose flour is 128g and a cup of butter is 225g while 500g ground meat is 1.1lb)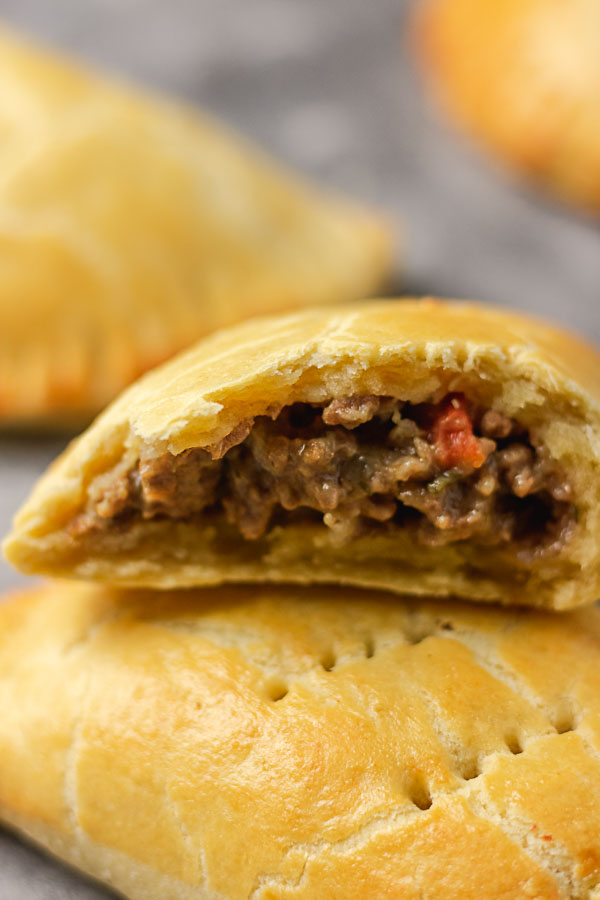 How to make shortcrust pastry (pie pastry)


Alternatively, make the shortcrust pastry in a food processor. It would only take you about 5 minutes tops
How to make beef mince pie filling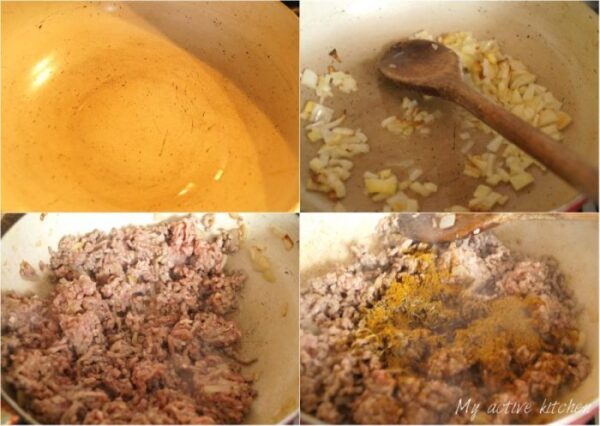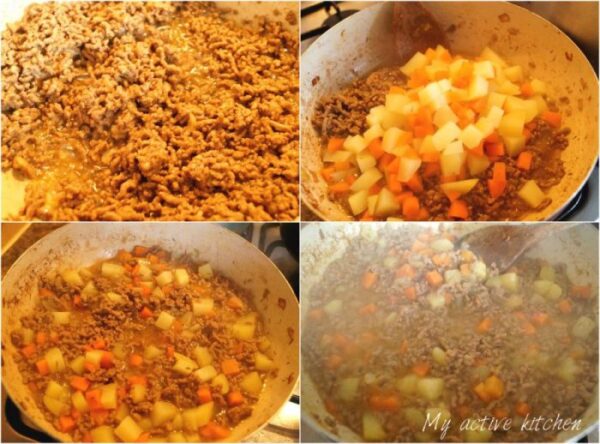 How to roll shortcrust pastry (Mr biggs meat pie recipe)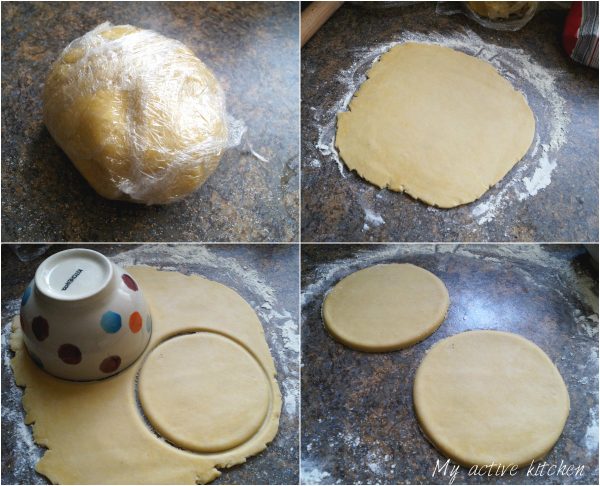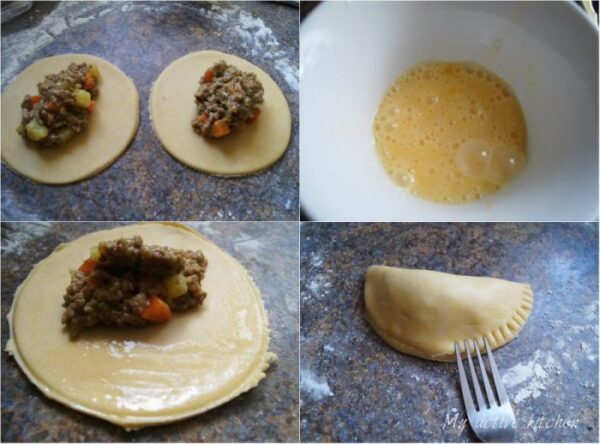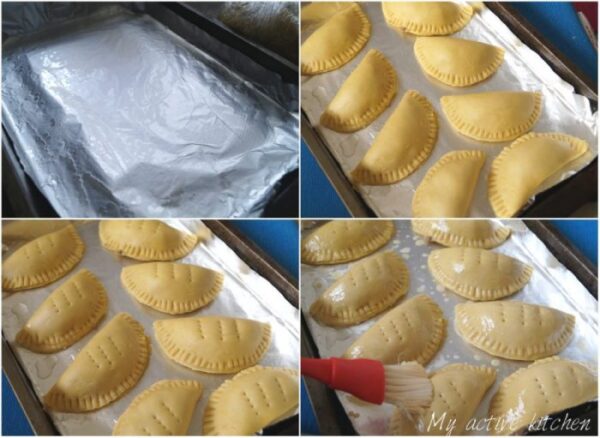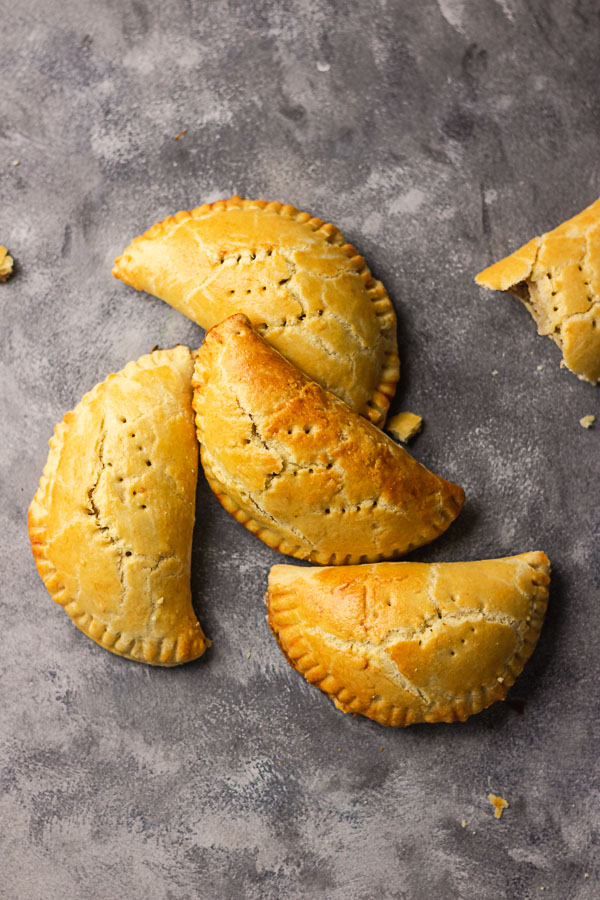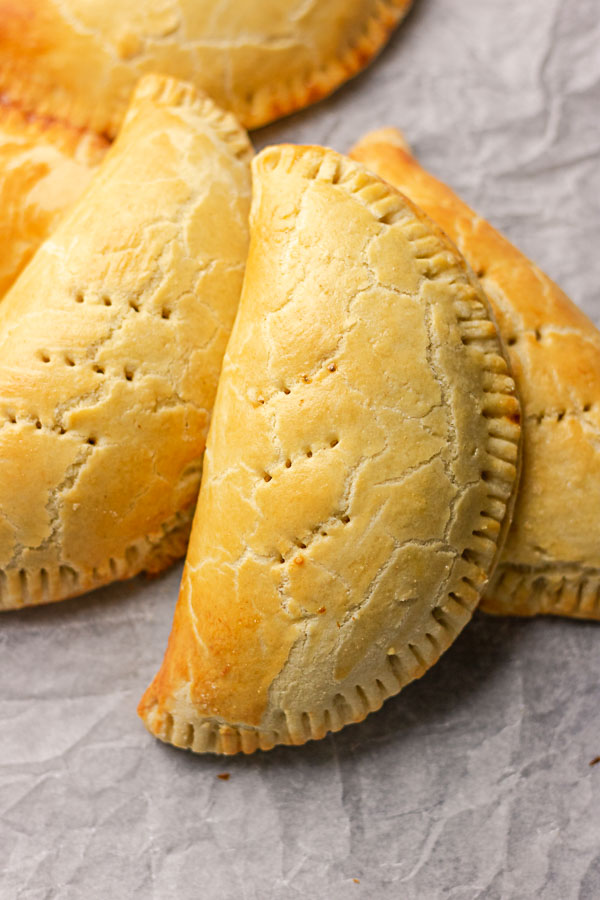 Serve meat pie warm or cold with a chilled drink of choice. Why not try pairing these beauties with chilled zobo drink or mango lemonade
Thank you for reading. Kindly leave me feedback when you make this recipe or any of my other recipes. Please pin me to Pinterest and share your creation with me on Instagram. See you on my next post x