Sticky Asian chicken wings!!! These chicken wings are not only sticky and sweet, but they are also crispy and falls right off the bones.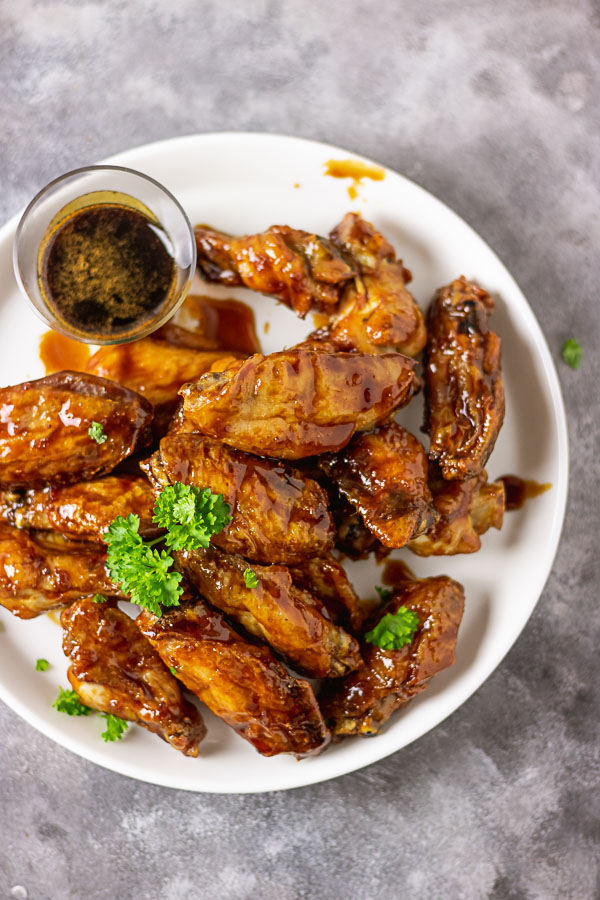 In case you are wondering why there is another chicken recipe on the blog, well I love chicken. I have confessed my love to this so many times on the blog. I can honestly say I don't cook chicken if I know I won't be able to give it the TLC it deserves
These sticky Asian chicken wings are no different, I treated it like a queen. This Asian chicken wings recipe is very easy to make but it does take a while to cook. You can, of course, cut down the cooking time by frying the chicken but I would recommend baking or grilling it.
I said this because no one ever eats chicken wings as a main meal so I always try to make it a bit healthy-ish to allow for any accompaniment that would be coming with it.
These Asian chicken wings are perfect for all occasions, I have made this recipe with 1kg (2.2 lb) chicken wings and it would serve 4 people conveniently. If you would be making this for dinner parties, barbecue or any hosting of sort, you can double this recipe.
The fun bit about this recipe is that you can easily source the ingredients used in making it.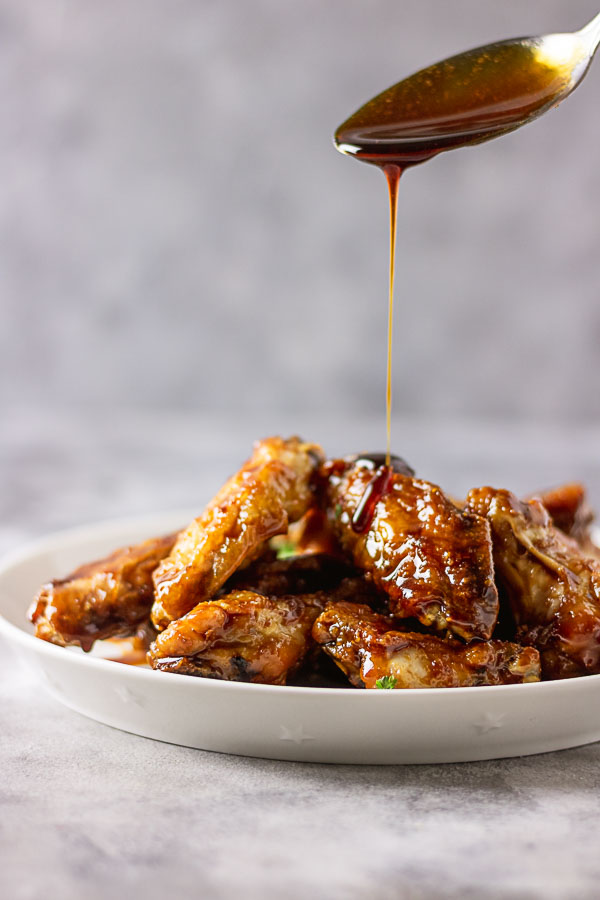 What is in my sticky Asian chicken wings
Chicken wings
Hot chilli pepper (use according to preference)
Salt
Baking powder
Garlic powder
Dark soy sauce
Honey
How does this sticky Asian chicken wings work?
Get chicken wings, season and bake it then coat/toss in the glorious Asian sauce made with soy sauce, garlic and honey. See... it's so simple and I promise you would ask for more.
Do I have to bake the chicken wings?
No, you don't have to, you can fry or grill the chicken. However, you choose to cook the chicken wings, ensure it is crispy. That way, the sauce sticks to the chicken without washing off. Sticky chicken should be sticky right??
How did you make this crispy from just baking?
I added baking powder (NOT BAKING SODA/BI-CARB SODA) to the chicken wings, see how else I have used it in my crispy fried chicken wings recipe. Baking powder draws out moisture from the chicken wing skin and this would ensure crispy chicken after baking. Please use aluminium sulphate free baking powder. Only use the recommended quantity otherwise, the chicken might have a bitter taste.
There are three stages to achieving crispy chicken wings at all times.
Coat in baking powder, salt and garlic. Make sure the chicken is dry before adding baking powder, salt and garlic powder. Keep it simple!!
secondly, you will bake the chicken wings on low heat to melt the fat under the skin.
Lastly, Increase the heat for crispness and coat in the sauce of choice. In this case, sticky Asian sauce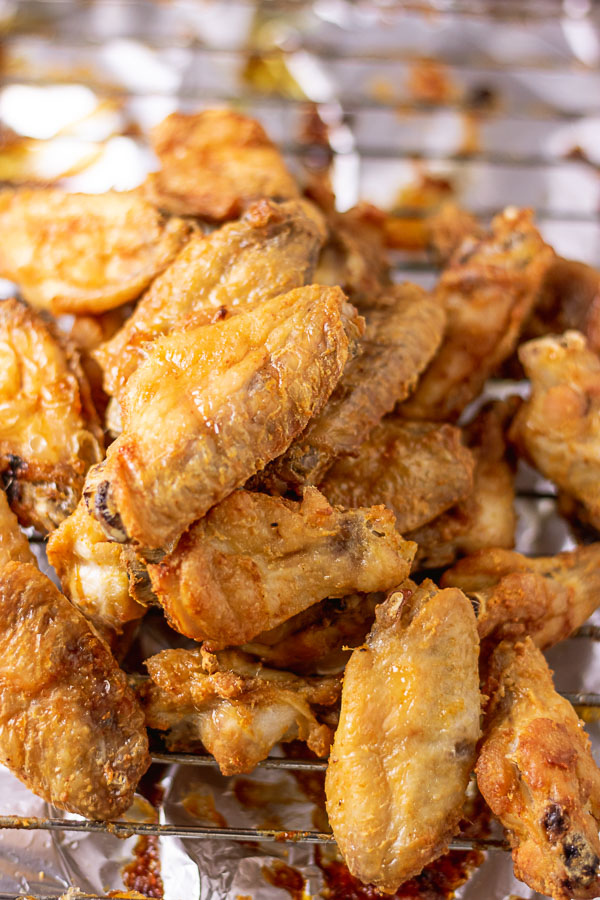 Other sides to serve it with
More chicken wings recipe
Sticky Asian Chicken Wings
Sticky Asian chicken wings!!! These chicken wings are not only sticky and sweet, they are also crispy and falls right off the bones.

Ingredients
1

kg

chicken wings

cut into drumettes and winglette

½

tsp

Salt

use according to preference as soy sauce also contains salt

2

tsp

baking powder

1

tsp

Garlic powder
Marinade ( Asian Sticky Sauce)
1

tbsp

garlic powder

levelled

⅓

cup

dark soy sauce

⅓

cup

honey

Hot chilli pepper

use according to preference
Instructions
Preheat the oven at 160⁰C/320F

Place a rack unto a baking tray (spray the rack with oil or simply rub oil on it)

It is important that the chicken wings are pat dry before adding the dry ingredients

Add chicken wings to a bowl, add baking powder, salt, garlic powder and mix to combine

Place the chicken wings on the rack in a single layer and bake the oven for 30 minutes at 160⁰C/320°F.

Crank up the heat to 220⁰C/428°F and bake for another 30 minutes or until golden and crispy(check on the chicken at intervals and change sides if need be) take it out of the oven and leave to cool for about 5 minutes
Asian Sticky Sauce
Add honey, soy sauce, 1tsp garlic, chilli pepper to a saucepan, stir to combine and bring to boil over medium heat. This should be roughly about 5 minutes. If after 5 minutes the sauce is not thick enough, continue to cook till it reduces and thickens more.




Add the baked chicken wings into a bowl, pour the cooked sauce over the chicken and toss to combine and chicken well coated.

Serve chicken immediately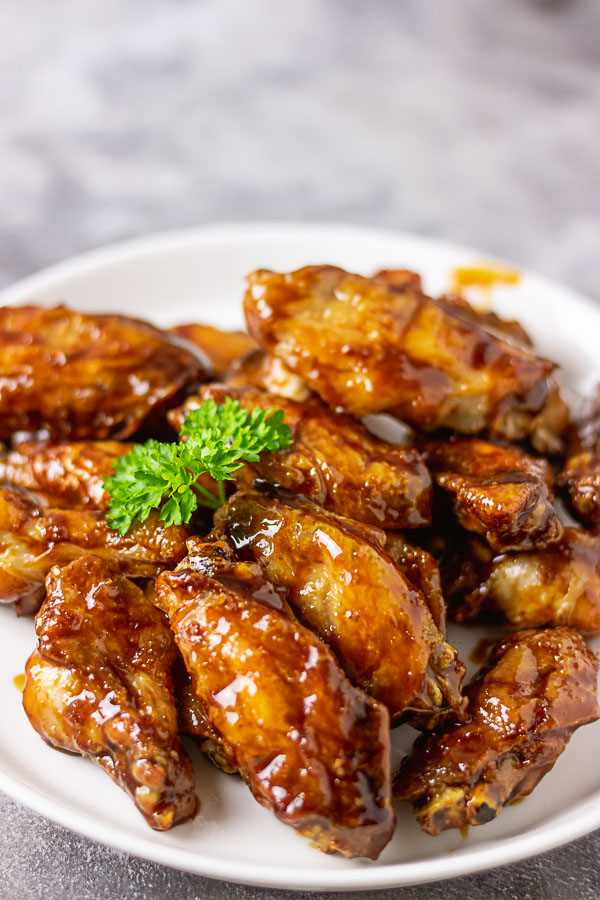 If you made this recipe, don't forget to leave me feedback. Tag me on Instagram, Facebook and save away to your Pinterest