Summer, barbeque, cold drinks, pasta salads... sound familiar? Well, I am excited about this fusilli pasta salad right here; I can boastfully say it's the best.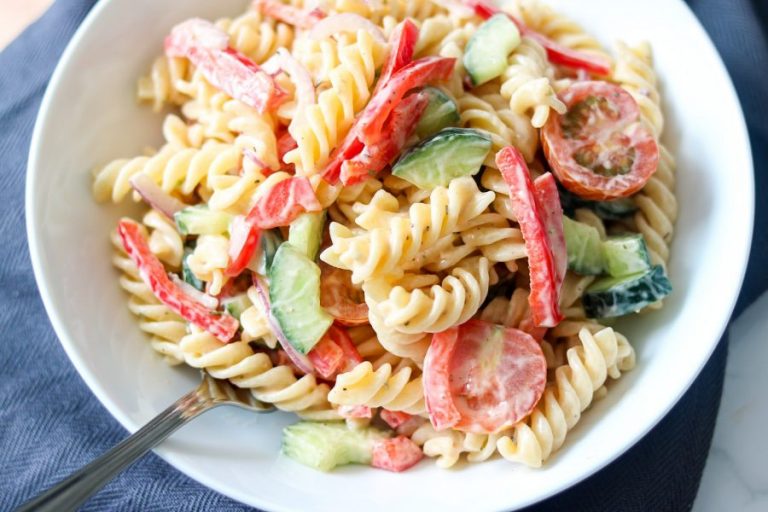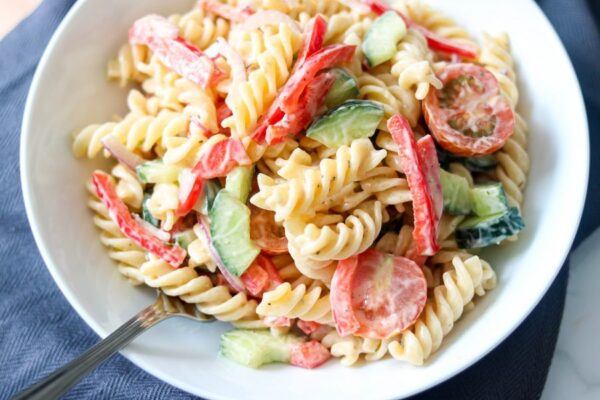 Dang! I said it haha, honestly apart from the fact that this fusilli pasta salad is the best, I had my daughter asking for more and that to me is a success. If I can convert my little fussy madam to eat and love this pasta salad, I can win you over with it too. There are many pasta salads around but this fusilli pasta salad beats them hands down.
The salad dressing is tha bomb, I used simple pantry ingredients including my active kitchen all-purpose seasoning. This fusilli pasta salad is very easy to put together and you can easily make it your own. With few spices and herbs, you are on your way to saying yum yum. Can I also mention that this pasta salad is healthy too if eaten in moderation, I know I keep saying that about most of my recipes. I had to stop myself from getting a second of this fusilli pasta salad, by the way, I had this pasta salad with baked fish. You can have it with any mains of choice or have it on its own. In other words, it works as a yummy side or a complete meal.

Ingredients for fusilli pasta salad
Salad dressing (feel free to add more)
3tbsp light mayonnaise
4tbsp fat-free natural yoghurt
1tsp My active kitchen all purpose seasoning (coming soon to your kitchen) swap with dried herbs of choice
Black pepper
Salt
1tbsp cider vinegar (optional)
For the salad
500g pasta (I used fusilli)
½ Cucumber, diced
1 medium red bell pepper, thinly sliced
1 small onion, thinly sliced
Tomatoes, chopped
salt

How to prepare salad
Boil pasta according to the packet instructions  with salt, drain and rinse under cold water and set aside to cool, preferably in the fridge, in fact, put it in the fridge (you want the pasta to be al dente, nothing soggy please and allow it to drain well)
Once cool, add the salad (vegetables) to the fusilli pasta and mix to combine
Add the salad dressing, mix thoroughly, refrigerate before serving or serve immediately.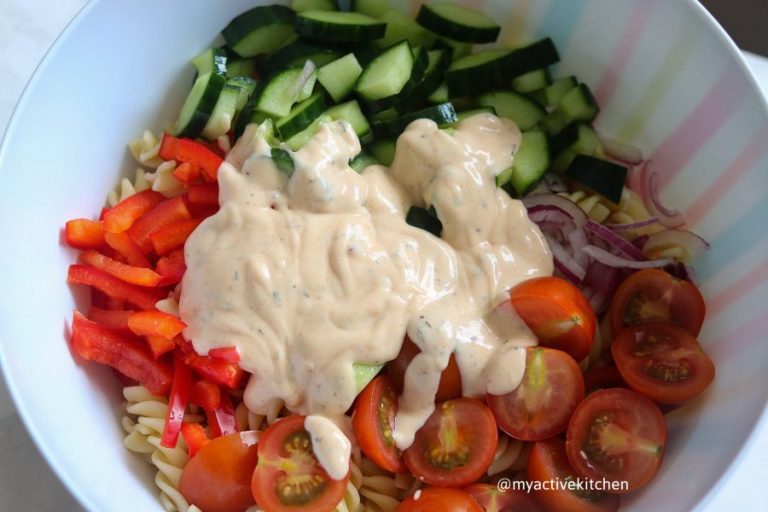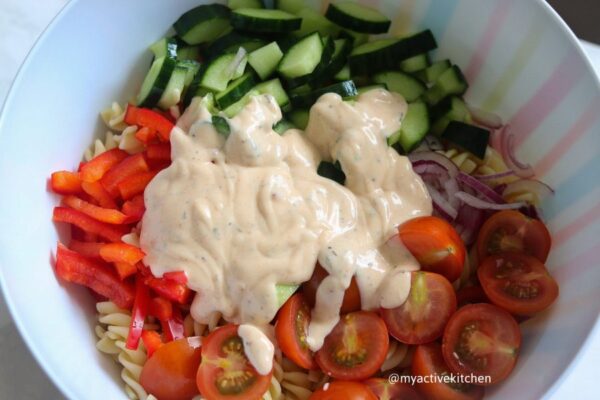 What to serve with pasta salad
Make this pasta salad a whole meal by serving it with one of the following delicious recipes.
Tips
Swap the Mayo salad dressing for Italian dressing
Fusilli Pasta Salad
Fusilli pasta salad: this is the only salad you need this summer and all year round. This easy pasta salad will bring everyone to your yard.
Ingredients
Salad dressing (feel free to use more)
3

tbsp

light mayonnaise

4

tbsp

fat free natural yogurt

1

tsp

My active kitchen all purpose seasoning

swap with dried herbs of choice

½

tsp

Black pepper

1

tsp

of Salt

1

tbsp

cider vinegar

optional
For the salad
500

g

pasta

I used fusilli

½

whole

Cucumber

diced

1

medium

red bell pepper

thinly sliced

1

small

onion

thinly sliced

2

large

Salad Tomatoes

chopped

salt
Instructions
Boil pasta according to the packet instructions with salt, drain and rinse under cold water and set aside to cool, preferably in the fridge. In fact, put it in the fridge (you want the pasta to be al dente, nothing soggy please and allow it to drain well)

Once cool, add the salad to the pasta and mix to combine

Add the salad dressing, mix thoroughly. Serve immediately or refrigerate until when needed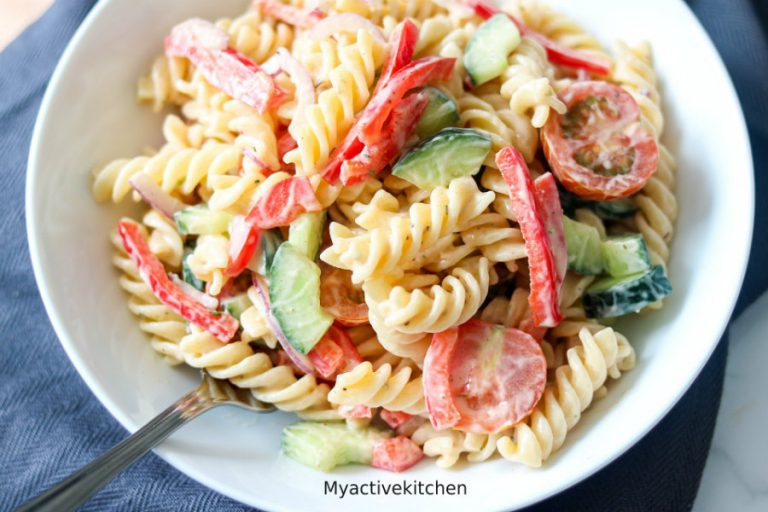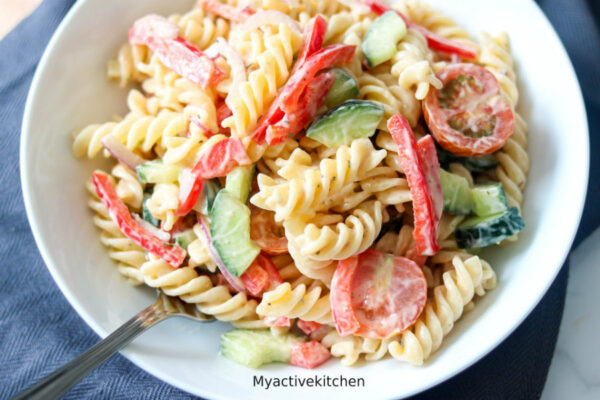 Enjoy x
If you try my easy pasta salad recipe or any other recipe on here, kindly leave feedback or #myactivekitchen on Instagram so I can see what you have been cooking. Thank you and see you on my next post