The easiest apple crumble made just for two. This recipe is very easy to make and it's a perfect recipe for all year round.
The first time I had apple crumble was when I moved to the UK and  I haven't looked back since then. I enjoyed eating it so much I had to learn to make it.
I have perfected how to make it over the years, that I don't buy from the shops anymore and it's very easy to make too. One of the easiest dessert created is apple crumble. You chop apples, add spices and sugar then sprinkle with toppings made with either flour or oats and you can even have both. Yes, it's  that simple!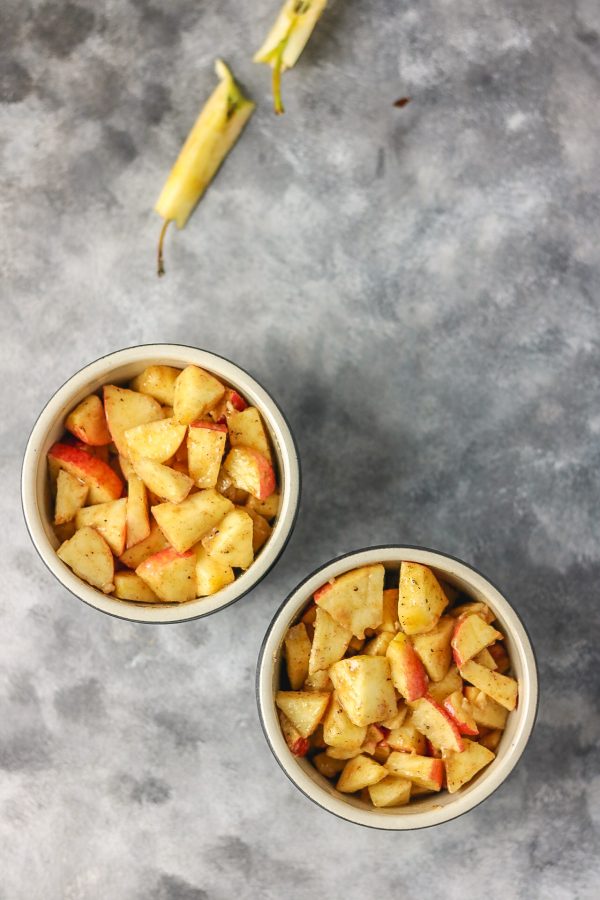 I am not the only one who loves eating this easy dessert, my daughter loves more crumble than Apple. I won't lie now, I love my apple crumble with more crunchy toppings and lots of it.
You can have this dessert any time of the year and for any event too. Apple crumble is easy to make and one of the best part is that it freezes well should you want to preserve it for a later time. I can also claim that this is a healthy dessert because of the portion size. The ingredients specified in this recipe would only make 2 portions so there is no chance of overdoing it. Thoughtful of me hey!
What is in my apple crumble
Apple obviously
Nutmeg
Cinnamon
Flour
Butter
Sugar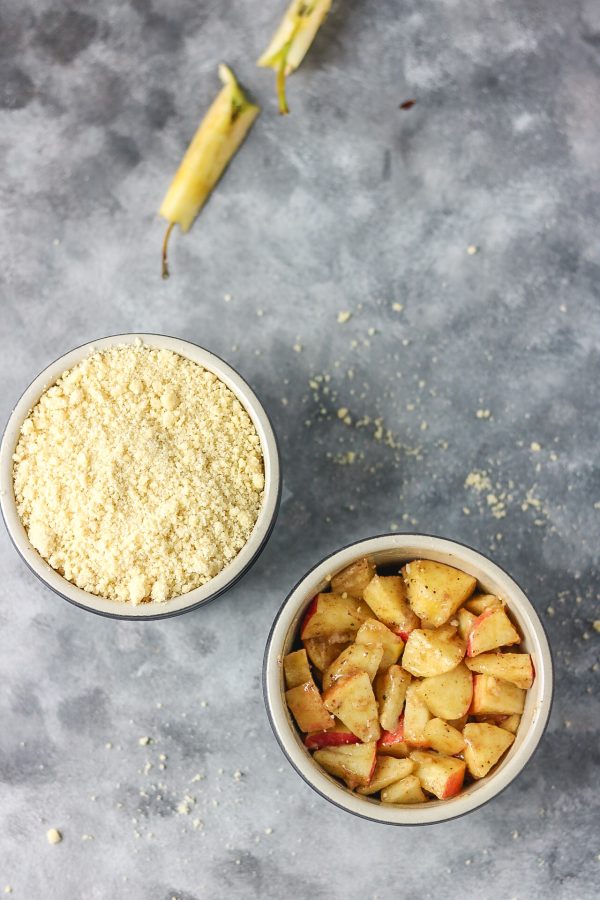 It is unbelievable how something this easy can be very yummy. This is a comforting dessert and every spoonful either with custard, or ice cream would take you to some sort of heaven.
Apple Crumble For Two
The easiest apple crumble made just for two. This recipe is very easy to make and it's a perfect recipe for all year round.
Ingredients
1

big

Apple

cored and chopped into small chunks

1/2

tsp

nutmeg

1/2

tsp

Cinnamon

60g

All purpose flour, 1tsp extra for filling

50g

Cold butter, 1tsp extra greasing

3-4

tbsp

sugar
Instructions
Preheat the oven to 180C, grease the ramekins with butter and set aside

Add chopped apples into a bowl, add nutmeg, cinnamon and, 1 tsp flour, 1 tbsp sugar and mix to combine. divide the apples into the 2 ramekins

In another bowl, add flour, sugar, cold butter and rub with your fingers until you get breadcrumbs consistency (use picture as reference)Sprinkle the toppings unto the prepared ramekin (use as much toppings as desired for both)

Bake apple crumble for 30-40 minutes or until crisps and golden. Serve immediately with custard, cream or ice cream
Notes
You can use equal amount of butter as the flour but I prefer to use less butter 
Use two apples if you feel the size of the apple you have is not big enough to serve 2.
any apple would work for this recipe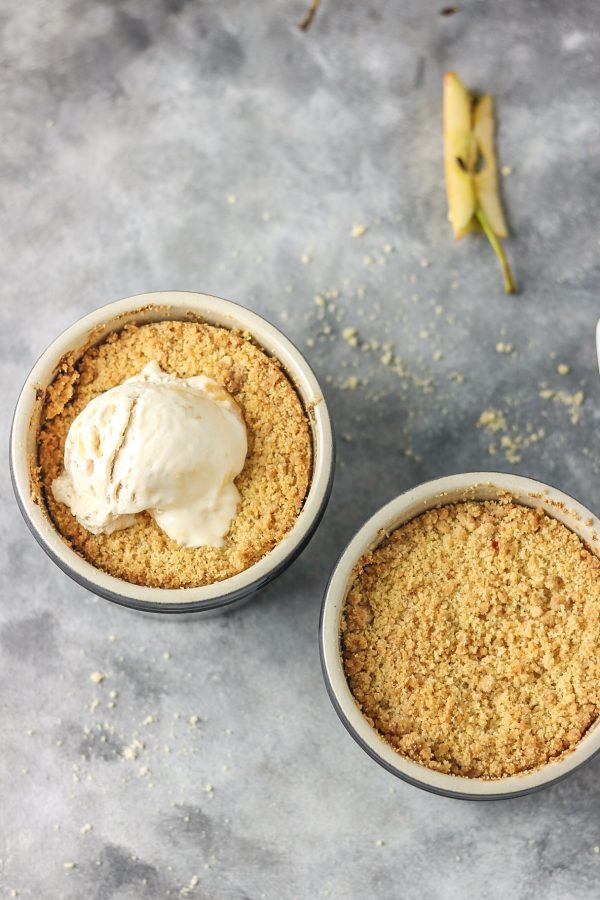 Thank you for reading and kindly leave me feedback when you make this dessert or any of my other recipes here. see you on my next post  and happy Valentines to you!!!
ATB
Ajoke x