Finally, I have an easy vanilla sponge cake recipe on the blog! Thanks to the amazing plates used in the photo-shoot for making it happen.
This moist vanilla sponge cake would melt in your mouth, the fun bit is... this cake keeps well in the fridge too and you can still enjoy it after some few days.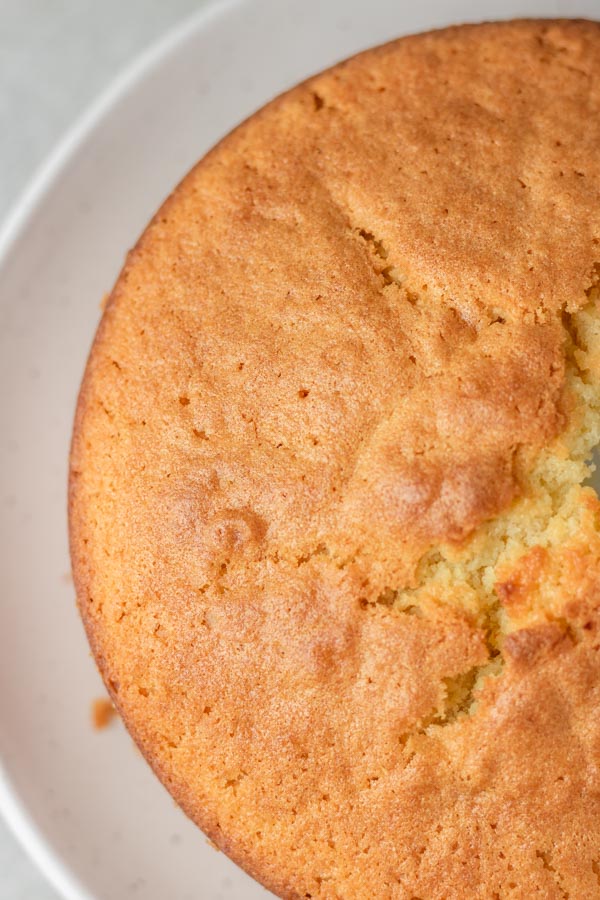 Vanilla Sponge Cake Recipe
I made this vanilla sponge cake at the weekend and I had no clue how to photograph it cos I didn't have the required set of crockery… until I attended this party and viola the appetizer plates kept calling my name.
To be honest, I had popped into my local TK Maxx earlier on to check for the rare finds that same day, unfortunately, there was nothing and I went home empty-handed with a not too happy face.
At the party, I shamelessly asked for 3 of these disposable plates. They fitted perfectly well for the picture I had in mind for my vanilla sponge cake.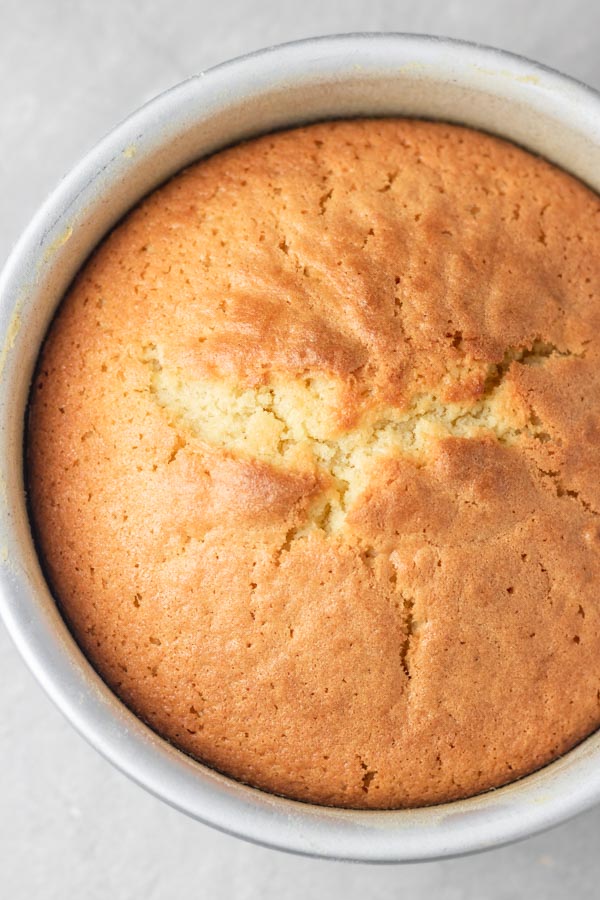 This is a very basic sponge cake, but I really can't say it is basic as the cake filling took it from 10 to 100 and the cake itself was everything and more. It is moist and not overly sweet. Can I also add that this vanilla sponge cake recipe has been tried and tested so many times? I will share the recipe for the salted caramel buttercream filling in another post.
I always use less sugar in my cake recipes every time especially when I fill it like this one. Feel free to adjust the sugar to your taste. Also, make this recipe classic victoria sponge cake by swapping the salted buttercream filling for cream and strawberry jam.
I have made this sponge cake with pantry staples, nothing complicated at all. It is super easy and simple. In fact, if you choose, you can make this vanilla sponge cake in one bowl. Add all the ingredients into a mixing bowl and mix to combine using a hand mixer or stand mixer.
This is the only sponge cake recipe you will need. It is perfect for all occasion, super moist, tender and tasty.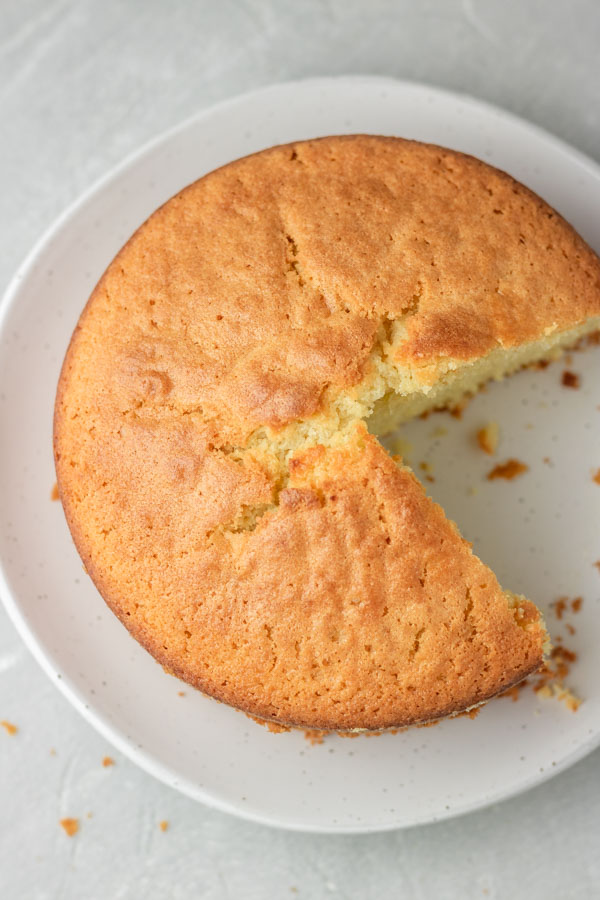 Ingredients
Self-raising flour
Caster Sugar
Unsalted butter
Vanilla extract
Full fat milk or cream
Salted caramel extract, optional
Baking powder, optional
Eggs
2 x 8-inch cake pan
Sponge cake baking tools and equipment
The following essential tools and equipment are what you would need to make your baking stress free.
mixing bowl
hand mixer or stand mixer
Cooling rack
Kitchen timer or phone timer
Cake tins
Cake tester
Spatula
Cake pan liner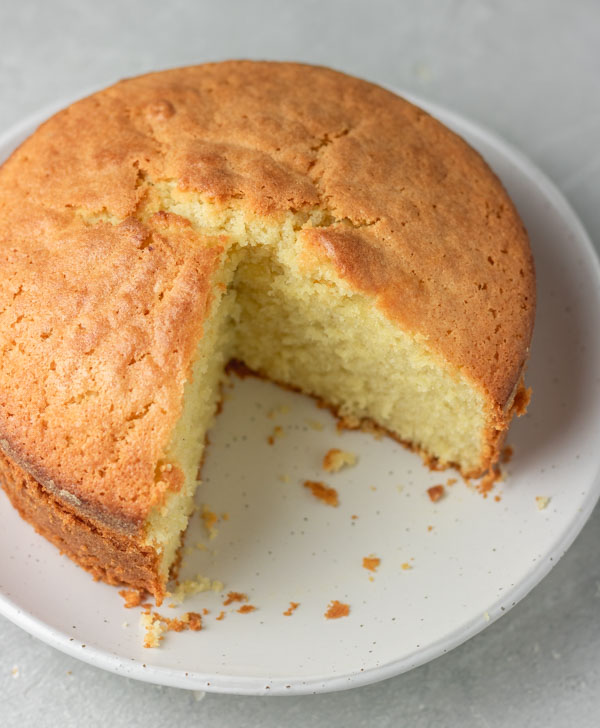 Quick overview on how to make a sponge cake
Preheat the oven, just like pizza or bread, it is important to bake a cake at the right temperature. Prepare the cake pans and set aside then sift the flour and baking powder together.
Cream the butter and sugar until fluffy and light, creak the eggs and add into the creamed butter one at a time, add flavouring and milk and gently mix to combine. Now add the dry ingredients into the wet ingredients and fold to combine.
Divide the cake batter into pans and bake in the oven until when a cake tester inserted comes out clean. Leave the cake to cool then enjoy.
Viola, see so easy and quick.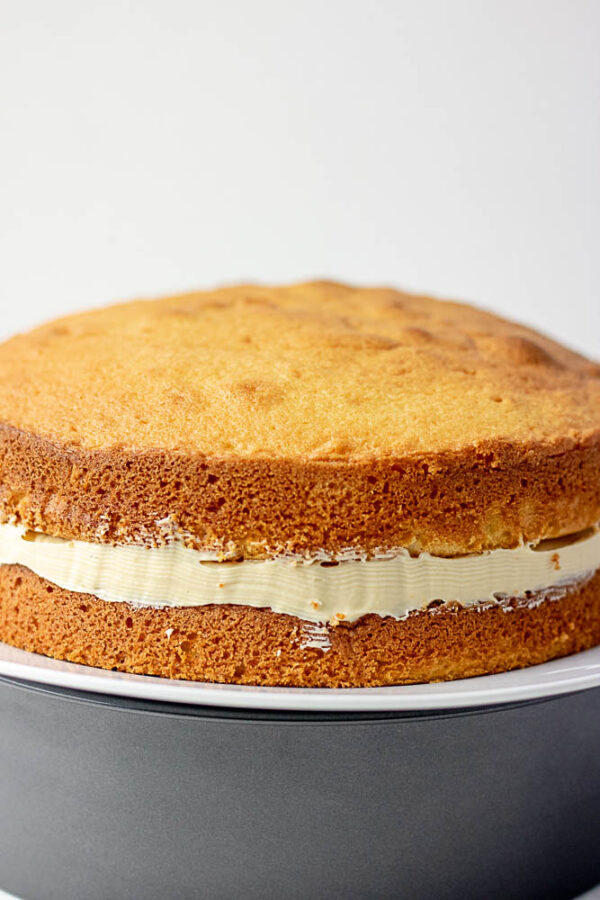 Tips for making the best moist vanilla sponge cake
Use preheated oven
It is essential you weigh out all the ingredients for the cake. No eyeballing here, please.
Ensure all the ingredients used e.g. eggs, butter are in room temperature
Don't overmix the batter. once you have creamed the butter, sugar and eggs together, you can fold in the flour into the mix using a spatula to avoid over mixing it
It is important you don't leave the cake lying around for too long before putting it in the oven. This might result in a dense cake
Don't open the oven too quickly to avoid the cake sinking
How to store
This cake would keep fresh wrapped in a cling film on the countertop for up to 3 days. I prefer storing my cake in the fridge wrapped in a cling film or an airtight container as this stops it from becoming stale and catching the smell from the fridge.
Freezer: wrap in a cling film and place in an airtight container (to avoid crushing in the freezer) for up to 6 months.
Other Delicious Sweet Recipes To Try
Don't forget to #myactivekitchen on Instagram or leave a comment for me when you make this easy moist vanilla sponge cake. I will see you on my next post, thank you all for an amazing 2018 and I promise a better and consistent yummy post in 2019. Happy Holidays!
Vanilla Sponge Cake
Classic vanilla sponge cake recipe made with everyday ingredients. This sponge cake is quick and easy to make. It is perfect for all occasion and celebrations
Ingredients
250

g

self raisin flour

180

g

to 200g caster sugar

use according to how sweet you want the cake to be

250

g

softened unsalted butter plus more for greasing pan

room temperature

2

teaspoon

vanilla extract

2

tablespoons

full fat milk

½

teaspoon

salted caramel extract

optional

1

teaspoon

baking powder

4

medium eggs at room temperature
Instructions
Preheat the oven at 180C/350F or 160C/320F for a fan oven, you want to use the shelf of the oven, so that the heat is distributed almost evenly

Butter the pans (2 x 8-inch cake pan), dust with flour to cover the whole buttered pan or place a baking sheet at the bottom of the pan

Sift the flour and baking powder in one bowl and set aside

In another bowl, add the butter and sugar and whisk using hand-held mixer until light and fluffy. This should be for about 5 minutes

Break the eggs into a small bowl and add the vanilla and caramel extract, add the egg one at a time into the creamed butter and whisk to combine. Add the milk and mix to combine

Once combined, add the sifted flour and baking powder (if using) and gently fold into the wet ingredients with a spatula until well combined and smooth.

Divide the cake batter into the cake pan evenly and bake in the oven for 20 minutes or when the toothpick inserted comes out clean.

Leave to cool for about 5 minutes and turn unto a cooling rack. Once cooled, sandwich the cakes with buttercream or strawberry jam and cream.

Slice cake, serve and enjoy.
Recipe originally posted in 2018 and now updated with new photographs for housekeeping. The recipe remained the same as the readers like it as well. Below is a photo from the original recipe for reference.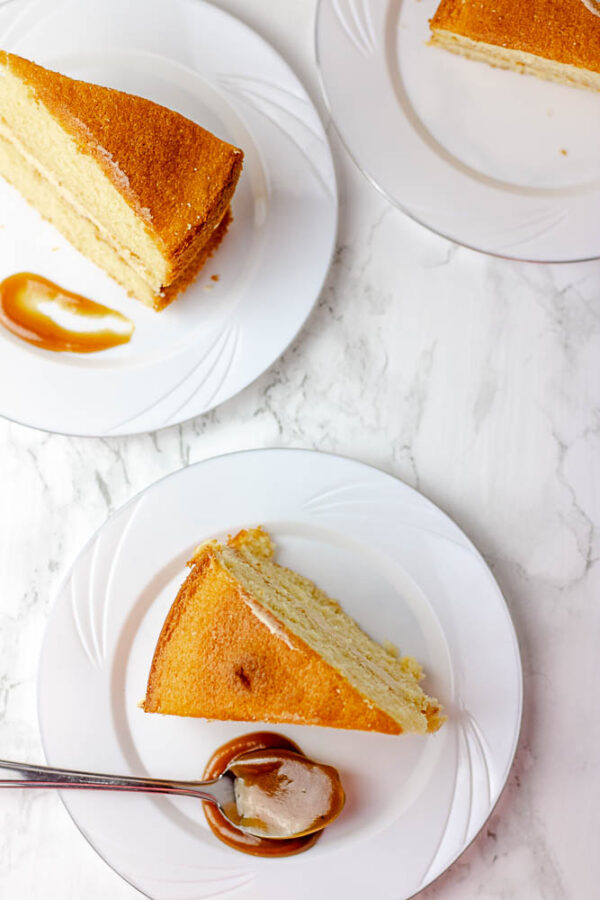 DID YOU MAKE THIS RECIPE? PLEASE RATE IT AND LEAVE ME A COMMENT. USE #MYACTIVEKITCHEN OR TAG @MYACTIVEKITCHEN ON INSTAGRAM SO I CAN SEE YOUR PHOTOS, I WOULD LOVE TO SEE YOUR CREATIONS. THANK YOU!