I know I say this lot of times that I get excited each time I create a special recipe. Really this time, I am super excited to share this amazing sweet nibble with you all. I call it garri truffle, yeah you heard right… Truffle made with garri. If you grew up enjoying garri cake then you would understand this garri truffle. It is a 3 ingredient recipe that would leave you asking for more. Have you ever thought of pairing garri with chocolate before? Well it is everything you can ask for? Nigerian dessert that has Nigeria written all over it.
For my readers who is wondering what garri is, garri is a powdery substance made out of fermented cassava. it can be made to desired consistency like fine, semi-fine and coarse. I have used the fine garri texture for this recipe, garri is readily available and sold in all African/Asian stores and it is very affordable too.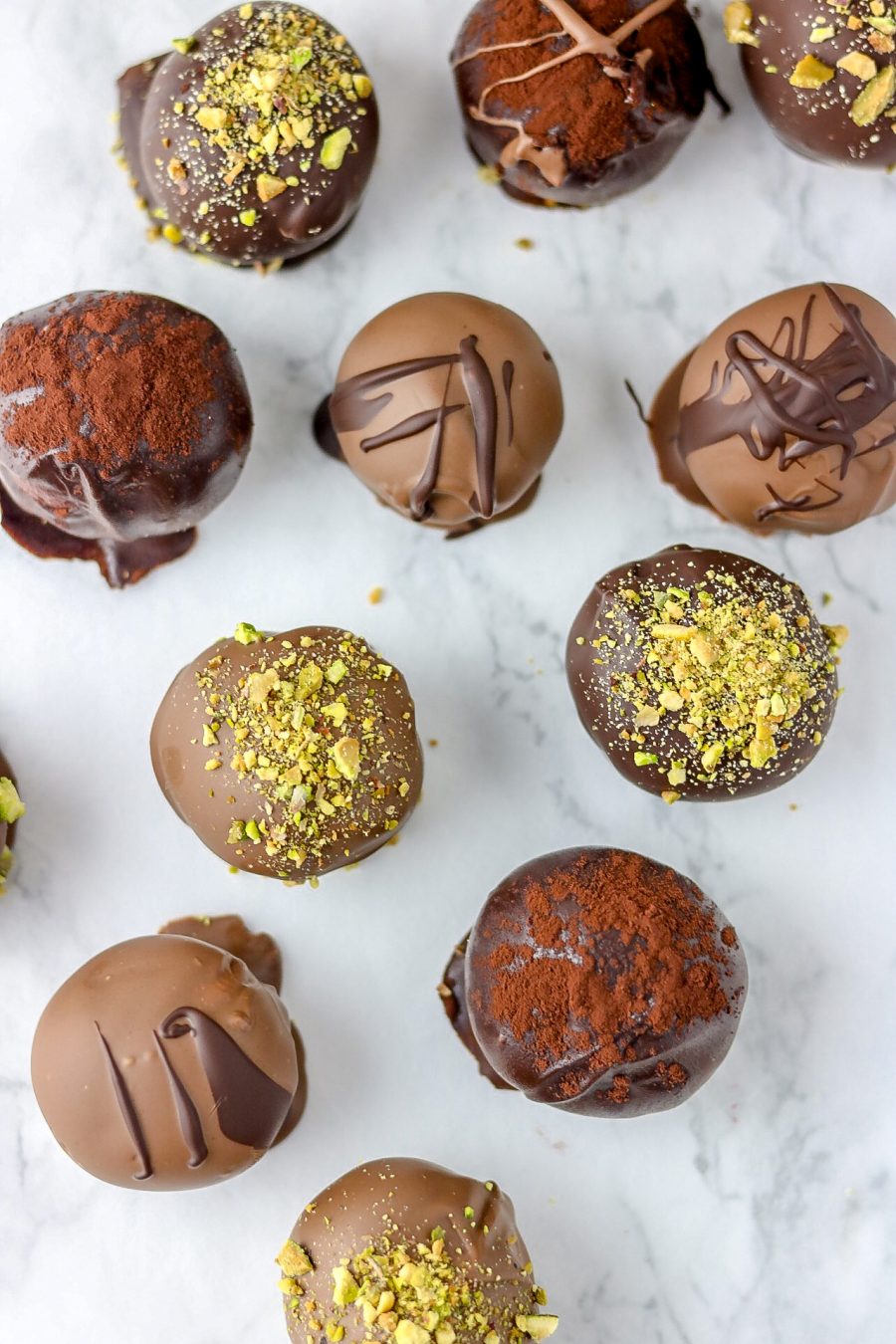 If you have never had garri cake before, you probably attended a very posh secondary school and you were not allowed to explore your inner childhood, Lol. The ingredients for this recipe are very easy to source and can be found anywhere in Nigeria or any part of the world. I used Milo chocolate drink and groundnut as some of the garnish too. If you have a sweet tooth and love entertaining others, then this is just perfect for you.
NB: use a good quality chocolate; buy the one containing at least 62% cocoa or higher
You can choose from white, milk and dark chocolate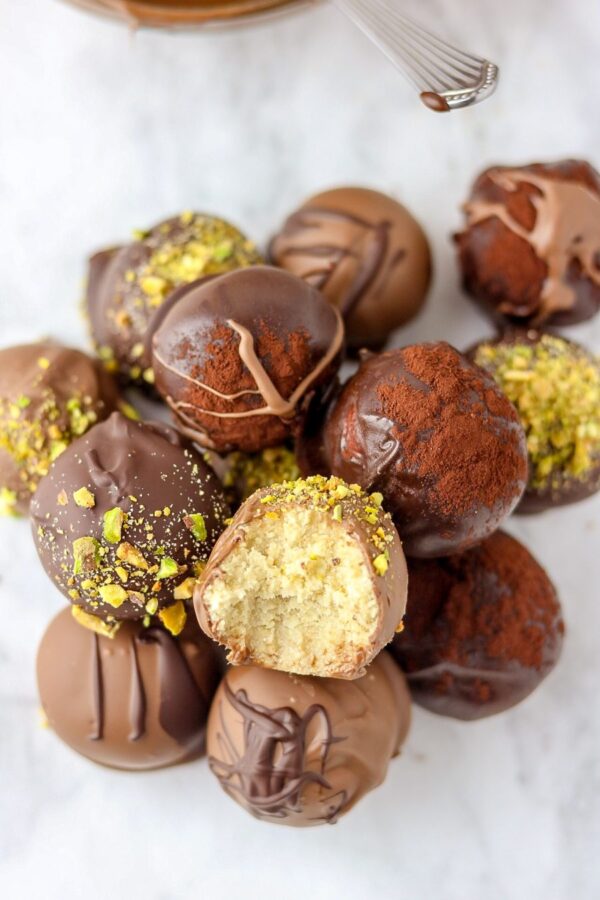 Ingredients
500g chocolate or more (any type would do)
2 cups of garri (white)
330g condensed milk
2tbsp butter
Milo or cocoa
Groundnut, crushed
Few Pistachios, crushed for garnish
brandy  or rum (optional)
Directions
Place a pan on a low heat and add butter leave to melt. Add the condensed milk and mix to combine with the butter. Leave to boil for about 1 minute or till well combined. Cook on low heat, leave to cool slightly. Add in brandy or rum at this point if you will be using and mix till well combined

Add the garri to the condensed milk and butter mixture, mix to combine like you would make eba till well incorporated, dip your hand in water and shake off excess water, mould the garri into small balls or otherwise use a mould (I used ice cube trays for some)

Place in the fridge for 30 minutes

Whilst you are waiting for the rolled garri to cool, break the chocolate into small chunks and melt over simmering water making sure the bowl doesn't touch the water and stir until melted. Alternatively, melt in the microwave for about 30 seconds but be careful not to burn it

Lay out a parchment paper on a tray and set aside, using a spoon or fork, dip the rolled garri to the chocolate one at a time and carefully place on the tray. Repeat this process till all garri is covered with chocolate of choice. Garnish with nuts and Milo or cocoa as desired. Chill the chocolate for about 1 hour in the fridge. This garri truffle will keep in the fridge for up to 10 days.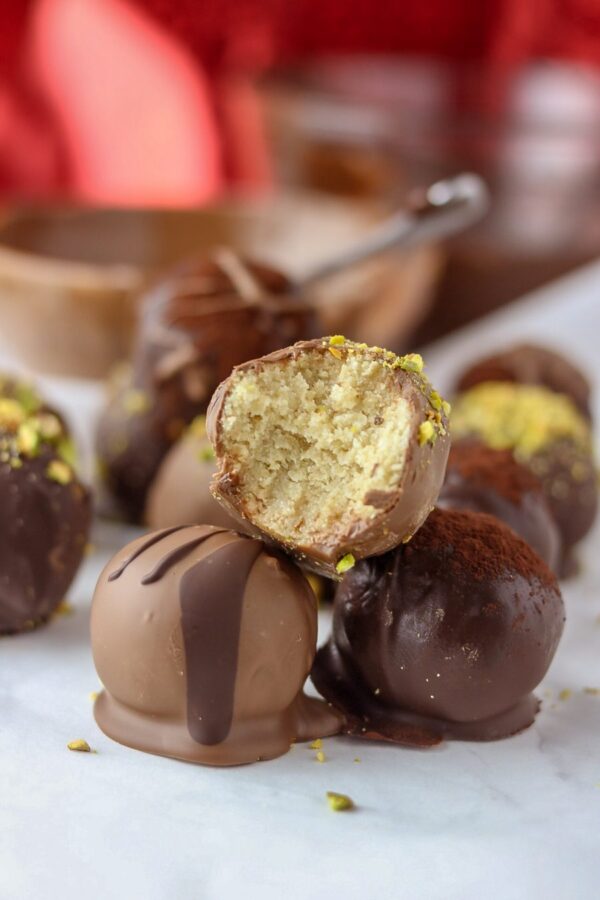 If you made this recipe, don't forget to leave me feedback. Tag me on Instagram, Facebook and save away to your Pinterest
This recipe was originally published on the blog in 2015. The images are all new and some text have been added too, no much tweak done on the recipe as its perfect and it has never failed but I substituted Milo for Cocoa and White chocolate for dark chocolate.