Easy leg of roast lamb; this lamb was marinated with the most basic of spices in my kitchen but the end result was yummy, so yummy that all plates were empty.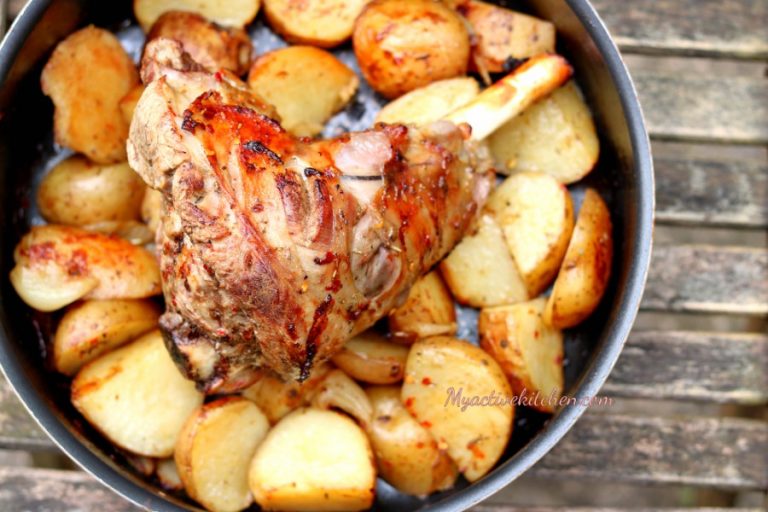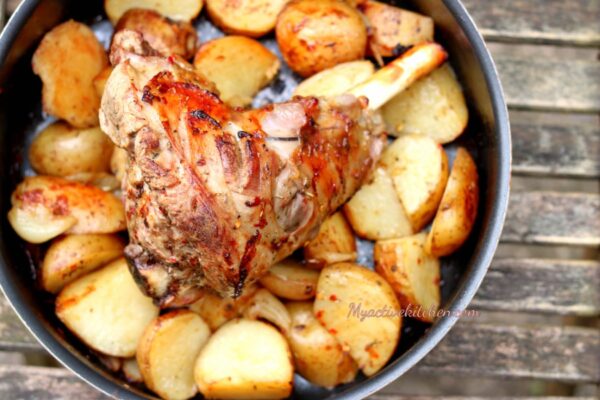 One Pan Roast Lamb
Sunday meal in my household varies depending on my mood and what I have planned beforehand. This Sunday was different as I already know what I wanted to cook; roast lamb and I know just how I want it to look.  My family knew they were in for it when I informed them we will be having roast lamb, they hate the cooking time. A chicken roast will take at most an hour but with the leg of lamb, you have to cook according to the size of the lamb plus another half hour. One other thing my Mr wouldn't have is pink meat (African man), it is a NO NO, so I roasted my lamb a tad little longer and well done but not overcooked.
I roasted this lamb on low heat with all the potatoes getting all the yummy juice. It was just divine, melts in the mouth, oh my God I need to stop thinking about it to concentrate on typing this recipe. Lol. I had mine with mashed potatoes and the fam had theirs with roasted potatoes and a bit of mash. The rest is history as there is nothing left of it
I used 6 ingredients to bring this roasted leg of lamb to life, salt is an important element in any dish. Personally, I don't use too much of it when cooking lamb. Also, don't overdo the addition of spices into this lamb as you don't want it to overpower it. I also didn't use to much oil for the marinade as lamb is blessed with enough oil already. Ok let's get on to roasting this lamb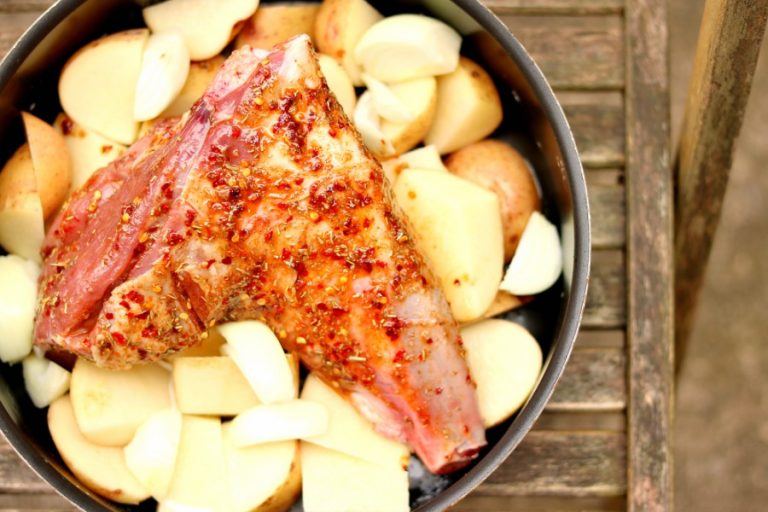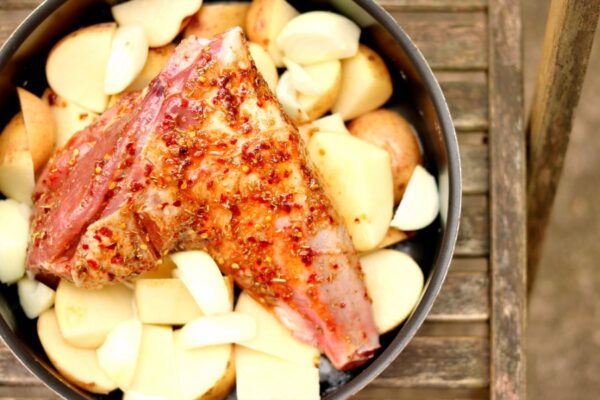 Ingredients
1kg leg of lamb (Serves 4)
Salt
Chilli flakes
Seasoning cubes
1tsp rosemary sub with fresh ones
½ tsp garlic powder
1 medium size onion
4tbsp veg oil or use any oil of choice
Maris piper potatoes (enough to feed the numbers of people you are cooking for)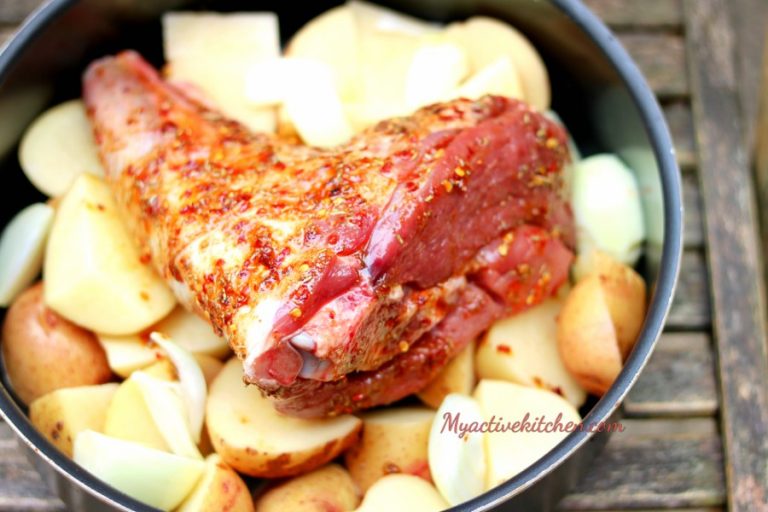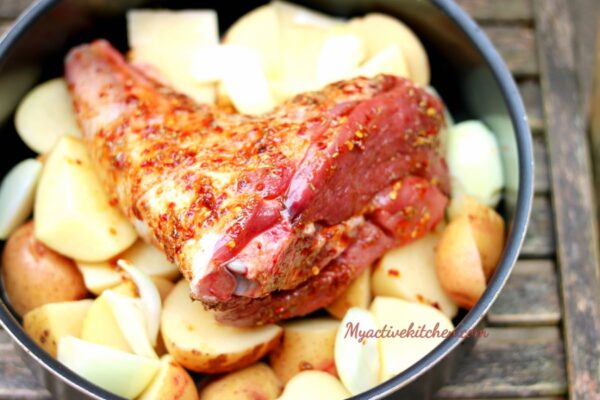 How to make one pan roast lamb
Preheat the oven at 180 degrees
Make incisions in the lamb and season with salt, set aside for about 5 minutes
Add crushed seasoning cubes, chilli flakes, rosemary and garlic powder to a small bowl, 2tbsp of oil, mix together to make a marinade. Drizzle the marinade on the salted lamb and give it a good massage
Wash and cut potatoes into quarters, add to pot, add enough to (salted) water to cover it and bring to boil between 5 and 10 minutes. (truth be told, I didn't parboil mine and it still turned out great) Drain in a colander, drizzle the remaining oil and give it a good shake,
Put the potatoes into a baking pan evenly spread out, add chopped onions and carefully place the lamb on it. Place in the oven and cook for an hour and a half or according to the cooking instruction on the package of the lamb.
Once it is done to your liking, take it out of the oven and leave to rest between 10 and 20 minutes for the lamb to retain its lovely juice. Serve the lamb with roast potatoes and vegetables of choice.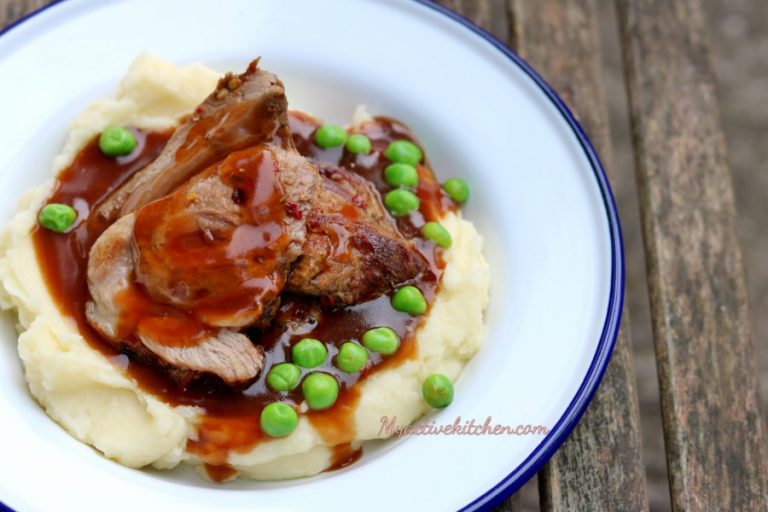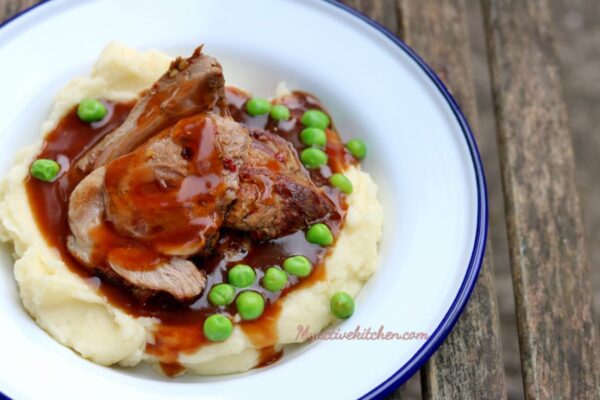 If you try my roast lamb recipe or any other recipe on here, kindly leave feedback. #myactivekitchen on Instagram so I can see what you have been cooking. Thank you and see you on my next post