Don't you just want to dive into this spaghetti and meatballs? This easy spaghetti meatball recipe is infused with Nigerian suya spice and homemade tomato sauce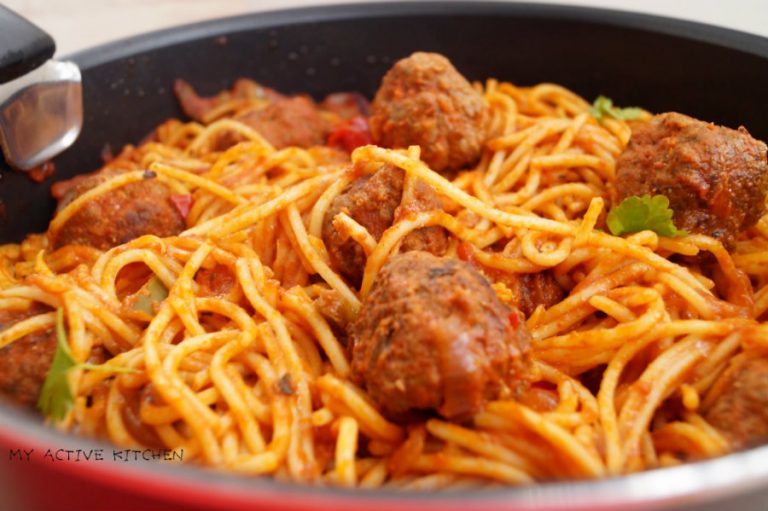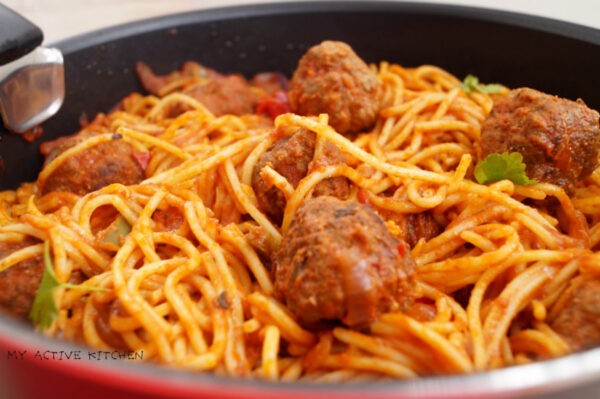 Hello foodie fam, I feel like I have been MIA a lot. I'm so sorry for the inconsistency, your girl had to do some other things and that's life hey. Today's post is one of my Jamie Oliver's kitchen speed cooking. You know by now as much as I love cooking, I don't want to spend the entire day in the kitchen. Suya spice is now a staple in every Nigerian kitchen and if you are yet to have one in your spice rack then you are on a long thing.
Back to today's recipe, spaghetti and meatballs are everyone's favourite, a great combination and very quick to make too. Honestly, this recipe is so easy to put together and adaptable too. It is healthy in my opinion if eaten in moderation. The rich tomato sauce that the spaghetti was cooked in was bursting with flavours and the suya meatballs were everything too.
Tips to cooking the best spaghetti meatballs recipe
If you want to achieve the best spaghetti ever, cook it in boiling water, that way it cooks evenly at the same temperature. I would normally leave my meatballs to chill in the fridge for about 30 minutes or an hour but for this recipe I cooked the meatballs immediately as it is a very quick meal and nobody's got all that time to spend in the kitchen when I have 'making a murderer' to catch up with Lord help with my addition to Netflix. Let's get cooking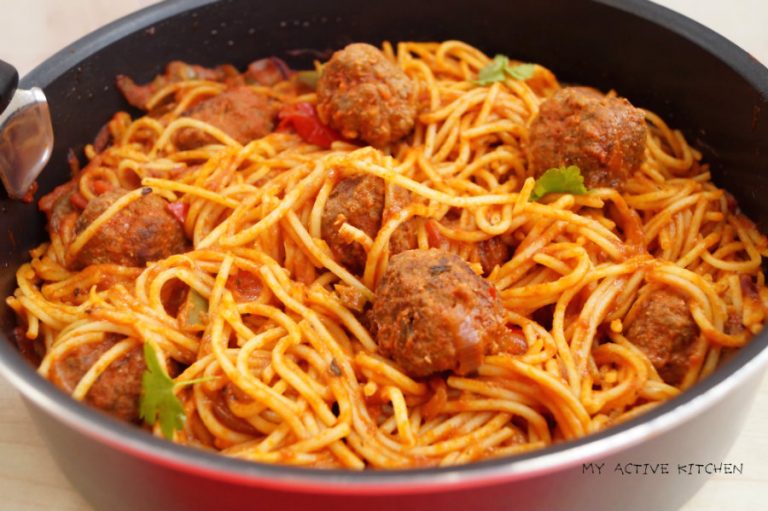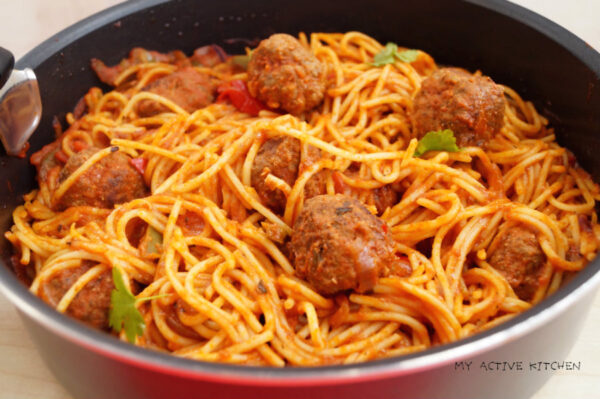 Ingredients for tomato sauce
500g Passata substitute with 8 fresh blended tomatoes/pepper mix
a handful of fresh basil
1 tsp Parsley
½ tsp ginger granules
1tsp Garlic
2tbsp tomato puree
2tbsp red wine vinegar (optional)
cayenne pepper (use according to preference)
Ingredients for meatballs
500g mincemeat
1 tsp bouillon powder
1 small onion, chopped
½ tsp salt
1 tbsp Suya spice
one egg
1 tsp paprika
Other Ingredients used
1 pack of spaghetti
⅓ cup vegetable oil
1 green bell pepper, thinly sliced 
1 red bell pepper, thinly sliced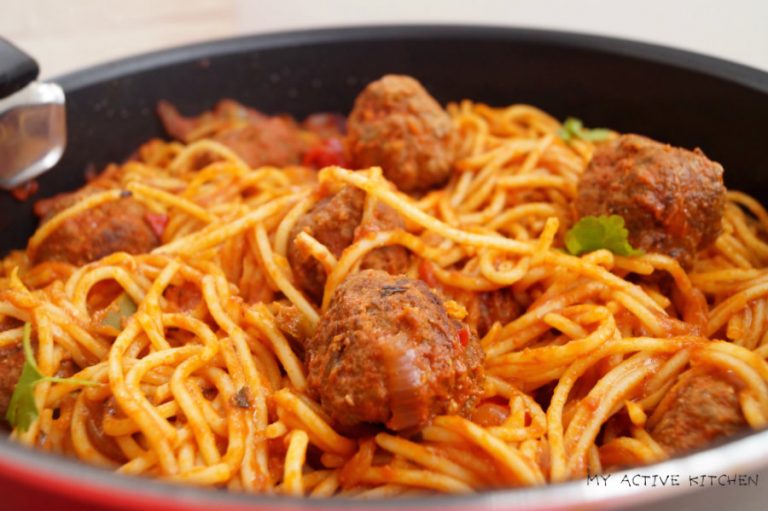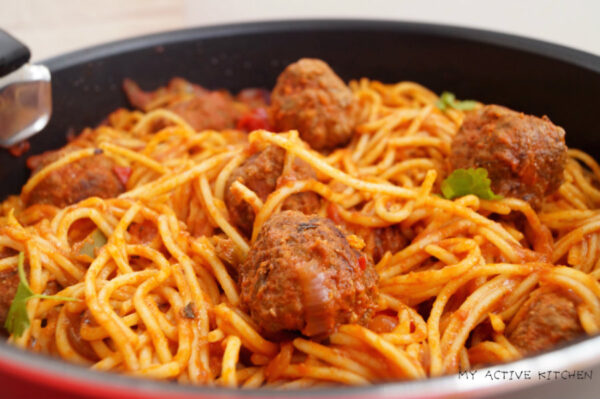 How to make spaghetti and meatballs
Bring your water to a rolling boil. Once boiled, add spaghetti, a little salt to taste and cook for about 8-10 minutes. (Cook till aldente) Decant the water and set aside. Whilst you are waiting for the spaghetti to cook, get on with making the meatballs


Add the mince into a bowl add suya spice, paprika, salt, seasoning cube and mix gently mix to combine. Take some portion of the mince at a time and roll into balls. You should get at least 15 meatballs from the mince
Place a pan large enough to cook the spaghetti on medium heat, add vegetable oil and heat for about 2 minutes. Add the meatballs one at a time carefully to the hot oil and cook for about 2 minutes each on all sides till the meatballs are browned then set aside


In the same pan that you used in frying the meatballs add another 2 tbsp of vegetable oil, chopped onions and peppers and sweat for about 3 minutes. Add the passata, tomato puree, cayenne pepper, ginger, garlic basil and parsley and mix together till well combined. After about 5 minutes, add the meatballs and Continue to cook for another 10-15 minutes or till oil start floating on top of the sauce. check for salt and seasoning and adjust accordingly.
Stir the vinegar into the sauce and cook for another 5 minutes. Add the drained spaghetti to the tomato sauce and stir to combine. Cook for another 5 minutes, take it off the heat and serve immediately. Enjoy with love.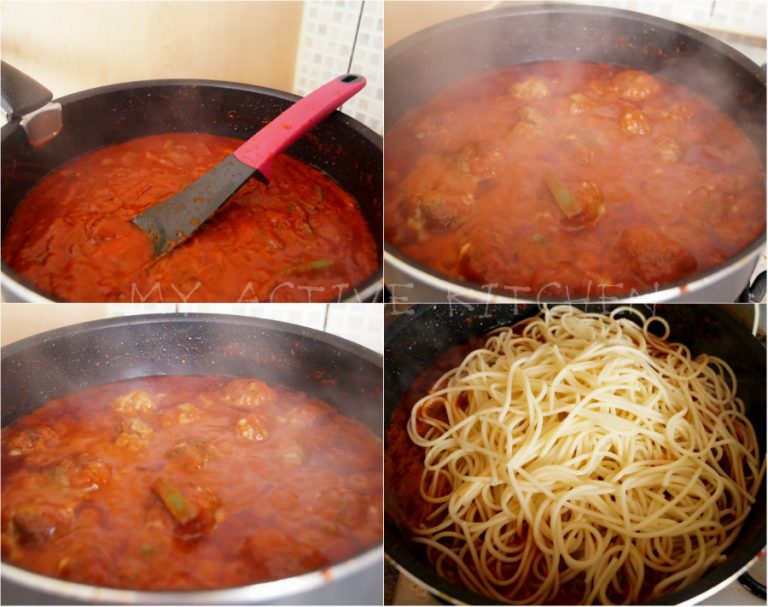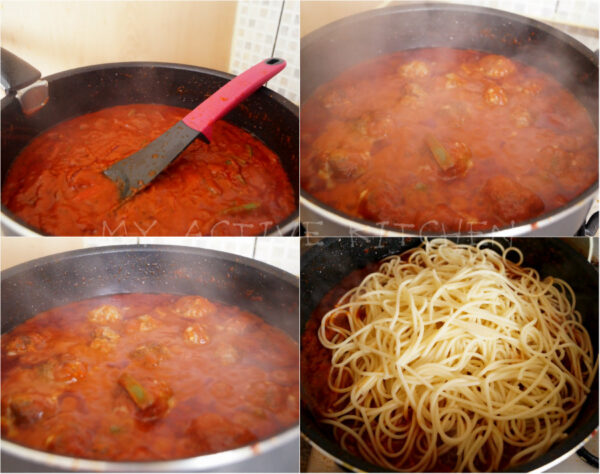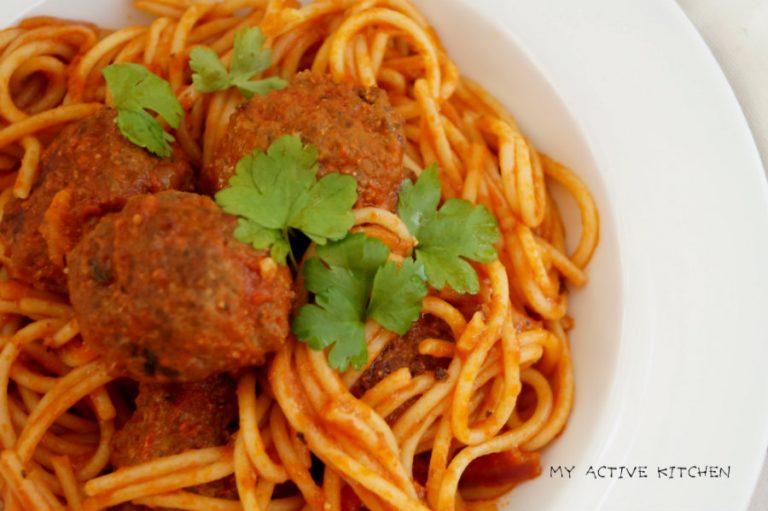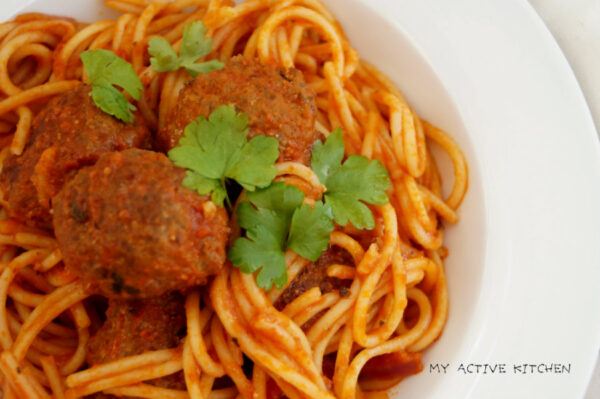 If you made this easy spagheti meatball recipe, don't forget to leave me feedback. Tag me @myactivekitchen on Instagram and save away to your Pinterest