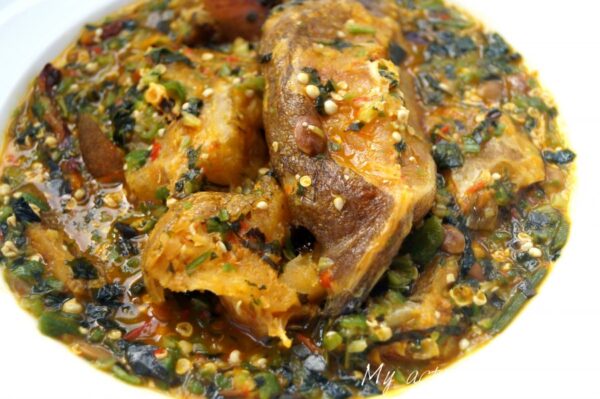 I recently posted ila alasepo recipe from the blog archives in some facebook food groups and I asked people how they like their own okra soup. Few people responded and what they all had in common was the addition of ugwu and uziza leaves to their okra soup. This last weekend I made some Stock fish okra soup and yes I hearkened to the suggestion and made some changes to the previous one here. The game changer for me in this okra soup is the stock fish (PANLA/OKPOROKO) that I used and I remembered to add locust beans (iru) this time around.
The smell of stock fish is not pleasant but the taste is divine, there is a proverb in Yoruba land about stock fish that says "if you serve a man stock fish and he doesn't pick his teeth afterwards, give him a woman and he would not take care of her". This fish can be quite expensive but sometimes you need to treat yourself to something good and different. I cook with stock fish most of the time but I hardly make it the major component of my dish. This time around I made it the major component of the dish and gosh, I love every bit of it. Leave this soup till the next day and mehn you would thank me later. All the flavour from the stock fish and other ingredients added would have infused in the soup, I must say this that your house might smell of iru and panla for a while but trust me it is all worth it.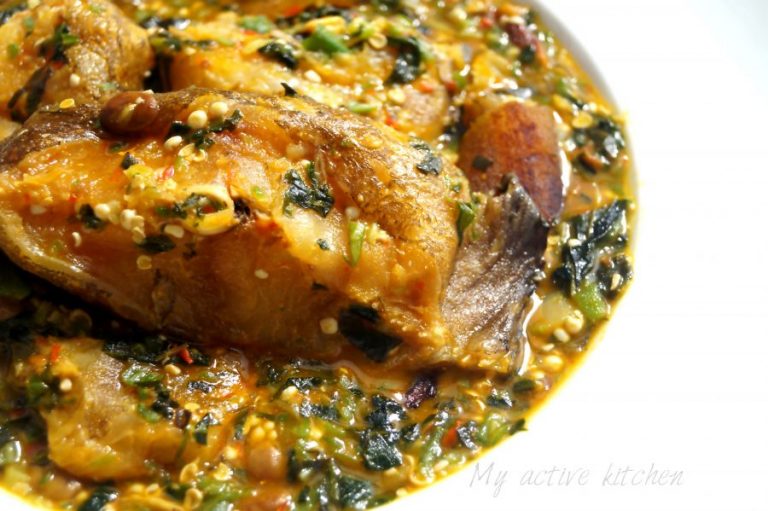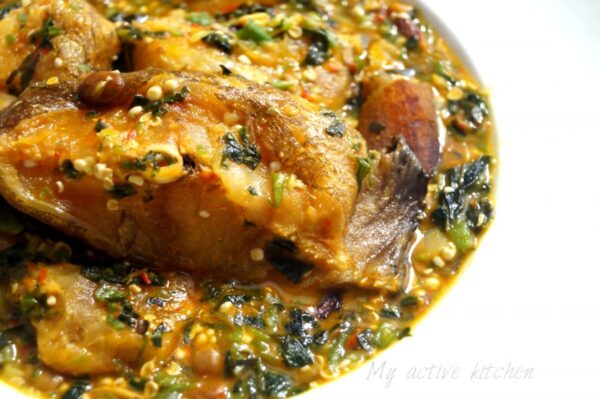 Ingredients
6-8 pieces of stock fish (panla/okporoko)
2- 4 pieces of ponmo
800g-1kg okra, chopped
Smoked catfish
Smoked shawa
Ground crayfish
200g ugwu leaves, chopped
Uziza leaves
Salt
Onions
2-3tbs locust beans (Iru)
Bouillon cubes
2-4pcs of scotch bonnet chill (rodo)
1 small tatashe
Potash (kaun/akaun) optional
Palm oil, use as desired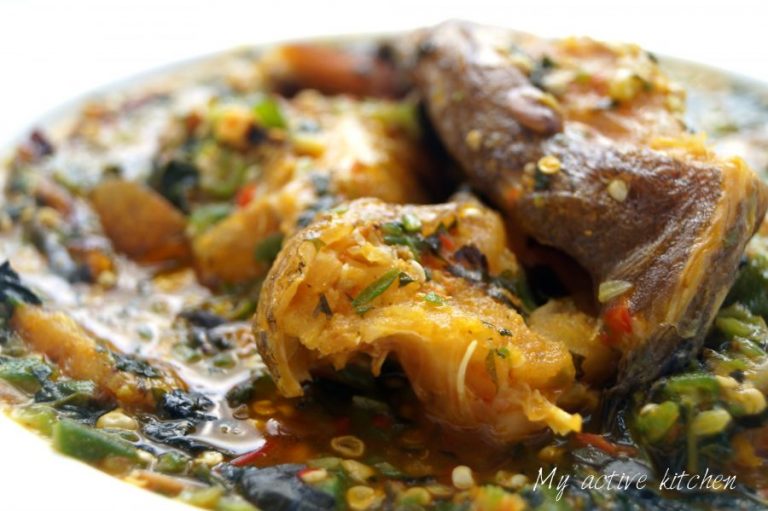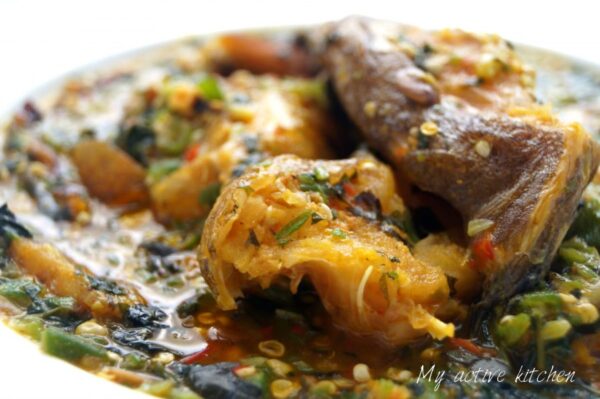 How to make stock fish okra soup
Before you start cooking, it is very important that you prep everything you need. It allows a smooth flow in the kitchen and it makes cooking much easier and fun.
To a pan, add rinsed stock fish, bouillon cubes, salt, onions and bring to boil until fish is tender to desired preference.
Chop okra into desired sizes, use blender, grater or food processor to hasten the process
Blend scotch bonnet chillies and tatashe together without onions and set aside.
Soak smoked catfish and shawa in hot water for about 15, drain and set aside.
Rinse locust beans and set aside.
I used smoked ponmo for this soup for extra flavour. If you will be using this, soak a day before use, wash it thoroughly to remove dirt and sand.

To cook ila alasepo,
I usually strain my stock as I like a dirt free broth. If you don't want to do this, skip this process and continue cooking with the same pan.
To a pan, add the cooked stock fish, broth, add  the soaked smoked catfish, ponmo and shawa to the stock fish and bring to boil for another 10-15 minutes

Add blended pepper and palm oil to the pan and bring to boil for another 10-15 minutes.
Add the locust beans, bouillon cubes, ground crayfish, potash if using, salt and continue to boil till all is combined.
Remove the stock fish if you want so that it doesn't break whilst cooking
Add chopped okra and combine well with the sauce. Stir in gently and cook for 5 minutes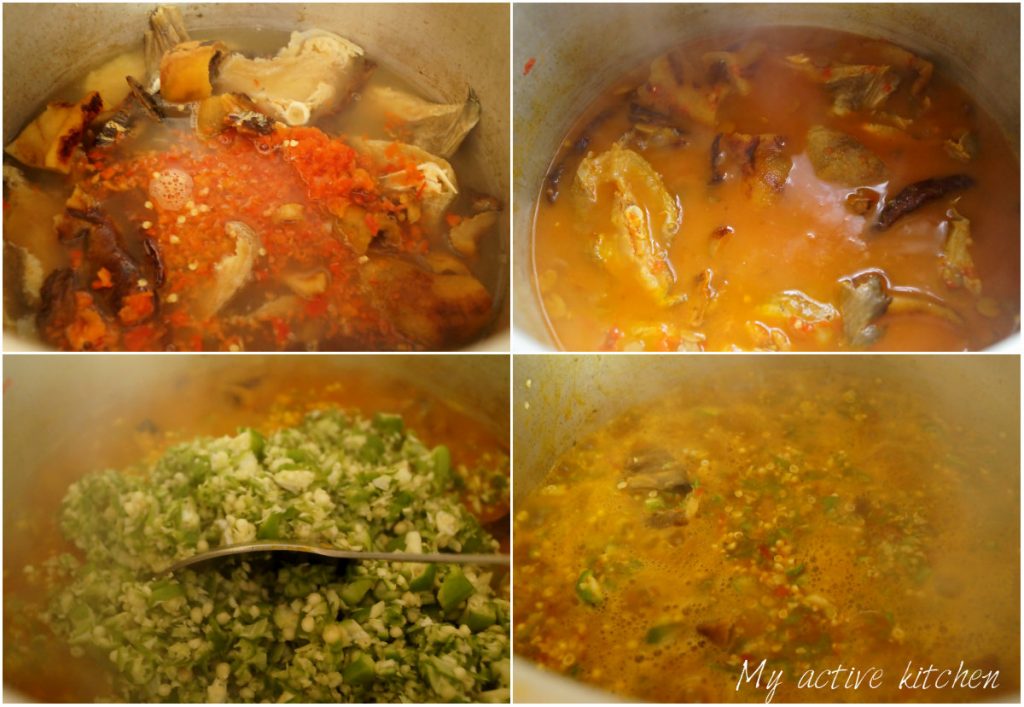 Check for salt and seasoning and add more if need be
If you took the stock fish out from the sauce before adding the okra, now is the time to re-add it to the okra and stir the soup gently.
Add chopped ugwu and uziza leaves to the okra soup, combine well and cook for another 5 minutes. Take off from the heat and serve with sides of choice.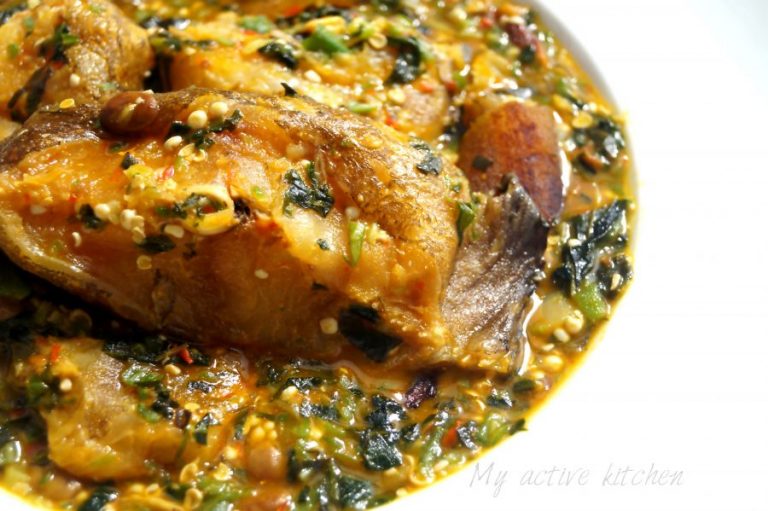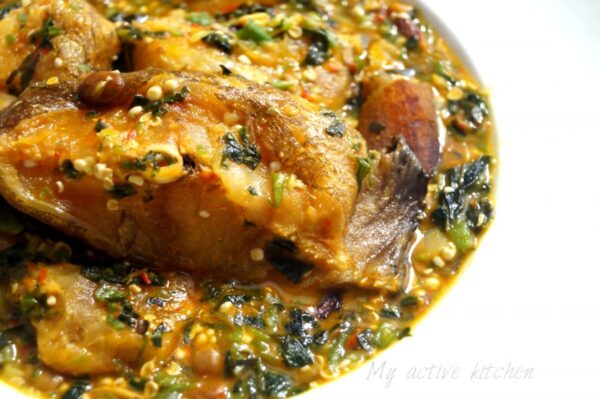 If you made this recipe, don't forget to leave me feedback. Tag me on Instagram and save away to your Pinterest
Enjoy and have a wonderful week ahead. xxx