The great Nigerian Chicken pie! the pie filling is beautifully cooked and packed with flavours. This chicken pie is so delicious and would give sweet sensations a run for their money.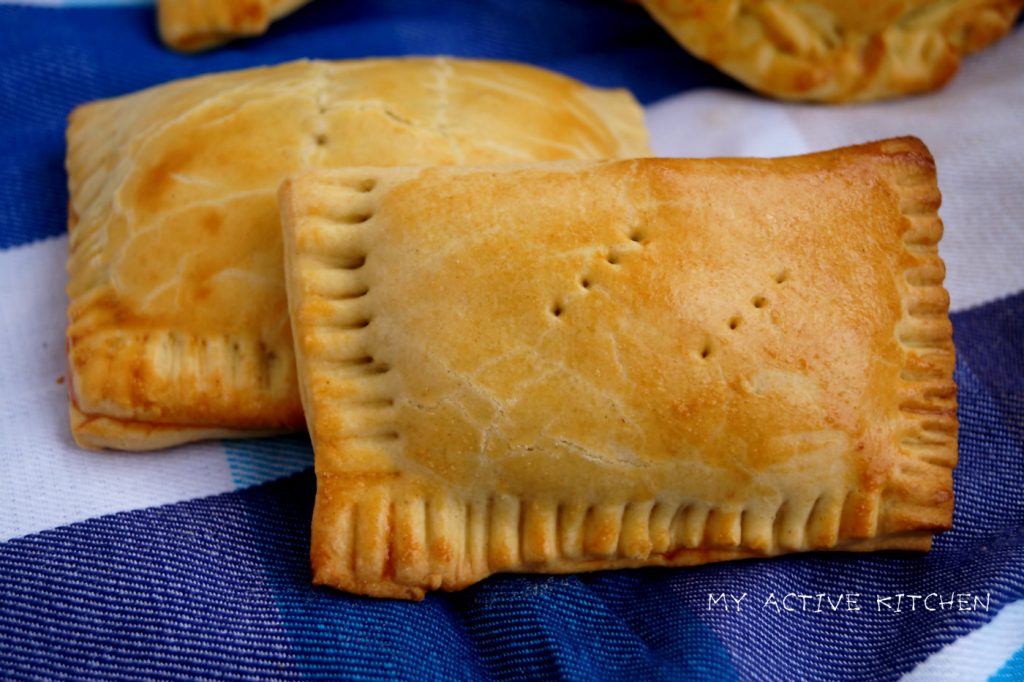 I made some yummy mince and aubergine sauce recently and it was like a 2 in 1 recipe. The second recipe not detailed was a meal idea on how to use the leftover mince sauce which can be used as a pie filling. Believe me, it tasted amazing, well if I do say so myself.
So I made some chicken pie recently and guess what other ingredient went into it? Aubergine... I added the aubergine to the recipe because I had it in the fridge and at the time I was making my chicken pie, I remembered it and I thought to myself, If it was good in beef, it would definitely taste better with chicken. I was right; it was pure heaven to taste. The flaky crust and the moist chicken filling was so good I had to control myself from eating it all up. Chicken pie is another popular pie made in Nigeria and the best one I had was from sweet sensations, they never disappoint with their pies. Well, there goes an advert that sweet sensation didn't pay for. Lol
I'm aware people make this pie differently, depending on individual preferences. When I make Nigerian meat pies, I add curry and thyme to the recipe but with chicken pie, I stick to using pepper, salt, seasoning, onions and maybe parsley because I absolutely love it. Nowadays, I add it to almost everything I cook. You can also choose to have the chicken chunky or minced and you can have them both. Also, I used chicken thigh for this pie recipe as I find chicken breast dry and in a way expensive and overrated. You would only find me using chicken breast for chicken pie when I am pressed for time otherwise, I go for another chicken part and then de-bone but I recommend chicken thigh as it is one of the juiciest parts of a chicken.
Ok I need to stop rambling and get on with it. Grab your apron and rolling pin and let's get cooking and baking.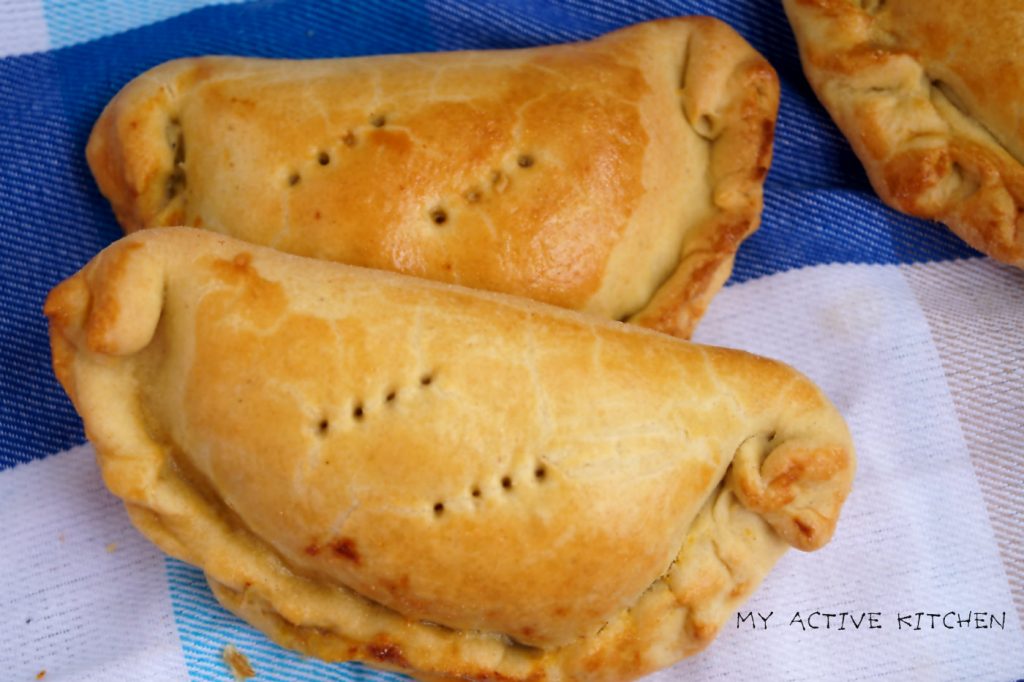 Ingredients
600g plain flour, extra for dusting
300g butter
Few pieces of chicken thigh (soft chicken)
Salt
1 medium size aubergine
Seasoning
1 small onion chopped
2 medium carrots
2 medium potatoes
Parsley
1 tsp crushed chilli flakes
1-2tbsp sugar
2 eggs for egg wash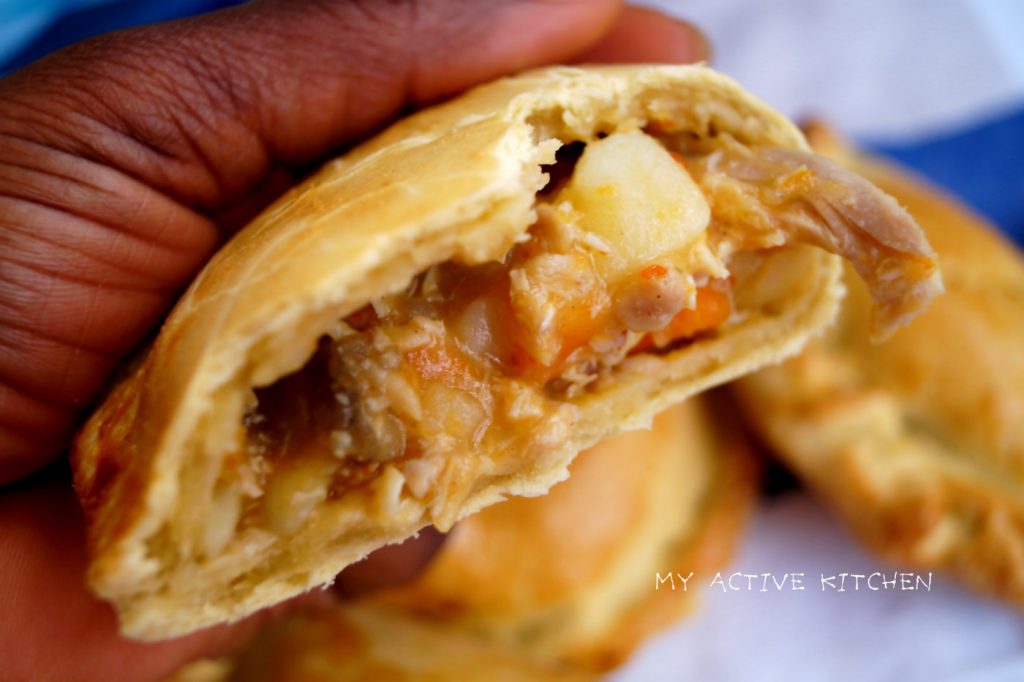 How to make chicken pie filling
I already have a recipe on how to make a shortcrust dough, so I won't be going into it go into it. Kindly check link here for how
Tips for making shortcrust pastry
Always use very good butter
Whatever quantities of flour you are using use half butter the size. E.g, if you are using 500g flour, use 250g butter.
Don't overwork the dough and remember to rest the dough for some few minutes before using.
Chill the dough in the fridge for at least half an hour before use
To make the chicken pie filling...
Peel and cut carrot and potato into small cubes, rinse clean and set aside
In a pan, add chicken, salt, seasoning, chilli flakes, parsley and chopped onions with little water to cover and bring to boil till tender. Separate the stock from the chicken and set them aside
De-bone the chicken and shred, I used my food processor for this bit, it saves time and makes the job a lot easier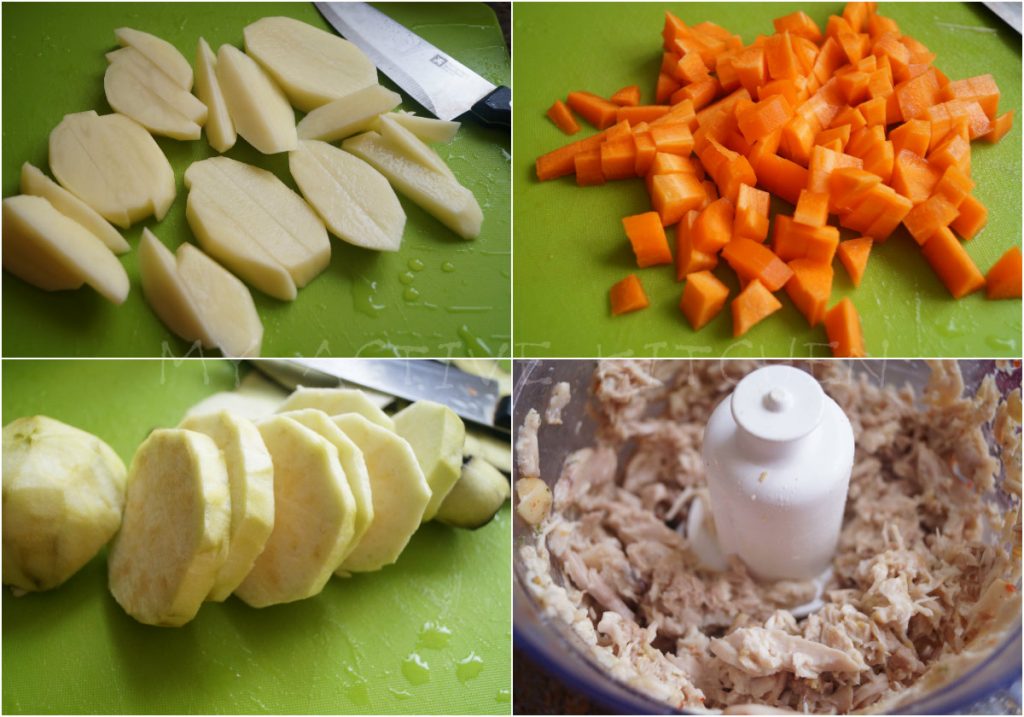 Add the cubed carrots and potato to the stock and bring to boil for about 5-10 minutes or till they are soft enough to personal taste, while you are waiting on this to boil, quickly peel the aubergine and dice into small cubes.
Add the aubergine to the boiling carrots and potatoes and cook for another 2-3 minutes. Check the fluid level, it shouldn't have much fluid in it, it should be at about the same level with the sauce before adding the chicken.
Add the shredded chicken to the sauce and mix to combine, check for salt and seasoning and adjust accordingly.
Add 1tbsp flour with about 2-3tbsp of water, mix together to form a lump free paste. Add the mixture to the sauce and mix to combine. Continue to cook for another 3-5 minutes. Take it off the heat and set aside to cool.


Rolling the shortcrust dough
Preheat oven at 180⁰C for conventional oven, 170⁰C if using a fan oven.
Break an egg into a bowl, whisk and set aside
Sprinkle a bit of flour on a plain, clean surface/worktop
Divide dough into 2 or 3 places and roll out flat using a rolling pin
Place a circle cutter or cut rectangles on the flat dough and cut out into many circles/rectangles/triangle you can get. use a makeshift if you don't have a cutter. Repeat this process with the rest of the dough
Add chicken filling to the centre of the cut-out dough, brush one half of the circle (or any cut-out shapes) with whisked egg and carefully fold over the meat filling making sure the 2 edges touch one another. The aim of the egg is to seal the dough.
 Close edges by pressing down with the tip of a fork.
Repeat this process for the remaining dough and filling. Place a foil/baking sheet in a baking tray and rub with oil. This stops the pie from sticking to the tray when done.
After you have completely filled the pastry, set on a baking tray, egg wash the top and pinch with a fork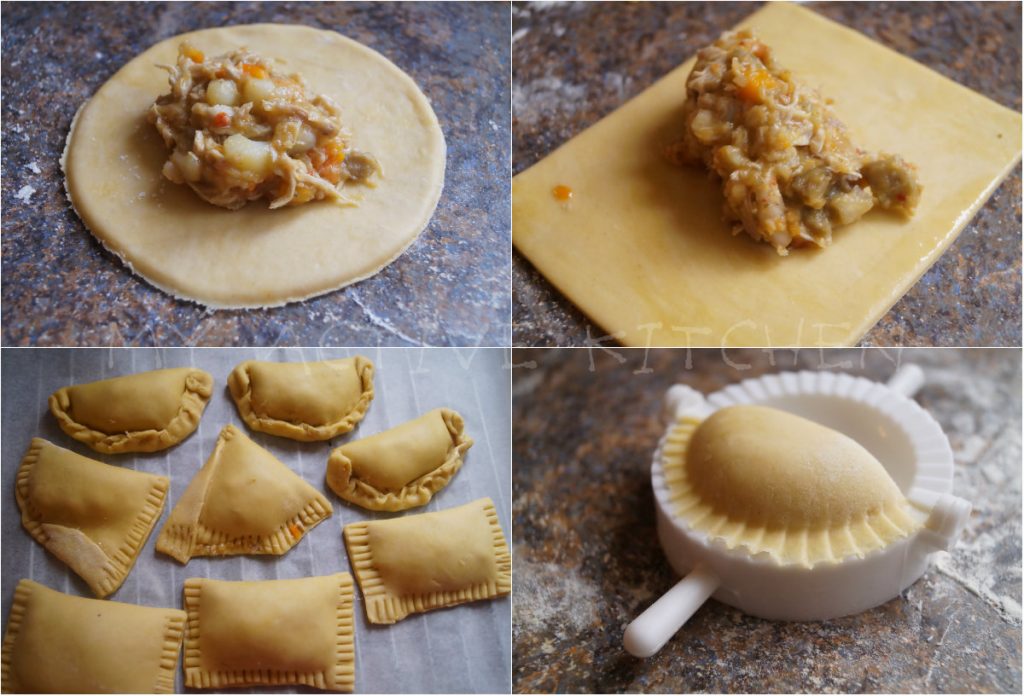 Place in the oven for 20-30 minutes at 180⁰C.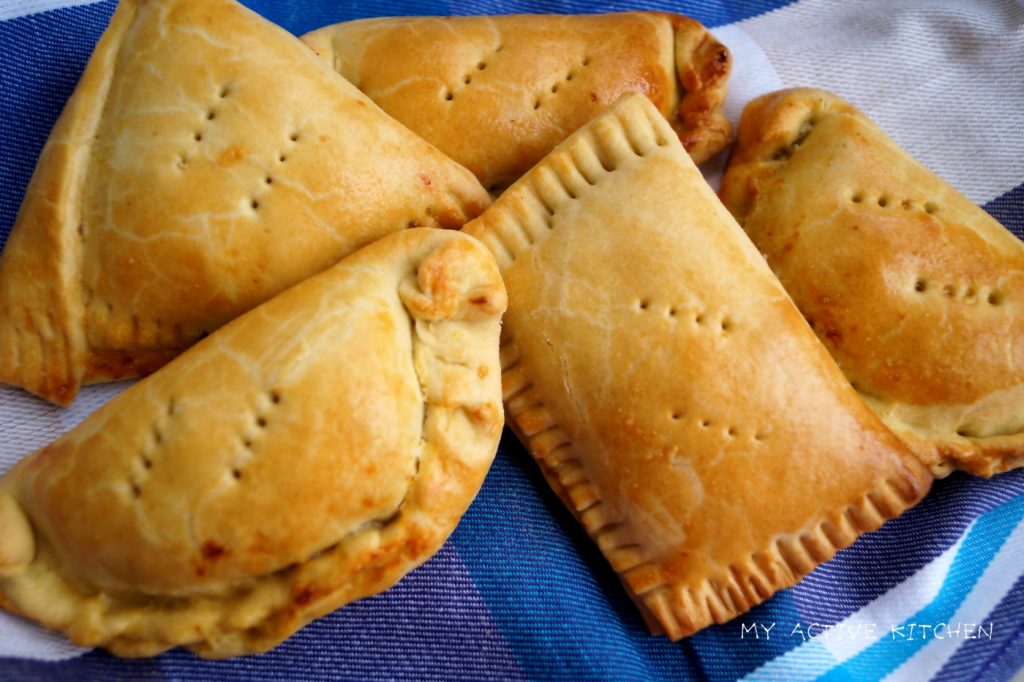 Enjoy with any chilled drinks of choice.x
If you made this chicken pie recipe, don't forget to leave me feedback. Tag me @myactivekitchen on Instagram and save away to your Pinterest