Lumpy egusi and okazi soup! Okazi leaf is mostly used in the eastern part of Nigeria. I recently had a request for lumpy egusi recipe on the blog although,  I have other types of egusi soup (melon seed) cooked with uwgu I thought it's high time I made another type of egusi soup since some of my readers are now requesting for it. I enjoy egusi soup in any form it comes.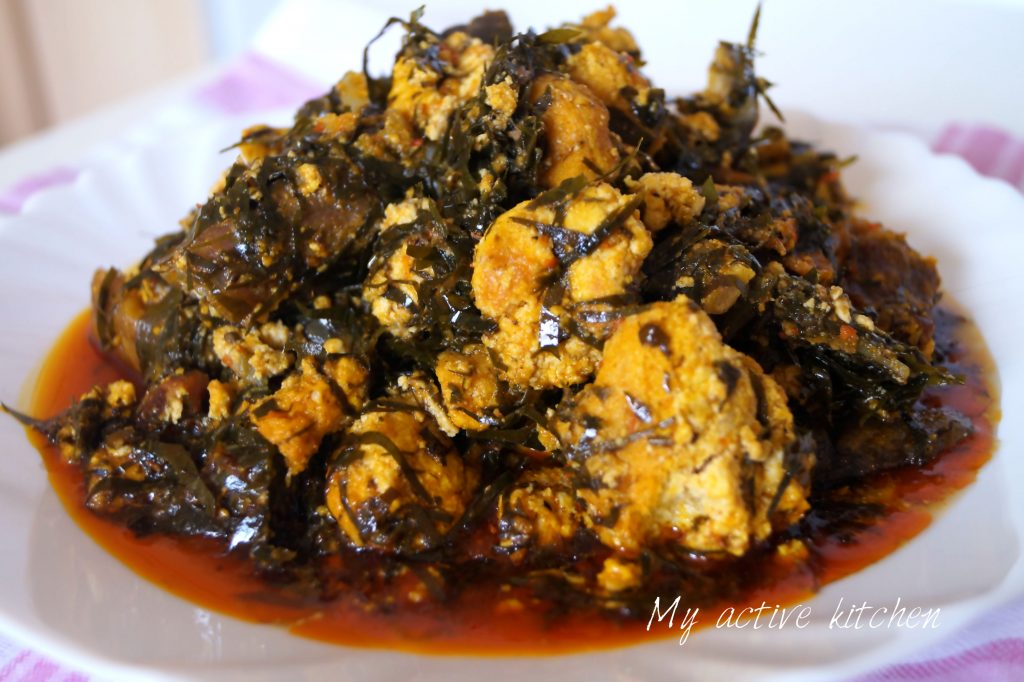 Lumpy egusi and okazi soup are mostly eaten by the people of Umuahia in the eastern part of Nigeria. They use 'Achi',' Achara' and 'Osu' in making theirs. I have never had it or made it that way before but I am looking forward to making it as soon as I am able to source the ingredients.
This version of my lumpy egusi and okazi soup is the closest you can get if you are unable to source the core ingredients to make the Umuhia type. I used a lot of okazi leaves to make mine (Yoruba style) but you can adjust it to your taste if you make yours.  Also, the egusi lumps can be made smaller or bigger as you desire.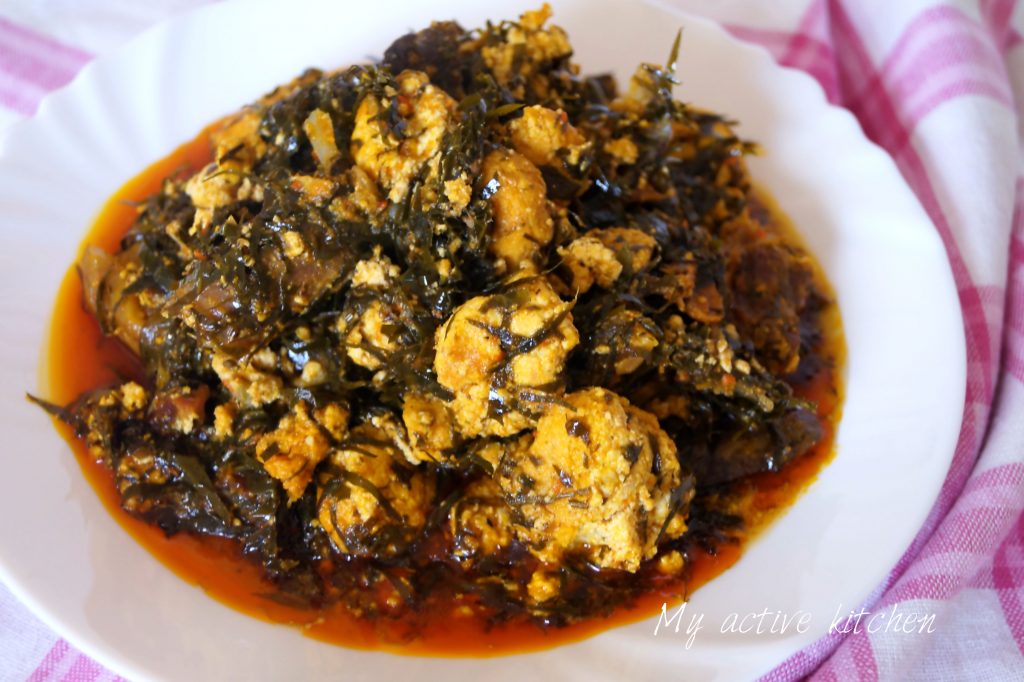 Ingredients
500g ground egusi
100g-300g okazi leaves (use according to preference), washed
300-500g goat meat, cooked
500g assorted beef (offal), cooked
Palm oil
Water
1 red bell pepper (optional)
1 medium-size onion
2-3 scotch bonnet chilli
Salt
1-2 tbsp ground crayfish
50-100g smoked catfish
Seasoning
Water
Stock
How to prepare okazi leave for lumpy egusi soup
Okazi leaves are quite strong and chewy so you might want to chop to tinier bits. I bought frozen chopped okazi leaves and after washing it, I re-cut with scissors. Wash till water runs clean, add boiling water enough to cover the vegetable and leave in for 10-15 minutes, drain and set aside

Add water, salt, seasoning and chopped onions to beef and bring to boil until tender or to preference
Blend red bell pepper, scotch bonnet and onion to a puree and set aside
How to prepare egusi soup with lumps
I used 2 methods to make lumpy egusi, I fried half of the batch and added the other batch in the cooked sauce. They both yielded the same result. When you are making yours just use the one that suits you. I don't mind both though.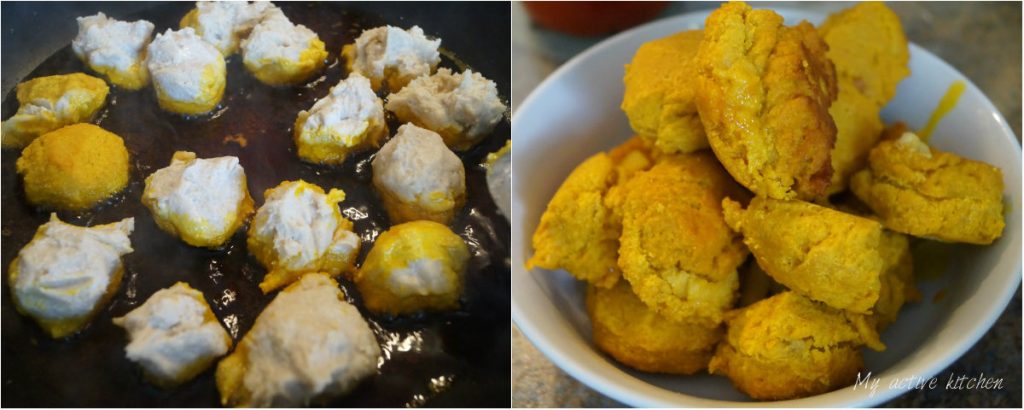 fried lumpy egusi

 Boiled lumpy egusi
Add warm water to the ground melon to form a thick paste, if you wish to fry the egusi then proceed to the next step and if not set your egusi paste aside for now
Add palm oil to a frying pan and place on a medium/high heat, heat oil for about 3 minutes (do not bleach oil) scoop egusi paste into hot oil by using a spoon or your palm. (Pour some water in a bowl and dip spoon or palm in to help melon fall off easily into the oil)
Fry egusi ball for 2 minutes on each side, scoop out of oil and set aside.
Use the remaining oil used for frying to cook the soup and add more if needed
Place a pan on medium heat, add palm oil, heat for 3 minutes, add chopped onions and fry till onions become soft (2-3 minutes should do)
Add blended pepper and bring to boil for about 10-15 minutes (add stock or water to this if you desire)

If you opt for the second method of making lumpy egusi, now is the time to add the egusi paste into the boiling pepper sauce. Cover the pan with a lid, reduce the heat and bring to boil for like 10 minutes. If you are using fried egusi, add it to the boiling sauce at this stage.
Add smoked catfish and leave to boil for another 5 minutes.
Then add more water or stock to the boiling sauce if needed
Followed by the ground crayfish
Continue to cook the sauce for another 10 minutes
Add beef/ assorted beef, stir gently to avoid mashing the egusi together (you can take out some egusi lumps if you want and add at the tail end of cooking the soup)

Add salt and seasoning to taste and cook for another 5 minutes (stir in between)
Add washed okazi leaves to egusi soup, stir till well combined and cook for another 10 minutes. (as I mentioned earlier, okazi can be quite chewy, so you can leave the okazi to cook longer if you want on reduced heat.) serve the ofe okazi with eba (popularly called garri) or any other swallow of choice.

Other recipes with okazi leave
Okazi soup is also called Afang soup or eru in Nigeria. It is made with okazi leaf and waterleaf.
Ofe Owerri cooked with okazi leaf, uziza, achi and cocoyam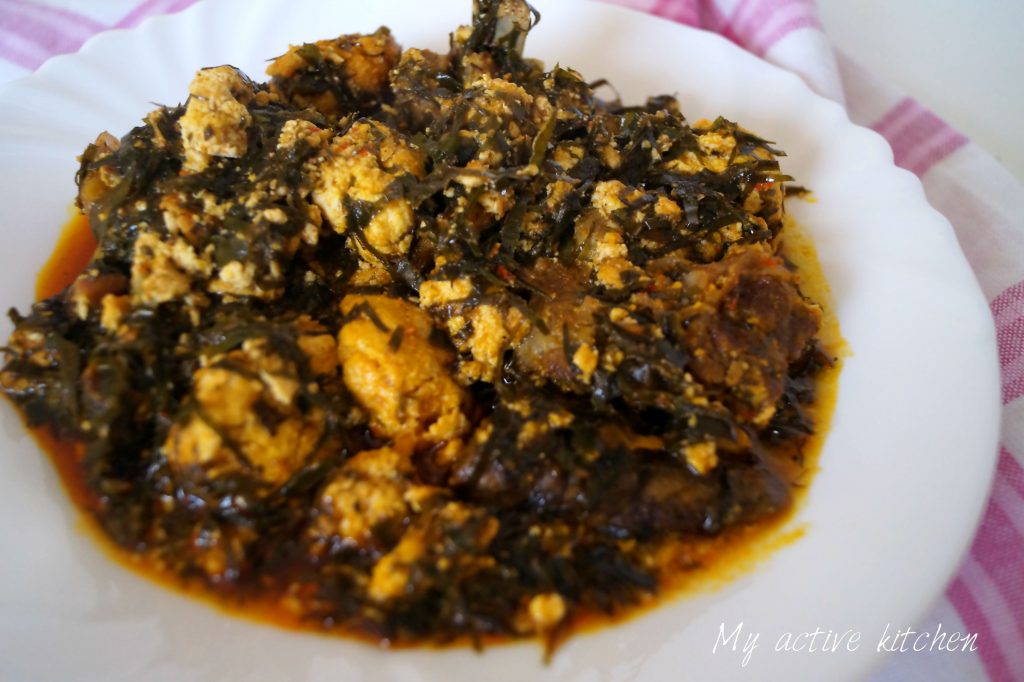 Enjoy.x
Don't forget to take a picture and tag my active kitchen on Instagram or Facebook if you make any recipe from the blog and I also love reading from you all, leave a comment or send me an email. if you are yet to subscribe to the blog, kindly do so and you won't miss any new post from us again. Don't forget to use the share buttons below too, sharing is caring. until next time, be true to yourself