Last Updated on
I can't even lie (covering my face) Afang soup is lit!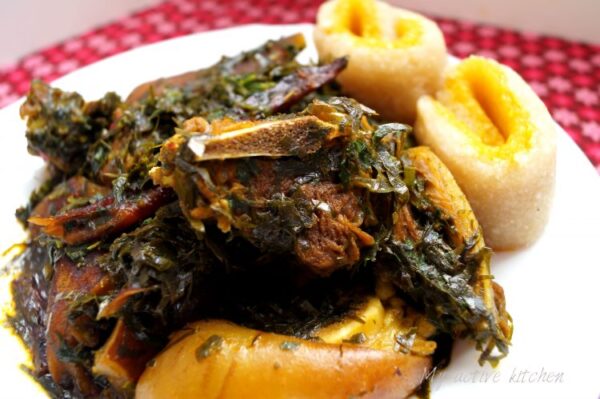 What can I say about this beautiful, delicious and hearty Nigerian soup other than, if you have not had Afang soup before, you should try and cook it. Afang soup is rich and packed with all the nutrients you need. If you are on a diet and you are not sure if you can have some Nigerian soups because of the oil content and all, then this afang soup is for you. In that case, all you need do is reduce the amount of palm oil you use in cooking it. If you cook with goat meat or any other meat, simply reduce the amount of your beef intake and all will work out for you and your diet.
I am a Yoruba girl but I must say, this soup beats some of our soups hands down and the good thing about it again is that it is very easy to cook. My people from southern Nigeria, I hail o. To all that have been able to cook Afang soup and tasted the goodness, thumbs up to you too.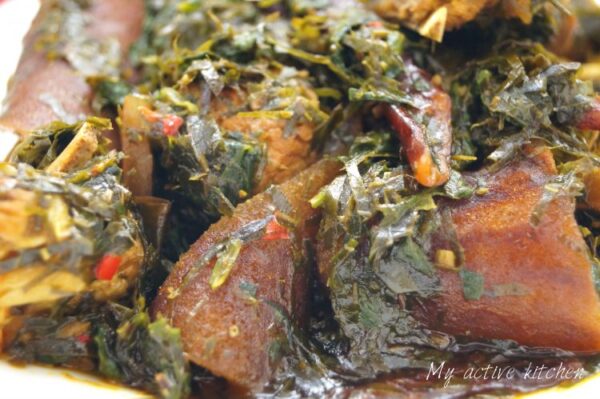 Ingredients
200g Okazi
400g water leaves substitute with baby spinach
Cow foot (a few pieces)
500g goat meat
Smoked ponmo
100g dried Catfish fillets
Salt
Seasoning (4 bouillon cubes)
Scotch bonnet chillies (ata rodo)
1/2 cup Palm oil
Periwinkles (optional)
How to Make Afang Soup
Okazi leaf is strong and chewable and I guess that is why it is pounded before using. I didn't pound mine, instead, I pulsed it in my food processor to break it down a bit. Alternatively, bring to boil for about 15 minutes before use.
Chop spinach, rinse and set aside.

The best part for me in making this dish is the smoked ponmo and dried catfish fillets I added to the goat meat, it was amazingggg. The aroma coming from my kitchen was indescribable.
Place a pan on medium heat, add washed goat meat, salt, seasoning and onions and bring to boil till soft. When the meat is almost well done, add diced ponmo and dried catfish and bring to boil for another few minutes. You don't need too much water to cook Afang soup, so if your stock is much, reduce it by half and add more to the soup if need be

Chop or pound ata rodo and set aside
Once you are happy with how tender the meat, ponmo and dried fish are, add palm oil and bring to boil for about 5 minutes
Add chopped ata rodo, ground crayfish and periwinkles (if using) to the sauce and continue to cook on medium low heat for another 3-5 minutes.

Followed by okazi leaves, add it to the sauce and continue for another 10-15 minutes. Add seasoning and salt if need be but you might not need it if stock is well seasoned and the flavour from the smoked catfish and ponmo would have infused in the soup.
If you have pounded the okazi, you may not need to cook for that long. OKAZI LEAF IS STRONG AND CHEWABLE and it needs to be soft to be enjoyed. To be honest with you, even after blending mine, I still found it a bit chewy but I enjoyed every single bit of it.
Traditionally, you add water leaves to the soup before okazi leaves but I found okazi leaves strong and chewy hence my way of cooking it.
Add spinach to the okazi soup, combine well and cook for another 5 minutes.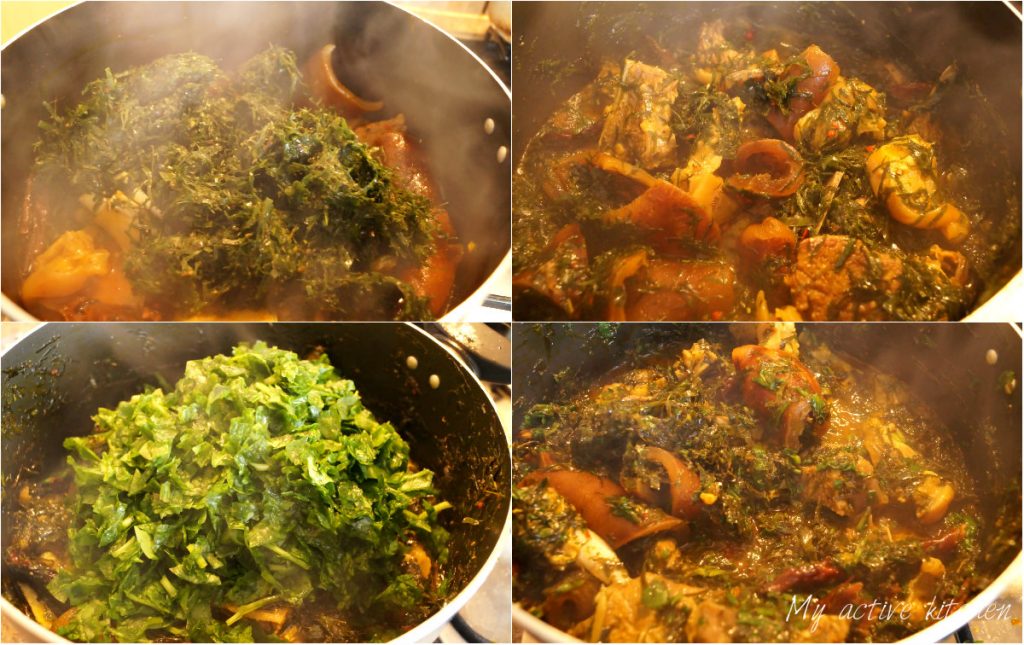 And there you have it, Afang soup. Enjoy with any swallow of choice.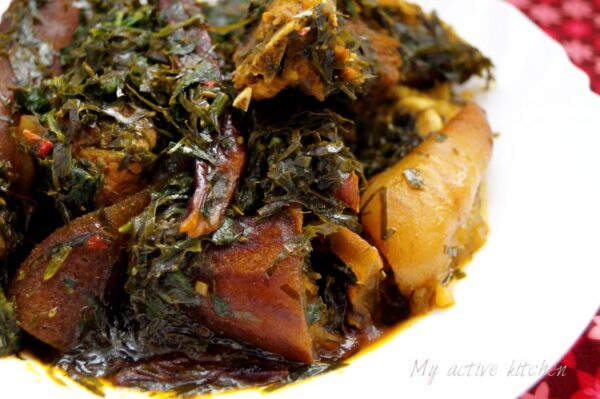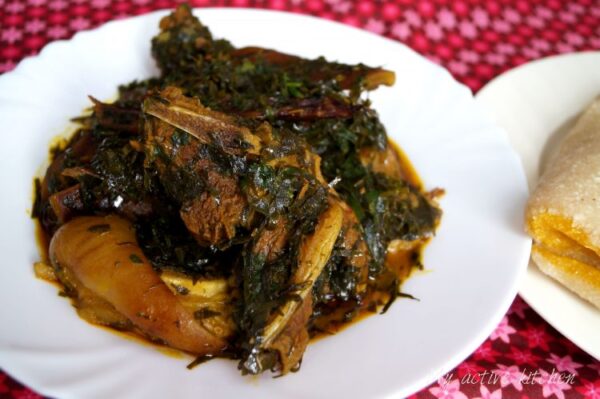 Enjoy. xx
Click here to know how to make eba roll
If you made this recipe, don't forget to leave me feedback. Tag me @myactivekitchen on Instagram and save away to your Pinterest