This buttermilk oven fried chicken is not only healthy, but it also tastes better than KFC chicken. Yeah I just said that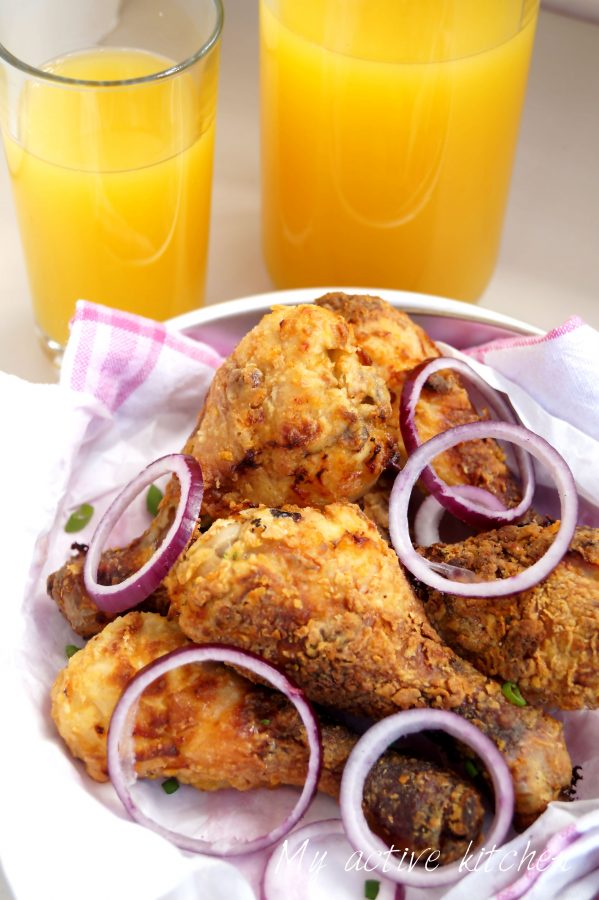 Buttermilk Oven Fried Chicken
Summer is here, yay! To everyone that has worked on their summer body till date, I say well done to you all and to some of us that have managed not to keep food out of our mouths, I say more power to our elbows. Lol
The weather here has been everywhere, I was talking to one of my friends recently and she said anyone that is referred to as UK weather should go for deliverance. We were promised a sunny and bright day last Friday (according to the weatherman), and I was looking really forward to it. I woke up with high hopes but alas the weather was as gloomy as what we had in March. Anyways that didn't stop me from having a picnic with the family.  We ended up spending half of the time in the car due to the funny weather. One minute it was raining and the next minute sunny.  Saturday wasn't as bad though. It was sunny and bright as promised.
I made up for it by making this super easy yet amazing buttermilk southern oven fried chicken. It was tender and moist, in fact, the whole kitchen smelled like Kentucky fried chicken (KFC). I decided to bake these beauties for a healthy option and because I wouldn't eat the skin anyway. It is grease free and still crispy just like the fried option.  Oven baked chicken can be fried too but I didn't have the conviction on the day so I followed my heart and went for the healthy option. This chicken can be served at parties and at home; it is kid friendly and easy too. This would get you and the kids asking for more.
When next the sun is out and warm where you are or maybe you always trust your weatherman, then this recipe is just what you need to make that picnic and get together epic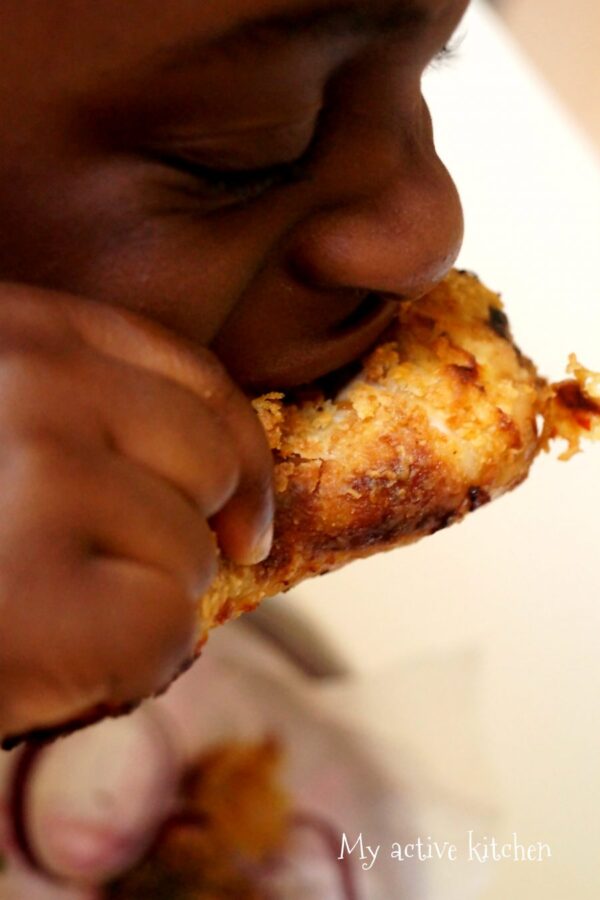 Ingredients
3 cups of whole milk
Juice of one lemon, lime or 4 tbsp white vinegar
6-9 pieces of chicken drumsticks
Salt
Chilli flakes
Seasoning preferably chicken
5-7tbsp Flour
30g cornflakes crumbs
Cayenne pepper
Ginger powder
Vegetable oil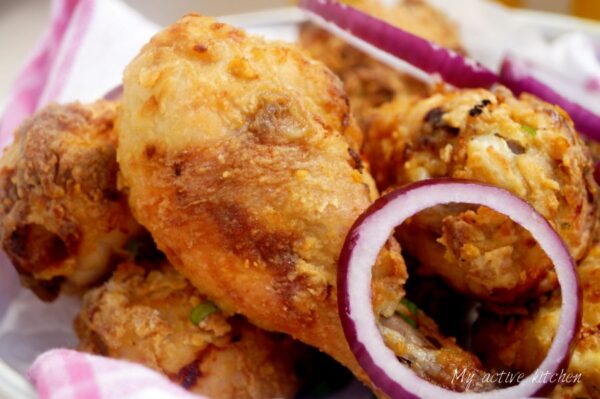 How to make buttermilk oven fried chicken
To make buttermilk
Add lemon/lime juice or vinegar to milk, stir together and leave to sit for about 5-10 minutes in room temperature. You will notice some curdle in the milk afterwards. Don't worry, it is totally fine and that makes the buttermilk
Wash and pat the chicken dry and season with salt, seasoning and chilli flakes
Add the chicken to the buttermilk and leave to marinade for at least four hours or overnight in the fridge.


To bake chicken
Preheat the oven at 180⁰C (fan oven) or 200⁰C (conventional oven)
In a bowl, Mix flour with cornflakes crumbs, add cayenne pepper, salt and seasoning and combine well
Take out chicken from buttermilk one at a time and press to the flour mix making sure all area are covered and place on an oiled baking tray. Repeat this process till the entire chicken is exhausted


Spray the top of the chicken with vegetable oil and bake until golden brown in the oven for 45 minutes. Serve Hot or warm with chips and chilled drinks of choice. I strongly recommend you garnish the chicken with sliced onions. Enjoy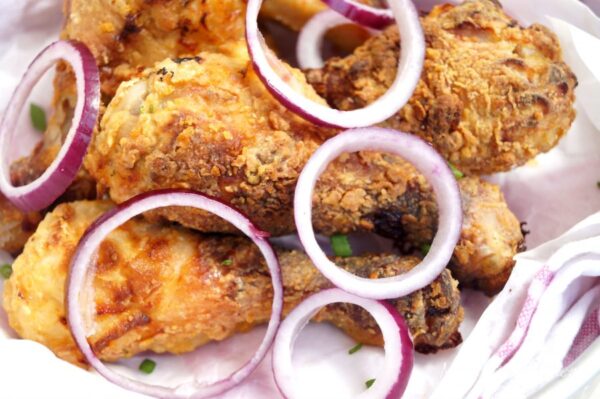 You might like this too Suya popcorn Chicken. Yum
If you love this recipe, you might also love these
If you made this vanilla coffee creamer recipe, don't forget to leave me feedback. Tag me @myactivekitchen on Instagram and save away to your Pinterest