I thought I love Banga soup (Niger-Delta style) until I tried Ofe Akwu (Ibo style) and God I have been hooked since then. Ofe Akwu is versatile, affordable and easy to cook.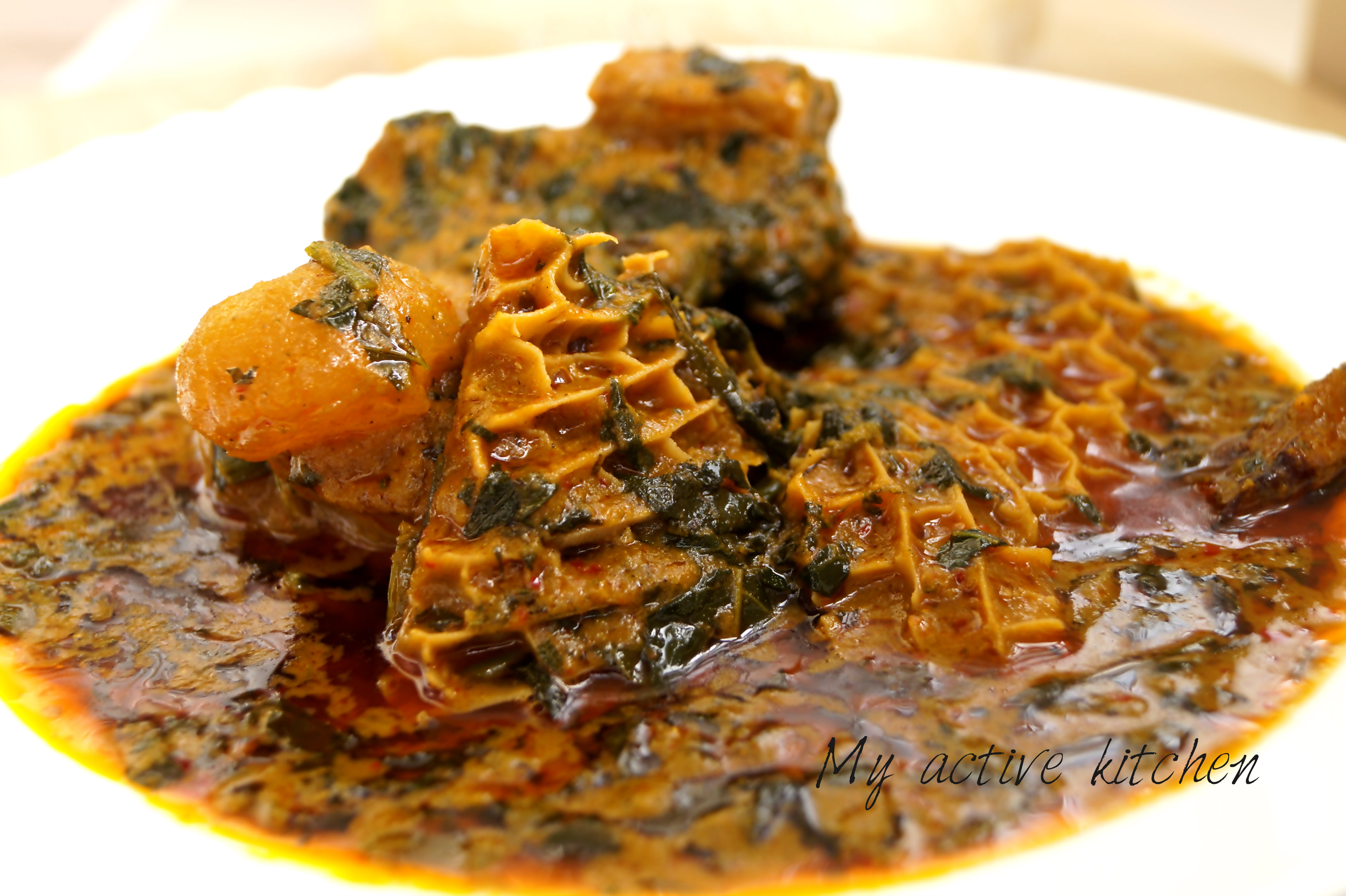 I'm yet to try abak atama soup, basically because of the Adrian fruit (Uyayak). I have a thing for that fruit and I always say to myself It will never go into my soups but hey! never say never. I might be trying it soon with my nose blocked (whatever that means). Ofe Akwu went down well in my household and everyone is asking for more.
When you try this dish, try not to miss out the important element to the dish and that is Ogiri. Ogiri does not have a pleasant smell but it does wonders in your dish. Also don't add salt to the soup till you have added the ogiri. In fact, you might not need salt in this dish again if your assorted meat is well seasoned. You can eat it with almost everything. In fact, the excess oil from the dish was added to the beans I made earlier this week and yes I could still smell my ogiri in the beans. Enjoy this soup with any protein of choice from chicken to beef and did I also mention that you don't need to start pounding some palm kernels. You can just buy the tinned concentrated one and it is pretty affordable too.
Ingredients
400g palm nut concentrate
500g-1kg assorted meat
Few pieces of goat meat
Smoked fish
Ground crayfish
Dried catfish strips
1 wrap Ogiri okpei
Seasoning
Salt
2-3 scotch bonnet chillies (blended/pounded)
1-2 handfuls of uwgu leaves (chopped)
Small bunch of scent leaves (substitute with dried/fresh basil)


How to cook ofe akwu
Season assorted beef and dried fish with salt, onions(optional), seasoning cubes, add water and bring to boil till tender. (Separate meat from stock and reserve stock)
Place your pan on medium heat, add palm nut fruit and dilute with warm water double of the amount of palm fruit used. I used 400g of palm nut so I added 800g of water to the pan. You can add any tough beef at this point, this will help soften it more and the flavour infused as well (I added cow foot to mine at this stage)
Stir till well combined and bring to boil for 10 minutes, add ogiri, crayfish and blended pepper to the sauce and cook till the oil starts to show on the surface of the sauce. (the total time for this should be about 20 minutes)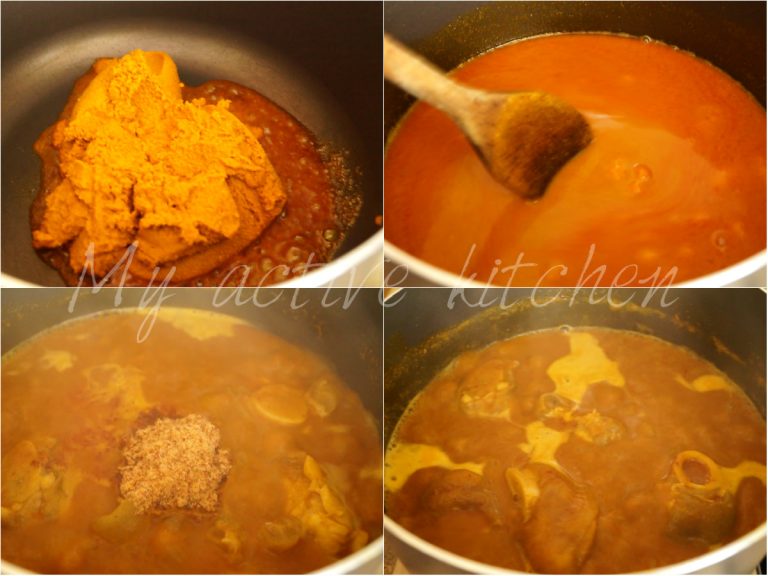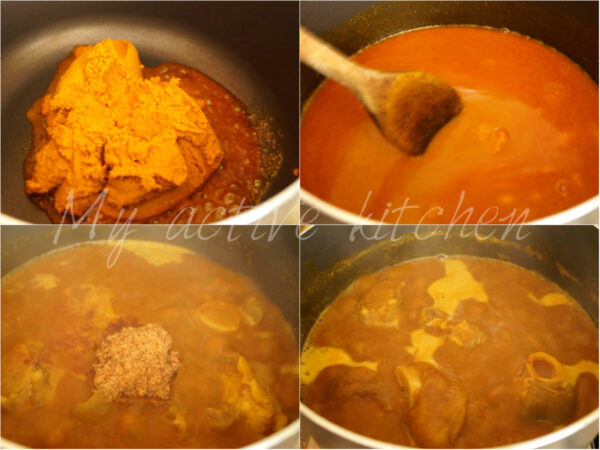 If you notice the soup slightly getting thicker, dilute with stock or water. If you will be adding stock, be mindful of the salt content so you should always check for salt before adding stock.  Ogiri is an important element for this dish and like my Banga soup here, I didn't need to add salt to the soup as the Ogiri complemented the soup so well.
Add the remaining beef and smoked fish to the sauce and stir to combine. Check for salt and seasoning then reduce the heat and cook for another 15-20 minutes. Check intermittently; add water/stock accordingly to sauce if it becomes too thick.
Add scent leaves and uwgu leaves to the palm nut soup and stir till well combined. Cook for another 5 minutes and take it off the heat.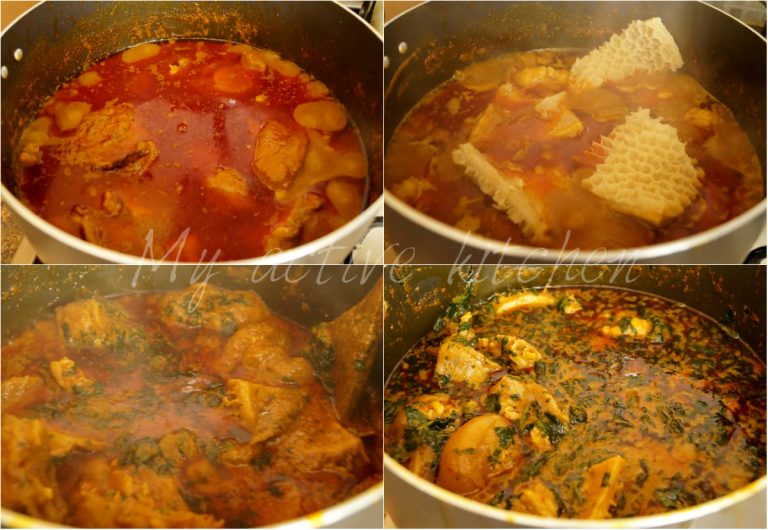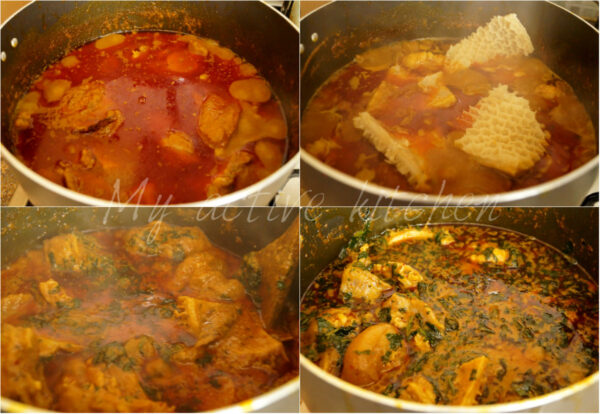 Ofe Akwu is usually served with boiled white rice but I couldn't resist having mine with pounded yam. So yummy. Enjoy.xx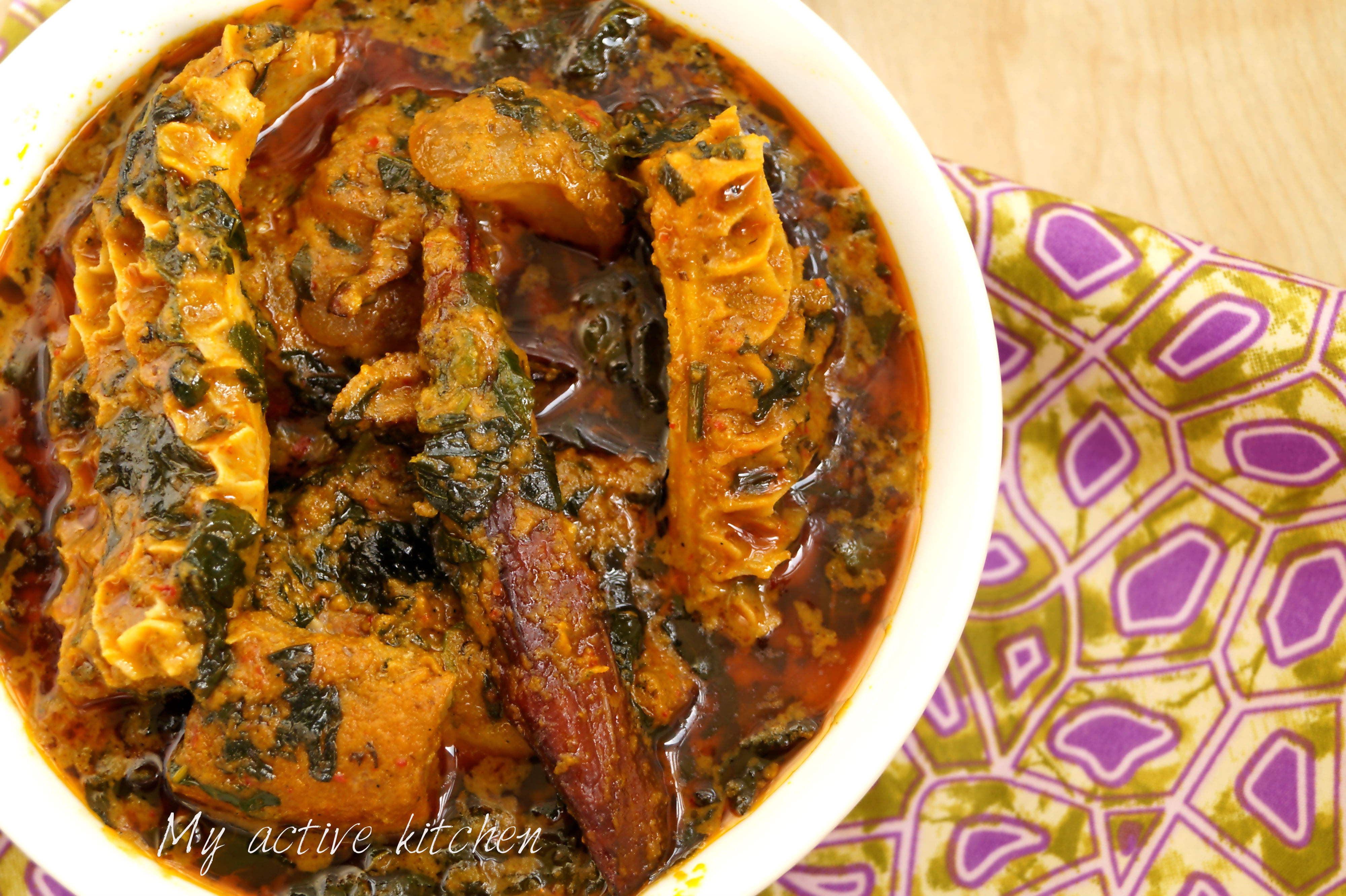 Nigerian Soup recipes will love
Don't forget to take a picture and tag my active kitchen on Instagram if you make any recipe from the blog.  I also love reading from you all, leave a comment or send me an email. If you are yet to subscribe to the blog, kindly do so and you won't miss any new post from us again. Until next time, be true to yourself