This salt and pepper chips is better than take out. You can't say no to this recipe. This is the best salt and pepper chips you would ever make
I visited my friend a while ago and she served me chicken and chips, the chips was the best I've ever had. Honestly, it was just chips but the taste was heavenly and I even had a second round. If I tell you the secret to those heavenly chips was just onions, would you believe? Frozen chips fried with onions and that took it from the normal everyday chips to gourmet for me. Ordinarily, I wouldn't fry my chips with onions as I mostly oven-bake them.  So today, I'm sharing with you my friends amazing homemade chips with my own twist.
If you've had Chinese salt and pepper chips from a take-out, then you would understand my chips. Hahahaha. The Chinese use 'five Chinese spice' to coat theirs so I used Nigerian 5 spice to coat mine and make it more Nigerian. Cheeky I know but it worked perfectly well. All hail the almighty suya spice. It worked perfectly with the chips. I'm not surprised really as I use suya spice in my roasted yam. So here is to the simplest food in life with a yummy experience you wouldn't forget in a while.
What you will need
Frozen chips 
Mixed chilli peppers
Salt
1 onion
Seasoning, optional (I used a splash of maggi liquid seasoning)
1tsp suya spice
Vegetable oil for frying
Notes: 
You can also use fresh chips or yam instead of frozen

 oven bake the chips to make it more healthy.

Use more suya spice if you would be making a larger batch
Method
Cut the onion into 2. Cut half into wedges and chop the other half, set aside
Chop the rest of the peppers and set aside
Place a frying pan on a medium-high heat and heat oil till about 180 degrees otherwise, simply add onion to the oil and if it sizzles and float to the top, then it's ready to be used.
While you wait on the oil to get hot, add the chips into a bowl, sprinkle with some salt, add the chopped onions and toss together.
Add the chips and the onions to the hot oil and fry till well done. Otherwise, cook according to instructions.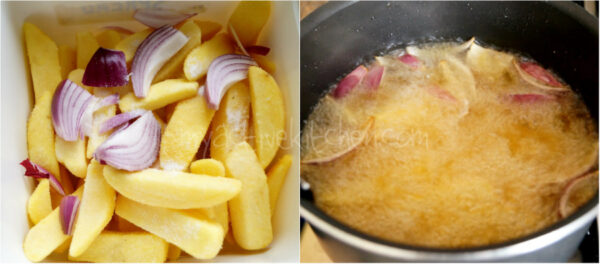 Take the chips out of the oil and drain on a kitchen towel to get rid of excess oil.
In another frying pan or wok, add 2 tbsp of vegetable oil and heat for 2 minutes, add the chopped peppers, chopped onions and sauté for 2 minutes or till onion is translucent, add 1tsp of suya spice, seasoning if using and mix all till combined.
Add the fried chips to the sauce and toss together to combine. Check for salt and seasoning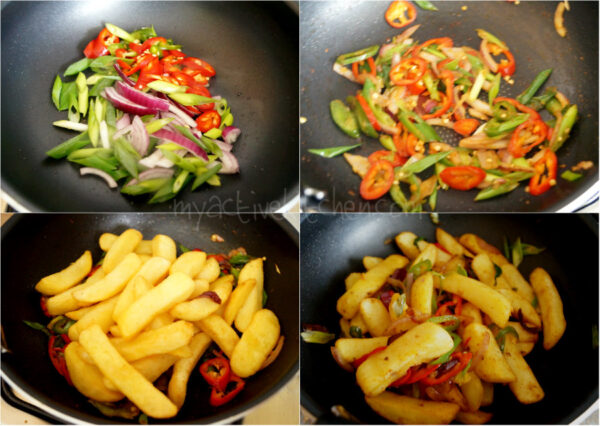 Take it off the heat and serve immediately.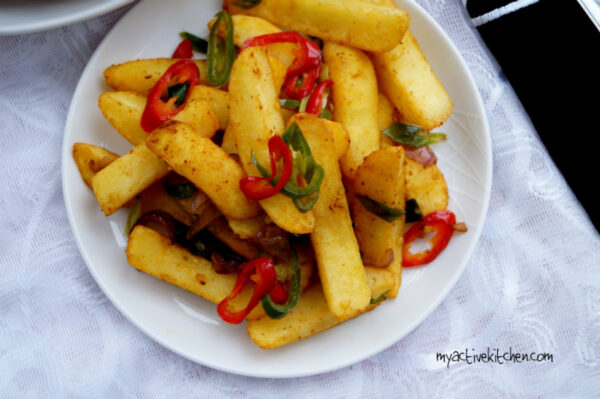 See how easy our salt and pepper suya chips recipe is… I would like to see what you have been cooking with our recipe, don't forget to tag @myactivekitchen on Instagram, facebook or simply send me an email. See you on my next post