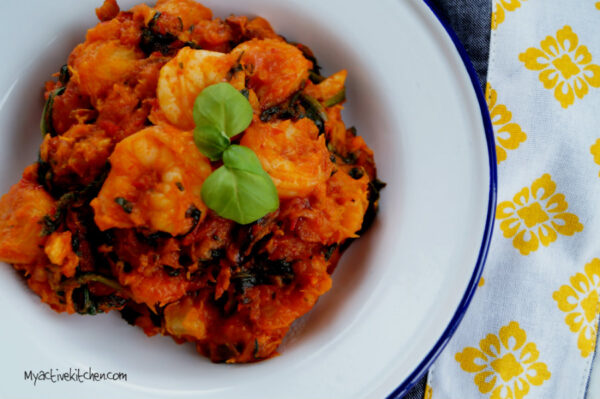 Alright, honestly this is the best and the easiest unripe plantain porridge you would ever make. It's  sooo good and you can make it under half an hour. Well this was made in about 20 minutes. When you are caught up with time and you still want to enjoy homemade meal, this plantain porridge is what you need. Technically my plantain isn't exactly unripe, I did buy some unripe plantain. Lol I didn't get to cook it until after the 3rd day hence the ripe looking plantain. The plantain is still very firm which makes it ideal for this recipe. The plantain porridge was gone in the blink of an eye. The secret to this dish is the pointed red pepper, fresh basil and smoked mackerel. Yes you dont need to rob a bank to eat good and whole food, you know I say this all the time. You can also use the combination of unripe and ripe plantain to make the porridge and would still yield an amazing result. I trust you my lovely readers that you would make me proud when you recreate this dish.  Let's get cooking people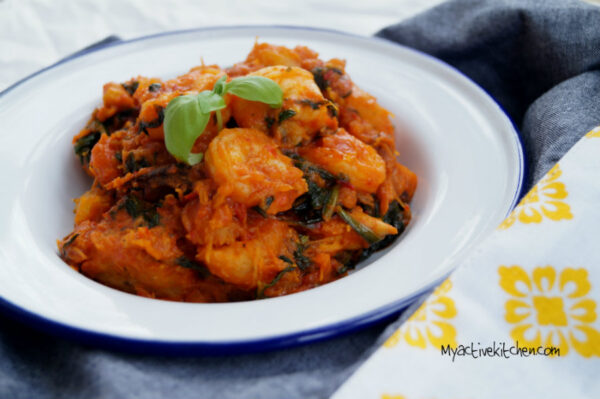 What you will need
3 – 4 unripe plantain  (you can substitute with ripe but firm plantain)
1 cooking spoon of palm oil
1 smoked mackerel (use any type of smoked fish)
Fresh shrimps
Spinach (substitute with any green veg of choice)
1 handful basil
Salt
Seasoning (I used knorr cubes)
1 pointed red pepper (Tatashe)
1 scotch bonnet chilli ( use to preference)
1 medium size onion (save half for later)
Method
Blend pointed pepper, scotch bonnet chilli, onion with little water till puree
Peel the plantain, slice into chunks and set aside
Place a pan on medium heat, add palm oil and heat for 2-3 minutes, add the  remaining half of the onion(chopped) and fry for 3 minutes (do not let it burn)
Add the blended pepper into the hot oil add about half a cup of water and bring to boil for about 10 minutes

Add the chopped plantain, salt, seasoning and cook for about 8 minutes, add the smoked fish and cook for another 3 minutes.
Add the fresh prawns and gently stir into the plantain. Cook for another 3 minutes. Add the fresh vegetables and cook for another 5 minutes. Stir together at this point, check for salt and seasoning and adjust as needed.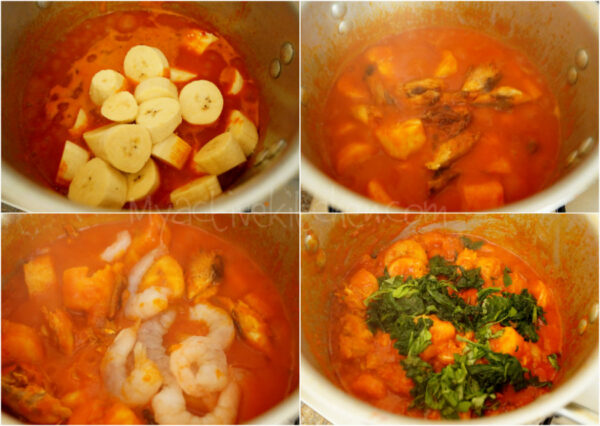 You can even mash some of the plantain leaving some chunks for texture. Did you say yummy and super easy? yeah I said that too
Turn off the heat and serve your plantain porridge immediately.
See how easy that unripe plantain porridge recipe is… Don't forget to share your active kitchen stories with me, until my next post, stay true to yourself. Before you go, why not check out our beans deluxe porridge recipe and yam porridge too